Fact Checked
If a heater isn't quite doing it for you this winter, your next best option just might be a heated throw. They're a great option to keep you warm up on the couch or in bed. But what kind should you buy? This guide will break down what you need to know about heated throws.  
What is a heated throw?
A heated throw blanket is a blanket that has cables running through it, which are attached to a temperature control that heats the external material. They are often used on the end of beds or for people to curl up on the couch with. 
Are heated throws safe?
Heated throw blankets, and electric blankets in general, are safe as long as they are within warranty and used appropriately. Many models have in-built safety features that help to minimise risk including overcurrent protection, automatic shut-off, and timers. This being said, older and damaged blankets and throws can pose fire hazards if they have exposed or frayed chords. 
Some extra safety tips from the ACCC to keep in mind are:
Before use each year, check for exposed elements (i.e., wires), frayed cords, and scorch marks, and that the blanket covering the wires isn't worn out.

Don't sleep with your heated throw, just heat the bed and then turn it off.

Don't place heavy items on the electric blanket when it's turned on.

Store your heated throw rolled up and not folded.
Can you wash a heated throw?
You can only wash certain heated throws, with brands outlining whether you can or not. Many brands will not have the capabilities for washing, whereas others will have detailed instructions about washing the throw safely. Always read a brand's packaging before looking to wash the throw blanket to avoid damage or hazards. 
How much do heated throws cost?
Heated throws cost anywhere from $25 up to $300 depending on the brand and features. Features that change as heated throws increase in price may be the size of the blanket, heating elements, adjustment range, and the brand itself. 
Who sells heated throw blankets?
You can buy heated throw blankets from retailers like Kmart, Target, The Good Guys, Appliances Online, Harvey Norman, Kogan, and Amazon, or homeware shops like Betta Home Living, Adairs, and Temple and Webster.
Kmart heated throw blanket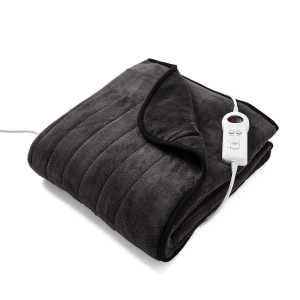 Kmart has an affordable heated throw available in two colours that retails for under $40. It features basic functionality like variable heat settings, a 12-hour timer control, a detachable controller, and overheat protection for peace of mind. The throw comes in charcoal and pink for those looking for a little more colour. 
Kambrook heated throw blanket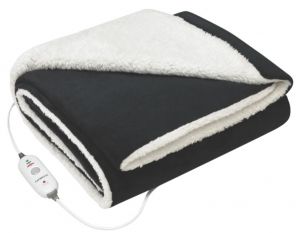 This Kambrook heated throw (KHT331NAV) features a fitted design and can fit a king-size bed, so you can sleep soundly without fighting with your partner over who gets the electric blanket. It comes with three heat settings, plus ThermoGuard overheat protection. This heated throw is made with non-woven polyester and is machine washable. This model is available to purchase from The Good Guys.
Jason heated throw blanket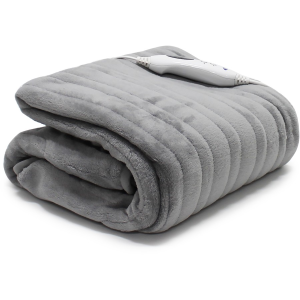 Jason has a range of heated throws ranging in price from $90 to $100, coming in a range of colours including green, brick, and grey. Jason's throws feature a three-hour auto-off setting, nine heat settings and are easily machine washable.
Sunbeam heated throw blanket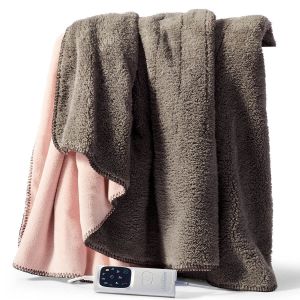 Sunbeam has a broader range of heated throws that come in a range of colours and materials costing between $100 and $200. Most models feature nine heat controls with fast heat-up, a detachable control, and comes in a one size-fits all design.
Features to look out for when buying a heated throw
When shopping for a heated throw there are a number of features to keep an eye out for so you're getting the most out of your money:
Size: 

Check the dimensions of your heated throw to ensure that it's large enough for your needs. Size is usually displayed in centimetres or as a bed size (queen bed or king bed) measurement. Most heated throws are made to fit standard mattress sizes.

Material:

 Choosing the right material is important, especially if you're prone to allergies, in which case you'll want an antibacterial and hypoallergenic fabric, or if you don't have a clothes dryer, in which case you'll want something quick-drying. Heated throws come in various fabrics and materials including polyester, microfleece, wool, faux fur, and more.

Timer: 

Ensure your heated throw comes with a built-in timer for added safety. This allows you to turn on your heated blanket to reach your desired temperature and have it automatically switch off after a few hours.

Dual-zone heating:

 This allows you to operate two sides of the heated throw at different temperatures. It's not a standard feature but can be nice if you share a bed with a partner who's typically warmer or colder than you.

Overheat protection

: This uses an internal safety thermostat to monitor your blanket's temperature at all times, and automatically turns the blanket off if it becomes too hot.

Heat-up time:

Check out how long your heated throw will take to reach your desired temperature. Some models may only take two to five minutes to heat up while others might take upwards of 10 minutes.

Machine washable: Not all heated throws are machine washable, so check this before you buy one. Models you can wash in the washing machine will come with detachable electrical components.
Should I buy a heated throw?
Buying a heated throw comes down to personal preference. For some people who feel the cold a little more than others, it's an ideal option for around the house. If price is an issue, you can find heated throws at a range of price points and many come in different colours so you can blend them seamlessly with your existing décor. But if you're after something with potentially a bit more grunt to it, check out our ratings on electric blankets to keep your warm in the winter months.  
Original Author: Megan Birot