Gasmate Barbecues Review
A major Australian-grown brand of barbecues, Gasmate covers not just your traditional 'barbie' but all kinds of grills for all kinds of cooking in the great outdoors.
Gasmate covers barbecues, but also a number of other camping and outdoors needs, including outdoor heating. The Gasmate barbecue range covers the full spectrum of types, from the compact portable kits to full-blown permanent installation outdoor kitchens.
On its website, Gasmate divides its barbecue range into two categories – outdoor living and camping & leisure. There is obviously some crossover between the two, as there are many portable models well suited to both use at home and take away on the road for picnics or camping.
Gasmate Portable Barbecues
Gasmate produces a number of different types of barbecues that you can take out and about with relative ease. These range from small cooking stoves, up to more robust yet still portable high-end barbecues.
Odyssey Range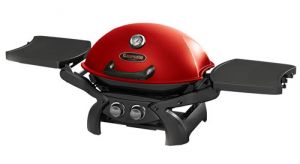 Gasmate's major portable barbecue design comes in a number of different models for different budgets and preferences. The Odyssey stands out with its distinctive domed hood and removable wing-like side shelves. Most models operate on gas, with the exception of the Odyssey Electric powered with a 2200W cooking element. The Odyssey 2 and 3 models can be purchased with integrated trolleys, or you can separately purchase a stand (compatible with the Odyssey 1) or trolley (compatible with the Odyssey 1 and 2).
Star Wars Grill
Taking the popular Odyssey design out of this world, the Star Wars Tie Fighter grill is a fun choice for roasting those rebels. Detailed design elements such as the solar array wings (i.e. cast aluminium side shelves) and the tractor beam landing collar (i.e. cast aluminium legs) can strike fear into the hearts of your enemy sausages and steaks.
Portable BBQs
Apart from the Odyssey range, Gasmate produces several lines of portable barbecue designs.
Voyager – a compact, lightweight, more rectangular shape than the Odyssey
Cruiser – has a non-stick cooking surface (half ribbed and half flat), plus a half rack above the grill to keep cooked items warm while you grill the rest
Adventurer – folds down flat with carry handle for maximum portability, with a reversible flat/ribbed non-stick cooking surface
Rio – sits on a pole stand (included) or on a table top, with a detachable drip tray and a half flat half ribbed non-stick cooking surface
Hot Ozi Series II – a flat circular grill which can also be used as a stove by removing the non-stick top plate, and packs down into a small box
Camping Stoves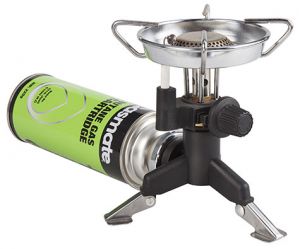 With a range of butane and LPG models, Gasmate has your camping covered whether you're backpacking or feeding a group of family or friends. Butane models are geared towards the ultra-compact and are ideal for those travelling on foot or two wheels, while LPG setups are still portable while being designed for camping when you have a car to transport your gear (and the gas tank).
You may also be interested in:
Gasmate Home Barbecues
While technically any kind of barbecue can be used at home, there's a big difference between hunkering over a camp stove and having a proper backyard barbecue.
Barbecues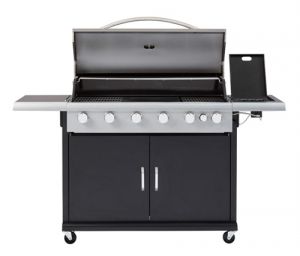 The backyard favourite is the four or six burner setup on wheels so you can move it around the patio. Here Gasmate offers plenty of variety so you can pick the perfect sizzle for your sausage.
Europa – in a choice of 4 or 6 burners, with both including a cabinet for gas bottle storage, a viewing window and temperature gauge in the hood, plus additional side burner (under a flush lift-up panel), satin enamel cooking surface and stainless steel exterior
Torino – 6 burner barbecue built from powder coated steel with additional side burner, a cast iron reversible hotplate and grill, hood with temperature gauge, and stainless steel warming rack
Horizon – 4 burners, with a vitreous enamel body, stainless steel hood with glass viewing window and temperature gauge, flame thrower ignition, and half plate half grill cast iron cooking surface
Ignite – barbecue in a unique space-saving design, to either wall mount or sit on separately sold stand. When wall mounted, folds up when not in use. Includes an angled cooking plate made of satin enamel cast iron fat, with an easy-clean fat management system underneath. The utensil holders, dual bottle openers, and forwards folding chef's shelf makes it highly space efficient
Caterer – in a choice of 4 or 6 burners, designed for feeding large groups. Includes a thick mild steel hotplate, cylinder storage hook wire storage rack underneath, and stainless steel warming rack above the hotplate
Fortuna – in a choice of 4 or 6 burners, with satin enamel cooking surface (half grill half hotplate) plus side burner (under a flush lift-up panel) and stainless steel hood with viewing window and temperature gauge
V8 Grill
Rev heads may be fuelled to choose the specialty V8 Grill, designed to look like an authentic V8 engine. Novelty barbecues are few and far between, so this can make an interesting conversation piece.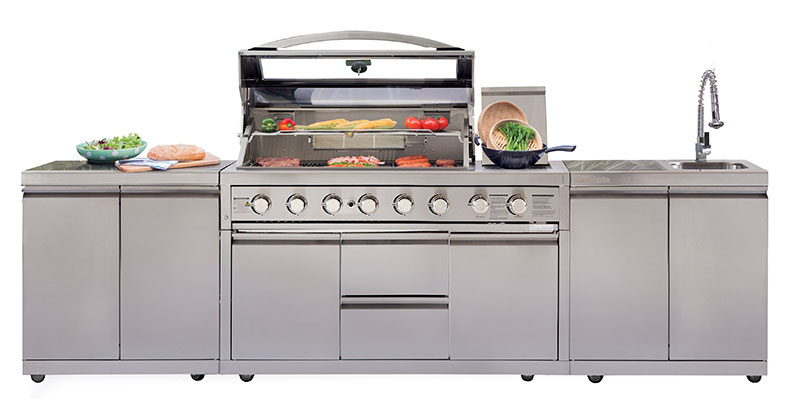 Outdoor Kitchens
When you're really serious about your outdoor cooking and entertainment, a proper outdoor kitchen kits you out with the lot, so you can really hustle up a feast with the maximum convenience. Outdoor kitchens come as either a package or as individual components of built-in barbecues, storage cabinets, and with some models a sink – plus plenty of solid bench space of course. These are not only functional but can look more integrated into your outdoor entertainment space.
Gasmate offers outdoor kitchens in three lines – Platinum III, Galaxy Series, and Specialist Deluxe Series. These can all be purchased as sets, or as individual modules to best suit your space and needs.
The most apparent difference between the three models is style.
Each range also offers different modules and configurations to choose from, including storage units, breakfast carts, and fridge tops (so that you can integrate your Gasmate bar fridge into your outdoor kitchen).
In addition to the traditional barbecue type with front controls and a domed lid, Gasmate also offers a drop-in barbecue which flush mounts into any kind of outdoor kitchen.
Smokers & Spits
For really big cookouts, Gasmate offers a number of smokers and spit roasters. Smokers come in gas, electricity, and charcoal versions, as well as a combination smoker and grill and a charcoal barbecue. Spit roasters come in a number of different sizes, in both gas burner and charcoal versions.
Pizza Ovens
While not really barbecues, pizza ovens can help grow your entertaining capacity at home. Gasmate pizza ovens come in a choice of vitreous enamel (black) or stainless steel exteriors, both with two shelves and one ceramic pizza stone to cook up to three pizzas at once. The wood chip smoker box can add that wood fired taste. Watch your pizzas cook to perfection through the viewing window, with a temperature gauge and oven light.
Is Gasmate your new backyard buddy?
Gasmate offers a very diverse range of barbecues, in particular some truly unique novelty pieces. Whether you're looking for something simple to slip into your hiking pack or a high-end outdoor entertainment installation, Gasmate has something for every barbecue enthusiast. Depending on what you're looking for, Gasmate may make the right barbecue for you.
About the author of this page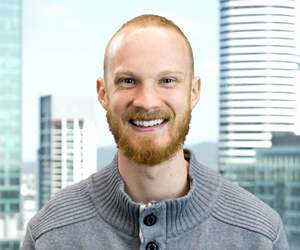 This report was written by Canstar Blue's Site Editor, Dean Heckscher. He's our resident expert on all things automotive, health & fitness, streaming and more. Dean is also one of Canstar Blue's customer research report producers, helping to turn complicated subjects into easily-digestible information for our readers. He's passionate about helping consumers make better-informed purchase decisions on all manner of consumer goods and services.