Ryobi Lawn Mower Review & Guide
Getting stuck into the lawn can be something that some of us look forward to, while others dread. For some, it's the chance to get outdoors and transform that jungle into a manicured lawn, while others may just see it as a lot of work to be done. But how much work the lawn is can depend on what tools you're using, with a good of lawn mower able to make short work of some unruly grass. Which brand of lawn mower you choose however, can be almost as big a chore as the mowing itself, with no shortage of options available. Ryobi is a mainstay within the lawn and garden care markets, but what does it offer within its lawn mower range, and are they worth purchasing? Find out all you need to know about Ryobi lawn mowers in this Canstar Blue guide.

Ryobi Lawn Mowers
Ryobi has been a strong go-to option for those looking to tackle any area of the garden, with the Japanese brand offering lawn mowers and a number of power tools in its line-up, most of which are predominantly compatible with the same battery system. The Ryobi Power Tools and Outdoor Power Equipment brands currently operate under Techtronic Industries, which also owns Milwaukee and a number of other power tool brands. Find out more about Ryobi's range of lawn mowers below.
Ryobi Push Lawn Mowers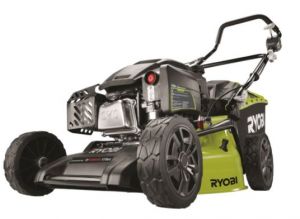 Ryobi offers a number of push lawn mower, with its range primarily focusing on the electric range. Its petrol-powered push range includes a 160cc, 175cc and a 190cc model, all of which are powered by a 4-stroke engine. The Ryobi 160cc model features four blades, an auto-priming engine for an easier start, mulching function and easy-fold handles. The 175cc model features a 46cm cutting width, eight height settings, 1.2L fuel tank, 55L catcher and a 3-in-1 discharge type, allowing you to either catch, mulch or discharge out the side to help you keep your lawn looking the way you want it. The top-of-the-line petrol push mower, the 190cc 4-stroke model, includes primarily the same features as the 175cc model, with the addition of a bit of extra power, and self-propelled drive to help ease the load of mowing.
Ryobi Electric Lawn Mowers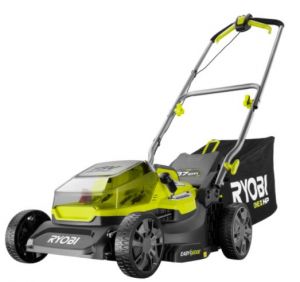 The largest line-up of Ryobi's lawn mower range, the electric model is available as 18V, 36V and one corded 1300W model, offering a number of options to help you tackle the lawn with. The entry level 18V One+ lawn mower features a 33cm cutting width, 35L catcher, 30-minute runtime, instant start capabilities and five cutting height settings. Another option is the 18V One+ Brushless motor mower, which includes load-sensing technology, vertical storage capabilities, quick release telescoping handles for optimal usage, as well as a 40cm cutting width and mulching function.
The Ryobi 36V Brushless motor features a 46cm cutting width, 45L catcher, five height settings, load-sensing technology to give you a boost when the mower senses a tough patch, in addition to collapsible folding handles for easy storage. The 36V 6.0AH Brushless mower bumps up the cutting width to 51cm, in addition to a 58L catcher alongside self-propelled functionality to help you work smarter, not harder. It also features seven cutting heights, space on board for a spare battery to help with those big jobs, as well as telescopic handles that can be folded for easy storage.
If you only have a small patch to take care of, the 1300W corded Ryobi lawn mower may be the one for you, featuring a 33cm cutting width, adjustable handles, compact storage capabilities, EASYEDGE polymer deck for durability on those tough patches, five cutting heights, 35L catcher and a lightweight design, weighing at 9kg for easy use around the garden.
Ryobi Ride-On Mowers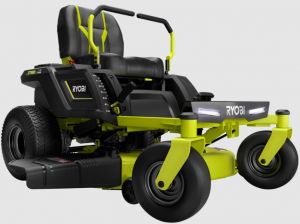 Ryobi offers a number of ride-on mowers, with its range beginning with the 48V Brushless mower, with features a run time of up to one hour on full charge, capable of tackling a full acre. It has also has three brushless motors – one for the engine, and the others to power the blades – with a 76cm cutting width, seven height settings, LED headlights, adjustable seat, USB charger, battery gauge and cup holder for equal parts comfort and usability. The middle model jumps up to a two-hour run time, and also includes 12 cutting heights, a 96cm cutting width and optional grass catcher to help take care of the clippings. The top-of-the-line Brushless Zero Turn Rider features a run time of up to three hours, 106cm cutting width, zero turn radius, four brushless motors (two for the motor, two for the blades) as well as spring shocks in the seat for additional comfort.
---
Read more: Cheap Lawn Mowers
---
Where can you buy a Ryobi lawn mower?
Ryobi lawn mowers are exclusively available to purchase at Bunnings warehouses, with a store locator also available on the Ryobi website.

How much do Ryobi lawn mowers cost?
Ryobi lawn mowers are competitively priced within the market, with its range of push mowers costing between $300 and $700, while its ride-on range costs between $4,400 and $7,500. While not the cheapest brand available, Ryobi certainly isn't the most expensive either.
Are Ryobi lawn mowers worth the money?
You'd be hard pressed to find someone who hasn't heard of, or used, a Ryobi power tool, with the brand covering a lot of bases and areas of the house in its line-up. As a result, you've likely come across a few of its lawn mowers as well, with the brand offering a number of options to choose from, regardless of your lawn size or budget.
But while the brand is relatively well-known, doing your own research into what's available in the market, as well as looking into what features, functions and power output is needed to help you get the job done will be more important factors to consider rather than the brand name on the side of the mower. However, if you're new to the lawn mowing market, Ryobi is a good option to consider, particularly if you're also looking to kit out the garden shed with tools. If you're still not sure, check out our ratings on lawn mowers to see which brand was best rated by Australians.
Photo Credit: Shutterstock.com, Ryobi 
About the author of this page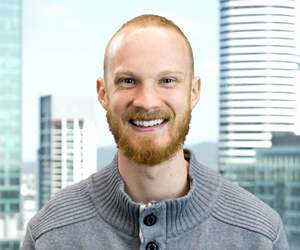 This report was written by Canstar Blue's Site Editor, Dean Heckscher. He's our resident expert on all things automotive, health & fitness, streaming and more. Dean is also one of Canstar Blue's customer research report producers, helping to turn complicated subjects into easily-digestible information for our readers. He's passionate about helping consumers make better-informed purchase decisions on all manner of consumer goods and services.