Ryobi lawn mowers: What can you get for your money?
If you're in the market for a new lawn mower, a Google search presents a dizzying array of choices, information and jargon that you're going to have to wrap your head around. Fortunately, Ryobi lawn mowers have helped make this a little bit easier with their offerings.
What lawn mowers does Ryobi sell?
You'll most likely know Ryobi for their power tools – chances are you or someone you know has a drill made by Ryobi in the shed. But did you know they also make lawn mowers? For the Australian market, Ryobi has released a concise arrangement of four different lawn mowers – two electric and two petrol-powered.
The latter group is perhaps the most intriguing of the lot. Ryobi has collaborated with Subaru to deliver some powerful mowers. You'll most likely know Subaru for the cars, specifically the boy-racer, exhaust rumbling WRX. While their mowers likely won't go from 0-100 in less than six seconds, they do provide a viable choice if you're in the market for do-anything petrol mowers. See the range below for a quick rundown:
| Electric Models | Features |
| --- | --- |
| Brushless Lawn Mower | 36V, 5Ah lithium-ion battery, LED battery level indicator, 46cm deck, brushless motor, 5 different cutting positions, mulching capacity |
| 36V Lawn Mower | 36V lithium-ion battery, LED battery indicator, 40cm deck, 20-70mm cutting range, 5 height adjustments, 50L catcher |
| Subaru x Ryobi (Petrol) Models | |
| 190cc | 190cc engine, 11.2Nm torque, 46cm deck, 10-75mm cutting height, 4 swing back blades, mulching capacity |
| 175cc | 175cc engine, 46cm deck, 10-75mm cutting height, 50L catcher |
Ryobi electric lawn mowers
If you've got a bit of a green thumb, or just hate waking up your neighbours on a Sunday morning, then a Ryobi electric mower may be for you. The standout mower in this coupling is the brushless 36v beauty (pictured). If you're wondering what on earth 'brushless' means, then just know it can result in a more power-efficient mower, which then means you could get more 'bang for buck' per charge. The brushless version features a large 5Ah lithium-ion battery, which delivers great capacity and allows a run time of about 55 minutes, as per the Ryobi website.
This could be enough to mow your whole lawn – depending on your block size of course! You'll also have to consider the price – a ballpark figure of around $500+ for the brushless unit is to be expected. The brushed unit can be found from $429 from Bunnings Warehouse.
Ryobi petrol lawn mowers
If you're more inclined to love the smell of petrol and like the performance petrol can bring, then one of these mowers Ryobi has collaborated with Subaru on may be more up your alley. Long story short, they are jam packed and powerful. Upon looking at the unit, you'll likely be impressed by the rather large donk – or engine – on top of the chassis. The standout model is the 190cc version, which, built by Subaru has an overhead cam, and is four stroke. It provides a hefty 11.2Nm of torque at 2500rpm. This could likely mean long, tough grass is history.
With a massive deck of 460mm and a mulching function, this bad boy will likely make short work of mostly whatever type of lawn you throw at it; it's begging for a challenge. Chop chop! The mower also features four swing back blades to get in and out of mowing faster. Ryobi collaboration with Subaru may seem odd, but ultimately it delivers some powerful mowing capabilities, sure to excite a lot of weekend home maintenance warriors. At $499 from Bunnings Warehouse, the 190cc model represents great value for money that competes with the top-line electric model.
Is a Ryobi lawn mower worth the money?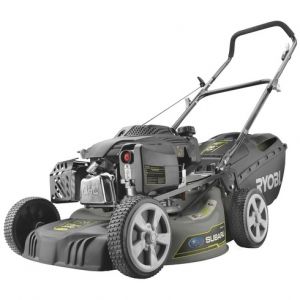 Ryobi might seem like a left-of-field mower of choice for many, but what they deliver competes with the big boys in mowing. Their electric mowers offer great run-times and some nifty features at a price comparable to many other electric mowers. However, around $500 is nothing to sneeze at; you might find that on the market there are many cheaper electric models out there these days. Though before going out and buying the cheapest, you'll have to consider things like:
Battery size
Performance
Charge time
Blades and chassis quality
You might find that a lot of electric mowers skimp on these things to give you a better price for the sake of going electric. However, Ryobi does not really compromise – this is reflected in their prices. Before buying up a Ryobi electric mower, you'll have to compare these specifications with other brands in the market.
Ryobi's petrol models, while similar in price, are a slightly different story. At around $500, they compete with the likes of Victa and Masport on price, but Ryobi beats them out on engine capacity and torque levels. This is likely due to their intriguing collaboration with Subaru. Subaru have some exciting, powerful cars on the market, so it's a no-brainer that they can transfer this to a lawn mower. The Ryobi and Subaru collaboration has delivered some mowers that just might make you excited about actually mowing the lawn.
With both types of mower around the $400-$500 range, it's no 'cheap and cheerful'-type setup. A mower is more than just a frivolous purchase; we suspect if you've done your research, then a Ryobi mower – petrol or electric – may fit the bill for your mowing needs.
About the author of this page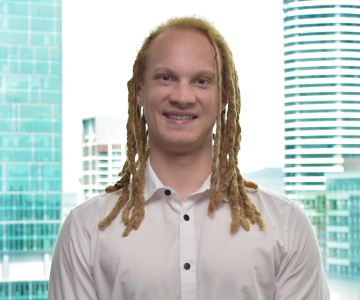 This report was written by Canstar Blue's Content Projects Lead, Dean Heckscher. He's our resident expert on all things automotive, health & fitness, streaming and more. Dean is also one of Canstar Blue's customer research report producers, helping to turn complicated subjects into easily-digestible information for our readers. He's passionate about helping consumers make better-informed purchase decisions on all manner of consumer goods and services.