With recent events forcing millions of Australians to work from home, everyone is looking to build a home office or upgrade their existing one. The humble desk chair is arguably the most important part of any home office setup, but is often overshadowed by fancier, more high-tech gadgets. But considering a good desk chair can be the difference between being comfortable on the job and ending the day stiff and sore, it's worth investing your time and money into.
With thousands of desk chairs available, it can be difficult choosing the right one for you, as different jobs can require different chairs, and everyone has different preferences, needs and office spaces. To help make the decision something you can do sitting down, Canstar Blue has put together a guide on what you should consider when buying a desk chair, and what types and brands are available.
What to consider when buying a desk chair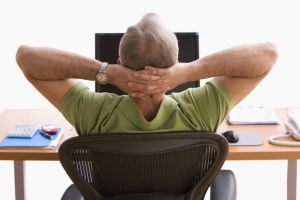 Finding a desk chair that suits your office space and derriere can prove to be a struggle. To help find the best one for your needs, here's what you should consider before sitting down.
Adjustability
Everyone has different sitting preferences, meaning having a desk chair that can adjust to your needs and comforts is essential for a productive day. Adjustable settings such as back support, armrest, chair height and being able to lean back will ensure that you can sit back and relax as the log in for a day's work.
Support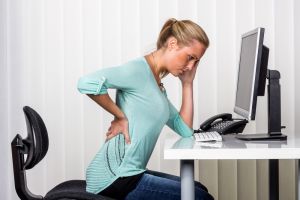 As you'll be sitting down for hours at a time, having additional back support – primarily lumbar support – can make your time at your desk more comfortable, and save you feeling stiff after a tough day at the 'office'. Some chairs also encourage proper posture while sitting, saving you from long-term damage.
Office Space
How much space you have to play with in your home office will also impact on which type of chair you can buy, with those with cramped study nooks potentially limiting what you can do. Looking into the dimensions of the wheel base and arm rests can help you avoid purchasing something that doesn't fit under your desk, or in your home office.
Wheels
Having a wheel base can make scooting around the office space easier (and more fun), but it may not be suitable for all home offices, particularly if you're cramped for space. Additionally, if you have carpet and are looking at getting a wheeled chair, make sure you buy a chair mat to protect your carpet!
Material
Going for leather may feel like a blessing every time you sit down, but it may prove sticky during summer if your home office isn't well ventilated. Considering how much time you'll be spending in your chair, you'll want to go with a material that feels comfortable while you're in it, and easy to clean in case you spill your morning coffee!
Style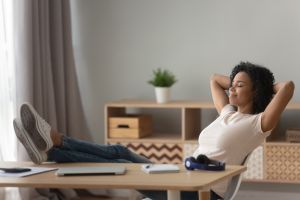 Similar to material, what style you decide for your home office setup will come down entirely to your preferences. Whether you want something simple, something contemporary or something that's eye catching, you'll be spoilt for options with plenty of brands and models available.
Budget
One of the biggest factors in your decision, the price tag attached to the desk chair may scare some off, but with the desk chair your home for a good chunk of the day, it's not an area that you want to skimp out on, with many features such as adjustability and support costing more. But a good chair is a good investment in your comfort, posture and health, so the cost may be a small price to pay down the line.
Office chair types
Here is a rundown of what types of desk chairs are available:
24 hour chairs
Ergonomic
Armless
Mesh
Executive
Kneeling
Big and tall
24 hour desk chair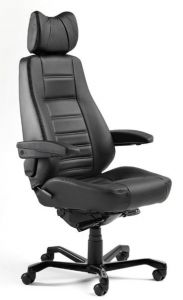 '24 hour' chairs are called such because of their durability and being able to withstand weight for very long periods of time. With a heavily thick padded seat, quality frame and ergonomic improvements, this type of chair is ideal for supporting you for long days at work, and often come with padded head and arm rests. However, as they're designed to be used all day, every day, these don't come cheap, but may be well worth the investment if you're looking to put in long hours.

Ergonomic desk chair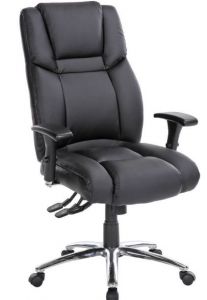 One of the more common types of desk chair generally available, ergonomic chairs are designed with basic comfort and support in mind, with many ergonomic desk chairs including adjustable features and additional back support. Varied in price – depending on which brand and features you're after – an ergonomic chair will be an ideal fit in many home offices.
Armless desk chair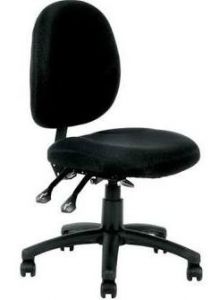 Armless chairs are great for people working in tight spaces, or those who are looking for an affordable desk chair, with armless varieties generally some of the cheaper models available. Armless chairs will also be suitable if you don't spend too much time at your desk, with most models generally with less padding and support, making them ideal if you need a chair, but aren't after anything too fancy. That being said, you can still get a plush armless chair!

Mesh desk chair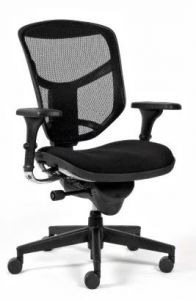 Mesh chairs are a unique type of chair, offering constant airflow and a contemporary, aesthetic looking style. The mesh integrated into the back padding of the desk chair allows ventilation for comfort, as this specific material is also great when leaning back as it will adapt and flex to your preferred seating position. Priced in the middle range of desk chairs, the mesh chair is a great option for people looking for a bit more comfort in their home office.
Executive desk chair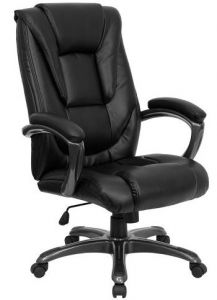 Executive chairs look as good as they sound, with an exquisite design usually encompassing leather/faux-leather features, quality padding and great built-in lumbar support. Similar to 24 hour chairs, executive desk chairs are suitable for those working long hours, as they're tailored for prolonged use with high backrests. Being on the higher end of the pricing range, executive chairs aren't for the faint-hearted, but may be worth the cost.

Kneeling desk chair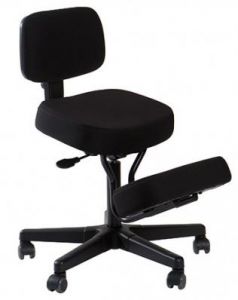 Kneeling (or kneel) chairs are a relatively new addition to the desk chair group, providing an alternative option to help reduce lower back strain generally caused by long-term desk work. Positioning your thighs on a 60-70 degree angle and kneeling on the knee cushions allows the body weight to be partially supported by your shins, which divides the weight between the seat and knee cushions, putting less stress on your lower back. Of course, it may take a while to get used to it, but worth exploring if you're looking for something a bit different, or you're worried about your back.
Big and tall desk chair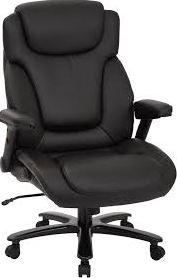 Big and tall chairs are unsurprisingly both big and tall, tailored for those with a large stature who need something more than the 'average' desk chair. Usually equipped with seven legs instead of the regular five, the big and tall chairs are much sturdier, as well as providing easier movement for users. With heavy-duty construction to ensure long lasting use, the big and tall chairs are perfect for people that aren't comfortable in standard desk chairs.

Where can I buy a desk chair?
Desk chairs are available at a wide variety of online and physical retailers, including furniture stores such as Amart Furniture, Fantastic Furniture and IKEA, as well as retailers such as Target, Myer and Kogan, along with chair-specific retailers, giving you plenty of options to choose from. Most retailers will also offer delivery, meaning you don't even need to leave the house!

Which desk chair should I buy?
Choosing a desk chair can be tough, but it's well worth the time and effort investigating – after all, you'll be in it for long periods of time! Thankfully, with plenty of options out there, suitable for all budgets, office spaces and support needs, you should be able to find something to take a weight off your feet. But with the desk chair only one part of the home setup, check out our guide on what you need for your home office to ensure you're making the most of your time at home.

Photo credits: Africa Studio/shutterstock.com, micro10x/shutterstock.com, Lisa-S/shutterstock.com, fizkes/shutterstock.com