When the temperature begins to drop, nothing can beat cocooning yourself under the covers, provided you have the right blankets! With no shortage of bed linen types, fabrics, materials, sets, sizes, feels and colours, sorting out your bedroom is equally exciting as it is daunting, especially if you're looking to kit it out for the winter months.
While you may have the colours, fabrics and vibe sorted for your bedroom, there's one area that you won't want to skip over – the doona. The heavyweight of the bed linen world, the doona is arguably the most essential piece of bed linen during winter, but what should you be looking for in a doona to give you that peaceful night's sleep we all crave? Find out in this Canstar Blue article.
What is a doona?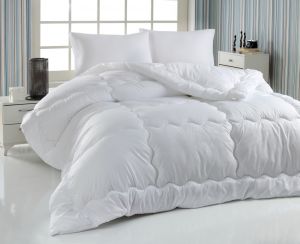 Also known as a duvet or quilt, a doona is a type of heavy, flat bag bedding that's used as the top layer of your bed to keep you warm, and comes in a variety of types, sizes and fills, including feathers, down, wool, silk or a synthetic alternative.
Doona filling types
Like other bedding products, such as pillows and mattresses, the filling of your bed's doona can be the difference between a full night's rest or tossing and turning until the early morning. But just what filling is available, and which is the best for winter weather? Find out below.
Feather: On the heavier side of the scale, feather doonas can give you that classic 'tucked in' feeling, with most feather doonas hypoallergenic, helping those who suffer from allergies to enjoy a peaceful night's sleep.
Wool: One of the most common types of doona filling, wool is a natural fibre used in clothing and other bedding and helps regulate temperature. Wool is also ideal for those who typically suffer from allergies.
Down: Generally the 'fluffiest' doona you can find, Down doonas are traditionally very light, meaning you won't feel crushed during your sleep. Down doonas also helping insulate body warmth and draw away moisture for a more comfortable sleep.
Silk: Traditionally a very fine and smooth material, silk doonas are generally found at the more expensive end of the price range, but may be worth it if you're looking for a bit of luxury from your doona.
Bamboo: Another lightweight material, bamboo doonas are also breathable and help to pull away moisture, allowing for additional comfort during your shuteye.
Cotton: Similar to wool, cotton filling helps with absorbing any moisture and is suitable for those with allergies, with cotton also quite durable, meaning it can travel around the house with you on those chilly mornings.
Microfibre: A synthetic material, microfibre is generally the most convenient doona filling because it's machine washable and can be found in a variety of weights, allowing you to find your preference when it comes to how much you want to be buried under the sheets.
Doona filling GSM explained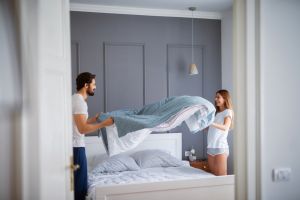 When looking at doona filling, you'll often come across the letters GSM, but what does this mean? GSM simply stands for 'Grams per Square Metre' and refers to the weight of the filling. The higher the GSM, the warmer the doona filling generally feels. While not an industry standard, most brands and retailers go by the general rule of thumb below:
150-250 GSM is ideal for those after a light or 'summer' doona.
250-500 GSM is for more suited for autumn and spring weather.
500+ GSM is best for surviving the winter chill.
However, GSM doesn't apply to every filling type, so it's best to look into all filling types to find the best fit for your needs and climate.
Doona Sizing Guide
Like your mattress and linen, you have to make sure you're getting the correct size doona for your bed, as going too small can leave one side of the bed chilly, while going too big may mean you're spending more than you need to at the checkout. As a general rule of thumb, doonas and quilts are a bit larger than their mattress counterparts to save you from wrestling back your side of the blanket from your significant other. Below is a sizing guide for what size doona you should be looking at for your bed.
| Mattress Size | Dimensions (Width x Length) | Recommended Size (Width x Length) |
| --- | --- | --- |
| Single | 915mm X 1900mm | 1400mm X 2100mm |
| Single XL | 915mm X 2030mm | 1400mm X 2100mm |
| King Single | 1055mm X 2030mm | 1800mm X 2100mm |
| Double | 1385mm X 1900mm | 1800mm X 2100mm |
| Queen | 1525mm X 2030mm | 2100mm X 2100mm |
| King | 1835mm X 2030mm | 2400mm X 2100mm |
| Super King | 2030mm X 2030mm | 2700mm X 2400mm |
What to consider when buying a doona or quilt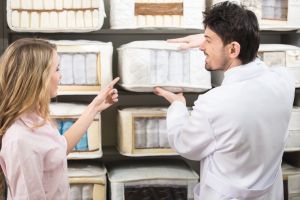 While it may be easy to simply grab the first soft doona or quilt you see when you walk into the store, there's a few things to consider before taking your new bed linen home, including:
Filling: We all have preferences when it comes to sleeping – that's why pillows and mattresses are available in varying firmness levels and fills. As a result, choosing a filling that's comfortable to sleep under is one of the most important areas to consider, as you'll want something that's comfortable but without being restrictive, with some fillings also machine washable, making it convenient to wash and clean. Climate will also play a part in your filling of choice, as those in colder climates may prefer heavier fillings for additional comfort and warmth.
Size: There's not much point buying a doona that doesn't completely cover your bed, so ensuring you get the correct size for your bed can save you from feeling the chill at night.
Durability: While for some the doona stays firmly on the bed during winter, for others, the doona is needed for those weekend TV binges on the couch, meaning you'll want something that can handle trips around the house – and potentially further if you really feel the cold! Over time, you may see that your doona loses its fluffiness (known as 'loft' in the doona industry) so look into how well a doona is expected to last, particularly if you prefer sinking into a fluffy doona after a hard day at the office.
Price: As with most purchases, the price tag can be the biggest deciding factor in whether you put the doona back on the shelf or take it home with you. However, considering you're buying something to help you stay warm and get a good kip, this may be an area that you don't want to skimp on, as a good night's sleep is worth its weight in gold. But that doesn't mean you should buy the most expensive option either, as a hefty price tag doesn't always mean good value. As a result, doing a bit of research and testing out a few doonas in store can save you hassle and money down the line.
Is buying a doona worth it?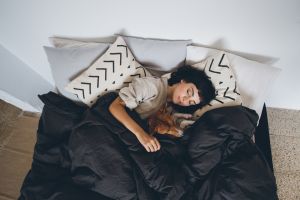 While Australia may not feel the chill like some countries do, it can get pretty nippy during the cooler months, meaning investing in a comfy and warm doona can be the difference between gently waking from a solid night's rest or having the chattering of your own teeth wake up you in the middle of the night. While you can always look into buying an electric blanket, taking some time to research into the best doona option for you can make sure you don't lose any sleep over your decision.

Picture credits: WAYHOME studio/shutterstock.com, porti/shutterstock.com, Dusan Petkovic/shutterstock.com, VGstockstudio/shutterstock.com, BublikHaus/shutterstock.com