What better way to enjoy summer than with a swim? The beach can be fun, but bringing the water to your own backyard means you can spend more time swimming and less time fighting the crowds at the beach or public pool. But having your own swimming pool comes with great and legal responsibility – that means ensuring your pool fence is correct to your state's standards.
Drowning is one of the leading causes of death for young children in Australia. Even if you don't have young children, you are still legally required to comply with pool safety regulations. You never know when a child might be visiting, or whether a neighbour's child might go exploring and end up in your backyard.
Do I need to fence my swimming pool?
Pool safety laws apply to any pool that can be filled with more than 30 centimetres of water, even if it's a portable or inflatable pool. However, if it's just a shallow inflatable pool with a fillable depth of less than 30 cm, you don't need to fence it. Shallow pools can still be a hazard to young children though, so it's still important to take care and not allow little ones access to pools or ponds without supervision.
How do I choose a safe swimming pool fence?
Broadly speaking, a safe pool fence is one that makes it impossible for small children to climb over, through, under, or around. Criteria for a safe fence generally include:
Gaps narrow enough to prevent a toddler from squeezing through
No climbing footholds
At least 1.2m high, with no more than 100mm gap between the bottom of the fence and the ground
Strong and rigid so that a child can't create a gap big enough to get through, and so that wild weather or heavy impacts cannot damage or dislodge it
If your pool fence is damaged or dislodged, you must have it repaired or replaced as soon as possible.
What are the swimming pool fencing laws?
Pool fencing safety requirements are set out in Australian Standard AS 1926.1-2012 Section 2. It's the job of each state and territory to create laws and procedures for enforcing this standard.
These laws and procedures vary depending on which state or territory you live in. While the laws are set by state and territory governments, many local councils also have the power to inspect and issue fines for noncompliance. It's important to make sure you comply with local laws to avoid fines and (even worse) injury or death to children.
These laws are broadly designed to make sure all pool fencing is effective at keeping out young children. Generally it is possible to get exceptions to some requirements in extenuating circumstances, such as where a resident has a disability and compliance would make it impossible for them to access the pool area.
Safety requirements aren't just for when pool fencing is constructed or installed. It's also required to maintain compliance, which means residents are responsible for regularly maintaining and checking the fence and surrounding area.
This may all seem quite confusing. The best way forward is to check your state's requirements, then contact your local council or check their website to see if there are any additional local requirements. You can find out more about your state's pool fencing laws at the links below:
What kinds of swimming pool fencing are there?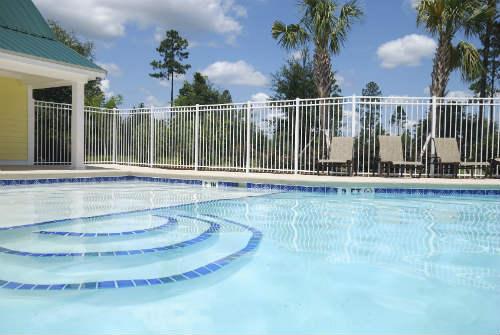 Metal frame
Usually made of either stainless steel or aluminium tubing
The most common and affordable option
Can be obtrusive to your view, but can still appear quite modern and stylish
Watch out for corrosion near its ground attachments – you can prevent this with regular cleaning and maintenance
Can be easy for children to climb, especially if there's furniture they can move to the fence
Glass
Made of safety glass panels, which are either fixed between posts (semi-frameless) or set into spigots drilled or bolted into concrete (frameless)
Very expensive compared to other types of fencing
A lot of cleaning and maintenance required
Looks great and allows a clear unobstructed view
Wood
Not the safest choice, as it makes it very difficult to see whether someone is in the pool area
Requires regular maintenance, with treating and repainting at least once a year
Mesh
The easiest type to install and remove
Very difficult to climb
Can blend in quite well – the mesh allows a clear view into the pool area, and you can choose a colour that works well with your backyard
Not as common as other types, so you may need to look a bit harder to find it
How much does pool fencing cost?
Pool fencing can be expensive, but it's absolutely integral to have a good fence with your pool. Many suppliers don't list prices on their websites, so you'll need to either go visit them in-store or request a quote. Measure out how much fencing you'll need, then shop around to see what your options are and find the best price. Custom fencing will cost more. Don't forget to ask about the cost of installation, as this usually isn't included in fencing prices.
If you just want something simple and can install it yourself, you can buy basic pool fencing from hardware stores like Bunnings and Mitre 10. If you're self-installing, make sure you know what the legal requirements are in your local area. Most councils require an inspection as part of the swimming pool certification process, which usually involves a fee. Check with your local council to find out what the approval process involves and how much it costs.
The main things you'll need to buy to put fencing together (this varies depending on the type of fencing):
Fencing panels
Fence gate & hinges
Fence gate latch (a special safety type for pool fences)
Fence posts
Fixing points to attach panels to posts
How do I check if my pool fencing is safe?
Keep your swimmers safe this summer and make sure that your pool is safely fenced off. You should regularly look for signs of damage or deterioration, especially if parts of your fence are obscured by garden plants. The last thing you want is an unnoticed gap that little ones can get through. Make sure that there isn't furniture that children can move and use to climb over the fence. Keep trees and shrubs pruned back so that they can't be used to climb over either.
Whenever anyone leaves a pool area, make sure that the gate has properly latched behind them rather than just being pushed to. Most properly fitted and functioning pool fence gate latches should not require additional force to latch. If the gate isn't closing properly, parts may require adjustment or replacement.
Check your local pool fencing regulations and inspect your fencing to make sure it's still compliant. It may be a good idea to seek professional help with this.