So, the Australian heat finally got to you – and the brand-new pool in your backyard is almost complete. There's just one thing missing though, and that's the perfect fence. Not only do they prevent drowning and injuries amongst young children, it is now the law throughout Australia that you must have fencing surrounding your pool. Obviously, you'll want to keep the area safe, but you also need to factor in cost, materials and design. It's overwhelming we know, so Canstar Blue has put together this buying guide to help you make the right decision for you and your pool.
Before you begin:
Although it might be tempting to jump (or dive) straight in and purchase the swankiest pool fence you can find, there is actually a lot you need to factor in. Firstly and most importantly, all Aussie swimming pool owners are required to follow their own state's specific pool safety regulations – see the ones for Queensland and New South Wales. These outline certain height and length restrictions that must be followed, such as:
Your pool fence should be at least 1200mm from bottom to top.
The gap from the bottom of the fence to the ground cannot be longer than 100mm.
The gap between the vertical bars in the fence cannot be longer than 100mm, and horizontal bars should be at least 900mm apart.
If a boundary fence is part of the pool fence, the barrier should be 1800mm high from the pool area.
If you are using mesh fencing, the holes should be 13mm or less.
Fencing must be made from a material that cannot be broken through.
Due to the nature of these regulations, it would be easiest to have your fence installed professionally. If you are wishing to build and install it yourself, make sure you do your research, and pay close attention to the regulations to avoid any fines.
Choosing your pool fence
Alright, now it's time to get down to business! There are a few different styles and materials you can choose between, and it's a good idea to ask for quotes from different pool fencing installers/suppliers before you make your final decision, as they will all vary in cost.
Glass pool fencing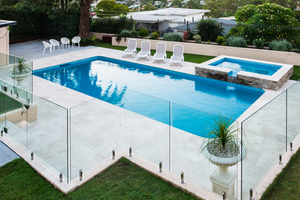 This style of pool fencing is generally the most expensive, but is also high in demand due to the sleek design and stylish finish it gives to your pool space. Many parents shy away from glass due to worries over the glass cracking, however the fencing (made from tempered glass) is extremely tough, coming in 8, 10 and 12mm thickness and has been proven to be child safe (it is even encouraged as most children struggle to climb the slippery glass!). There are two different styles of glass pool fencing to choose from:
Frameless glass fencing – this consists of panels of glass secured via the ground with clamps, called spigots (these alone can cost up to $50 each). According to HiPages, you'll be paying anywhere between $200 and $600 per linear metre.
Semi-frameless fencing – this consists of panels of separated glass which are attached to posts in between each one. This fencing costs from $200-$275 per linear metre.
Note: these prices are not including the cost on installation.
Aluminium
This is undoubtedly the most popular pool fence on the market right now – and for good reason. The material is lightweight and easy to install, so you can either save money by installing it yourself, or have it completed in just one day if you choose to hire a professional. The material is extremely long-lasting and durable, meaning it will go unaffected by the weather and not rust or corrode away. This also means the material is low maintenance – which we all love. And last, but certainly not least, aluminium fencing is very economical; the average cost of a linear metre is between $90 and $120 – a massive saving from glass fencing.
Steel
To an unknown eye, steel and aluminium would be difficult to tell apart – but there are differences. Steel is a lot stronger and heavier than aluminium and is therefore ideal for properties that face threats such as frequent heavy storms or falling trees. You'll be paying slightly more than aluminium, but steel is not only stronger, it also lasts longer (with a longer warranty too!). However, steel is known to rust, so you need to ensure that you're purchasing steel that has been galvanized in order to prevent corrosion. According to HiPages, depending on where you live and your individual circumstances, steel fencing will cost anywhere from $65 to $100 per metre (linear metre price is not listed).
Other materials you could use
If those don't appeal to you – no sweat, there are heaps of other options available! Prices below are a rough estimate only:
Wrought iron – This is another type of metal fencing, but with a much more decorative and elegant style. You pay the price for style though, at approximately $450 to $600 per metre.
Timber – This is an affordable way to spice up your pool space, with treated pine paling just $75 to $120 per metre. But it needs to be treated and maintained a lot more than other materials.
PVC – Also known as vinyl, this fencing is strong and once set up, requires zero maintenance. Get the classic white-picket fence look for just $50 to $65 per metre.
See also:
Gates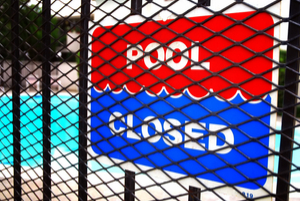 Whether you choose to pay for installation or have a crack setting up a fence yourself, before you sit back to admire, you need to make sure that the gate is perfectly secure and safe. Take a look at these regulations stated by the NSW pool safety:
Gates need to be self-closing from any position.
The gate should be able to latch by itself.
The gate should open outwards (away from the pool)
Once your fence is built, do yourself and your family a favour by keeping the gate well-maintained. If you have young children and pets, it is especially important to regularly check on the latching and the opening/closing systems on the gate.
So, there you have it! We can almost see you lying in your pool, surrounded by your brand-new, well researched your pool fence.