Move over, Premium NBN 100. Gigabit NBN – also known as NBN 1000 – is up to 10 times faster than NBN 100, and it's now available nationwide to selected residential customers.
But there's a lot to get up to speed on – NBN 1000 isn't for everyone, nor is it available in every home. Moreover, gigabit-speed NBN is expensive, and only offered by a small number of Aussie providers. But if you're interested in ultra-fast broadband, let's dive into everything you need to know about NBN 1000.
Jump to:
What is NBN 1000?
NBN 1000 is the fastest NBN speed on offer for residential addresses in Australia, but it's only available from limited providers over certain NBN connection types. The maximum download speed on these plans is 1000 megabits per second (Mbps) – this is why NBN 1000 is also referred to as 'gigabit NBN', as 1000 megabits is equal to one gigabit (Gbps). So yeah, pretty quick hey!
Although download speeds are ultra-fast, the maximum upload speed of a NBN 1000 plan is 50Mbps. But overall, NBN 1000 is much faster than NBN 100, which is the fastest speed tier offered by the majority of NBN providers, including Telstra, Optus and TPG. The trade-off for these fast speeds is the price, as NBN 1000 plans are some of the most expensive consumer broadband options on the market.
NBN 1000 plans
Residential NBN 1000 plans are only offered by a handful of providers, most notably Vodafone, Launtel, Aussie Broadband and Superloop. Prices, plan inclusions and upload speeds will vary vastly between each provider.
The following table shows a selection of published unlimited Aussie Broadband NBN plans on Canstar Blue's database, listed in order of standard monthly cost, from the lowest to highest. Use our comparison tool to see plans from a range of other providers. This is a selection of products with links to a referral partner.
How much does NBN 1000 cost?
If you want the fastest NBN speeds available, be prepared to pay a far higher price. Recent wholesale price changes introduced by NBN Co have made NBN 1000 more affordable for residential customers, but you're still looking at the $140-$150 per month mark for unlimited data.
Launtel's 'FastAF' NBN 1000 plans begin at $4.60 per day, as the company charges on a per-day basis rather than by month (!). This works out to be $139.91 per calendar month, or $1,679 annually.
Aussie Broadband and Superloop offer NBN 1000 from $149 per month, but while Aussie Broadband's plan includes unlimited data, Superloop caps usage at 1 Terabyte per month. While this is more than enough for even the heaviest of data users, if you do exceed Superloop's cap your speeds will be slowed to 100Mbps until your billing cycle resets.
The most recent provider to offer NBN 1000 is Vodafone, which prices its gigabit-speed unlimited data plan at $155 per month. This is the most expensive NBN 1000 plan offered to residential customers by a major provider, but customers can save up to 20% by bundling their NBN service with other eligible Vodafone phone or broadband plans. All Vodafone NBN plans are month-to-month and free from setup costs, excluding an optional charge for the Vodafone WiFi Hub modem.
In addition to a steep monthly fee, NBN 1000 also requires an investment in hardware. You'll want a modem/router that's capable of a consistent NBN 1000 speed, which could set you back around $125 at a minimum – your standard NBN modem is unlikely to cut it. Aussie Broadband recommends gigabit NBN customers use the Google Nest WiFi for this very reason, and offers the device in packs from $369 upfront on all fast NBN plans.
The aforementioned Vodafone Hub can support an ultra-fast NBN connection, but only if you skip the Ethernet cable and use the device's 5GHz WiFi to connect. If you do add this to your plan, the Hub will set you back $180, but is free of charge when you stay connected for 36 months.
Compared to NBN 100 plans – which start at around $75 per month, and can go up to $130 or more – the price gap between NBN 100 and NBN 1000 is fairly steep, but not completely unfair given the potential speeds offered by gigabit NBN. If you're working from home or rely heavily on your broadband, this might be a good investment, but you may need to weigh up speeds versus your budget.
Each provider that offers NBN 1000 also offers NBN 100 – which could be a good starter tier if you want a faster internet speed. Aussie Broadband's prices for unlimited NBN 100/20 begin at $89 per month, with NBN 100/40 at $99 – a sharp difference from the $149 per month price for NBN 1000.
Launtel's NBN 100/20 plans start at $2.90 a day (around $88.20 per month), significantly less than the daily $4.60 charge for NBN 1000. Finally, Superloop's NBN 100/20 plan is priced from $89.95 a month, almost $60 cheaper each month than its NBN 1000 option.
How fast is NBN 1000?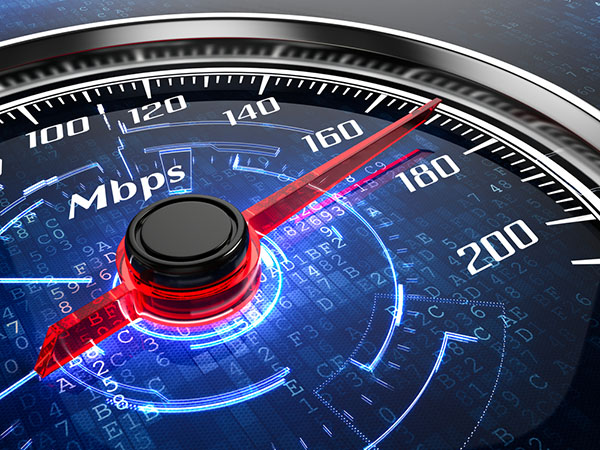 NBN 1000 is the fastest available residential NBN speed in the country, up to 10 times faster than mainstream NBN speed. At its maximum theoretical speed, gigabit NBN should offer the following download times::
Full-length musical album: less than a minute
TV show episode in 1080p: less than a minute
30GB 4K movie download: four minutes
90GB video game: 12 minutes
Keep in mind that these speeds are calculated from the maximum potential speed, and real-world results may vary. Because this speed tier is quite new, sellers aren't yet able to provide an accurate typical evening speed, which lists the average download speed experienced by users between 7pm and 11pm.
However, customers should expect a minimum of 215Mbps, which is Aussie Broadband's typical evening speed for NBN 250. Aussie Broadband has estimated that off-peak speeds could be as fast as 800-900Mbps, so overall NBN 1000 offers an incredibly fast connection.
Your actual speeds can vary depending on your provider, NBN connection type, and more. Some of the factors that can impact your download and upload speeds include:
Your distance from your modem on a WiFi connection
Your home's distance from your local NBN node
Damage to your fixed line connection, such as the copper or HFC wiring
Can I get NBN 1000?
NBN 1000 is only available on two NBN connection types: Fibre to the Premises (FTTP) and Hybrid Fibre Coaxial (HFC). For FTTP connections, NBN 1000 is available across the board, but for HFC, you'll need to speak to your ISP about the technology available at your property, as only around 7% of HFC-connected homes are eligible for ultra-fast NBN.

The limited access to NBN 1000 is because the speeds offered are simply too fast for slower connections, such as Fibre to the Building (FTTB) and Fibre to the Node (FTTN).
If you still want NBN 1000, but don't have the right technology to access these fast speeds, you do have the option to upgrade. If you've got money to spend, you could consider the Technology Choice Program, which allows homes and neighbourhoods to pay to switch to FTTP, though it doesn't come cheap.
Do I need NBN 1000?
NBN 1000 could be worth considering if you need a fast, reliable connection to work from home. Gigabit speed NBN may also suit users who stream a lot of high-definition and 4K content, regularly download large files, or are serious online gamers. For the most part though, you might be better off with an NBN 25 or NBN 50 plan if you're a casual user, especially if you're not sharing a plan with multiple household members.. Even if you're a power user, NBN 50 or NBN 100 might be a better fit if you're trying to watch your spending.
If money isn't an issue, and you value your NBN speed highly, NBN 1000 could be a good investment. NBN 1000 is expensive compared with NBN 100, but all things considered – including the 10-times-faster maximum speed – it's comparatively well-priced. An ultra-fast plan is also a great way to ward off any congestion on your internet connection – you could potentially say goodbye to loading screens and buffering symbols.
Before you jump on board, also consider upload speeds. These speeds vary between providers: Launtel, Vodafone and Superloop each offer 50Mbps upload speeds on their respective NBN 1000 plans, while Aussie Broadband's NBN 1000 plan features 25Mbps uploads. This is something worth thinking about if you do lots of upload-intensive internet use, such as Twitch streaming, making video calls, or really any frequent online file transfers.
If you're don't fit into any of the above categories, then it's probably not worth jumping on the NBN 1000 bandwagon. NBN 100 is typically seen as a plan for power users, so needless to say NBN 1000 is for extreme power users with the cash to match. However, if you're interested in Vodafone, Launtel, Superloop or Aussie Broadband's fast speeds, it might be worth dipping your toe in by signing up for an NBN 100 or NBN 250 plan before making the jump to NBN 1000. 
NBN 100 and NBN 250 are fairly fast to begin with, and upload speeds don't vary too greatly between either speed tier. There's a good chance you'll barely notice the difference, unless you're incredibly demanding on your internet use.