Google's long-awaited Pixel 3 and Pixel 3 XL have finally been announced – and although months of leaks have rendered the launch a little underwhelming, there's still some surprises in store for Australian buyers.
The biggest plot twist of the Google Pixel announcement is that both devices will be available on plans from Telstra, Optus, and Vodafone. As both the Pixel and Pixel XL have previously been Telstra-exclusive releases, the news that Google will officially partner with all three Australian networks is a pleasant surprise, giving Aussies a much wider range of options for picking up either premium smartphone.
Google Pixel 3
The standard Google Pixel features a 5.5-inch OLED display, and will come in both 64GB and 128GB storage sizes. The device is powered by a Qualcomm Snapdragon 845 processor, features 4GB of RAM, and will run Android 9.0 Pie straight out of the box.
As expected, Google has packed the 2018 Pixel with plenty of updates and fun features. A smarter-than-ever Google Assistant offers easy, voice-controlled AI: making it simpler than ever to find online answers, take photos, set alarms and reminders, play music, and much more.
Camera-wise, the Pixel's 8-megapixel dual front-facing camera is great for both solo selfies and group pics, while the 12.2-megapixel rear lens features Super Res Zoom and 'Top Shot' recommendations, plus fun new augmented-reality stickers and effects. You'll also be able to use your camera to find real-life products online, or identify animals, landmarks or plants, thanks to Google Lens – simply point and click to find what you're looking for.
If battery life is a big concern, the Pixel's 2,912 mAh battery offers up to a full day's use on a single charge, adapting to your phone habits to determine which apps you're likely to need power for. It's also Qi wireless and fast-charge compatible, and can be quickly recharged with Google's own newly-announced Pixel Stand charger.
The new Pixel 3 also offers an edge-to-edge screen, louder-than-ever speakers with an updated sound profile, and a new Google Titan 3 security chip for enhanced protection against malware, viruses or spyware. It is available to pre-order now, with prices from $1,199 outright.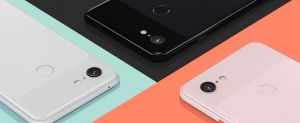 Google Pixel 3 XL
The much larger Google Pixel 3 XL offers all of the above features and specifications, but with a super-sized 6.3-inch display and bigger 3,430 mAh battery. The extra-large screen size will apparently include a higher number of pixels per inch (523, versus the standard 443 ppi on the Pixel 3), but both phones feature Gorilla Glass on front and back, and IPX8 dust and water resistance.
As with the smaller Pixel 3, the 3 XL will run the new Android 9.0 Pie operating system, feature Google Assistant and updated fast charging, and include a 12.2-megapixel rear camera and 8-megapixel dual front camera. Buyers can choose between 64GB or 128GB storage sizes, and prices begin at $1,349.
Both the Google Pixel 3 and Pixel 3 XL will be available in Just Black, Clearly White, and Not Pink colour options, and will feature some bonus extras courtesy of Google. Activate your Pixel 3 before December 31, 2018, and you'll receive a free six-month YouTube Premium subscription, plus unlimited online Google Photos storage.
Google Pixel 3 and Pixel 3 XL Prices & Plans
Finally, Google is making its Pixel phones available on plans from all three big-name Australian telcos. This is great news for Aussie customers looking to stretch out their Pixel smartphone payments, as each phone will be offered on a variety of 12, 24, or 36-month contracts, including lease plans from Optus and Telstra.
You can also buy the Pixel 3 and Pixel 3 XL unlocked at full price from Google, JB Hi-Fi and Harvey Norman, and match it to your choice of SIM-only plan. Confirmed Google Store prices are below.
Pixel 3 64GB: $1,119
Pixel 3 128GB: $1,349
Pixel 3 XL 64GB: $1,349
Pixel 3 XL 128GB: $1,499
Both the Google Pixel 3 and Google Pixel 3 XL are available to pre-order now on plans from Telstra and Optus, and from the Google Store, Harvey Norman and JB HiFi. Pre-ordered devices will be delivered from 1 November, with both Pixels hitting stores the same day.
Vodafone's prices and plans are not yet live, but we'll feature all pre-order Pixel plans as soon as they're available.