Note: Some of the below mentioned devices may no longer be available on a plan from some of the telcos.
The much-anticipated Google Pixel 4 and Pixel 4 XL are finally official. And not only do both devices offer a major upgrade to last year's Pixel 3 range, they're also cheaper.
After months of leaks, there's few real surprises in Google's 2019 phones, besides the comparatively lower pricing. Both the Pixel 4 and Pixel 4 XL offer plenty for fans of Google and Android devices, including faster processing, pumped-up camera specs, and all-new gesture controls.
Just looking for price and plan information for the Google Pixel 4 and 4 XL? You'll find more telco plan details via the following links:
Pixel 4
Features
Google's standard Pixel 4 features a 5.7-inch FHD+ flexible OLED display, with Always On functionality. Essentially, you'll get a vibrant screen with true blacks, packaged in an aluminium frame with a matte finish and Gorilla Glass 5 on front and back. The Pixel 4 is also IP68 dust and water resistant, and is powered by an upgraded Qualcomm Snapdragon 855 processor and new Pixel Neural Core chip.
If you're into hands-free phone use, the Pixel 4 includes the all-new Google Motion Sense feature. This is a new, gesture-control app that allows Pixel owners to use their device without actually touching the screen,
With a quick wave of your hand, you'll be able to use Motion Sense to silence phone calls, snooze your morning alarm, or skip songs on integrated apps. Music and streaming apps compatible with Motion Sense include Apple Music, Google Play Music, Spotify, and YouTube Music, plus many more.
Another new feature that's tailor-made for students is the Recorder app, a real-time transcription assistant that uses AI and speech recognition to turn voice to text. It's perfect for lectures, business meetings, or interviews, and doesn't require an internet connection to record and transcribe speech. Recorder is currently only available in English, but expect more languages to be added to the app in the coming months.
The Pixel 4 series also includes Google Assistant, which will undergo a software update later this year. Google Assistant can be activated via voice or a squeeze of your device, and is a quick way to set reminders, switch on navigation, and find info when you're on the go.
Cameras
It's been a year for next-level smartphone cameras, but unlike other manufacturers, the Pixel series is sticking with a dual lens setup in back. The Pixel includes a 12-megapixel main camera with 4K video capability, plus a 16-megapixel telephoto lens and Super Res Zoom.
Night Sight mode – designed to deliver stunning and detailed low-light pictures – now comes with astrophotography, an addition Google claims can capture a clear shot of the Milky Way in just one tap. This may not be a usable feature for city-dwellers, but it's an exciting extra that's perfect for delivering Instagrammable night sky photos.
In front, you'll get an 8-megapixel selfie camera with a 90-degree field of view. Other camera features include an updated Portrait Mode, and Frequent Faces to recognise your most-photographed subjects and ensure they're always in focus.
Security, battery and storage
Security-wise, the Pixel 4 features facial recognition (which, when paired with Motion Sense, allows for quick unlocking as soon as you pick up your phone). You'll also get Google's Titan M security chip, three years of security and Android updates, and Google Play Protect to keep your data and phone safe.
Finally, the Pixel 4 includes a 2,800mAh battery with Qi-certified wireless charging and 18W fast charging – not as big as other batteries we've seen in competing devices, but hopefully enough for a full day's use.
The Pixel 4 features 4GB of RAM, and will be available in 64GB and 128GB storage sizes (and in Clearly White, Just Black, and Oh So Orange colour options).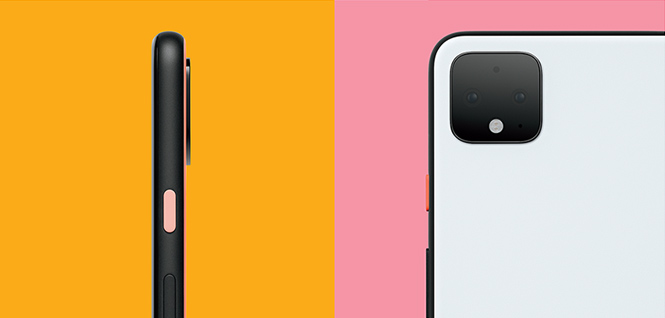 Pixel 4 prices and plans
The Pixel 4 arrives in stores on 24 October, and is available on plans from Telstra, Optus, and Vodafone. You can also buy the device unlocked directly from Google, JB HiFi, Harvey Norman and OfficeWorks, with prices below:
Pixel 4 64GB: $1,049
Pixel 4 128GB: $1,199
Interesting, the Pixel 4 is sightly cheaper than last year's Pixel 3. Last year, the Pixel 3 began at $1,119 outright for the 64GB model, with the 128GB version priced at $1,349. With smartphones getting pricier each year, it's nice to see Google bucking the trend of increasingly expensive device launches, even for premium releases such as the Pixel.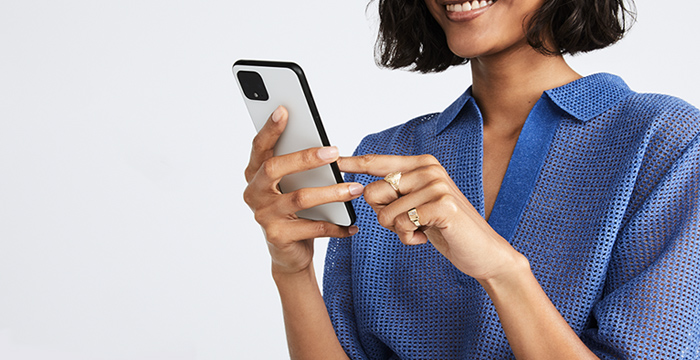 Pixel 4 XL
Specs and features
The Pixel 4 XL includes all of the features you'll find in the standard Pixel 4, but with a super-sized 6.3-inch QHD+ OLED display. You'll get the same Snapdragon 855 processor, plus the new Pixel Neural Core chip and Titan M security.
Like the 4, the Pixel 4 XL is IP68 water and dust resistant and includes 6GB of RAM. However, you will get a larger battery to complement the bigger display: the XL includes a 3,700mAh battery, with both 18W fast charging and Qi wireless charging compatibility.
The Pixel 4 XL features Motion Sense, Google Assistant, and the new Recorder app, and – like the Pixel 4 – will run Android 10 straight out of the box. The XL will also includes the same front and rear cameras as the standard 4, and all new and updated photo features, including Night Sight, Portrait Mode, and Frequent Faces.
You'll be able to choose from 64GB or 128GB storage sizes, and from Just Black, Clearly White, and limited-edition Oh So Orange colourways.
Pixel 4 XL prices and plans
The Pixel 4 XL will be available to buy on plans from Telstra, Vodafone, and Optus from 24 October. You can also order the 4 XL directly from Google and selected retailers, at the following upfront price
Pixel 4 XL 64GB: $1,279
Pixel 4 XL 128GB: $1,429
Google has again discounted the 4 XL in comparison to the 3 XL series, which was last year priced from $1,349 for 64GB of storage, and $1,499 for 128GB. If you'd like to avoid paying $1,000+ upfront, you can pre-order the XL on plans from Telstra, Optus, or Vodafone, with payment terms including 12, 24, or 36 months.
The following table shows a selection of 24-month 64GB Google Pixel 4 XL plans on Canstar Blue's database, listed in order of cost, from the lowest to highest and then by data allowance, largest to smallest. Use our comparison tool to see plans from a range of other providers. This is a selection of products with links to a referral partner.
Pixel 4 & Pixel 4 XL Compared
| | Pixel 4 | Pixel 4 XL |
| --- | --- | --- |
| Price | From $1,049 | From $1,249 |
| Screen size | 5.7-inch FHD+ OLED display | 6.3-inch QHD+ OLED display |
| Battery | 2,800mAh | 3,700mAh |
| Processor | Qualcomm Snapdragon 855 with Pixel Neural Core | Qualcomm Snapdragon 855 with Pixel Neural Core |
| Storage | 64GB, 128GB | 64GB, 128GB |
| Rear camera | 12.2-megapixel dual-pixel with auto-focus, dual-pixel phase detection, optical and electronic image stabilisation, plus 16-megapixel telephoto lens | 12.2-megapixel dual-pixel with auto-focus, dual-pixel phase detection, optical and electronic image stabilisation, plus 16-megapixel telephoto lens |
| Front camera | 8-megapixel wide angle camera | 8-megapixel wide-angle camera |
| Operating system | Android 10 | Android 10 |
| Colours | Just Black, Clearly White, Oh So Orange | Just Black, Clearly White, Oh So Orange |