We all know the annoyance of being in a rural area and not being able to get mobile phone reception. But for many people living and working in remote areas of Australia, a lack of mobile contact can be more than inconvenient – it can be downright dangerous. If you encounter a problem and have no way to call for help, then basic mobile phone service just won't cut it.
In cases like these, the most common solution is to use a satellite phone. These devices are bigger, bulker and costlier than normal mobile phones, but with one crucial advantage – they allow you to make calls to anyone from almost anywhere in the world. We've looked at what satellite phone options are currently available in Australia, and what it costs in order to use one.
What are satellite phones?
A satellite phone is exactly what it sounds like – a phone which uses a satellite to make calls and send messages. Sat phones are the tool of choice for many people venturing into remote areas with no mobile phone coverage, as they allow you to contact emergency services, colleagues, friends and family wherever you are.
How do satellite phones work?
When you make a call or send a message on a sat phone, it sends a signal to one of multiple small satellites in orbit around the earth. This satellite then transmits the signal to the recipient of your message, who can then reply in kind. There are several companies which provide satellite phone services, and each network uses a mixture of satellites they own and satellites owned by others, to achieve as wide coverage as possible.
This is very different to a home phone which uses a wired connection to a phone network, or a mobile phone which receives and transmits wireless signals from a signal tower. As you'd expect, satellite phones have their advantages and disadvantages.
The chief advantage is that a satellite can receive and transmit your phone signal from almost anywhere. They're used when service is non-existent or disrupted, or where reliability of the connection is paramount.
On the downside, the sheer distance covered means that signals take several seconds to be transmitted. After you say something on a phone call, you'll have to wait a little while for a reply. The small amount of satellite infrastructure and low demand also means that using a sat phone is very expensive compared to a regular phone.
Because of the infrastructure that satellite phone services require, there aren't many companies that offer it. However, the two main network operators in Australia – Telstra and Optus – both provide satellite phones and service on their satellite networks, with various service options available.
Optus Satellite Phones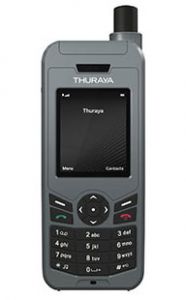 Optus owns and operates its very own network of satellites, and offers two main satellite phones:
The Optus Thuraya SatSleeve, which connects to your mobile phone and is controlled via an app. The SatSleeve costs $888 to purchase outright, and from there costs $15 per month for a satellite service on a month to month basis.
The Thuraya XT-LITE, a cheap, rugged sat phone handset. The XT-LITE has a RRP of $700 and costs the same as the SatSleeve on a monthly basis. It has a coverage area of over 160 countries.
Satellite calls cost $0.95/minute within Australia and are free to receive, whilst SMS is $0.50 and other rates apply for overseas calls. Data is $2.50/mb.
As you can see, call costs and handset costs tend to be a lot higher than regular phone plans. However, plans come on a no-contract basis with no activation fee, meaning you only need to pay your dues when you actually need to use the phone. The SatSleeve can be used with a range of smartphones.
Telstra Satellite Phones
Telstra operates its services on the Iridium satellite network, and provides multiple hardware products to suit just about every private or commercial need. The telco offers six different Telstra Mobile Satellite (TMS) plans to allow you to customise your use, and each comes on a 24 month plan. The basic details of these plans are:
GO!: $1,145
Grab N'Go Bundle: $1,295
GO! Fixed Bundle: $1,595
Grab n Go Handset Bundle 9575: $1,945
LiteDOCK Extreme Bundle: $2,045
DriveDOCK Extreme Handset Whip Bundle: $3.095
Cheaper handsets generally feature more limited functionality, while premium kits such as the DriveDOCK are built for satellite reception while driving. It features a large antenna and a rugged design. Unlike Optus, Telstra does not feature any 'sleeve' devices that can be used in conjunction with your mobile phone. As such you'll need a compatible plan.
Plans start from $35 up to $185, with the dearest plan being for data only. Each plan comes with a set amount of included value from $10 to $150 bearing in mind that rates can eat these amounts up quickly.
Call rates vary from 43c to 99c per 30 seconds plus a call connection fee that varies between 30c and 50c a call.
Texts are all 50c each.
Telstra's plan and handset configurations are generally a fair bit more complex than Optus' but with a much more comprehensive range to suit a wide variety of users. That said, even with a satellite phone, users may still find value in a 'Telstra Tick' approved phone – arguably the most popular of which is the Samsung Galaxy S8. 
Are satellite phones worth the cost?
Satellite phones are generally only worth the money if you absolutely rely on them. Australia doesn't stop just because a lot of the land is unlivable – trucks, travellers and essential services all must traverse the vast landscapes in the country's interior even without mobile phone service. This is where satellite phones come in. While hardly advisable to send cute Snapchats to your besties on a satellite phone, these rugged units do exist as a lifeline when 'out in the bush'. However, the sheer cost of them can be off-putting, coupled with expensive call and text rates. However, you may find this potential lifesaver to be well worth the cost.