---
5G in Australia: key points
5G is a next-generation mobile technology that offers faster-than-ever speeds for mobile phones, tablets, and more.
Telstra, Vodafone and Optus have switched on 5G in limited areas, and are currently expanding their 5G networks across Australia. 
In order to access 5G, you'll need a 5G-capable smartphone or device, with 5G smartphones available from Apple, Samsung, OPPO, Google, Nokia and more.
Generally, 5G phone plans are likely to be on par with existing plan prices; however, Telstra is currently only including 5G access only selected postpaid and prepaid mobile and mobile broadband plans.
 Optus and Vodafone customers can pick up 5G-capable phones on each telco's standard postpaid plans, with no extra charge for 5G access.
Telstra and Optus also offer 5G home internet/mobile broadband plans to all customers with coverage, while Vodafone is currently offering 5G internet on an invite-only basis. 
5G could be a NBN alternative for some users, but is unlikely to replace other broadband plans and options.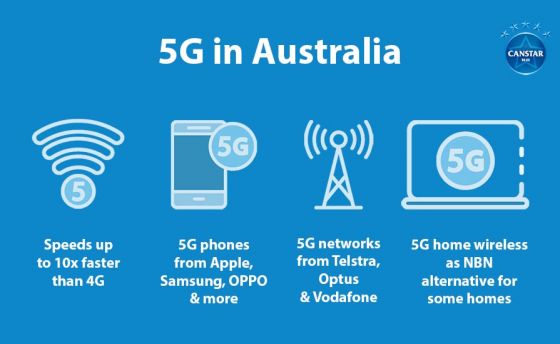 ---

Fact Checked
2021 continues to be the year of 5G in Australia (and around the world). The next-generation mobile technology promises fast data speeds, more reliable connections, and a brave new world of 'inter-connectedness' that has been dubbed 'Everything on Mobile'. Since the first Australian 5G network went live in 2019, coverage has steadily rolled out in major cities, with millions of Aussies now able to access 5G at work and home.
With so much talk in the tech world of how 5G will change the mobile and internet game, you're probably wondering when exactly you'll be able to start using 5G networks. Now that 5G is rolling out to more areas in Australia, we've got the answers to your most pressing 5G questions, including when you'll get it, how to get it, and why you'll want it.
5G Phone Plans
Looking for a 5G-capable phone on Telstra or Optus' 5G-ready plans? The table below shows a selection of 24-month 128GB Apple iPhone 13 Pro 5G phone plans from Canstar Blue's database, listed in order of cost from lowest to highest and then by data allowance. Use our comparison tool to see a range of plans from other providers. These are products which may feature links to a referral partner.
What is 5G?
5G is the next step up from 4G mobile – a new set of specifications for networks that will lead to faster speeds and the ability to transmit even more data. Estimated potential 5G speeds could be anything from four to 20 gigabits per second — at least in theory — and 5G is expected to offer about 10 times the bandwidth of existing 4G networks.
With 5G, we will also see a serious reduction in mobile latency – or the 'lag' between when a command is issued, and when a network responds. This paves the way for advancements in industries and online activities that rely on quick responses, such as remote surgery and medicine, the 'internet of things' (including self-driving cars), and even virtual reality and gaming.
Overall, 5G networks will be able to handle more data and more users than Australia's existing 4G and 3G coverage. With an expanding population now using more connected devices than ever before, 5G will be an essential next step in improving (and maintaining) existing mobile speeds and capacity.
If you're looking for more information on the differences between 5G and 4G, we've gone into more detail here.
When can I get 5G in Australia?
Launching 5G isn't as simple as flicking a switch – it involves building new infrastructure, upgrading existing mobile stations, and adapting existing engineering and signal processing techniques. It's an expensive and time-consuming venture, but will pay off by providing a stronger, faster mobile network to Australians across the country.
After months of waiting, 5G is available to consumers in Australia, but only in selected areas. Telstra customers can access 5G via several 5G smartphones, or through Telstra's new HTC 5G Hub smart hub and hotspot, while a small amount of Optus subscribers are eligible to access 5G mobile broadband service, or use Optus' 5G mobile network through a few compatible devices. However, as all three major mobile providers (Telstra, Optus and Vodafone) are currently in the process of building and switching on their respective 5G networks, coverage is still limited.
Telstra's 5G Network
Telstra is continually rolling out 5G mobile base stations across the country. Coverage is limited to select parts of towns and cities with most sites operating in CBD areas and airports during the initial rollout, but Telstra anticipates this will cover up to 4 million Australians to some degree.
Telstra has achieved a number of world-firsts in the 5G arena – including launching 5G enabled hotspots – and has hashed out exclusive Australian partnerships with 5G device manufacturers, including Samsung, LG, and Oppo, to be the first telco to offer these devices.
Currently, the telco offers 5G mobile broadband and 5G phone plans to customers with eligible devices. Telstra 5G network access is included on Telstra's Medium and Large mobile broadband plans only, and on Medium, Large and Extra Large Upfront mobile plans that can be paired with a smartphone.
The below table features all published Telstra mobile broadband plans from Canstar Blue's database, listed in order of cost from lowest to highest and then by data allowance.
Telstra 5G Phone Plans
The Apple iPhone 13 series and iPhone 12 series, Samsung Galaxy S21 5G, S21+ 5G & S21 Ultra 5G, Google Pixel 5, OPPO Find X2 Pro 5G and OPPO Find X2 Neo 5G are just some of the 5G-compatible devices available from Telstra, and will allow Australians to access the telco's 5G network rollout (as well as 4G across the country). Each device is available to buy with your choice of a 12, 24 or 36-month device payment period.
Vodafone's 5G Network
Vodafone hasn't been quite as open with its build and rollout as Telstra and Optus, but has confirmed that it's 5G network has finally gone live in limited areas of major cities. The company originally switched on 5G sites in and around the Sydney suburb of Parramatta, with a nationwide rollout following through 2020 and into 2021.
Like Optus and Telstra, Vodafone has spent hundreds of millions on 5G spectrum in preparation for its network launch. Although it may be a little bit behind its two rival networks in terms of a switch-on date, Vodafone's investment in the new mobile standard has been ongoing, and the telco even ran the first live public trial of 5G in Australia a couple of years ago, again in partnership with Nokia.
The finalisation of the Vodafone/TPG merger will also boost Vodafone's efforts to be a serious third player in the Australian 5G space. Several years back, TPG abandoned plans to build its own 4G network, as a ban on infrastructure partner Huawei in Australia has created a huge roadblock to an eventual upgrade to 5G. Without the option of moving to 5G in the near future, TPG decided that launching its own network was no longer commercially viable; instead, it's now officially merged with Vodafone to create 'Mobile JV'.
Vodafone 5G Phone Plans
If you're keen to be the first to try out Vodafone 5G, you can order a 5G-enabled Samsung Galaxy phone on any of Vodafone's postpaid plans. Each Infinite plan features unlimited standard talk and text in Australia, a monthly high-speed data inclusion, and unlimited speed-capped data (limited to either 2Mbps or 10Mbps depending on your plan), while the Ultra+ plan includes unlimited maximum speed data with no restrictions.
Optus' 5G Network
Optus has also begun to send its 5G sites live in very selected locations, and has launched the first Australian 5G home broadband plan – although customers can't access it without a compatible Optus device, the Nokia FastMile 5G modem. After previously only offering this plan to customers in selected areas – and even then, on an invite-only basis – Optus has now made its 5G home broadband commercially available to all Australians who are covered by the new 5G network.
The $75 5G Internet Everyday plan includes unlimited monthly data capped at speeds of 100Mbps, and is available on both a 24-month contract or a month-to-month basis. For unrestricted 5G speeds, customers can upgrade to the 5G Internet Entertainer plan, which is priced at $90 per month and includes a Fetch Mighty set top box (also available on monthly or 24-month contracts).
Two-year plans feature no setup costs, and all options currently come with one month of free service, plus a 5G-capable Nokia modem. Optus is also offering a satisfaction guarantee to all 5G customers, promising download speeds of at least 50Mbps.
With its 5G mobile network rolling out across the country, the telco is stocking a range of 5G-capable smartphones, including the Apple iPhone 13 5G phones and the Samsung Galaxy S21, S21+ and S21 Ultra 5G phones. All phones are available on 12, 24 and 36-month payment plans to bundle with a postpaid plan, but immediate 5G coverage is limited.
If you do own a 5G phone from Optus, you may need to wait before the new network is easily accessible on your device, particularly when indoors. However, all four 5G-capable handsets will work with Optus' nationwide 4G, 4G Plus and 3G networks. For more information on where Optus' 5G network is currently available, head to our Optus 5G network guide.
Optus 5G Phone Plans
Optus currently offers competitive BYO-phone and phone-on-a-plan options on its 4G Plus network. While the telco's 5G network is still a little behind Telstra's, you can still pick up the iPhone 13 series and a range of 5G OPPO and Samsung devices on 12, 24 or 36-month plans.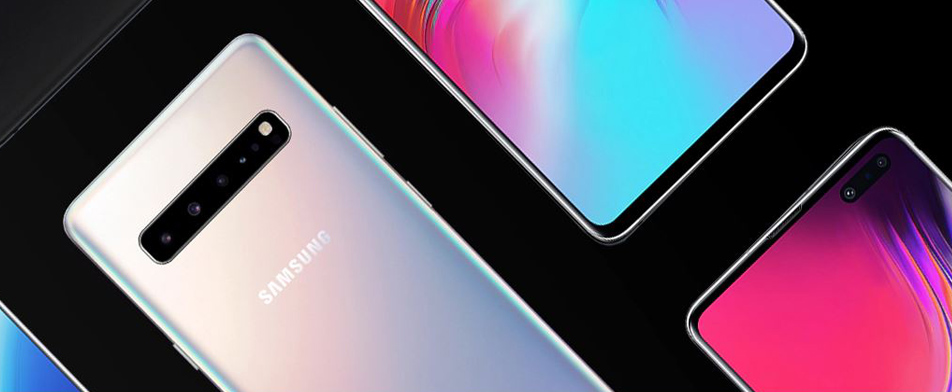 5G Phones and devices
Despite the number of 5G sites now live in Australia, you won't be able to access these networks without a 5G-capable phone. Your existing smartphone, tablet, or broadband device isn't able to support the frequencies that 5G will run on, so you will eventually need to upgrade to a compatible handset.
Luckily, 5G smartphones are already in stores, with more and more devices being released. The first 5G smartphone was the Samsung Galaxy S10 5G, which was first available in 2019 exclusively through Telstra.  In 2021, the Samsung Galaxy S21 series of phones are all 5G-ready, along 2020's S20 range and other Samsung devices.
A range of other manufacturers have also rolled out 5G phones. As of October 2020, Apple has officially launched its first-ever 5G iPhones: the iPhone 12, iPhone 12 Pro, iPhone 12 Pro Max, and iPhone 12 Mini, which was followed up with the iPhone 13 range in 2021. Other phone manufacturers – including OPPO, Google, Nokia, Motorola, TCL, Realme, Huawei and OnePlus – have all released 5G handsets in 2020 and 2021.
Outside of smartphones, companies such as Nokia and HTC have been working with Aussie telcos to launch 5G-enabled home broadband devices. HTC's 5G Hub was Telstra's first 5G broadband device to bundle with mobile broadband plans, and provided 4G and 5G coverage via Telstra's networks. Telstra now offers its plans with the Telstra 5G WiFi hub modem. Rival provider Optus has partnered with Nokia to launch its own 5G home broadband device, which is available on the telco's unlimited 5G broadband plan.
How much does 5G cost?
It's unclear whether the rollout of 5G for mobile and broadband will see an much change in plan pricing in Australia. However, the demand for more data that providers experienced after 4G is likely to be repeated, meaning telcos may tweak their plans to offer more gigabytes (including unlimited high-speed data).
Telstra had initially offered 5G coverage on phone plans free for the first 12 months, but from 1 July, 2020 the telco only offers 5G access on its $65 Medium, $85 Large, and $115 Extra Large plans.
Regarding 5G broadband, the only provider to release 5G-specific plans so far is Optus. As noted above, the telco now offers 5G internet plans with unlimited data on both two-year and month-to-month contracts, with both options priced at $75 per month for speeds capped at 100Mbps, and $90 for unlimited speed. Currently, Optus' largest 4G wireless broadband plan is priced at $69 per month for 500GB of data (on a 24-month contract and month-to-month), so the telco's newly-launched 5G plans are extremely competitive.
Comparatively, Telstra's 5G WiFi Pro modem is now available on mobile broadband plans on a one, two or three-year contract, or to buy outright for $599. However, you'll need to pair it with a 5G-capable data plan in order to get the full benefit of the device.
If current pricing is anything to go by, expect Vodafone to offer the most affordable 5G mobile and broadband options, followed closely by Optus and then Telstra. As the three big networks are likely to eventually resell 5G access to smaller operators (Optus has already rolled out 5G access to SpinTel and Aussie Broadband customers), it's also possible that some serious 5G deals will be available in the future.

Is 5G better than the NBN?
While there's already been plenty of speculation that 5G may be a potential 'NBN killer', it's unlikely that wireless 5G networks will replace fixed broadband connections – at least not within the next decade. There's no doubt that 5G promises impressive speeds (and may be significantly faster than existing premium NBN 100 plans), but it's likely to be several years before coverage is available across Australia.
The NBN itself is still only in the rollout stage, and – if future upgrades go as planned – fibre NBN connections may eventually offer real-world speeds of up to 10 gigabits per second. 5G will be fast, but probably not quite that fast – and it will require huge investments in infrastructure and backhaul to become a truly viable NBN alternative.
Even if 5G could operate at full capacity, 5G broadband plans are likely to be expensive in comparison to existing NBN options. Optus may have released an unlimited-data 5G broadband plan straight off the bat, but this isn't necessarily a strong indicator of future 5G prices and data inclusions. 5G coverage will also be severely lacking when compared to NBN availability, and again would require Australian telcos to invest heavily in order to reach the same coverage levels as existing 3G and 4G networks.
In general, 5G is likely to complement the NBN, rather than replace it. When it comes to high-bandwidth, data-intensive online activity, the NBN's fixed-line connections will still be the go-to broadband option for the majority of Australians.
Telstra 5G Coverage by Suburb
Telstra hasn't released a specific list of enabled 5G sites, but it does offer 5G coverage maps which show the telco's 'anticipated coverage areas'. These are locations in which 5G is scheduled to go live by 30 June, 2019.
Below is a list of some of the suburbs and areas which may be covered by Telstra 5G by mid-2019, according to Telstra's coverage maps.
NSW 5G Suburbs
Balgowlah
Botany
Manly
Mascot
North Sydney
Sydney
Randwick
Vaucluse
VIC 5G Suburbs
Carlton
Cremorne
East Melbourne
Melbourne
Southbank
South Melbourne
Richmond
West Melbourne
QLD 5G Suburbs
Ascot
Brisbane
Brisbane Airport
Bulwer Island
Eagle Farm
Fortitude Valley
South Brisbane
Southport
Surfers Paradise
Toowoomba
Tweed Heads
ACT 5G Suburbs
Belconnen
Braddon
Canberra
Fyshwick
Greenway
Lyneham
Philip
SA 5G Suburbs
Adelaide
North Adelaide
Thebarton
Torrens Island
WA 5G Suburbs
Applecross
Beeliar
Jandakot
Maddington
Perth
Riverton
TAS 5G Suburbs
Battery Point
Geilston Bay
Glenorchy
Hobart
Launceston
Lenah Valley
Lindisfarne
North Hobart
Sandy Bay
Optus 5G Coverage by Suburb
Here is a list of suburbs that have been confirmed by Optus as its first 5G sites to be built by Ericsson.
The sites, which will be built across Sydney and Melbourne, will form part of Optus' plan to build 1,200 5G sites across Australia by March 2020.
NSW 5G Suburbs
Greystanes
Peakhurst
Mosman
Oatlands
Kellyville
Macquarie Park
Alexandria
North Baulkham Hills
North Ryde Business Park
North Sydney Central
North Ryde
North Ryde West
Enfield East
Riverside Corporate Park
Rydalmere
Marrickville
Dudley
Castle Hill
Carlton
Panania
VIC 5G Suburbs
Braybrook
Preston East
Mornington
Norlane
Hoppers Crossing
Dandenong South
Laverton West
Geelong West
Campbellfield South
Williams Landing
Greenvale Reservoir
Mt Martha
Research
Brunswick
Croydon South
Kensington
Noble Park South
Coburg
Mt Evelyn
Maidstone
Springvale South
Rosebud
Arthurs Seat
Abbotsford
Noble Park
Rye Central
Wantirna South
Rosebud East
Fishermans Bend
Reservoir North