If you're looking to connect your tablet, dongle or phone to the internet without access to WiFi and aren't looking for talk and text capabilities, a data-only SIM plan might be the right choice for you.
A SIM card is what facilitates phone calls and text messages as well as access to the internet with your phone by connecting your device to a mobile network. But if you're not big on calls or messaging, or only need the internet for a tablet or dongle, there are plenty of data-only SIM plans out there.
These are SIMs that don't have calling or texting involved, but how do they work and which telcos offer data-only SIM cards? Read on to find out everything you need to know about data-only SIM plans.
On this page:
What is a data-only SIM card?
Data-only SIM cards are pretty much exactly what it sounds like, a SIM card that only offers access to mobile data using a mobile network. This means that it doesn't come with traditional calling and texting capabilities, although you may have an identification number or phone number assigned to the SIM card for identification purposes.
It's also worth noting that data-only SIM cards are a mobile broadband product. Typically if you buy a mobile broadband plan, you'll receive a data-only SIM card (and a device, such as a dongle, if you're buying a bundled product). This terminology can be confusing, so if you're looking for a data-only SIM and see a telco referring to its mobile broadband plans, these terms can be generally considered interchangeable, but it's still worth double checking that the plan is right for your needs before signing up.
Even if you use data more than calls and SMS, a data-only SIM card might not be a good long-term alternative to a standard mobile phone plan for your smartphone. Many companies and services — such as online banking — will require a phone number as part of your details and will send verification codes to you via SMS.
How to use data-only SIM cards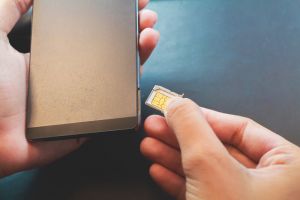 Data-only SIM cards can be installed and used similarly to traditional SIM cards, in that you place the SIM card in the relevant SIM card slot in your phone, tablet or device. If you plan on using separate SIM cards in the same phone — such as one for traditional talk and text and one for data only — ensure that you have a dual SIM phone, otherwise you will have to manually swap out the SIM cards.
Once the SIM has been inserted into your phone, tablet or device, complete the setup prompts, and then your SIM card should be good to go. If you're having troubles with setup, you can always get in touch with your telco for help.
What data-only SIM plans are available?
Data-only SIM plans are available in a range of forms such as as prepaid, postpaid, month-to-month, 365-day plans or locked-in contracts, although what's available — and what's included in your plan — will vary from provider to provider. Below are some plans currently available from providers in Australia.
Pros and cons of data-only SIM plans
As with any mobile or internet plan, there's always a few pros and cons that you should consider before signing up. Below is a breakdown of some of the major advantages and disadvantages of data-only SIM plans.
Pros:
Prepaid and postpaid plans available, with lots of data options and plan lengths
Great for tablets that require a SIM card when not using WiFi
Provides internet on the go when used in combination with a mobile broadband device, such as a dongle or modem
Cons:
Only includes mobile data access, so calls and messages will need to be via an app or on a network with WiFi calling/SMS
Service will be limited with low or no mobile data reception
Larger data inclusions can be more expensive than what is available with standard prepaid/postpaid mobile plans
Which devices are compatible with data-only SIM plans?
Tablets and iPads: Some models of tablets come with a slot for a SIM card, which means that if you're looking to connect to the internet and scroll the socials while you're out and about, then a data-only SIM plan might be the thing you're looking for.
Laptops: While it's not standard, there are some laptops with SIM slots built in, allowing you to connect to the internet through a data-only SIM, without the need for a dongle.
WiFi modems or dongles: These create a hotspot that you can connect your devices to, which means that you can get access to WiFi where there is a mobile network signal.
Smartphones: If you either have a dual SIM device, or are not interested in making calls or sending texts, then a data-only SIM would work in your smartphone. However, it is important to keep in mind that you will only be able to use data-only functions such as scrolling social media, web browsing or using messenger apps to keep in touch with friends and family.
How much data do I need?
If a data-only SIM plan is right for you, you might be wondering how much data you'll need on the plan. Considering that these plans use a mobile network, and may service just one device (such as a tablet or smartphone), you might find it easy to consider it similar to data usage as on a mobile phone plan.
For more information on mobile data and how much you'll need for certain activities and usage levels, you can check out our mobile data usage guide.
If you're using a data-only SIM for mobile broadband with a modem or dongle, you'll need to consider how many devices will be using the dongle or modem's WiFi (if applicable) and the sorts of activities you'll be using your data SIM for. High-intensive activities such as video streaming and gaming will use more data than activities like web browsing and checking emails. If you're unsure of how much data you might need, look for a plan that can be topped up/recharged or without a contract, so you can adjust your usage as needed.
Should I get a data-only SIM?
Data-only SIMs service a market that's hungry for more internet without the added extras of traditional calls and texts, namely for devices such as tablets and mobile broadband modems. So, if you don't need call and text access — such as the household iPad or a WiFi dongle for internet on the go — a data-only SIM might be just want you need.
However, before you sign up to a data-only SIM plan, it's important to compare not only if this plan is right for you, but what plans are available from a range of providers to find a plan that suits your needs and fits your budget.