Two of something is usually better than one, unless you're talking about screaming kids in the supermarket. Dual SIM phones are the unsung heroes of the smartphone world, largely flying under the radar. How often do you see fancy business people wielding two mobile phones? They could be using a dual SIM smartphone but choose not to. Why? In this review, we'll run through the benefits and perils of dual SIM smartphones, some models available in Australia and how you can buy one.
Dual SIM Phones in Australia
There are quite a few smartphones in Australia with dual-SIM capability – the OPPO R11 is one of the only ones to be featured on a plan, while the others will likely need to be purchased outright. Note to check the specifications before buying, and also note that if buying through a phone plan provider, the dual SIM function may in fact be disabled!
OPPO R11 Dual SIM Phone Plans
OPPO's R11 smartphone is the brand's flagship model and sports class-leading features and 4GB RAM plus a 64GB expandable drive. Note that if you expand it, the secondary SIM slot might be unavailable. Woolworths Mobile and Virgin Mobile bundle this phone with some of their plans, starting from $40 a month. This phone costs about $700 to buy outright, so decide if bundling is worth it.
Other Dual SIM Phones
There are several other popular smartphones in Australia that sport dual SIM capability. They include:
Huawei Mate10 Pro
Huawei P10
Motorola Moto Z
There are quite a few options, but many phones are not able to be bundled, and must be purchased outright.
How do dual SIM phones work?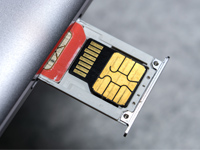 You may know they exist, but how do dual SIM smartphones actually work? Simply put, they can take two SIM cards at once. Most models are only 'single configuration' meaning you can only use one SIM card at once and have to switch to the other SIM in your phone's settings. This means that if someone is trying to reach you on your other SIM card while it's not in use, they won't be able to – similar to having your phone switched off. This could be bad news for doctors or people who need to be contactable at all hours.
Many dual SIM smartphones have the primary SIM slot, and a hybrid slot – one able to be used for a second SIM or a micro SD card, but not both.
Mainstream phones such as the iPhone 8 and Samsung Galaxy S8 do not sport dual SIM functionality. So how could you put a dual SIM phone to good use, and what are some drawbacks of such phones?
Benefits and purposes of dual SIM phones
There are many benefits and potential uses for a dual SIM smartphone, such as:
You have a work phone and a personal phone and want to combine them, or you want a work number you are able to switch off outside of office hours.
You want a basic 'everyday' plan and an extra SIM with lots of data for streaming TV shows and movies.
You travel overseas a lot and want one slot dedicated towards your home plan, and one for your overseas SIM.
You have one plan with better international rates and want to use that for calling family or friends overseas.
You just want two numbers – maybe you're an enterprising drug dealer and sick of using two phones?!
You travel around rural Australia a lot and find one provider gets better coverage than the other.
However, dual SIM cards are not without their downsides. Very few phones, and next to none in Australia, are 'dual active', meaning two SIMS are able to be used at once. This means you have to manually switch between the two SIM cards in your phone's settings. And in all likelihood this also means you'll be subject to paying two phone bills, unless work pays for one.
Dual SIM smartphones often only have the secondary SIM tray as 3G compatible, meaning you can't enjoy top 4G speeds in the second tray.
Dual SIM smartphones may also have to be purchased outright, as ones bundled with phone plans may have the feature disabled. There are lots of potential purposes to a dual SIM smartphone, but keep in mind the potential downsides.
Phone plans to use with dual SIM phones
As long as your smartphone is unlocked, you can use whatever SIM only plan you wish! Below are a few suggestions. Keep in mind that the secondary SIM slot may only be 3G compatible, but there are several 3G-only plans out there that offer lots of data for comparatively low prices. Review your options below.
Everyday Unlimited Phone Plans
These days you can expect to pay as little as $10 for unlimited calls and texts plus 1GB data. If you're using dual SIM functionality for work purposes, this could be a cheap way to seal those deals and let the boss know you're sick a day after the Melbourne Cup. Some cheap plans worth keeping an eye out for
Big Data SIM Plans
If the second SIM slot is 3G only, why waste your time paying for a 4G plan? There are 3G-only plans out there today that offer lots of data for comparatively little money. What's more is that while 3G is slower, it's not THAT slow. Videos may take a bit longer to buffer, but are still watchable and social media and emails remain a breeze. Providers in this space include Jeenee and Moose, as well as Exetel, SpinTel and Yomojo. All offer comparable plans on the Optus 3G Network.
Data Only SIM Plans
If you're still in need of lots of data but at 4G speeds, you could easily put a mobile broadband plan in your primary SIM slot and use the secondary slot for your call and text needs. Providers in this space worth keeping an eye out for are OVO Mobile and Amaysim, which are two of the cheapest to offer 100GB data, Optus which has some interesting plans, and Virgin Mobile which also comes to the table with competitive options.
Is a dual SIM phone worth the switch?
You may not have considered a dual SIM smartphone before, but if you have two phones – one for personal use and one for work – or you travel around a lot it could be your new best friend. They allow great flexibility and the use of two plans. Configure the plans how you like and use them how you like.
They allow you to switch off your work phone after a long day and still retain the ability to text friends and family. However, dual SIM phones aren't without their downsides. The major one being that one SIM tray is usually 3G only and two plans cannot be used at once. Not many phones currently have dual SIM capability, and you are limited to a few Android OS models from the likes of OPPO, Motorola and Huawei. You also have to purchase outright most of the time, rather than bundle with a plan.
Dual SIM phones are a bright idea, but are not without their downfalls – these may be enough to still warrant the use of two handsets. In any case, it pays to shop around and consider your own needs first!