Fact Checked
Two of something is usually better than one and it's no different with SIM cards. Dual SIM phones are the unsung heroes of the smartphone world, largely flying under the radar. In this review, we'll run through the benefits and perils of dual SIM smartphones, some models available in Australia and how you can buy one.
Dual SIM Phones in Australia
There are quite a few smartphones in Australia with dual-SIM capability – OPPO seems to be the manufacturer leading the way with several of its newer smartphones featuring dual-SIM capabilities. Some dual SIM devices might be available to purchase outright only, while others might be available to be bundled in with a phone plan. Make sure you check the specifications before buying, and also note that if buying through a phone plan provider, you might find that the dual SIM function is disabled.
Dual SIM Phone Plans
Some of the biggest phone releases of 2020 include dual SIM capabilities, however these versions might not be available in Australia, or may only be available to purchase outright. Sometimes dual-SIM functions are also be disabled or it may be unclear whether a telco is stocking a dual-SIM version of the device. Some telcos are more up front about this, so you'll know whether your device is dual-SIM capable or not.
Optus currently promotes both the Huawei P30 and P30 Pro devices as being dual-SIM phones, as does TeleChoice, while Woolworths Mobile has a range of three OPPO phones, including the newest Reno 4 5G, which is listed as dual SIM. While Telstra and Vodafone both carry some of these same devices, it's a bit harder to tell whether these are dual-SIM devices or if the function is disabled — chatting to the respective telco might help to clear this up.
Dual SIM Phones
There are several smartphones available in Australia (either on a plan or to buy outright) that include dual SIM capability. They include:
OPPO Reno 10x Zoom
OPPO Reno Z
OPPO AX7
OPPO AX5s
Huawei Mate20 Pro
Huawei P20 Pro
Huawei Mate10 Pro
Huawei P10
Motorola Moto Z
iPhone XR
iPhone XS
iPhone XS Max
iPhone 11
iPhone 11 Pro
iPhone 11 Pro Max
How do dual SIM phones work?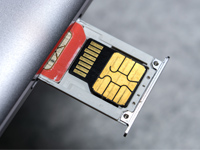 You may know they exist, but how do dual SIM smartphones actually work? Simply put, they can take two SIM cards at once. Most models are only 'single configuration' meaning you can only use one SIM card at once and have to switch to the other SIM in your phone's settings. This means that if someone is trying to reach you on your other SIM card while it's not in use, they won't be able to – similar to having your phone switched off. This could be bad news for anyone who needs to be contactable at all hours.
Many dual SIM smartphones have the primary SIM slot, and a hybrid slot – one able to be used for a second SIM or a micro SD card, but not both. Currently mainstream phones such as iPhone and Samsung Galaxy phones do not sport dual SIM functionality. So how could you put a dual SIM phone to good use, and what are some drawbacks of such phones?
Benefits and purposes of dual SIM phones
There are many benefits and potential uses for a dual SIM smartphone, such as:
You have a work phone and a personal phone and want to combine them, or you want a work number you are able to switch off outside of office hours.
You want a basic 'everyday' plan and an extra SIM with lots of data for streaming TV shows and movies.
You travel overseas a lot and want one slot dedicated towards your plan back home and one for your overseas SIM.
You have one plan with better international rates and want to use that for calling family or friends overseas.
You travel around rural Australia a lot and find one provider gets better coverage than the other.
However, dual SIM cards are not without their downsides. Very few phones, and next to none in Australia, are 'dual active', meaning two SIMs are able to be used at once. This means you have to manually switch between the two SIM cards in your phone's settings. And in all likelihood this also means you'll be subject to paying two phone bills, unless one of these bills is paid for by your employer.
Some dual SIM smartphones only allow for the secondary SIM tray to be 3G compatible, meaning you can't enjoy top 4G speeds in the second tray. Dual SIM smartphones may also have to be purchased outright, as ones bundled with phone plans may have the feature disabled. There are lots of uses for a dual SIM smartphone, but keep in mind the potential downsides.
Phone plans to use with dual SIM phones
As long as your smartphone is unlocked, you can use whatever SIM only plan you wish. Keep in mind that the secondary SIM slot may only be 3G compatible, but there are several 3G-only plans out there that offer lots of data for comparatively low prices.
When you're looking for a SIM-only plan, there are a few things to consider. Do you want prepaid or postpaid, are you happy to be on a contract or do you prefer the freedom of a month-to-month plan, plus, how much data do you need and how much are you willing to pay?
Prepaid vs postpaid: Prepaid plans are usually with no lock-in contracts, require you to pay before you use and when you've used up your included value before the expiry period, you'll generally need to recharge to continue using your plan. These plans are also available on a variety of expiry periods — from 5 or 7 days to 28, 30 or even 365 days. Postpaid is where you pay your bill at the end of the month — no recharging. The only downside is that if you go over your inclusions, you might have to pay for that extra use on your next bill.
Contract vs no lock-in plans: Contracts are where you've signed on for a certain period, usually 12 or 24 months, and cancelling your plan during this time will generally require you to pay a cancellation fee. No lock-in plans, also known as month-to-month plans, give you the flexibility to cancel when you need, switch plans or switch providers as needed with no big cancellation fees.
Data: How much data you'll need depends on how much data you will realistically use. If you only use mobile data for very occasional web browsing and emails, a plan with around 1GB of data might be enough. If you use your data regularly for social media, video and music streaming, 10GB or more might be a better option. If you're streaming hours of videos in high definition each day, you'll definitely need a bigger chunk of data, so maybe look at plans with data ranging from 50GB to 150GB.
Price: How much data you need will usually determine how much you pay. The more data you want, the more you'll pay. Plans with 1GB of data can start at under $10, while plans with over 100GB of data will generally cost somewhere around the $100 mark. There are still some cheap SIM plans that do include generous data at more reasonable prices, so its worth doing a comparison to see how much you can get for your money.
If you're interested in a postpaid SIM-only plan to use with your dual SIM phone, the table below shows a selection of postpaid plans from Canstar Blue's database which show a minimum of 10GB data, listed in order of advertised cost, lowest cost first, then by data allowance. Use our comparison tool to see a wider range of plans from other providers. These are products with links to referral partners.
Compare phone plans
Is a dual SIM phone worth the switch?
You may not have considered a dual SIM smartphone before, but if you have two phones – one for personal use and one for work – or you travel around a lot, it could be your new best friend. They allow great flexibility and you can also get the most out of having two phone plans, whether that's a plan with cheap or unlimited international calls and another with lots of data.
They allow you to switch off your work phone after a long day and still retain the ability to text friends and family. However, dual SIM phones aren't without their downsides. The major one being that one SIM tray might be 3G only and two plans cannot be used at once. Not many phones currently have dual SIM capability, and you are limited to a few Android OS models from the likes of OPPO, Motorola and Huawei. You may also have to purchase outright as bundling with a plan could be limited.
Dual SIM phones are a great idea, but are not without their downfalls – these may be enough to still warrant the use of two handsets instead of one. In any case, it pays to shop around and consider your own needs first.