Solar panels are pretty easy to forget about once they're installed. They have no moving parts, meaning they require very little maintenance – but that's not to say your panels can simply be ignored.
The magic of solar happens beneath a layer of glass. If sunlight is blocked from passing through this glass due to dirt, grime or other obstructions, your solar panels can't produce as much electricity. That's why it's important your panels are kept clean. In this article Canstar Blue takes you through the basics of what you need to know about cleaning solar panels.
Compare Electricity Plans
How do I clean my solar panels?
Before you start, shut down your solar system by following the procedure in the manual. The surface of solar panels is glass, which is pretty easy to clean, but accessing the solar panels is a whole other story. You should only attempt to clean your solar panels if they can be accessed from the ground. Otherwise, it's in the interests of safety to hire a professional solar panel cleaner with equipment and training to access the roof.
To clean your panels from the ground, use a long handled soft brush, preferably with a squeegee. You will also need a hose with an appropriate nozzle so the stream of water can reach the panels. Other than that, there's no particular 'right' way to clean your solar panels. That said, keep the following tips in mind for a safe, yet thorough and gentle clean.
Don't use metal objects or harsh abrasives: This may scratch the glass causing light to bounce away from the scratched surface, reducing your systems performance.
Use clean water: Using water that's laden with minerals or pollutants may create a build-up of solids on the panel's surface if it's not squeegeed correctly. Avoid risking this altogether with clean water – preferably demineralised.
Clean your panels when it's cool: Solar panels are designed to attract as much sunlight and heat as possible. As you might expect, this means solar panels are hot to touch and will quickly evaporate water, smearing any dirt. For these reasons, it's ideal to clean your panels early morning, late afternoon or on overcast days.
Only clean the surface: There is absolutely no reason to clean any part of your solar panels other than the surface glass. Do not attempt to clean the components underneath the panels – in fact, avoid that area completely.
How much does solar panel cleaning cost?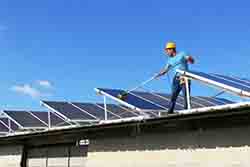 Hiring a professional to clean your solar panels will usually cost you around $100 to $200 for every 12 solar panels. While that might sound steep, it's not too bad when you consider the degree of danger associated with handling water and soap on a possibly already slippery roof.
There are a number of different solar panel cleaning services out there, and most are fairly competitive. Some may throw in a discounted gutter clean, too. Also keep an eye out for solar companies that offer a 'free' annual panel cleaning service. The point is to shop around and know your options.
How often do I need to clean my solar panels?
While rain helps keep your panels clean, that alone will usually not be enough. Fortunately, you will only need to clean your solar panels once every six to twelve months. If you live in a dusty or dry area, however, you may need to make a habit of cleaning your panels more regularly.
Keep an eye out for any grime, dirt or excrement on your panels and try hose it off as soon as you notice it. Even if you don't think you can get it all off, it is expensive and possibly wasteful to hire a professional cleaner every time your panels get slightly dirty.