Fact Checked
Canstar Blue reviews the sonnenBatterie, so you can feel confident that you're making the right call when choosing a solar storage system for your home.
German solar storage company sonnen has joined the ranks of other solar battery retailers in Australia with the introduction of the sonnenBatterie, which was released in recent years.
Since then, this solar storage system has dropped onto the radars of switched-on Aussies looking to make better use of their solar panels, taking their independence from the energy grid to another level. But what makes the sonnenBatterie system different? And is it really worth the hefty upfront investment? Read on to find out what this brand has to offer and whether it may be the right fit for you.
On this page:
sonnenBatterie Evo
Designed using German engineering, the sonnenBatterie Evo is an innovative and compact solar battery storage system. According to sonnen, the sonnenBatterie Evo is optimised for performance, allowing households to self-produce and use their own, affordable clean energy. It also comes with back-up power capabilities to help keep lights and appliances running through blackouts.
Like other solar home batteries, it works by storing the power your solar panels have produced during the day for you to use at night. The sonnenBatterie Evo is also the first of sonnen's products to with the ability to be installed indoors or outdoors and has been designed specifically to suit Australian and New Zealand homes.
Not only that, but those with a sonnenBatterie also become part of the sonnenCommunity where solar generated energy is shared amongst households in a bid to reduce their collective reliance on the grid.
The sonnenBatterie Evo comes with 10kWh of usable capacity, broken into two 5kWh battery modules. Other notable features include its cobalt free and lithium iron phosphate cell technology and 10-year or 10,000 charge cycles conditional warranty. The battery itself has everything included, including an inverter, so you're ready to connect upon purchase.
sonnenBatterie Evo Specs
| | |
| --- | --- |
| Nominal battery capacity | 11kWh |
| Usable capacity | 10kWh |
| Cell technology | Lithium Iron Phosphate |
| Weight in kg  | 163.5kg |
| Dimensions (H/W/D) in mm | 710 mm x 1400 mm x 427 mm |
| Inverter output | 5kW |
| Inverter efficiency | 94.4% |
| Ambient temperature range | -5°C to 45°C |
| Dust and water protection | IP56 |
| Operating mode | Single phase |
| Warranty | 10 years or 10,000 cycles |
This data is based on the specifications of the sonnenBatterie Evo.
How much does the sonnenBatterie Evo cost?
The price of the battery system will depend on the specific size you choose, where you live and your choice of installer. Solar battery storage systems aren't cheap. The reality is that if you're in market for a battery, you're going to be forking out a decent amount of cash for it. That said, there are systems that are more expensive, and systems that are less expensive. The easiest way to get an accurate price specific to your household is to contact a certified sonnen installer.
sonnenConnect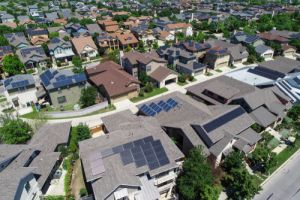 Customers who purchase a solar battery of 4kWh capacity or higher with sonnen also have optional access to the sonnenCommunity power network when they sign up to sonnenConnect. sonnen connects its solar customers with a larger community that shares the clean energy they generate with each other. Joining sonnenConnect gives sonnen control of your storage system as it becomes part of a virtual power plant (VPP), whereby electricity can be exported from your battery pack and regenerated as necessary.
sonnen claims on its website that sonnenConnect allows customers to earn up to $24 each month for participating in its VPP network. In addition to daily rewards for helping out the grid, the company also states that eligible customers will receive a $100 sign-up bonus for joining the program.
sonnenConnect is currently available in New South Wales, Queensland, South Australia, Victoria, Tasmania and the Australian Capital Territory. To be eligible, customers must be connected to the grid and have a sonnenBatterie with a 4kWh capacity or greater. Interested customers must also not already be connected to a VPP with another provider.
For full details, including terms and conditions, it is best to visit the sonnen website.
sonnenFlat
sonnen also offers customers an innovative electricity plan, designed to work alongside a sonnenBatterie, called sonnenFlat. Similar to sonnenConnect, this plan also allows customers to join the sonnenCommunity and partake in stabilising the grid through sonnen's VPP network.
sonnenFlat comes with no lock-in contracts or contract terms and voids the cost of a daily supply charge through the use of a fixed monthly rate. This rate also includes a proportion of usage charge costs, however any usage exceeding this limit will be charged at an additional rate. Customers on this offer will also be awarded a solar feed-in tariff for energy exported above the annual export threshold.
To be eligible for this offer, customers will need to have a sonnenBatterie with a minimum capacity of 4kWh. Households also cannot be connected to sonnenConnect and sonnenFlat at the same time.
sonnenFlat is available to residents in New South Wales, Victoria, south-east Queensland, South Australia, Tasmania and the Australian Capital Territory. Pricing for this offer can be seen below. Please note, prices include GST.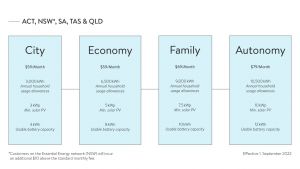 Should I invest in a sonnenBatterie?
While there certainly are benefits of owning a sonnenBatterie, purchasing this storage system will ultimately come down to your personal circumstances, and whether you can calculate a return on your investment. Solar batteries aim to reduce your reliance on the grid by allowing you to utilise the energy you would have otherwise fed into the grid during peak sunlight hours.
The sonnenBatterie is no different. You'll save money on your electricity bills simply by not buying as much power from the grid. But whether those savings will make up for the upfront investment in a reasonable timeframe will depend on many factors such as the size of your panels and storage system, not to mention your energy usage requirements, so it's best to crunch the numbers before making any costly decisions.
That said, the sonnenBatterie is certainly advanced as far as solar battery technology is concerned, and whether you're after a system that allows you control over where your battery power is funnelled into, or you're simply looking for a way to reduce your carbon footprint, the sonnenBatterie can deliver that.
If you're sitting on the fence, or not really interested in a battery system, it might be worth having a look at the solar feed-in tariffs and providers available in your area.
Image credits: sonnen.com, Roschetzky Photography