As a basic fixture of the Microsoft suite, using Excel for your bookkeeping may seem like a no-brainer, as it provides the tools you need to track your personal finances and stay on top of your income and expenses, all for free. However, is manually plugging in your day-to-day business transactions really the best option?
Thankfully, there are a number of accounting software options available that automate the majority of the bookkeeping process, freeing you to do more important (and fun) work. The fact that they can also provide professional and personalised assistance, as well as insights into your business and its performance is just the cherry on top. If you've been using Excel and have been thinking of taking the leap into the accounting software market, you've come to the right place, as Canstar Blue explores how Excel stacks up against professional accounting software.
Can I use Excel for bookkeeping?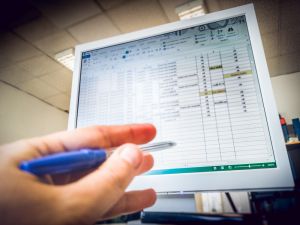 Excel spreadsheets can be used for basic bookkeeping if you have a template that includes a transaction sheet, a chart of accounts and an income statement sheet. There are plenty of websites that offer existing templates – both free and paid – for you to download and use, which you can customise to suit your business or accounting needs, and manually record your daily transactions within the document. Some basic bookkeeping processes that you can do in Excel include tracking your income and expenses, organising and categorising transactions and keeping up to date with invoices you send to clients.
While this process may seem straightforward, it does require you (or someone else) to manually input the data, which can be time-consuming and difficult to keep track of, particularly if your business expands and you need to keep track of multiple areas. If you're not confident in accounting and bookkeeping, or using Excel in general, it might be worth thinking about accounting software.
Accounting software plans
Payroll software for small businesses with up to 4 employees

Single Touch Payroll (STP) reporting
Pay your employees

from $10/month
min. cost $10.00 over 1 month
Go to site
Online accounting software great for new and smaller businesses

Single Touch Payroll (STP) reporting
Pay your employees
Send quotes & invoices
Manage bills & expenses
30-day free trial available
50% off for first 3 months. New customers only. T&Cs Apply.

from $24.00/month
min. cost $48.00 $24.00 over 1 month
Go to site
Online or offline accounting software with job tracking and inventory

Single Touch Payroll (STP) reporting
Pay your employees
Send quotes & invoices
Manage bills & expenses
Bill by time & track jobs
Manage inventory
30-day free trial available
50% off for first 3 months. New customers only. T&Cs Apply.

from $54.50/month
min. cost $109.00 $54.50 over 1 month
Go to site
What are the pros and cons of using Excel for bookkeeping?
If you're not sure whether Excel is the right program for you, here are some pros and cons to consider when it comes to making the choice between the two:
Pros of using Excel
Cons of using Excel
Pros of using accounting software
Cons of using accounting software
· Organise and categorise your information, accounts and transactions in a way that suits you

· Some processes can be automated through built-in formulas and macros

· Generate graphical reports for your data, such as pie charts, line graphs and other diagrams

· Keep track of invoices and generate financial reports and statements via templates

· You can't link your bank accounts and credit cards

· You can't automatically import and categorise transactions and data

· You have to self-check your data entry for errors

· Available templates may not suit your needs, and require significant time or alterations

· Difficult for multiple users to work within a single file or spreadsheet

· Able to be synced and accessed across multiple devices

· Automated process which cut down manual input

· Able to specialise across multiple areas, such as payroll and inventory

· Able to update subscription as your business grows

· Analysis and reports available to help with business decisions

· Customer service on hand to help with issues

· May not need everything that comes with your subscription

· Can be expensive if you need the top of the line

· May not be necessary for qualified accountants

· Generally have to be connected to the internet to operate it
While there's plenty of blogs, articles and YouTube videos out there that outline tips and tricks to turn you into an Excel master (and potentially mitigate some of the cons of Excel), most good accounting software nowadays is designed to address the cons of Excel and improve your accounting experience, particularly if you're business is on an upwards trend.
Should I use Excel or accounting software?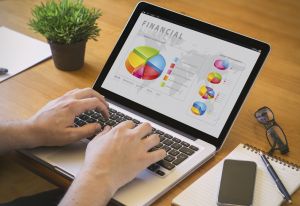 If you only require a single-entry bookkeeping system to track your personal finances or basic small business bookkeeping, you may find that Excel spreadsheets work perfectly for you, particularly if you are confident with using Excel. On the other hand, Excel is generally considered to be a bit old-fashioned in terms of accounting, as there is an abundance of web-based programs available.
Online accounting software platforms such as MYOB, Reckon and Xero use AI technology to assist you with your accounting and bookkeeping so that you can focus on the business side of things. Depending on which subscription type you've selected, the majority of accounting software available allows you to link bank accounts and credits cards so that transactions are imported automatically, as well as ensures that your bookkeeping is checked for errors and fraud, employee payroll is set up and that you can accept online payments from clients, amongst other features. Not to mention the insights, data and other resources that are at your fingertips, which can help your business take that next step.
If your business is growing, it will soon become impractical (and seemingly impossible) to use Excel for your needs. Therefore, it may make sense to check out accounting software sooner rather than later to see how it can accommodate your current workload and your future plans. There are plenty of paid and free programs to choose from, so you should be able to get a feel for software that suits you, with some programs offering free trials to help you get a feel for what is and isn't important to you. For example, you might find that while one platform provides payroll for more than one person, another lets you accept online payments without a fee, or one has a better app than another or is compatible with Mac computers.
Overall, your bookkeeping software should be something that is simple and efficient to use so that you can focus on other aspects of life rather than crunching numbers. While it may be perfect for tracking your personal finances, using Excel to manually enter your transactions may prove time-consuming and can be difficult to stay on top of as your business expands. If time is money, then most software platforms pay for themselves in the long run.
Which accounting software should I use?
At the end of the day, each business – and how you run it – will come down to personal circumstances, with some of us preferring to be all over every aspect of it, while others are just happy to just keep an eye on it to ensure the wheels keep turning. And while Excel can help you get off the ground, if you're really looking to hit the big leagues, or you're simply not a big fan of numbers, accounting software may prove to be a worthwhile investment down the line, freeing up your time to take care of other areas of the business.
Photo Credit: dennizn/shutterstock.com, Luca Lorenzelli/shutterstock.com, McLittle Stock/shutterstock.com