Apple TV+ burst onto our screens and into the streaming wars in late 2019, with an array of original content. They've been met with mixed reviews – some have been nominated for Golden Globe's (The Morning Show) and some have definitely not (Jason Momoa's See). But nonetheless, the tech giant has delivered a stack of new original content ($6 billion worth, in fact) for our viewing pleasure, and there's bound to be something for everyone. Canstar Blue has rounded up some of the best shows currently on offer to take away the difficulty of Friday night decision-making.
Best original shows on Apple TV+
Here is a list of the best original shows streaming on Apple TV+ (in our opinion, anyway):
Little America
If you're ready to feel all the feels, Apple TV+'s surprise hit Little America is for you. The eight-episode anthology series documents the lives of immigrants in the United States – all of which are inspired by the true stories featured in Epic Magazine. Each episode is a different story, but all 'characters' are bound by the same thing – they know what it's like to live in the U.S. looking, sounding and feeling different to the majority around them.
From executive producers Lee Eisenburg (The Office), Alan Yang (Master of None) and power couple and Academy Award nominees for The Big Sick Kumail Nanjiani and Emily V. Gordon, the show was bound to be a success from the start. But, despite this, Little America almost didn't get made – producer Nanjiani stated that a lot of services turned the show down. "I think people are still nervous to make shows that star people who aren't mainstream celebrities in America," he said. Luckily Apple TV+ picked it up – because it's one of the best.
Visible: Out on Television
It has taken years of fight and struggle to achieve even the level of LGBTQ+ representation on television that we have today – so it's easy to forget that the road to visibility has been windy, and very recent. To put it in perspective, it's only been 22 years since Ellen DeGeneres's character in Ellen came out as gay – becoming one of the first shows in the U.S. with a main character to do so. Events like these and more are explored in Visible: Out on Television, a five-part documentary series which follows the milestones and breakthrough for LGBTQ+ visibility both on and off screen in the film and television industry.
The five-part series features an array of recognisable narrators, all of whom are members of the LGBTQ+ community, such as Janet Mock (POSE), Margaret Cho, Asia Kate Dillon (portrayed the first non-binary character on mainstream American television in Billions), Neil Patrick Harris and Lena Waithe. From Emmy-nominated filmmakers Ryan White and Jessica Hargrave, and executive producers Wanda Sykes and Wilson Cruz, the series intertwines never-before-seen interviews with DeGeneres, Oprah Winfrey, Anderson Cooper, Billy Porter, Rachel Maddow, Don Lemon, Sara Ramirez, Jesse Tyler Ferguson and more.
Dickinson
Emily Dickinson's life has been well documented throughout Hollywood, but none as weird, wild and queer as Apple TV+'s Hailee Steinfeld version – and the people are loving it. Dickinson follows Emily Dickinson in her teenage years (Steinfeld) as she struggles to follow her dream of becoming a poet in a world (1850s Massachusetts, to be exact) that frowns upon female writers. She also has no intention of marrying – she's Jo March of Little Women, made millennial. And actually, that's pretty much the whole vibe they take and use throughout the entire series. Dickinson is a strange blend of old and new – people are dying early from lack of medicine and there's no electricity, but the teenagers are twerking to trap music at parties and calling each other "dude". It's bizarre, but surprisingly, it works.
Servant
Night Shyamalan is known for his creepy movies, and his television show Servant which he produced alongside Tony Basgallop (who also wrote the script), is no different. The show follows a successful and wealthy couple, Dorothy and Sean, who are mourning the loss of their baby Jericho, who died at 13 weeks. As part of Dorothy's therapy, and to help her heal from her psychotic breakdown, the couple replaces Jericho with a doll – and Dorothy continues to act as if he is real (Sean, on the other hand, is seen picking the 'baby' up by its feet and flinging it into the cot).
Dorothy hires a nanny for 'Jericho', the 18-year-old Leanne, who picks up the duties almost too suspiciously. Other things start going wrong too – like splinters appearing all over Sean's little body after he wrongs her, children she crosses going into anaphylactic shock, oh and, the baby comes back to life?! We're going to leave you with that, because that's enough to take in for one day.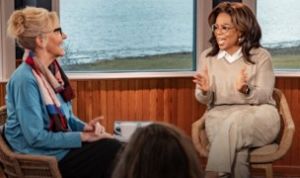 Oprah's Book Club
Spinoffs are either a hit or a miss – and this one certainly isn't a miss. Oprah's Book Club is a series solely dedicated to one of the most popular segments from The Oprah Show, whereby (you guessed it) Oprah hosts her book club. The platform only releases an episode every couple of months, and cleverly so – allowing viewers at home to read and become acquainted with the chosen book before the episode is released.
The conversations between Oprah and the authors aren't the same casual chit-chat you'd see in a talk show segment – they are in-depth discussions for the people who had read the book and are genuinely interested in good books, not just the Oprah facade. That being said, it is Oprah, and one thing that is so great about her on Apple TV+ is that she's consistently good – so you don't need to 'ride the series out' to know it's going to end well.
Apple TV+ is still finding its footing, so here's hoping there'll be more fantastic shows making their way to our screens soon! Don't have Apple TV+? Sign up for a seven day free trial to see if the above shows take your fancy.
Offer: Free Apple TV+ with new iPhones
Apple is clearly keen to get new customers hooked on Apple TV+ with its generous offer to new iPhone, iPad, iPod touch, Apple TV or Mac owners — you'll get one year of Apple TV+ free with a new eligible device. You don't have to buy through Apple either, with any device bought from authorised reseller also eligible for this offer.
The following table shows a selection of 24-month 64GB Apple iPhone 11 Pro plans on Canstar Blue's database, listed in order of cost, from the lowest to highest and then by data allowance, largest to smallest. Use our comparison tool to see plans from a wide range of telco providers. This is a selection of products with links to referral partners.

Photo credit: Denys Prykhodov/shutterstock.com, Apple TV+