"Just Google it." Such a common phrase, but we often forget how heavily we rely on Google. Whether it be email, docs, cloud, translate, maps, or scholar – we use them almost every day of our lives. But there is one product of Google that isn't quite as popular as its brothers and sisters – and that's 'Google Play'. So, what is it, and should you be using it?
What is Google Play Movies & TV?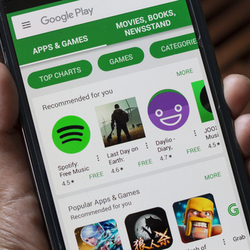 Google Play is Google's answer to Apple's iTunes. When Google decided to go head-to-head with the iPhone through the Android operating system, it needed all hands-on deck. So, enter, Google Play – the official app store of Google's mobile platform. It serves as a digital distribution service for Android users to browse, purchase and download apps, with Google Play Movies & TV an extension of Play, offering an online video-on-demand service with some blockbuster films and current television shows available for purchase or rent. Although it is targeted towards Android users, iOS device users can also download the app.
How does Google Play Movies & TV work?
Google Play Movies & TV can come off a bit confusing. Let us break it down for you.
You need a Google account
Before you can access or do anything, you will need to have your personal Google account. For a lot of people, this won't be a worry as you can use your Gmail user and password. For those who don't have an account, you will need to sign up for one. This way, you can store all of your rentals and purchases in one spot. This is completely free of charge and once you have this account you will have it forever (unless you deactivate it) and you'll never have to pay any fees – except for the movies of course.
Now, how do I access Play?
Once you have your account, there are a few different ways you can access Google Play:
Google – Obviously with Google being the way it is, Play is available directly via the web at a click of the button. This is handy – it means that you can access Play and your account on any device that connects to the internet.
YouTube – Many people don't realise that their YouTube and Google accounts are connected automatically. All your rentals and purchases via the Play Movies & TV app will be synced onto your YouTube account so again; you can log onto your YouTube account on anyone's device and receive direct access to your rentals and purchases.
Android – As Play was originally designed for Android, users can easily access the pre-installed Play app on the home page. From there you can sign in, browse and rent or buy.
iOS – Never fear, just because you have an iOS device doesn't mean you'll be left out! Users with these devices can still download the Play Movies & TV app for free in the App Store. You can watch previously downloaded content, but you cannot purchase or rent through the app. A simple solution is renting or purchasing on the web, then watching on you iOS device later.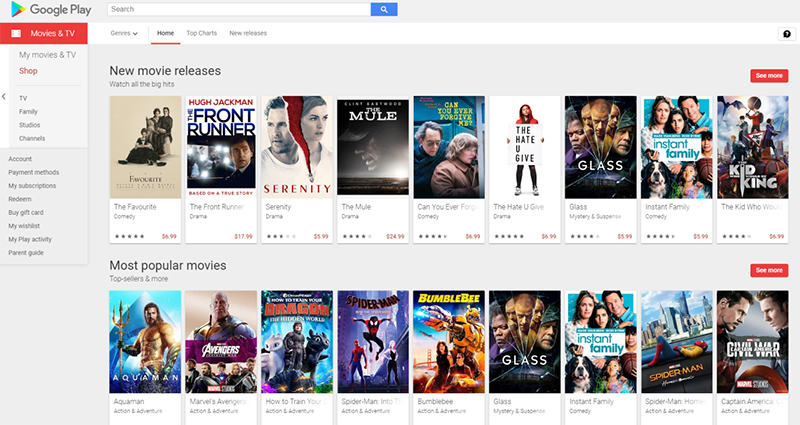 How do I watch Google Play on my TV?
Now that we have talked through how to access Play, here comes the next step – hooking it up to your television. There are a lot of different options when it comes to throwing a movie up on the big screen, so listen carefully.
Chromecast: Arguably one of most convenient options, Chromecast is a connection device you can purchase from approximately $60 from any good electronics store. It is fairly easy to set up and enables you to throw anything up on your television.
HDMI Cable: Purchase one of these cables to connect your device to a television. The only negative is that it comes with all the downsides of a wired plug (potential to lose it, cord could break, etc).
Apple TV: This is where that connection to YouTube comes in handy. Connect your iOS device to your Apple TV, then open up the YouTube app. Here you can access everything from your account, and watch them on the big screen!
Roku: If you have Roku set up on your television (and if not, you can purchase it as a one-off deal and set up fairly cheaply) you can search for Google Play Movies & TV on the Channel Store.
Android TV: If you use Google Play, you may be very likely to own an Android TV.
How much does Google Play cost?
Purchasing a movie costs from $5 upwards to $19.99, while it can be anywhere from $0.99 to $7 to hire. For television shows, pay approximately $2.99 per episode and upwards of $19.99 for a full season. While it may not be the cheapest option available, it will come in handy if you're only after select TV shows and movies, meaning you won't be wasting money on a subscription if you don't often have time to chill in front of the TV.
What's available on Google Play Movies & TV?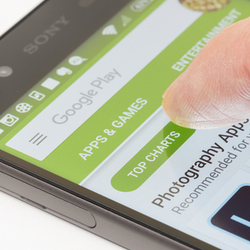 Google has combined with 28 different streaming services in order to integrate their content libraries with Play Movies & TV. This means you'll have first-hand access to content from ABC, HBO (Game of Thrones, anyone?) Showtime, Comedy Central, MTV, NBC and CBS.
Top blockbusters on Google Play:
The New Mutants
Iron Mask
Unhinged
After We Collided
Buddy Games
Let Him Go
Bill & Ted Face the Music
Mulan
Top TV shows on Google Play:
Game of Thrones
Yellowstone
American Gods
Battlestar Galatica
Friends
Dragonball Super
Supernatural
Grey's Anatomy
Is Google Play Movies & TV worth it?
We're lucky to live in a time where there's no shortage of streaming services, but figuring out which ones are worth the money can prove to be a struggle, especially when they all have exclusive content! But with Google such as an integral part of everyday life, turning to it for all your entertainment needs seems like a natural decision – especially if it's teamed up with plenty of other providers. However, it may not be the best option for those who live for the latest episode and movie release, as it may end up costing you more than other streaming services in the long run, but those after the one-off movie night may find it worth looking into.
Ultimately, whether you decide to explore what's on offer from Google Play Movies & TV will come down to your entertainment references – as well as your stance on the Android versus Apple debate. But as it's free to download and look around, you may just find your new favourite app.
Sign up to Disney+ Australia
Disney+ is the new talk of the streaming world, so how can you get a subscription? There are two plan options to choose from – a monthly subscription at $11.99 per month, or prepay for a year at $119.99 and save on the monthly cost. Both plans include the same features, with unlimited downloads and the ability to stream on up to four screens at the same time. This table includes links to a referral partner.
Brand
Subscription Type
No. of Screens

/same time viewing

Advertised Cost^^

/month or year

Stream the Disney+ library, including Disney+ Originals, Star Wars, Pixar, Marvel, National Geographic & Star
Watch on 4 screens at the same time
Add up to 7 profiles
Unlimited downloads of shows and movies on up to 10 devices

min. cost $11.99 over one month

4

$11.99

Get Deal

Canstar Blue receives a commission for sign-ups through Disney+ *

Stream the Disney+ library, including Disney+ Originals, Star Wars, Pixar, Marvel, National Geographic & Star
Watch on 4 screens at the same time
Add up to 7 profiles
Unlimited downloads of shows and movies on up to 10 devices
Prepay for a yearly subscription and save on the monthly cost

min. cost $119.99 over one year

4

$119.99

Get Deal

Canstar Blue receives a commission for sign-ups through Disney+ *

^^View important information
Picture credits: justplay1412/Shutterstock.com, ymgerman/Shutterstock.com, Creative Caliph/Shutterstock.com