Do you want to get free Netflix? Of course, you do. From bingeing the latest shows to settling in for a movie, Netflix has it all. Ordinarily Netflix costs anywhere from about $10 to $20 a month depending on how many streams and the picture quality you desire. But one internet provider is offering free Netflix for up to a year, and that's Vodafone. Find out what the telco and others can offer up below.
Free Netflix with Vodafone NBN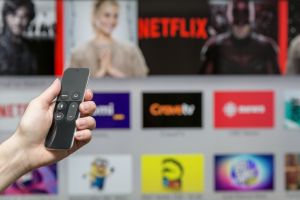 Until June 30, Vodafone is offering 12 months of Netflix for free for users who sign up to its 24-month NBN plans. All plans come with unlimited data and the Vodafone Wi-Fi Hub modem is $0 upfront on 24-month contracts. Plans start at $69 a month, which comes with the Standard NBN speed. Standard Plus costs $79 a month, and Premium costs $99 a month.
The total value of the 'Netflix gift' is $167.80, meaning customers get 12 months on the 'Two Stream' Netflix package, costing about $14 a month.
Users can choose the premium 'Four Stream' package, but this reduces the total length of complimentary subscription to nine months.
Users must sign up by June 30, and must redeem the offer by August 31. If users do not cancel after the 9-12 months, your subscription will automatically continue and be billed as part the monthly Vodafone bill if there still is one.
Internet Providers with Data-Free Netflix
There are two internet providers that stand out in offering data-free Netflix, and they are Teleron and Skymesh. You don't even need to do anything special to redeem the offers – just sign up to a fixed-line or fixed wireless NBN plan.
Teleron offers 100GB or 150GB for $42.50 or $54.50 per month, respectively. It also comes with unmetered iTunes.
All Skymesh fixed line or fixed wireless plans come with unmetered Netflix, starting at $29.95 per month.
With Teleron you'll be on a 24-month contract, while all Skymesh plans come with no lock-in contracts. For those who don't have the appetite or budget for unlimited data, a data-capped plan with unmetered Netflix may still be adequate. After all, what's likely the biggest data-eater in your home? Streaming.
Data-Free Netflix through Fetch
A number of providers have collaborated with Fetch, a streaming service and multimedia player all in one. With these plans, Netflix may come unmetered on data-capped plans. Fetch 'Mighty' boxes also allow you to pause, rewind and record live TV, watch premium channel packs and have remote control access to Netflix, Stan, YouTube and catch up TV.
Note that some plans offer unlimited data as standard, negating the need for unmetered Netflix.
However, some data-capped plans may have the feature.
Note that to get unmetered content you will have to stream through the Fetch box, as streaming outside of it may not register.
Is free or unmetered Netflix worth the money?
As they say, there's no such thing as a free lunch, and while $0 or unmetered Netflix is naturally tempting, it's important to look at the whole picture. Often, free Netflix comes and goes as part of promotional periods. Similarly, unmetered Netflix is usually only available with a few providers. You may even have to pay a premium on your internet plan or be locked into watching Netflix a certain way.
Free or unmetered Netflix is nice to have, but first consider the contract conditions by looking at the Critical Information Summary, cost, how much data is included, any setup costs and more.
Often to get these perks you will have to sign up for a 24-month plan, which can be an issue if you're renting or desiring flexibility. Free or unmetered Netflix is a luxury among today's internet plans, and is available with a few competitive providers, but if looking for a new provider, there are frankly bigger things to look at in the whole buying process.