While some gamers lean towards a monitor when looking for a high definition display screen, some turn to the TV for their gaming needs. It's not surprising, considering that many TVs are now available with 4K definition, along with a number of other benefits, allowing them to keep up with some of the latest video games available. But with plenty of brands offering a wide variety of high definition TVs with new and unique features, sometimes it's difficult to find the perfect display for your games. To help you get a closer look at what's on offer, Canstar Blue investigates some of the best TVs for gamers.
Best Budget TV for Gaming
Kogan Smart 4K Series 9 Android TV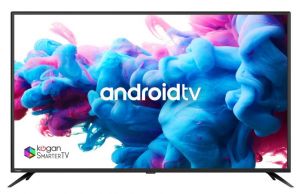 Kogan has solidified its spot in Australian electronics as the cheap alternative to many mainstream companies, with the Kogan Smart 4K Series 9 Android TV a great, cost-effective display for gamers not looking to splash all their cash. With vivid 4K Ultra HD resolution and built-in Dolby Vision and Audio, the Kogan Series 9 immerses gamers with remastered visuals and sonic-layering sound separation to provide an engaging and cutting-edge experience.
Powered by Android TV, the Kogan Series 9 comes with built-in Chromecast, making life easier with flexible access to streaming via your smart devices if you're ever chasing a break from the gaming. Google Assistant and Android voice-search are also implemented into the TV so you can command the Kogan Series 9 with just your voice, meaning you don't even have to look for the remote! Packed with features without the price tag, the Kogan Smart 4K Series 9 Android TV is ideal for gamers on a budget.
Online at Appliances Online
Best Mid-Tier TV for Gaming
Hisense H9F Smart 4K TV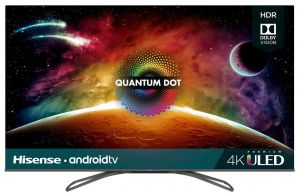 The Hisense H9F Smart 4K TV is a great multi-faceted TV packed with features, including two 15W speakers for advanced sound, 2160p resolution for breath-taking visuals. With full-array local active zones, gamers will notice the difference with this TV's quality performance as its motion rate provides clarity during chaotic moments. With artificial intelligence technology, this TV uses algorithms to deliver intelligent picture and audio quality.
Unlock billions of colour combinations with Hisense H9F's Quantum Dot wide colour gamut, which is accompanied by Dolby Vision, adding a splash of contrast and brightness to every frame. Alike to the Kogan model mentioned previously, the Hisense H94 also has Android TV so you can stream more than 500,000 shows, movies, live sports and news from your favourite channels when you're in between matches.
Online at Appliances Online
Best High-End TV for Gaming
Samsung Q7OR QLED TV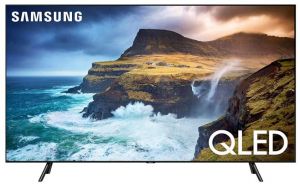 The Samsung Q70R QLED is perfect for both daytime and night-time gaming as it utilises a vertical alignment display that offers quality contrast ratio, advanced peak brightness and cutting-edge graphics. Known widely as one of the best, high-end gaming TVs in the market, the Q70R LED also benefits from local dimming as it's HDR content is fully maximised, resulting in optimal picture performance. With a native refresh rate of 120Hz, it's no surprise why this TV is one of the best for gaming.
The Samsung Q70R QLED supports AMD'S FreeSync variable fresh rate technology to apparently provide a near perfect, stutter-free experience, as its compatibility towards gaming was evidently a major factor when developing this model. With a comprehensive smart platform, the Samsung Q70R QLED provides excellent gaming performance with superb quality and is a great option for gamers who aren't put off by the price tag.
What is 4K resolution?
4K resolution refers to a display resolution of approximately 4,000 pixels and is one of the more popular high definition models currently available. 4K resolution has now been introduced across a number of mediums, including movies, streaming and gaming, allowing for a higher quality display.
Online at Appliances Online
Which TV is right for me?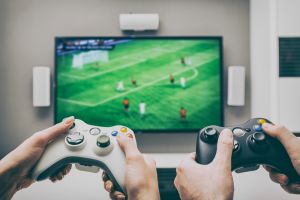 Working out what the perfect TV is for you will be centred on both your gaming habits and budget, with the three models mentioned all encompassing differing features and performance quality based on their price-range. With the TVs mentioned being suited for gaming, which one you hook up to your favourite console will ultimately depend on how you feel about your game's visuals, and how much you're willing to part with for the best quality.
Internet plans for gamers
The following table shows a selection of published gaming-ready NBN plans from MyRepublic and Aussie Broadband on Canstar Blue's database, listed in order of monthly cost, from the lowest to highest, and then by alphabetical order of provider. Use our comparison tool to see plans from a range of other providers. This is a selection of products with links to referral partners.
How did we pick some of the best TVs for gaming?
At Canstar Blue, we're experts on lots of consumer-related topics, but we can't claim to be experts on everything. That's why, in picking some of the best TVs for gaming in this article, we've drawn on our customer satisfaction ratings and online research to bring you this selection. Therefore, it should be treated as a general guide only.
Photo credit: Anton27/shutterstock.com, samsung.com, hisense.com, kogan.com, REDPIXEL.PL/shutterstock.com