Whatever did we do with ourselves before Bluetooth came about on the scene? Did we seriously just listen to the radio in the car? Ran with headphones tangled around ourselves? Or listened to the latest Spotify playlist through a phone placed tactfully inside a cup? Talk about horrible.
Luckily, those days are long behind us. Bluetooth is bigger and better than ever before, thanks in part to the rise of music streaming services such as Spotify and Apple Music. As this popularity continues to rise with no signs of slowing down, portable Bluetooth speakers continue to be released in numbers by manufacturers, arriving in all shapes and sizes, decked out with an ever-increasing array of features. While typically small, these devices can deliver a big sound, and when paired with a smart device, allows users to stream their music of choice, even from the other side of the house.
Portable Bluetooth speakers can vary widely in price, from the budget through to the premium, and can vary in capabilities and sound quality. So, which one should you take to the next pool party? Read on as we list a few things that you should keep an eye out for to make your next purchase music to your ears.
What is Bluetooth?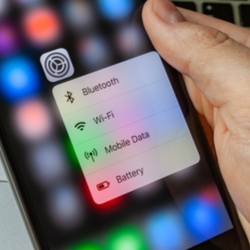 Bluetooth is a short-range wireless technology that allows electronic devices to communicate with each other. It's become an increasingly standard feature in all consumer electronic devices – in fact, you'd be hard-pressed nowadays to buy any smart tablet, speaker, phone or car without Bluetooth compatibility.
As explained by the Bluetooth SIG (special interest group): "A Bluetooth product, like a headset or watch, contains a tiny computer chip with a Bluetooth radio and software that makes it easy to connect. When two Bluetooth devices want to talk to each other, they need to pair."
Through this 'pairing' process, a smart device can connect with a Bluetooth compatible audio device, meaning your tunes can be played via a different device altogether. As this technology and market have blossomed, brands have released their own apps, like the Bose Connect app for wireless headphones, which contain a number of functionality and personalisation options, allowing you to listen to your music the way you like it.
It should also be noted that Bluetooth as a technology is evolving, meaning that the newest-release Bluetooth devices are likely to feature the latest Bluetooth standards, meaning if you want the latest and greatest, you might need to keep an eye out on what's available. Check out our guide here to learn how to connect your phone to a speaker via Bluetooth.
What should I look for in a Bluetooth speaker?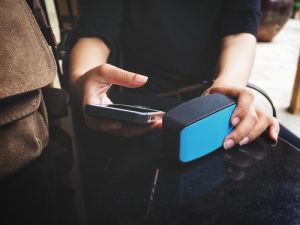 Choosing the correct Bluetooth speaker all comes down to what will work best for you and your unique lifestyle. However, it is important to keep your eyes peeled for certain factors – some of which can't be overlooked. These include:
Sound quality – a bit of a no-brainer when it comes to speakers, but nothing ruins your favourite song than too much emphasis on the bass, or something that produces a grainy or hollow sound.
Water resistance – when summer comes around, there's nothing like a pool party with some tunes. Traditionally though, speakers and water don't mix, so it's best to look into the water resistance of speakers, just in case someone decides to make a splash.
Battery life – you don't want your speakers to cut out in the middle of your playlist, so looking into battery life and charging capabilities can save you some embarrassment if you're singing along and the song cuts.
Portability – portable speakers need to be just that – portable. After all, you don't want to be lugging around a heavy speaker to every party or event you go to.
Bluetooth capabilities – factors such as range and connectivity will influence which brand or model you choose, as some will offer connectivity to other speakers to give you a surround sound experience, while range will impact whether or not you can take your phone with you without stopping the music.
Style – while potentially not the most important factor when it comes to finding a new speaker, having something that stands out, as well as has buttons in easy to reach places, can help you get the party started.
With so much to consider, which brand should you look for? Read on to find out just what's on offer, and which brand may be the best option for you.

Bluetooth Speaker Brands
Ultimate Ears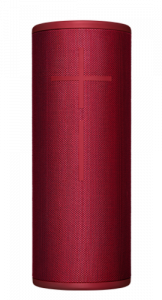 Otherwise abbreviated to UE, Ultimate Ears is an American brand that focuses on all things ear-related, including earphones and speakers. Currently a subsidiary of Logitech, UE has made a name for itself within the portable speaker market, and often a go-to for plenty of consumers. Most models feature Google Now and Siri voice integration, along with the UE app to allow you control the tunes as well as other functions such as volume from across the room.
Offering plenty of speakers, UE's latest model, the Boom 3, sports a 360-degree design for optimal listening, along with an IP67 waterproof rating, making it an ideal poolside addition. The Boom 3 delivers up to 15-hours of battery life, and can to be paired with up to eight Bluetooth devices, ideal for parties. If size really matters to you, you can always upgrade to the MegaBoom, which comes with a larger subwoofer, 20-hour battery life and a customisable tuner to help you listen the way you like.
UE also additionally power adapters, USB cables and a wireless charger to keep the party going.
If you're after something a bit more, UE also offer the Blast and MegaBlast, which while a bit more expensive, also come with a number of additional features. In addition to Bluetooth connectivity, the Blast range can also connect to Wi-Fi, and is compatible with Amazon Alexa, allowing you to not only select a new song by voice control, but also ask Alexa to check the weather, the time or control other smart devices.
If you don't need the biggest speaker, UE also offer the WonderBoom 2, which includes the same 360-degree sound with waterproof tech, and also comes with a 10-hour battery life. The added bonus is that is weighs in at only 420g, meaning if you're looking for something to take on the go, the WonderBoom might be the one for you.
UE's range of portable Bluetooth speakers includes:
UE WonderBoom 2: $129.95 (RRP)
UE Boom 3: $199.95 (RRP)
UE Blast: $279.95 (RRP)
UE MegaBoom 3: $299.95 (RRP)
UE MegaBlast: $379.95 (RRP)
JBL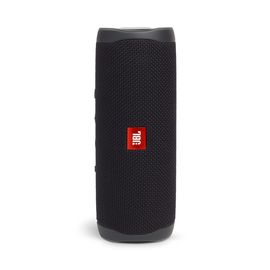 Another well-known brand within the portable speaker market, JBL is split into two divisions – Consumer and Professional. Consumer focuses on the home market, whereas the latter produces equipment for a studio, tour sound, portable sound and cinema markets. The first JBL products were produced in 1946, and since then have gone on to make a name for itself as one of the strongest and biggest names in audio.
One of JBL's most successful series of speakers is the Charge series, with the fourth installment recently hitting store shelves. According to JBL, the Charge 4 delivers a "powerful stereo sound", with it sporting a "waterproof design, durable fabric and rugged housing", with an IPX7 waterproof rating. The Charge 4 provides up to 20 hours of play-time, can charge smart devices via its USB output, with two smart devices able to be wirelessly connected. Also featuring voice assistant integration, users are able to access Google Now or Siri via the press of a button, while a noise and echo-cancelling speakerphone allows users to take calls from the speaker via the touch of a button.
The JBL family is an impressive bunch, and include:
JBL JR POP – $49.95 (RRP)
JBL FLIP 5 – $169.95 (RRP)
JBL Charge 4 – $229.95 (RRP)
JBL PULSE 4 – $329.95 (RRP)
Beats by Dre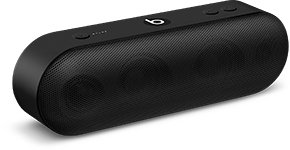 A brand known famously for their headphones, Beats' by Dre is a name that, if you were a teenager in the early to mid-2000s, you know all too well. Beats' by Dre was founded way back in 2006, and has catapulted to "must-have" status thanks to the man behind the company – Dr. Dre – and his already established name and brand.
While Beats by Dre have only recently released its first speaker, the 'Pill +', it seems to have already proven to be a popular option for music lovers – people trust De Dre, and so do we with this slim and sleek design. According to Beats, the speaker features a "lightweight and portable design", with a "no-nonsense interface" allowing users to play, pause and skip tracks, and control phone calls via the multifunction "b" button, with an enhanced speakerphone providing the ability to make and receive calls. Delivering up to 12 hours of battery life (with an LED fuel gauge displaying how much battery is left), and charged via Lightning cable, users can also charge smart devices with extra power from the Beats Pill+.
The Beats Pill+ app, available for Android and iOS, delivers functions including allowing for music to be controlled from two Bluetooth sources. A second Beats Pill+ can also be added to simultaneously play from both speakers, while two speakers can be synced together for dedicated left and right playback.
At this point in time this is the only available speaker from Beats by Dre, but you can choose between white, black and red finishes.
Beats by Dr Dre Pill+ – $249.95 (RRP)
Bose
You'd have to be living under a rock to not have heard of Bose. Created in 1964, Bose is most well-known for introducing the first noise cancelling headphones to the wider public, with the company expanding its audio range to include headphones, sleepbuds for those who want to get some shuteye on the plane, even audio sunglasses! One area that has also expanded over recent years is its Bluetooth speaker range, with Bose offering a number of options for you to choose from.
Arguably one of Bose's most popular portable speakers is the SoundLink Colour Bluetooth speaker II. According to Bose, the SoundLink is a "tough and water-resistant companion" featuring a richer baseline and increased volume, soft-touch silicone exterior and built-in microphone for calls. It also boasts of impressive Bose engineering such as dual opposing passive radiators, which "help it pump out sound while keeping vibrations to an absolute minimum."
Those after something smaller may be interested in the SoundLink Micro speaker, which includes up to six hours of battery life per charge, and comes with waterproof capabilities to survive those days by the pool. Or if you want something easy to take with you, the SoundWear Companion speaker may be right up your alley, allowing you to listen to your music hands free, as well as ears free as well.
Of course, this isn't the only portable Bluetooth speaker from Bose worth checking out:
Bose SoundLink Micro Bluetooth speaker – $149.95 (RRP)
Bose Soundlink Colour Bluetooth speaker II – $199.95 (RRP)
Bose Soundlink Revolve Bluetooth speaker – $299.95 (RRP)
Bose Soundlink Revolve+ Bluetooth speaker – $439.95 (RRP)
Bose SoundWear Companion speaker – $499.95 (RRP)
Sony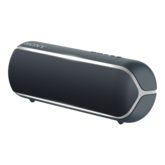 Founded in 1946, Sony is regarded as a leader in electronics, and additionally owns one of the largest music entertainment business in the world, meaning it knows a thing or two about audio. Although not the largest range in the world, Sony's Bluetooth speakers still pack a punch. If you're looking to save a bit of money, the XB12 EXTRA BASS Portable Speaker is one of Sony's best – waterproof, 16 hours of battery life, a deep and punchy sound, and ultra portable – just for $79 RRP.
If you've got a bit more money to throw at a speaker, the XB32 Extra Bass model may be worth looking into, offering Mica Reinforced Cellular speaker cones for improved sound quality, as well as the capability to connect up to 100 wireless speakers through Bluetooth for the ultimate party experience. You can also connect the Sony Bluetooth speaker range to the Sony Music Center app to customise and personalise your listening experience through playlists and lighting patterns to get your friends up and moving.
Check out the rest of Sony's range below:
Sony XB12 EXTRA BASS Portable BLUETOOTH Speaker – $79 (RRP)
Sony XB22 EXTRA BASS Portable BLUETOOTH Speaker – $99 (RRP)
Sony Portable Wireless BLUETOOTH Speaker – $149 (RRP)
Sony XB32 EXTRA BASS Portable BLUETOOTH Speaker – $199 (RRP)
Sony XB33 EXTRA BASS Portable BLUETOOTH Speaker – $299 (RRP)
Sony XB43 EXTRA BASS Portable BLUETOOTH Speaker – $399 (RRP)
Sony PG10 High Power Audio System with Built-in battery – $449 (RRP)
Sony LSPX-S2 Glass Sound Speaker – $599 (RRP)
House of Marley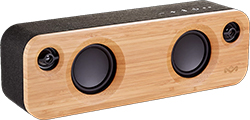 Looking to spend your money on something a bit different? To make a difference? Well, House of Marley is your pick. An electronic company built on the principles of superior quality, sustainability, commitment to charitable causes and carrying on Bob Marley's legacy (through collaboration with his family), House of Marley is beginning to make a name for itself for all the right reasons. On its website, House of Marley state, "We are driven to enhance lives through great product experiences as well as using proceeds from product sales to support global reforestation through Project Marley." This project entails House of Marley making a meaningful contribution to One Tree Planted, a non-profit organisation, who as of June 2019, has planted an extra 186,000 trees thanks to the company.
Not only is your money going to something worthwhile, the products you are purchasing are also of high quality – with sustainable materials used such as cork and bamboo. The No Bounds speakers, arguably the most popular, are crafted from the 100% recycled-Rewind Marley fabric, the Regrind silicone created from post-consumer waste, tree-friendly cork and recyclable aluminum. Not only that, it features a 10-hour battery life, is water and dust proof, has a 360-degree sound and can be paired with other speakers.
If you're after something bigger, the Bag of Riddim speaker may be the one for you, featuring Voice Prompt technology, two subwoofers for a deeper sound, as well as 10-hour playtime to keep the party going. It also comes with a carrying strap, making it easy to take with you.
House of Marley currently have a number of Bluetooth portable speakers on the market:
House of Marley No Bounds – $79.95 (RRP)
House of Marley No Bounds Sport – $129.95 (RRP)
House of Marley Get Together Mini – $199.95 (RRP)
House of Marley No Bounds XL – $249.95 (RRP)
House of Marley Bag of Riddim – $299.95 (RRP)
Which Bluetooth speakers are waterproof?
Considering Bluetooth speakers can go basically anywhere you go, it makes sense that they may be chilling poolside with you. But which speakers have waterproofing capabilities, and does it affect sound quality? Here are some of the best speakers from our list that come with an IPX7 Waterproof rating:
Sony SRS-XB22 EXTRA BASS Portable BLUETOOTH Speaker – $159 RRP
Ultimate Ears Boom 3 – $199.95 RRP
JBL Charge 4 – $299.95 RRP
Other models that also have waterproof capabilities include:
Bose SoundLink Color
Bose SoundLink Micro
Bose SoundLink Resolve
House of Marley NO BOUNDS
House of Marley NO BOUNDS Sport
JBL Boombox
JBL Go 2
JBL Flip 5
JBL Pulse 4
JBL Xtreme 2
UE Blast
UE MegaBlast
UE MegaBoom
UE WonderBoom
While there are a number of waterproof options available on the market, it's always best to read the fine print when it comes to how water-resistant each model is, as you don't want to drown out the tunes in the middle of your next pool party.
How can I tell if my speakers are waterproof? What is an IP Rating?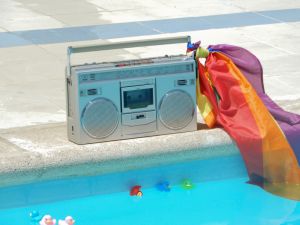 When looking around for a waterproof speaker, always check the IP rating. Standing for "Ingress Protection", the IP rating is a ranking system for gadgets to measure how well they are protected from both solid objects (the first number) and liquids (the second number), meaning you'll only need to focus on that second number for waterproofing. The system ranks from 0-9 – with 0 indicating the product offers no special protection from water, with a 7 or more indicating the product can survive in one metre of water for 30 minutes. However, most modern speakers sit around this rating, with anything above a 7 a rare, and likely expensive, find.
Where can I buy Bluetooth speakers?
Becoming a popular gadget to have over the past few years, portable Bluetooth speakers are available for purchase through electronic retailers such as JB Hi-Fi and The Good Guys, as well as directly through the brand's websites. Each brand will generally outline retailers, and where those retailers are located, on their website, allowing you to find a speaker and pick it up in the same day if you need it in a hurry.

Are portable Bluetooth speakers worth it?
If you're a fan of music, Bluetooth has been an absolute Godsend, allowing us to break free of cables and wires while still enjoying our favourite tunes. Bluetooth speakers are ideal for parties, events, shindigs and all matter of get-togethers, helping to either set the mood or keep the party going, depending on what you're going for.
With plenty of brands and models on the market, you're almost spoilt for choice, with options available for when you're looking to get the most bang for your bucket, or you've got money burning a hole in your pocket. Which one you end up walking out the door with will depend on a number of factors though, including what type of music you listen to, how often you pump the tunes in addition to what your budget is. By looking into all of your options however, you'll be able to find something best suited to your needs, meaning keeping an eye out may pay off in the long run, which is music to anyone's ears.
Picture credit: Kristina Kokhanova/shutterstock.com, Aleksey Khilko/shutterstock.com, successo image/shutterstock.com, jpm.foto/shutterstock.com
Original Author: Maddy Morwood