Portable Bluetooth speakers have surged in popularity in recent years, and continue to be released in their numbers by manufacturers, arriving in all shapes and sizes, decked out with an ever-increasing array of features. While typically small, these devices can deliver a big sound, and when paired with a smart device allow users to stream their music, be it from pre-stored albums or a playlist, or streamed via an online music streaming service.
Portable Bluetooth speakers can vary widely in price, from the budget through to the premium, and consumers should shop around to get the speaker best suited for their individual requirements. In this article, Canstar Blue explains the technology behind Bluetooth speakers and reviews some of the leading products on the Australian market.
Bluetooth smart device pairing
Bluetooth, which has become an increasingly common feature in consumer electronics devices and which has become a standard smartphone and tablet feature, is a wireless technology that allows devices to communicate with each other.
As explained by the Bluetooth SIG (special interest group): "A Bluetooth product, like a headset or watch, contains a tiny computer chip with a Bluetooth radio and software that makes it easy to connect. When two Bluetooth devices want to talk to each other, they need to pair."
Via pairing of a smart device with a Bluetooth audio device, users can wirelessly transmit music, and often assisting this process are apps, which may contain a range of functionality, providing users various remote control options.
It should also be noted that Bluetooth as a technology is evolving, meaning that the newest-release Bluetooth devices are likely to feature the latest Bluetooth standards.
What to look for
Consumers considering purchasing a portable Bluetooth speaker should, in addition to the sound quality provided, keep in mind such factors as design and dimensions, including weight, along with other related factors, such as water resistance.
Battery life is another important consideration, along with the speaker's wireless capabilities, such as wireless range, the ability to connect and select music from more than one device at a time, and even the ability to link-up additional speakers.
App support should be another factor that consumers take into account, and along with this the range of remote control features provided, along with voice integration via services such as Google Now and Siri.
The following is a selection of Bluetooth speakers and some of their respective features, available at a range of price points.
Ultimate Ears – UE Boom 2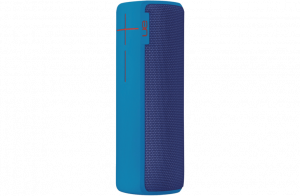 Ultimate Ears' UE Boom 2 sports a 360-degree design, with Ultimate Ears stating that it "blasts loud, insanely great sound with deep, powerful bass", that it can be used in wet and muddy conditions, and can be rinsed with warm, soapy water (it is IPX7-rated and can be immersed in water up to 1 metre for up to 30 minutes).
The UE Boom 2 delivers up to 15 hours of music between battery charges (chargeable via micro-USB), and music can be played from 100 feet away. Up to eight Bluetooth devices can be paired, while two source devices can be connected at the same time.
Google Now and Siri voice integration allow users to choose music by voice by quickly pressing the Bluetooth button on the speaker, meaning that users do not have to carry their smart device with them at all times.
The UE Boom 2 app, available for Android and iOS, delivers a number of features, including alarm, remote on/off and tap controls (tapping the top of the speaker to play, pause or skip songs), while the PartyUp feature allows more than 50 speakers (across the compatible UE range) to be connected at the same time.
The UE Boom 2, which measures in with a diameter of 6.7cm and a height of 18cm, and weighs in at 548g, can also wirelessly connect via NFC, and features a 3.5mm audio output.
The UE Boom 2 is priced at $229.95 via the Ultimate Ears website.
&O Play – Beolit 17
Bang & Olufsen has released a number of Bluetooth speakers under its B&O Play brand, with the Beolit 17 having made its debut earlier this year.
B&O Play describes the Beolit 17 as delivering "a distinct cool Scandinavian style into any home", with the top and bottom made of robust polymer, the grill wrapped around the speaker made of anodised pearl-blasted aluminium and the handle made from premium grain leather. Users can place their smartphone on top of the Beolit 17 on its non-slip and scratch safe tray.
The Beolit 17 delivers 240 watts of peak power, with it dispersing sound 360 degrees, providing up to 24 hours of continuous play-time from a single battery charge (charged via a USB-C connector), while wireless stereo pairing allows for two Beolit 17 speakers to be connected.
The Beolit 17's connect button activates smart features that can be customised via the Beoplay app, available for Android and iOS, such as an alarm, playing, pausing or skipping songs with the remote feature, and launching a playlist or customising music to match mood with ToneTouch.
Measuring in at 23 x 18.9 x 13.5cm and weighing 2.6kg, the Beolit 17 is also decked out with a line-in 3.5mm jack.
The Beolit 17 is priced at $749 via the B&O Store website.
Beats – Beats Pill+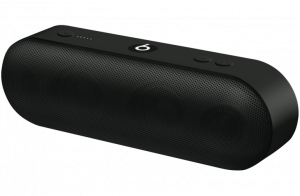 Beats' Beats Pill+ features a "lightweight and portable design", with a "no-nonsense interface" allowing users to play, pause and skip tracks, and control phone calls via the multifunction "b" button, with an enhanced speakerphone providing the facility to make and receive calls.
"Despite its compact size, the Pill produces powerful sound with soaring highs and deep bass to fill up any room," Beats states.
Delivering up to 12 hours of battery life (with an LED fuel gauge displaying how much battery is left), and charged via Lightning cable, users can also charge smart devices with extra power from the Beats Pill+.
The Beats Pill+ app, available for Android and iOS, delivers functions including allowing for music to be controlled from two Bluetooth sources. A second Beats Pill+ can also be added to simultaneously play from both speakers, while two speakers can be synced together for dedicated left and right playback.
The Beats Pill+ measures in at 6.36 x 21 x 6.92cm and weighs 745g, and is decked out with a 3.5 mm stereo jack.
The Beats Pill+ is available for $359 via the Apple website.
JBL – JBL Charge 3
JBL states that its JBL Charge 3 delivers a "powerful stereo sound", with it sporting a "waterproof design, durable fabric and rugged housing", with it IPX7 waterproof.
The Charge 3 provides up to 20 hours of play-time and can charge smart devices via its USB output. Up to three smart devices can be wirelessly connected, while users can also connect multiple JBL Connect-enabled speakers (with the app available for Android and iOS) to enhance the listening experience.
It is decked out with voice assistant integration, with users able to access Google Now or Siri via the press of a button, while a noise and echo-cancelling speakerphone allows users to take calls from the speaker via the touch of a button.
The Charge 3 measures in at 21.3 x 8.7 x 8.85cm and weighs 800g.
The Charge 3 is priced at $229 via the JB Hi-Fi website.