With winter fast approaching, Australians are stocking up on essential gear to beat the cold evenings and frosty mornings. With devices becoming more of our everyday life, touchscreen gloves are becoming a hot essential for winter, allowing you to keep your digits warm while keeping up with work and play. But how do touchscreen gloves actually work, and are they really worth investing in for the colder months? Find out in this Canstar Blue article.
What are touchscreen gloves and how do they work?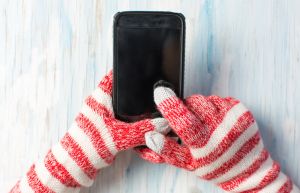 Touchscreen gloves are exactly what they sound like – gloves that allow you to use touchscreen devices including your smartphone or tablet. They work by utilising conductive elements and materials in the fingertips to create a strong connection between the glove and screen, allowing you to accurately use your touchscreen while keeping your hands warm. While they may not seem like an essential at first glance, if you've ever tried to unlock your phone screen while wearing woollen gloves, you can understand the problem that touchscreen gloves look to solve.
What to consider when buying touchscreen gloves
Like any tech purchase, there are a number of features and factors to consider before your purchase. Add in the fact that you'll likely only be using the gloves for a few months of the year, it's best to ensure you have a firm grip on what to consider before you get your mitts on a pair at the store.
Material: As with any other piece of clothing, the material is one of the most important areas to consider, particularly as you'll want to be comfortable when wearing your touchscreen gloves. Most touchscreen gloves are made from a mix of acrylic, nylon and/or rubber with conductive materials, but this will vary from brand to brand. As a result, testing how the gloves feel can prove to be a winner, as you'll want something comfortable and that fits, well, like a glove.
Waterproofing: Gloves protect your hands against the elements, whether it's wind, rain or just general chill in the air. As a result, it's best to look into which gloves offer additional protection against water, as it will give you better comfort if you get stuck in the rain and ensure you can still use your phone.
Dexterity: Using touchscreens requires a lot of finger movement, meaning your gloves will have to have a similar amount of dexterity to allow you to do what you need to. Gloves that restrict your movement will often end up hindering you rather than helping, meaning that testing the movement and limits of the glove itself can save you some struggle down the line.
Price: As with any purchase, the price tag attached can often be the deciding factor, as while you'll want something that will be worth the cost, you don't want to sacrifice your bank balance either. Looking into all of your available options, as well as multiple retailers, can ensure that you walk away with a fistful of dollars and a handy pair of gloves.
Touchscreen glove brands
There are a number of different touchscreen glove brands currently with a firm grip on the market, with XTM Performance, The North Face and Timberland some of the more recognisable brands available. Below is a brief overview of what each brand has on offer to get you rubbing your hands together in anticipation.
XTM Performance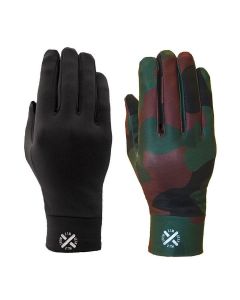 XTM Performance is an Australian-owned company that's known for its outdoor and snow apparel. The XTM Artic Liner gloves are specially designed for cold environments, with gloves available in a number of sizes with a unisex fit, as well as in a black or camo finish.
The XTM Arctic Liner is made out of hydro thermal polyester and is touch screen compatible, working as an on-snow performance glove liner, or as an off-snow active glove, allowing you to keep your hands extra toasty on the slopes or as a fashion statement when you're relaxing at the lodge.
The North Face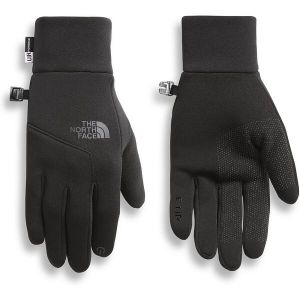 The North Face is an American outdoor recreation product company known for its clothing and winter apparel. The North Face's Etip gloves includes features such as Radiametric Articulation technology, 5 Dimensional Fit sizing and a U|R powered soft shell on the palms for five-finger touchscreen capabilities.
The Etip gloves are also ideal for multiple environments, with silicone grip to provide superior control and full-palm conductivity to provide accurate function with touchscreen devices, and a four-way stretch fleece material for additional dexterity and comfort. You can opt for the Apex Etip gloves, which come with 100% windproof material, as well as a durable waterproofing finish.
Timberland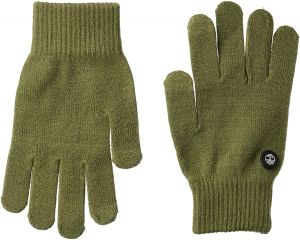 Timberland is a manufacturer and retailer of outdoors wear based in America, although primarily focusses on footwear – particularly its flagship Timbs. The Timberland Magic Gloves keep you cosy and connected with a 360 degree stretch function and touch screen tips on the thumb and index fingers. With colours ranging from Black, Dress Blue, Grape Leaf, Wheat and Charcoal Heather Gray, Timberland offers a variety of styles to choose from.
These gloves are a great budget option for those looking for some on and off gloves to help them in your everyday winter life, as the special pads on the index fingers enable use of your device without having to put your fingers through the winter chill.
Where can I buy touchscreen gloves in Australia?
Touchscreen gloves may not be an essential here in Australia, but for when winter really gets going, they can be a handy accessory. As these are quite niche, you may not find them at your local store, but outdoor equipment retailers like BCF, fashion retailers including UNIQLO, and online retailers such as Amazon all stock touchscreen gloves for Aussie hands.
Are touchscreen gloves worth buying?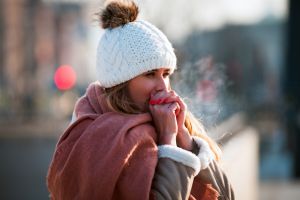 In comparison to other countries, Aussie winters are quite mild, but that doesn't mean your fingers don't feel the cold! While a pair of gloves may not be in everyone's winter wardrobe, having a pair of gloves with touchscreen capabilities can give you the best of both worlds, in that you can stay in touch with the hustle and bustle of everyday life without risking your hands. With a number of brands and gloves available across a number of price points, investing in a pair of touchscreen gloves may not break the bank, and with a bit of research into what's available, you can afford to indulge yourself this winter.

Photo credits: Roman Zaiets/shutterstock.com, Creative Family/shutterstock.com, Leszek Glasner/shutterstock.com