'E-reader', 'E-book reader' or 'Thingy-mabob' – whatever you call them, electronic book readers are undoubtedly one of the more handy inventions to come about in the last decade or so. If you're a serious bookworm, then you may know that carrying around thick book after book can get old, very quickly. Nothing replaces the joy of turning over a page, the smell of the paper, and the joy of seeing printed ink. However, the fact is e-readers are seriously handy bits of kit. Not all e-readers are the same though, so before rushing out to buy one, consider first what they actually do, what you need, and which one is best for you.
What is an e-book reader?
An e-reader is an electronic book reader. Instead of carrying around multiple books that weigh you down, an e-reader has built in memory to store hundreds and thousands of books, all only a few clicks away. If you have a tablet, then it's a similar concept, but there are a few key differences:
E-book readers are usually not backlit. This is for more pleasurable reading that won't strain your eyes like a computer or tablet could. If reading at night, you'll probably have to use a lamp – just like a real book! The romantic notion of book reading is not lost in this regard.
Most e-readers have Wi-Fi and data connectivity but are limited in what you can browse. Often you can only browse the in-house book library that you can purchase from.
E-readers have storage capacity but it's usually not as large as that of a tablet. As e-books usually demand low hard drive space, e-books are usually around 1MB in size and many e-readers can store thousands of titles. Books are not usually multimedia rich so they do not take up much space!
Some e-readers are black-and-white only. This is great for reading books, but not so great for reading magazines. Black-and-white e-readers usually represent the ink in books the best and usually have little screen glare.
Now that you've got the skinny on what an e-reader actually does, it's time to delve into how to buy an e-reader.
What should I look for in an e-book reader?
Ask yourself the following questions when comparing e-book readers.
Memory: Books don't take up much memory space, but magazines can do. You'll have to assess how many books you're likely to download, and if an e-book's memory is expandable with a micro-SD card. Consider what format type the e-reader takes – can it only read an e-book in one format, or can it read many formats?
Connectivity: Many e-readers these days have Wi-Fi and data connection built-in so you can download e-books. You'll have to consider whether you need a data plan to download e-books or if you'll be mainly reading at home with the Wi-Fi on.
Battery life: E-readers often use low-resolution screens to last longer, but not all e-readers boast the same battery life. If you're out and about and likely can't access a charger, then choosing an e-reader with good battery life is a safe option.
Ergonomics and useability: It's no use buying an e-reader if you hate how it feels in-hand. The best option for this is to try a lot of e-readers in-store and find the one that's most comfortable in-hand, with a screen that you like. Also assess how easy it is to browse the book catalogue, its weight and how easy it is to download a book or sample.
Choosing an e-reader is a personal decision. Like a marriage, you're going to have to be compatible if you want the quality relationship to last. A bad e-reader for you could throw you off reading. So, if you're set on an e-reader, then have a look at two of the more popular models on the market:
Kobo vs Kindle: e-readers review
As two of the premier e-readers out there, these two companies are battling endlessly for market share. We'll be comparing their most popular models to see which one has booked in a ticket to the winner's circle. These models are the Kobo Glo HD (pictured, top) and Amazon Kindle Paperwhite (pictured, below).
First off, let's look at their specs:
| | Kobo Glo HD | Amazon Kindle Paperwhite |
| --- | --- | --- |
| Dimensions | 169mm x 117mm x 9.1mm | 157mm x 115mm x 9.2mm |
| Weight | 180 grams | 205 grams |
| Screen Size | 6 inches | 6 inches |
| Storage | 4GB | 4GB |
| Wi-Fi and Data | Wi-Fi, no 3G | Yes, but 3G model is higher price |
| Front light | Yes | Yes |
| Book Catalogue | Yes, KoboBooks | Yes, Amazon |
| Price (RRP) | $180 | $179 |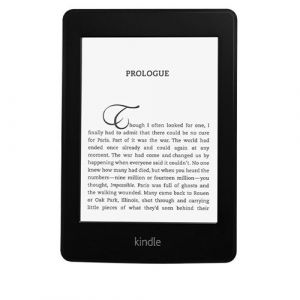 After getting the lowdown on their specs, it looks like the two are pretty neck and neck. And for good reason. The two brands are giants in the e-book reader world, and these are their more popular models. They both have the same screen size and near-identical resolutions, despite the Kobo being in a larger body. Both are near pocket-size, with very little differences in weight. Their prices are similar, and while the Kindle has 3G, you pay extra for the privilege. Spec-wise they are near identical.
Comparisons like these often come down to personal preferences. And one of the main preferences will likely lie with what ecosystem you prefer – do you prefer the KoboBooks or Amazon system? Both offer a comprehensive range of books at comparable prices. Though, Amazon has been around a lot longer, and thus has amassed a much larger catalogue of titles. Amazon's sheer size as a company can also mean your books may be cheaper. This of course depends on the books you like reading! Another thing to note is that you can't access magazines on the Kobo. The Kindle can, as well as newspapers. So, if the daily news and gossip is your vice, then the Kindle may be more up your alley.
As for their useability, they are also near-identical. Both are touchscreen and their similar specs mean that speed and ease of use are also virtually the same. Both use swipes across the screen to turn the page, and both use e-ink technology to make reading pleasurable. Useability is also a personal preference-based comparison. A good idea is to test both, and see which one feels better and more organic for you.
The Kobo Glo HD and Amazon Kindle Paperwhite are two strong competitors in the e-book world. The two are premium e-reader models at a premium price. As expected, the specs and useability are excellent, and nearly identical. So, it's a tie in that regard. However, where Kobo loses out is its smaller library. This may not be an issue for some, but for others it could mean that their dollars will be going to Amazon.