'E-reader', 'E-book reader' or 'Thingy-mabob' – whatever you call them, electronic book readers are undoubtedly one of the handier inventions to come about in the last decade or so. If you're a serious bookworm, then you may know that carrying around thick book after book can get old, very quickly. Nothing replaces the joy of turning over a page, the smell of the paper, and the joy of seeing printed ink, but the fact is that e-readers are seriously bits of kit. Not all e-readers are the same though, so before rushing out to buy one, consider first what they actually do, what you need, and which one is best for you. Find out all you need to know, and what's available, in this Canstar Blue article.
What is an e-book reader?
An e-reader is an electronic book reader, which stores thousands of books in its built-in memory, saving you from carrying around your collection of novels. If you have a tablet, then it's a similar concept, but there are a few key differences:
E-book readers are usually not backlit. This is for more pleasurable reading that won't strain your eyes like a computer or tablet could. If reading at night, you'll probably have to use a lamp – just like a real book – meaning the romantic notion of book reading is not lost in this regard.
Most e-readers have Wi-Fi and data connectivity but are limited in what you can browse. Often you can only browse the in-house book library that you can purchase from, however, many brands are releasing models that have wider reach content wise, and allow you to have the flexibility that's usually reserved for tablets.
E-readers have storage capacity, but it's usually not as large as that of a tablet. Most e-books are only about 1MB in size, meaning that you can fit plenty on the e-reader's storage.
Most e-readers use E Ink screens that are black-and-white only – which is ideal for books, but not so much for magazines.
Now that you've got the skinny on what an e-reader actually does, it's time to delve into how to buy an e-reader.
What should I look for in an e-book reader?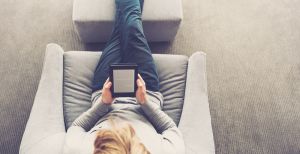 If you're in the market for an e-book reader, here are some of the following areas you should ask yourself when comparing your options.
Memory: Books don't take up much memory space, but magazines can. You'll have to assess how many books you're likely to download, and if an e-book's memory is expandable with a micro-SD card. Consider what format type the e-reader takes – can it only read an e-book in one format, or can it read many formats, such as PDFs, magazines or comics?
Connectivity: Many e-readers these days have Wi-Fi and data connection built-in so you can download e-books without having to connect your device to a computer. You'll have to consider whether you need a data plan to download e-books or if you'll be mainly reading at home with the Wi-Fi on. A number also have Bluetooth connectivity so that you can connect to wireless speakers, earphones and other devices for music or audiobooks.
Battery life: E-readers often use low-resolution screens to last longer, but not all e-readers boast the same battery life. If you're out and about and likely can't access a charger, then choosing an e-reader with good battery life is a safe option. Look out for models that have a screen sensor which sends it to 'sleep' when covered with a compatible case, as this can help preserve battery life.
Ergonomics and useability: It's no use buying an e-reader if you hate how it feels in-hand. The best option for this is to try a lot of e-readers in-store and find the one that's most comfortable in-hand, with a screen that you like. Many e-readers these days use a capacitive touchscreen which only responds to an ungloved finger or a stylus that mimics it well. However, some models still include physical buttons for turning pages. Also assess how easy it is to browse the book catalogue, its weight and how easy it is to download a book or sample.
Choosing an e-reader is a personal decision, with a good model likely to make you fall back in love with reading, while a bulky or inconvenient model may throw a spanner in the works of settling in with a page-turner. So, if you're set on an e-reader, then have a look at some of the more popular models on the market.
Top e-readers compared: Kobo, Kindle, Pocketbook and more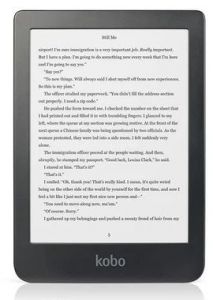 As two of the premier e-readers out there,  Kobo and Kindle are battling endlessly for market share. However, if you dig a little deeper, you'll find a number of other e-reader brands providing top quality devices with features that rival the classic Kobo and Kindle models. We'll be comparing popular models from Kobo, Kindle, Likebook, Pocketbook and Boox to see what's currently on offer in the e-reader game, and how they stack up against each other.
Our top picks for e-readers in Australia are:
Kobo Clara HD
Amazon Kindle Paperwhite
Boyue Likebook P6
Pocketbook Touch Lux 5
Onyx Boox Poke3
First off, let's look at their specs:
| | Kobo Clara HD | Amazon Kindle Paperwhite | Boyue Likebook P6 | Pocketbook Touch Lux 5 | Onyx Boox Poke 3 |
| --- | --- | --- | --- | --- | --- |
| Dimensions | 159.6mm x 110mm x 8.35mm | 167mm x 116mm x 8.18mm | 152.5mm x 113mm x 8mm | 161.3mm x 108mm x 8mm | 153mm x 107mm x 6.8mm |
| Weight | 166 grams | 182 grams | 165 grams | 155 grams | 150 grams |
| Screen Size | 6 inches | 6 inches | 6 inches | 6 inches | 6 inches |
| Storage | 8GB | 8GB or 32GB | 16GB | 8GB | 32GB |
| Wi-Fi and Data | Wi-Fi | Wi-Fi and Bluetooth, 4G available on the 32 GB model | Wi-Fi and Bluetooth | Wi-Fi and Bluetooth | Wi-Fi, Bluetooth and 5G available |
| Front Light | Yes | Yes | Yes | Yes | Yes |
| Touchscreen | Yes | Yes | Yes | Yes, with physical page turn buttons | Yes |
| Waterproof | No | Yes | No | No | No |
| Book Catalogue | Yes, KoboBooks | Yes, Amazon | Yes, access to Google Play store | Not in-built, load content from Pocketbook Cloud, Dropbox Pocketbook and Send-to-Pocketbook | Yes, supports Kindle, Kobo, Tagus, Nook and more |
| Price (RRP) | $189.95 | $199 | $169 | $189.75 | $189.99 |
*Prices taken from respective websites, with Onyx and Likebook taken from Kogan.com. Accurate as of February, 2021.
Now let's see how they stack up in the three key areas of dimensions, software and useability:
Dimensions: After getting the lowdown on their specs, it's clear that the field is pretty even as far as physical dimensions go. All of the models are around the same size and weight, with 6inch E Ink screens and similar screen resolutions. The Kindle Paperwhite is noticeably heavier than the rest, most likely due to its waterproof capabilities. All models are similarly marketed as a lightweight entry-level e-reader that can easily be slipped into your pocket so you can read on the go, with dimensions an obvious battleground for each brand to compete on.
Software: A major factor when comparing e-reader brands is the software it supports, as this generally determines where you can download your content and whether you're limited to a specific reading platform or 'ecosystem'. Both Kobo and Kindle models have their own built-in reading apps and stores, allowing you to access their respective book stores from the device and download the content you want straight into your library. Other brands, such as the Likebook, Pocketbook and Boox models, don't have designated book stores or catalogues, which allows for more flexibility when it comes to content, such as graphic novels, manga and digital comics. If you're already an Android user and have a Google account, both the Likebook and Boox models give you full access to the Google Play store so that you can download your e-reader apps of choice, as well as apps for other media. The Pocketbook system has a basic built-in e-book store, however you can download content directly from Dropbox for a wider variety of titles, as well PDFs and other reading documents.
Useability: When it comes to general useability, all of the above models have a touchscreen which lets you adjust the lighting and brightness of the screen, change the style and size of the font and scroll or skip to specific sections of the book or document. Some have a combination of front and back LED lighting that can be changed according to colour temperature, bright white lights when you're outdoors and warmer orange lighting for winding down. A standout feature is the inclusion of physical buttons on the Pocketbook Touch Lux 5 – if you're someone who prefers buttons for page-turning, this could be a dealbreaker, as the rest of the models above use a swipe or tap of the finger. The Boox, Likebook and Pocketbook models venture a little further into tablet territory than the rest, allowing you to edit documents and save articles from the web, however they are still primarily designed to be an e-book e-reader.
What should I consider before buying an e-reader?
Before purchasing an e-reader, consider the features and functions that are important to you, and which model best suits your needs. Do you like reading in the bathtub? Maybe a waterproof model will be a priority for you. Will you be using your e-reader to read the newspaper on your morning commute? An e-reader with a built-in news app will come in handy. Are you teaching yourself how to play chess? Look out for a model that has some pre-loaded games to keep you busy. From audiobooks to dictionaries and buying to borrowing books, each brand and model has its own individual quirks and perks that it brings to the table. Have a think about how you'll be using your e-reader and do a bit of homework before you make a purchase, as you don't want to close the chapter too soon and grab a model that doesn't fit in with your reading habits, or your budget.
Original Author: Harrison Astbury