Tasmania may be a small state, but it sure does pack a punch. Crystal-blue bays, white sandy beaches, World Heritage listed hikes, spectacular countryside, and yes the 100+ wineries (and cheese) – the Apple Isle is renowned as one of the best holiday locations in the country (some may say world!). It's also no secret that the island state is best seen by a car, with the state so small that you can circle the entirety of it in just two weeks (hey, if you're going to travel all the way from the mainland you may as well go all out).
To help you out with your lap of the Tassie map, we've narrowed down 10 major stops around the state that you should try and see. We recommend about two weeks on the road if you want to see all that Tassie has to offer, all while keeping a leisurely pace. Though obviously, you can chop and change this itinerary to suit you, but these stops have been selected for a reason! So, read on to find out which stops you should make some time for.
Best places to visit around Tasmania:
Tick off these locations for the ultimate Tasmanian road trip: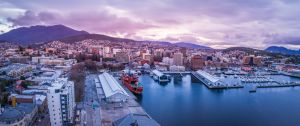 Hobart
Start your trip in the capital city – and pick up your hire car either at the airport or in the city. If you're in Hobart on a Saturday, make sure you take a trip to the iconic Salamanca Markets, where over 300 stalls showcase local arts, crafts, and food. If you're lucky enough to be holidaying over New Years, check out the Taste of Tasmania Festival (Australia's biggest and longest running food and wine festival). Other highlights in Hobart worth checking out include MONA, the Cascade Brewery, and the Mount Wellington summit for the best view of the city.
Location: Hobart airport to the city centre is a 23km (approximately 30-minute) drive.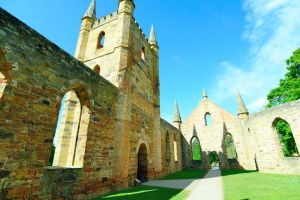 Port Arthur
From Hobart, take a scenic drive throughout the Tasman Peninsula as you make your way to Port Arthur. Although it only takes about an hour by car to travel the peninsula, it's worth taking your time. You may want to check out the Tasman island boat cruises, which take you up and down the peninsula's coastline from an entirely new perspective (and depending on the season, you may even spot some whales, dolphins and seals!) Once at Port Arthur, visit the World Heritage-listed Historic Site – the best-preserved convict site in Australia – with more than 30 historic buildings and ruins over 30 acres.
Location: Port Arthur is a 97km (approximately 1-hour 30 minute) drive from Hobart.

Coles Bay
From Port Arthur, make your way to Coles Bay. The seaside town is a gateway to Freycinet National Park (it's about a 10-minute drive away) and the perfect place to set up base. You can camp at Freycinet if you book in advance (and we mean advance – there's even a ballot for camping spots over popular periods such as Christmas and Easter) but it is often cheaper and easier to stay in Coles Bay. There are some great restaurants in town as well, the most popular for the food, cocktails and the view of the Hazards being 'Geographe Restaurant and Espresso Bar'. Hot tip: you will need a National Park pass to visit any national park in Tasmania, so do your research and purchase one before you arrive.
Location: Coles Bay is a 206km (approximately 3-hour) drive from Port Arthur.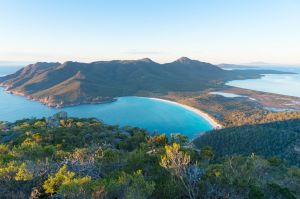 Freycinet National Park
You've made it to arguably one the most picturesque national parks in Australia. As we said above, you can set up camp right in the centre of it all (or, if you can afford it, there are some luxurious hotels like the 'Saffire' nearby) or you can take the short drive out to the park every day. And we say 'every day' because you're going to need more than a few days to see all the wonder that is Freycinet. Some musts include the iconic and famous Wineglass Bay Lookout, Hazards beach, Honeymoon Bay, the Mt Amos climb and the Cape Tourville lighthouse. You will never be bored in Freycinet!
Location: Freycinet National Park is a mere 10km (approximately 7-minute) drive from Coles Bay.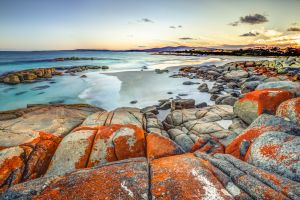 Bay of Fires
Hop back in the car and head up to Bay of Fires, a region up the top of the east coast that stretches 50km from Binalong Bay to Eddystone Point. The Bay is known worldwide for its white beaches, blue water and huge, bright orange, contrasting granite rocks. The small but endearing town of St Helens is a great place to set up base, located just a 10-minute drive from Binalong Bay (and if you're looking for a place to eat in St Helens, 'the SOCIAL' beer garden and restaurant is the place to be).
Location: St Helens is an 88km (approximately 1-hour 15 minute) drive from Freycinet National Park.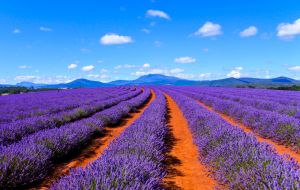 Nabowla
People may not have heard of this place before – it's unsuspecting, and doesn't garner the worldwide attention that Freycinet and the Bay of Fires do. That being said, this place is definitely worth a stop as you begin to make your way west. The town of Nabowla is home to the Bridestowe Lavender Farm, the largest commercial plantation of lavender in the world. The 120 acre sight is truly unbelievable, and you'll need to be standing in the fields to believe it.
Location: Nabowla is a 106km (approximately 1-hour 40 minute) drive from St Helens.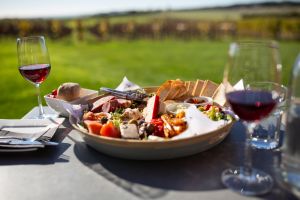 Launceston
'Launnie' as the locals affectionally call it, is the next stop. It's a fairly small town, but it's a great place to spend a night or two unwinding. If you're looking for a smashing breakfast, you could try 'Cuccina Café Restaurant', and 'Mudbar' for dinner and drinks. The Cataract Gorge Reserve is another stand out – beautiful views and walks, as well as a contained lake for swimming. Launceston is also the gateway to Tasmania's oldest and premier wine region, the Tamar Valley. With over 32 world-class vineyards throughout the region, we'd suggest setting up base in Launceston and spending a few days exploring the region (maybe taking turns as the designated driver).
Location: Launceston is a 53km drive (approximately 45-minute) drive from Nabowla.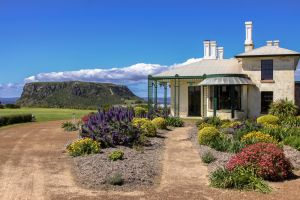 Stanley
Buckle up, because we're making our way to one of the most northern tips of Tasmania on the western coastline to visit the historic coastal town of Stanley. The town is known mostly for The Nut – an old volcanic plug standing at 152 metres that provides a 360-degree lookout over Stanley, the surrounding Bass Straights and the Rocky Cape National Park. The hike to the top of The Nut is pretty strenuous – but luckily, there's also a chairlift. Be sure to keep your eyes out for any sea lions and penguins basking in the sun!
Location: Stanly is a 225km (approximately 2-hour 45 minute) drive from Launceston.

Cradle Mountain/Lake St Clair National Park
We're back at a national park – and this one is part of the Tasmanian Wilderness World Heritage Area. Located in the Central Highlands of Tassie, the park is known primarily for two things: Cradle Mountain itself and the Overland Track. If you're not keen on the six-day trek, there's hundreds of other activities to do at the park to keep you entertained – the Dove Lake Circuit, Marion's Lookout, Cradle Mountain Canyon water activities, horse riding, helicopter flights, the Tasmania Devil Sanctuary and animal night spotting. Give yourself more than a few nights here, you'll thank us.
Location: Cradle Mountain is a 175km (approximately 2-hour 10 minute) drive from Stanley.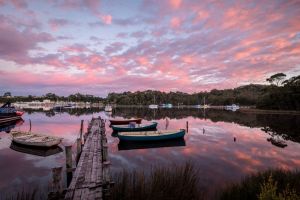 Strahan
The final stop on your trip before you head back to return your hire car is the port town of Strahan. Don't be fooled by its sleepy seaside vibe – Stanley has a fascinating dark convict past and is the gateway to the World Heritage listed Franklin-Gordon Wild Rivers National Park. Take a boat cruise on the Gordon River, visit once notorious convict prions, go platypus spotting at Hogarth Falls or just relax on the beach with some of the best fish and chips in the country.
Location: Strahan is a 138km (approximately 1-hour 50 minute) drive from Cradle Mountain.
When's the best time to visit Tasmania?
The island state is breathtaking all year round, so there's really no wrong time to visit. However, if you want to avoid crowds (and don't mind rugging up), winter is a great time to visit. But, if you're a surfer or a fan of the beach, summer may be more your style – just don't forget to book in advance. March and April are also great times to visit, as the crowds are beginning to dwindle but the freezing cold winds haven't kicked in just yet.
Is Tasmania worth visiting?
Time and time again, Tassie is voted as one of the best holiday destinations (and specifically road trips) in the country, and even making top 10 lists for best across the world. The air is clean, the beaches are blue and there is more wine than you could dream of, meaning the ol' lap of the map (of Tassie) is one for the bucket list.
Photo credits: Visual Collective/shutterstock.com, Joel Everard/shutterstock.com, Jason Ho/shutterstock.com, Liam Preece/shutterstock.com, Olga Kashubin/shutterstock.com, Benny Marty/shutterstock.com, Lawrence_Chung/shutterstock.com, Melinda Evans/shutterstock.com, Uwe Bergwitz/shutterstock.com, Luke Wait/shutterstock.com, Janelle Lugge/shutterstock.com
Original Author: Maddy Morwood