It's no secret that Aussies are obsessed with travel. Whether it's a last-minute getaway in Bali or a backpacking adventure around Europe, travelling abroad is a rite of passage when you live down under. Despite all the excitement of booking and planning an overseas trip, we often forget about something so important.
Think about all the gadgets you pack in your luggage; cameras, phones, laptops – the list goes on. What about when it's time to charge your device by plugging it into a wall socket? That's where this guide comes into play. After all, we'd hate for you to miss out on those perfect sunset snaps because your battery's dead. With this in mind, let's take a look at the power plugs you'll need in some of Australia's favourite travel destinations.
What are universal plug adaptors?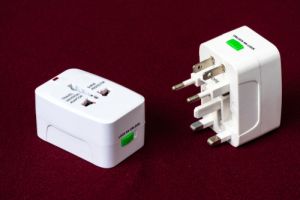 Otherwise known as a travel adaptor, universal plug adaptors are a compact gadget that allows travellers to plug their Australian devices into foreign wall sockets. Travel adaptors come in different shapes, sizes and voltage rates, but usually contain multiple countries' plug outlets, as well as USB ports for simultaneous charging. Multi country travel adaptors will normally list the compatible countries on its packaging, plus its maximum electric current (amps), connection types and voltage capacity.
International power plugs by country
Before we jump into each country, it's worth noting a few basics of power plugs. Currently, there are 15 types of electrical outlet plugs used throughout the world. Each type is categorised by a letter of the alphabet, making it very easy to identify which plug you need. Not only do countries differ in plugs, they also vary in standard voltage, meaning the electricity running through the adapter may have to be converted.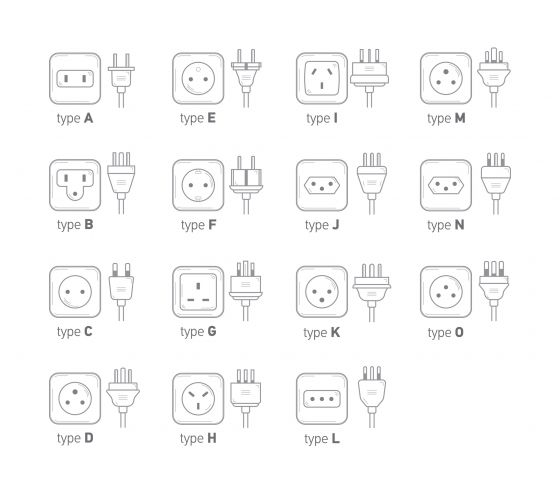 Power Plugs New Zealand
| Country | New Zealand |
| --- | --- |
| Plug | Type I |
| Voltage | 230-240 V |
| Hertz | 50 Hz |
Power Plugs Indonesia
| Country | Indonesia |
| --- | --- |
| Plug | Type C, Type F |
| Voltage | 220-230 V |
| Hertz | 50 Hz |
Power Plugs Thailand
| Country | Thailand |
| --- | --- |
| Plug | Type A, Type B, Type C, Type O |
| Voltage | 220 V |
| Hertz | 50 Hz |
Power Plugs Malaysia
| Country | Malaysia |
| --- | --- |
| Plug | Type G |
| Voltage | 220-240 V |
| Hertz | 50 Hz |
Power Plugs Singapore
| Country | Singapore |
| --- | --- |
| Plug | Type G |
| Voltage | 230 V |
| Hertz | 50 Hz |
Power Plugs China
| Country | China |
| --- | --- |
| Plug | Type A, Type C |
| Voltage |  220 V |
| Hertz | 50 Hz |
Power Plugs India
| Country | India |
| --- | --- |
| Plug | Type C, Type D, Type M |
| Voltage | 230 V |
| Hertz | 50 Hz |
Power Plugs Japan
| Country | Japan |
| --- | --- |
| Plug | Type A, Type B |
| Voltage | 100 V |
| Hertz | 50-60 Hz |
Power Plugs South Africa
| Country | South Africa |
| --- | --- |
| Plug | Type D, Type M, Type N |
| Voltage | 230 V |
| Hertz | 50 Hz |
Power Plugs USA
| Country | United States of America |
| --- | --- |
| Plug | Type A, Type B |
| Voltage | 120 V |
| Hertz | 50 Hz |
Power Plugs France
| Country | France |
| --- | --- |
| Plug | Type E |
| Voltage | 230 V |
| Hertz | 50 Hz |
Power Plugs Germany
| Country | Germany |
| --- | --- |
| Plug | Type F |
| Voltage | 230 V |
| Hertz | 50 Hz |
Power Plugs Italy
| Country | Italy |
| --- | --- |
| Plug | Type F, Type L |
| Voltage | 230 V |
| Hertz | 50 Hz |
Power Plugs UK
| Country | United Kingdom |
| --- | --- |
| Plug | Type G |
| Voltage | 230 V |
| Hertz | 50 Hz |

Image credits: N Azlin Sha/Shutterstock.com, PARALAXIS/Shutterstock.com, Anna_Bo/Shutterstock.com