Wheeling onto the scene almost overnight, electric scooters (also known as e-scooters) have become a popular transportation option for many Australians, whether you're looking to cut down on spending on public transport, work is just that little bit too far to walk, or you're generally just looking for something different, the electric scooter can seemingly do it all. But are they actually worth a ride, or are they just another fad?
How do electric scooters work?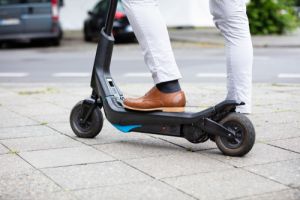 We all know how a normal scooter works – simply add a bit of leg muscle and you're on your way. But what about the electric scooter? While the finer details will ultimately come down to which brand you hop on, most electric scooters will work through an electric motor which is powered by rechargeable batteries, meaning you'll simply have to hop on, start it up and ride off into the sunset – so long as the batteries have enough juice.
How do you charge an electric scooter?
Electric scooters will generally come with a charging cable and station, allowing you to simply plug the charging station into a wall socket and you're good to go. Charging times vary from brand to brand, as well as depend on the size of your battery. Most models include a 24V or 36V battery, with the battery location also dependent on each brand. Most companies station the battery just under the handlebars or lower down on the frame, meaning it's always a good idea to see where your battery is located so you don't accidently knock it or damage it.
Where can you ride electric scooters?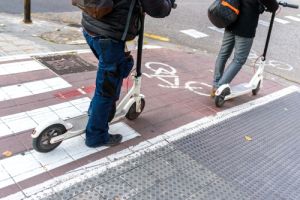 There's plenty of debate of where you can take your electric scooter, with both state and national legislation having to play catch-up with this new mode of transportation, meaning those looking to purchase an electric scooter are often left spinning their wheels when it comes to finding a safe, and legal, place to let loose.
At the time of writing, each state has their own legislation around electric scooters and where you can ride them. Most allow electric scooters to be ridden on pathways and road-related areas, so long as you wear a helmet and you don't go over 10km/h. However, trials are underway in some states, meaning legislation and regulations may shift in order to keep up with the growing popularity of these scooters.
Are electric scooters legal in Australia?
As with most transportation options, there are a few rules and laws you'll have to abide by, although the legality of electric scooters will vary from state to state in Australia. As a result, it's best to do your own research into your local laws before you set out on your scooter, as it may help you avoid a run-in with the law.
Australian Capital Territory
According to the ACT government website, "electric scooters are currently not permitted to be used on roads and road related areas", with a road related area outlined as a footpath, nature strip, or bike path, as well as any other area that is open to or used by the public. The penalty for using an e-scooter in the ACT is a $151 fine.
New South Wales
According to the NSW Centre for Road Safety, "powered foot scooters cannot be registered and can only be used on private land", although some trials are currently underway around the wider-Sydney area, meaning the laws may change in the future. Currently though, it's best to avoid any public area, or you may receive a fine.
Northern Territory
Where you can ride your electric scooter in the NT will depend on the engine output, as scooters with an output of less than 200W are permitted for use on public roads and footpaths, while those with a larger motor will require registration, as it falls under the motor vehicle category. However, electric scooters can be used on private property, regardless of the engine size and output.
Queensland
Electric scooters are legal on paths and road related areas, although you'll have to comply with QLD road rules. Electric scooters can only be used by a single person and have a maximum speed of 25km/h, with riders expected to wear an approved bicycle helmet.
South Australia
Electric scooters are currently illegal on roads, foot paths and bike paths, as they technically fall under motor vehicles according to South Australian legislation. However, they can be used on private property, with trials also currently underway in Adelaide.
Tasmania
Electric scooters with an output of less than 200W are suitable for use on public roads and footpaths in Tasmania, although those with a higher power output can only be used on private properties. Approved helmets must be worn, with riders to travel in single file when on shared paths.
Victoria
Similar to some other states, Victorians can travel on roads and footpaths if their electric scooter has an engine output of less than 200W, or a maximum speed of under 10km/h. An approved helmet must be worn, with flashing lights also a requirement if riding at night.
Western Australia
Currently, electric scooters cannot be used on footpaths or shared paths in WA, although scooters that have a top speed of under 10km/h can be used on private property.
Do you need a licence for an electric scooter?
Some states require riders to have a car license in order to operate an electric scooter, as they fall under the 'motor vehicle' category. However, currently there is no nation-wide scooter license in Australia.
Where can you buy electric scooters from?
With electric scooters now hot property, there is no shortage of retailers jumping on the bandwagon. In addition to the individual brands selling through their websites, you can pick up an electric scooter from some electronics retailers, such as JB Hi-Fi, or online stores such as Kogan. Additionally, bike stores are expanding their two-wheel range to include electric scooters, meaning you'll have plenty of options to choose from.
Electric Scooter Brands
While there are plenty of brands to choose from – with more popping up seemingly every day – here are some of the more prominent available in Australia.
Globber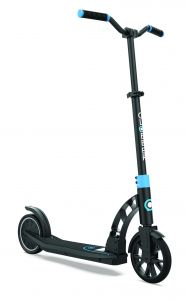 Operating in both the electric and manual scooter market, Globber offers both adult and kids scooters, meaning the whole family can get involved. While it may not have the range of some brands, Globber offers the ONE K E-MOTION range that's available in either the 10 or 15 model. The E-MOTION 10 is recommended for kids and teens, featuring an adjustable steering column, comfortable handlebars, as well as a 'kick start' mode which engages the motor when the scooter reaches over 5km/h, meaning you can still get that manual scooter feel at a lower speed.
The E-MOTION 15 includes a max speed of 18km/h, and weighs in at 8kg, with a foldable design for easy portability. The E-MOTION 15 will set you back $550, while the E-MOTION 10 costs $350, with Globber models available online or at retail stores, which can be found via the 'dealer locator' on the Globber website.
Razor

While Razor scooters may seem to be solely in the realm of the early 2000s, the Razor scooter is riding a second wave through its electric scooter range. Offering on of the largest ranges on the market, a Razor scooter will set you back between $300 and over $1,100 depending on which model you ride away on.
If you're after the top of the line model, the Razor X-XR Electric Scooter may be up your alley, with features such as a 25km range, a nine-inch, shock absorbent front tire as well as a 26inch anti-slip deck for additional safety and comfort. If you're not looking to spend as much, Razor also offer a number of additional models, including the E300, E Prime Air and E Prime Premium. You can also pick up the Power Core E100 scooter for kids, which includes two 12V rechargeable batteries for up to 60 minutes of continuous use, as well as a 100W engine and retractable kickstand.
Segway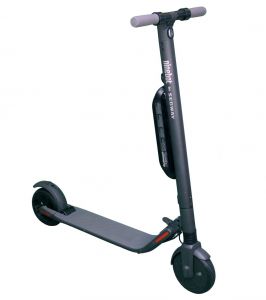 Another brand with plenty on offer, Segway may not be the cheapest option on the market, with most scooters priced close to or over $1,000, meaning it won't be for the faint of heart. The Segway Ninebot range, which includes the ES2, ES4 and KickScooter models, includes a 12-month vehicle body warranty, six-month battery warranty and four-month electrical component warranty.
The ES2 is Segway's introductory model, powered by a lithium battery and capable of speeds of up to 25km/h with a cruise control option to keep you on the move. The ES4 builds on this, with an external battery producing more power and higher range, allowing you to go quicker for longer. The KickScooter, Segway's top of the line model, has a 65km range, with a 551W motor, capable of producing a top speed of 25km/h, and includes energy saving modes for when you need to keep the battery going all day.
Inokim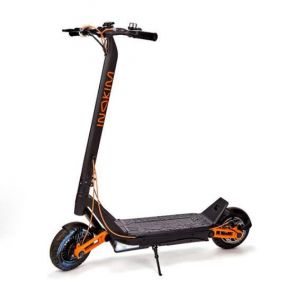 Offering five different models – oxo, ox, Light, Quick, and the Mini, Inokim electric scooters are sold through retailers which can be found via the Inokim website, with a whole bunch of accessories also available for purchase, including locks, carry cases and seats.
Inokim's oxo model includes a 60V lithium ion battery, with a preset top speed of 25km/h, which also includes a range of 110km, meaning you should be able to get where you're going with a bit of charge to spare. The ox scooter features a lighter design, along with rear and front LED lights for additional safety. The Light weighs in at half of the ox's weight, with either the Super Light or Super Light 2 available, each with a range between 30-35km, and top speed of 25km/h. The Quick scooter features a 48V battery and 450W motor, while the Mini is, surprisingly, Inokim's lightest model, weighing in at only 10kg, but still features a 250W motor, capable of a top speed of 25km/h.
What to consider when buying an electric scooter
While it can be easy to get wrapped up in all the bells and whistles, there are a few key areas that you should consider when it comes to purchasing an electric scooter. Here are some of the major areas you should be aware of before handing over your credit card.
Speed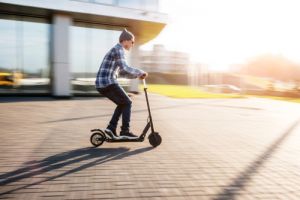 With many states making the decision on speed for you, it's important that you pick a model and brand that adheres to your state's guidelines and laws when it comes to top speed. After all, you won't want to be forking over extra for a higher top speed if you're limited to only 10km/h.
Range & Battery Life
As with anything that's powered by rechargeable batteries, you'll want your electric scooter to go the distance. After all, you've paid for the convenience of not having to put in the leg work yourself, so you'll want the batteries to last you long enough for your trip from A to B. As most brands feature 24V or 36V batteries, charging time will also play a factor, as you don't want to be waiting around for your scooter to be fully charged.
Design
While it may be tempting to go for the flashiest model, design also includes factors such as weight, size and whether it features additional capabilities such as a foldable design. While the point is to ride your electric scooter, you'll also want something that is light and portable, as well as sturdy enough to bear your weight while tackling uneven or bumpy surfaces.
Price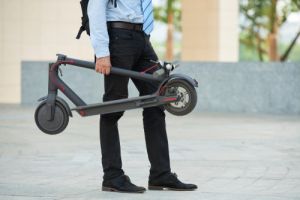 Price is an obvious area to consider, but with so many brands and models already available on the market, it can be tempting to simply go for the cheapest option, although cheap doesn't always mean good value. As a result, it may be worthwhile splashing out a bit more cash on a more expensive model if it means a longer-lasting battery, folding capabilities or a sturdier design.
Safety
As with any form of personal transport, rider (and pedestrian) safety should be at the forefront for many brands and buyers. After all, you'll want a model that can keep you from meeting with the pavement, so looking at features such as lights for night time riding, as well as anti-slip material and a sturdy frame will make sure your time on your scooter is safe as well as fun.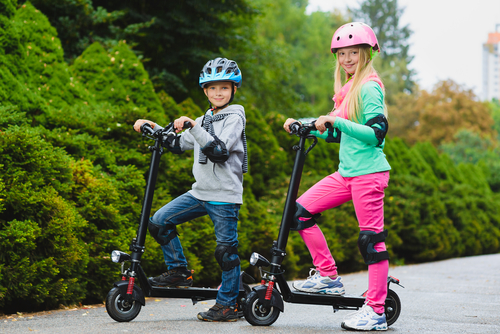 Electric scooters for kids
Electric scooters aren't just for adults, with a number of brands offering small units for kids to get involved in all the fun. However, before you go out and buy a set for the whole family, it's best to investigate a bit further, as each brand will outline a suitable age bracket for their scooters, with helmets also strongly recommended. Despite a smaller battery and motor, it's also best to check your state's laws on electric scooters, as children's scooters may also be banned.
How much does a ridesharing electric scooter cost?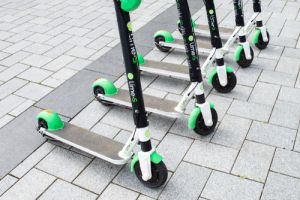 With plenty of electric scooters available for hire, is it even worth buying your own if you can simply grab one for when you need it? Brands such as Lime, Neuron, Bird, Bolt, Jump, and Ride – along with others – have all either hit the streets or put their hands up for future trials, giving pedestrians quicker means of getting around.
Costs for each ride will depend on the brand, how long you spend on it, and what city you're living in, although the pricing structure generally remains similar across all scooter brands. They'll be a fixed-rate unlocking fee for when you want to hop on, with a per-minute cost charged until you lock the scooter again. Each company will outline the cost in the app when you look for a scooter, so you should get a general idea of how much each trip will cost you.
Are electric scooters worth it?
Hoping on a ridesharing scooter can be all fun and games, but is it worth buying one for yourself? While the legality of riding an electric scooter in a public area may weigh over your head, cutting through peak hour traffic on your trek home certainly has its benefits.
With plenty of brands available on the market, with many more likely to try their hand further down the line, you won't be short on options if you have your heart set on one. However, too many options can make the decision more difficult. Add in the fact that an electric scooter can set you back over $1,000, and it's not a decision you'd want to make lightly, meaning doing your research, and even taking a few for a test run, may help you walk – or ride – away with the best purchase.
Picture credits: PhenomenalPhoto/shutterstock.com, Andrey_Popov/shutterstock.com, Joaquin Corbalan P/shutterstock.com, skyNext/shutterstock.com, Andrei Bortnikau/shutterstock.com, Dragon Images/shutterstock.com, Dreams Come True/shutterstock.com, Joshua Small-Photographer/shutterstock.com