There's no denying the popularity of Netflix, with Australians signing up in their millions since the TV content streaming service was officially launched Down Under in March 2015. We obviously love to watch content on demand, with shows like House of Cards and Orange is the New Black dominating our screens in place of traditional, free-to-air television. But in order to watch your favourite shows and movies properly, you'll need to have a fast and reliable internet connection.
Australia is not well-known for its state-of-the-art internet speeds, slipping down to 60th place in the world in terms of average network performance, according to the latest statistics from Delimiter. These kinds of speeds are obviously not world-beating, and many Aussies may be wondering if their internet connection is up to the task of streaming Netflix. Netflix has its own Speed Index to measure and rank the performance of each Aussie internet service provider in terms of how well they stream its content. Let's find out which providers could potentially give the best Netflix-watching experience.
Which Australian internet providers are best for Netflix?
Netflix has ranked the top six Australian broadband providers to stream its content, in the following order:
Optus
TPG
iiNet
Exetel
Dodo/Primus
Telstra
The Netflix ISP Speed Index lists the average primetime bitrate for content streamed to Netflix subscribers each month. They measure for all available end-user devices in Megabits per second (Mbps). You can then choose the country (in this case Australia) that you want to compare service providers for, and the website brings up the necessary information.
However, these speeds do not represent the maximum speed each service provider can give, as Netflix download speeds are likely to be slower during primetime hours (i.e. early evenings). So the speeds you can see on its website may actually be higher at certain points like early morning and mid-afternoon, as fewer people are likely to be tuned in.
What speed do you need to watch Netflix?
The absolute minimum internet speed required to watch Netflix is 0.5Mbps, but this will give a poor image quality. The faster your speed, the more consistently high-quality stream you'll get. If you're on an ultra-high definition plan from Netflix with all the necessary equipment, also having a great internet speed can be the nail in the coffin for the best streaming experience possible.
As an example of Netflix ISP rankings in Australia, this table shows speed results for November 2016.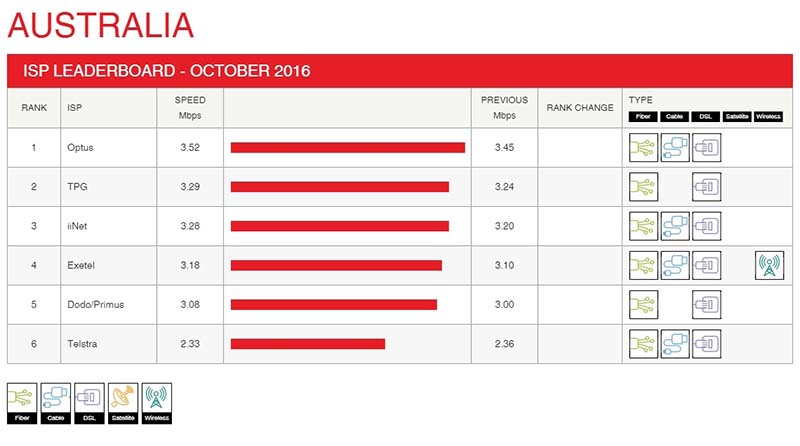 Netflix streaming with Optus
Of the six service providers that Netflix collects data for in Australia, the highest scoring was Optus. This is a dramatic improvement from the telco's third place ranking in June 2015. Optus claims that they've been the fastest ISP for Netflix in Australia for 13 months running. Their speeds consistently rank in the high-three megabits per second (Mbps), which is outstanding.
If that's enough to sway you, then check out some of the cheapest unlimited broadband plans from Optus. The $110 plan is the 'My Entertainment' bundle that includes a Fetch TV set top box with Optus Sport included. It's a boon for all the English Premier League fans out there, as Optus retains the rights now.
Netflix streaming with TPG
Up one position from the previous results, TPG is soaring up the ranks, slaying giant telcos in terms of value and speed. TPG comes in at number two in terms of Netflix speeds during primetime. The telco currently provides speeds of around the mid-three Mbps. It's refreshing to see that so far, Australian ISPs are gradually improving as Netflix becomes more popular.
As mentioned earlier, TPG is one of the more popular ISPs despite it still being seen as an underdog compared to Telstra and Optus. If TPG's value and apparently well-ranking speeds is enough to sway you, then consider these unlimited broadband plans from TPG. They are a lot cheaper than those from Optus, and are some of the cheaper unlimited plans in Australia.
Netflix streaming with iiNet
Only slightly behind TPG at number three on this list, iiNet provides Netflix speeds near identical to that of TPG's – probably because they are owned by TPG – during primetime hours. While being at number three is good, it should be noted that in June 2015, iiNet was the number one ranked provider on this list, and was number two in May 2016. It might be worth monitoring iiNet's Netflix speeds in the future to see how it tracks.
TPG bought out iiNet in 2015, and both providers offer much of the same type of deals. Here, iiNet's cheapest unlimited plan is a Naked DSL one, meaning you aren't tied down to home phone line rental or any of those 'extras'. It does include a netphone, however, which can be handy if you still do need to make a call.
Netflix streaming with Exetel
Exetel currently sits at number four in Netflix's rankings with an average performance in the low-three Mbps during primetime hours. While it has remained unchanged in position over the past year, it should be noted that it has significantly improved in terms of download speed. In June 2015, Exetel provided a speed of just 2.8Mbps. So you should also monitor Exetel over the next few months to see if it continues to improve. Our suspicion is that it will.
Exetel not only provides cheap mobile phone plans and some of the cheapest NBN plans out there, they also provide cheap unlimited DSL data too. While Exetel is not exactly world-beating when it comes to speeds for Netflix, if it's 'bang for buck' you want, then look for the green Exetel logo.
Netflix streaming with Dodo/iPrimus
As they were in June 2015, Dodo and iPrimus – both subsidiaries of Vocus Communications – remain unchanged at number five. Their average download speed for watching Netflix content has improved quite markedly – it's up from 2.85Mbps in June 2016 to the low-three Mbps, and this trend is great to see. Unfortunately though, it's still lagging behind quite a bit – especially compared to Optus and TPG.
On the plus side though, Dodo and Primus tend to offer some of the cheaper unlimited internet plans, with Dodo offering the cheapest unlimited ADSL2+ plans in Australia. If cost is more of a concern than flat-out speed for Netflix, Dodo and Primus may be more suited to you.
Netflix streaming with Telstra
At the back of the pack is Australia's biggest telco, Telstra, with an average speed of low-mid two Mbps. This is shockingly a fall from 2.48Mbps in June 2016. Historically, Telstra has not performed as well as its main competitors when it comes to internet speeds, with the Netflix data showing its performance has dropped since May 2016. Although it has improved significantly since Netflix Australia was launched, Telstra still lags behind the other major providers in this regard. There is much theory about this – is it because it's the largest supplier with the largest amount of customers and most congested network? That's one of the more popular theories going around, but if you're on Telstra, this could be why your Narcos episode went from beautiful HD to grainy 320p quick-smart.
However, one of Telstra's main selling points is that it has huge contracts with various entertainment companies to provide users with entertainment bundles. Expect to see deals like free Netflix and Stan for a set period, cheaper Foxtel plans or the inclusion of Telstra TV. Telstra also has no unlimited ADSL2+ plans, instead offering 1000GB which is a hefty amount, but is that enough to sustain you? Take for example the two plans listed below – while Telstra charges more on average, it's important to know about the entertainment bundles and what extra value they can provide for you.
Which Aussie service providers offer unmetered Netflix?
Optus and iiNet offer unmetered Netflix streaming as part of their internet plans. There are a few caveats, however. Most of the time, unmetered Netflix is relegated to fixed line broadband, meaning that mobile users can't tap into the same deal. Let's dive in with more detail and find out exactly what all of this means.
Optus Unmetered Netflix
Generally, unmetered Netflix is reserved for this with a more high-end plan, both on mobile and fixed line connections. For mobile, you only have a choice of some of the most expensive plans that Optus provides, and you're pretty much limited to plans that are bundled with a phone. The minimum spend you'll make per month is $85, and with this you'll get unlimited calls and texts with 7GB of data (+1GB bonus). Phones available include the latest iPhone 7, which will likely add even more cost to your plan. The more expensive option is $100 a month, which contains a massive 20GB of data. Seeing as you get unmetered Netflix with these options, the 20GB data frees up a lot of opportunity for other internet browsing.
For fixed line broadband, you are pretty much limited to purchasing costly plans again, this time bundled with Fetch TV as mentioned earlier. Fetch TV is basically a home entertainment hub you can access Netflix and other streaming through. By playing Netflix through Fetch TV, you'll trigger unmetered streaming. The plans come on both Cabled plans and ADSL2+ plans. So, if you're lucky and have cabled internet in your home then you could take advantage of this and receive near unrivalled streaming quality.
The cheapest plan here is $110 a month, and you'll get unlimited data. The Entertainment pack also contains the Fetch TV box with included Optus Sport. $140 will get you the same plus Fetch TV's Entertainment Pack, which will get you over 35 channels like ESPN and MTV available to stream.
Optus tends to be the 'one stop entertainment shop' for unmetered Netflix. If you're after a convenient entertainment hub or unmetered Netflix on-the-go it makes sense to go with Optus but you'll be paying a hefty sum for it every month.
iiNet Unmetered Netflix
iiNet's unmetered Netflix feature is reserved solely for fixed-line broadband customers, meaning no mobile plans of theirs have unmetered Netflix. iiNet states that "NBN Fixed Wireless services do not have access to quota-fee iiNet TV content," meaning that you're pretty much limited to ADSL2+.
The cheapest plan in this instance starts at about $60 a month for 250GB data – unlimited data will cost you about $80 a month. iiNet is an ideal ISP that offers customers unmetered Netflix, but otherwise has no-frills meaning you're not paying for stuff you don't want or need.
It's also important to note that Internode – an iiNet subsidiary – also offers unmetered Netflix viewing on a few select plans. Eligible plans include 'Easy Bundle ADSL2+' plans, as well as a variety of NBN plans. The 'Easy Bundle' plans are pretty much exactly the same as iiNet's offerings with same pricing and data allowances.
Unfortunately, Netflix has expressed regret over teaming up with Optus and iiNet to provide unmetered streaming. They said that charging for data against streaming companies condones discrimination, data caps inhibit internet innovation, and are bad for consumers. So, Netflix definitely isn't mincing its words about plans with data caps. Nevertheless, if you are choosing a plan with a data cap it can be helpful to find one with unmetered Netflix to take your gigabytes further.
Is it worth upgrading my broadband?
Spending money to save money is almost never an instant process. Say you've found a great, cheap plan with adequate data that suits your budget it likely makes little sense to upgrade to a more expensive plan just for the sake of getting unmetered Netflix. However, if you're reaching the end of the month pulling your hair out trying to conserve data, you might find it worth your money to upgrade to a plan with unmetered content. That way you're preventing a lot of heartache about something that can chew through lots of data.
We suspect the best option is to find an unmetered plan that is similar in price to your current one. In this instance, Optus is the more expensive provider but its entertainment bundles may entice you over. iiNet and Internode are cheaper – much cheaper – but offer less in terms of entertainment bundles. By the time you pay for all of these streaming services separately, you might find it more economical to just opt for Optus. Either way, these two providers seem to be the best options for Netflix, as their speeds lead the charge, and their streaming is unmetered thus providing you with a superior all-round Netflix experience.