The Ultimate Guide to Netflix Australia
When it comes to home entertainment, Netflix is a household name around the world. While the Australian TV landscape had previously been dominated by Pay TV giant Foxtel, the development of faster internet connections and introduction of streaming services (with Netflix and Stan the two most popular) has seen video streaming fast become the go-to source of entertainment for Aussies. If you're new to the streaming service, read on for your ultimate guide to everything Netflix Australia.
What is Netflix?
Originally set up as a DVD rental service which would post DVDs to your home address, Netflix launched its online streaming service in the US back in 2007. Over the years it has not only expanded its content library, but has expanded to other countries. In 2015 (the year that competing service Stan launched), Netflix finally came to Australia.
Netflix is a video-on-demand (VOD) streaming service, which requires an internet connection, capable device, and Netflix subscription to access content. While Pay TV would require a technician to come to your home to setup service via cable and a set-top box connected to your TV, VOD streaming doesn't require any extra hardware or special setup. Once you sign up to Netflix, you can start watching straight away, unlimited and commercial free.
Over the years, Netflix has increased its content library: there's now thousands of shows and movies available, including a growing number of Netflix Originals. It's worth noting that the content available on Netflix depends on which country you're in; for example, Netflix Australia will have different content available than you'll find in the US.
The US has more competition for streaming platforms, with many TV networks operating now their own streaming platforms. In Australia, with only three major competitors in streaming and Pay TV (Netflix, Foxtel and Stan) bidding for the rights to certain shows, movies and content creators (such as Disney), the market is less competitive.
How much does Netflix cost in Australia?
As with most streaming services, Netflix runs on a paid subscription model. You simply choose a Netflix subscription, and pay monthly for unlimited viewing of the entire content library. Netflix also offers a free trial over 30 days and you can cancel at any time, even during the free trial.
There are three Netflix plans to choose from. These plans start at $9.99 for the Basic, $13.99 for the Standard and $19.99 for the Premium plan. The different price points are reflected in the type of access on each plan. For example, the Basic plan doesn't have HD streaming, while the Premium plan has both HD and Ultra HD streaming. Each plan will also have a different number of devices that you're able to stream on at the same time.
If you're wondering which Netflix Australia plan is right for you, the following table includes a comparison of the Netflix price (in AUD) and plan features.
| | Basic Plan | Standard Plan | Premium Plan |
| --- | --- | --- | --- |
| Monthly price | $9.99 | $13.99 | $19.99 |
| HD available | | | |
| Ultra HD available | | | |
| No. of screens you can watch on at the same time | 1 | 2 | 4 |
| Free trial | | | |
How to watch Netflix
While using your web browser (on both Mac and Windows PCs and laptops) is the more traditional way to watch Netflix Australia, with the increased use of portable devices and the improved streaming technologies there are now many ways to stream.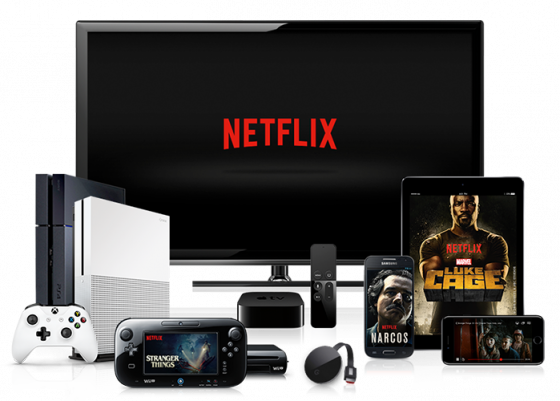 You can download the Netflix app for free on your mobile or tablet device through the Apple App Store, Google Play or the Windows Phone Store, which is handy if you want to watch Netflix on the go. However, don't forget that streaming Netflix on your phone will use up mobile data if you're not connected to a WiFi network. One hour of standard definition streaming uses around 1GB of data, while HD streaming will use around 3GB per hour.
While many telcos now offer plans with generous data inclusions for little money, Optus and Vodafone offer the option to add data-free video streaming on to select plans for an additional monthly fee. However these add-ons will only offer data-free streaming capped at speeds of 1.5Mbps, which is enough for SD quality only. The Netflix app does have a handy download feature, however, which allows users to download certain shows and movies to watch without using data or being connected to the internet — even when your phone is in flight mode.
If you want to watch Netflix on your TV, there are a few different devices that will enable to you stream Netflix directly to your screen. Newer smart TVs will generally have the Netflix (and Stan) app already installed, so you won't need to use another device. The following TV brands include the Netflix app on newer model Smart TVs:
If you need to setup a Netflix-supported device, there are several options to choose from:
Streaming media players including Apple TV and Google Chromecast
Game consoles including Sony PlayStation3, PlayStation4 and Nintendo Wii U
Set top boxes including Fetch TV, Telstra TV, and Vodafone TV
Newer-model Blu-Ray players from LG, Samsung and Sony
Google Chromecast works by streaming to your TV from a device, so you'll need to have the Netflix app on your phone or tablet. The other devices listed above will either come with the app pre-installed, or you might need to download the app to your device.
All of these devices will require an internet connection to operate and use Netflix.
What to watch on Netflix Australia
Once you log into your Netflix account, it can be a bit overwhelming when you're presented with countless options for movies, shows and documentaries. There are some Netflix Original shows that have really gained public attention over the years, including:
Stranger Things
The Crown
Orange is the New Black
You
Daredevil
The Umbrella Academy
Ozark
Of course the range of movies is just as comprehensive as the range of shows, and if docos are your thing, you'll find plenty of choices across a range of topics. From David Attenborough's Our Planet series to HOMECOMING: A Film by Beyoncé, Chef's Table to Conversations with a Killer: The Ted Bundy Tapes, there is something for everyone. The kids aren't forgotten with shows like Carmen Sandiego to The Adventures of Puss in Boots and movies such as Mowgli Legend of the Jungle and the entire Harry Potter series. Netflix also has a special 'Kids' account option, which will only display child-friendly content.
If you're not sure where to get started, at Canstar Blue we've put together a few guides on some of the best shows and movies currently available on Netflix.
If you're curious to know what Netflix shows the rest of Australia is watching, we've surveyed Australians to find out what their favourite shows are on Netflix. You can check out what the top 20 Netflix Australia shows are for yourself.
Is a Netflix subscription worth it?
Netflix has been one of the pioneers in changing the way we watch TV and movies. It's also popular among the budget-conscious, as a monthly Netflix subscription is generally cheaper than going out to the movies, especially for families looking for ways to entertain the kids without spending too much.
Netflix has also put a significant effort into creating its own high-quality content, with many of its shows and movies up for (and even winning) major Hollywood awards. If you seriously suffer from FOMO (Fear Of Missing Out), you might want to sign up to Netflix to avoid feeling left out when everyone around you can't stop talking about the latest Netflix hit.
Which Netflix plan is right for me?
There is a lot to consider when you're looking into Netflix. If you are on a tight budget, the cheapest plan might suit you; however, you will be restricted to Standard Definition streaming and only able to watch on one device at a time. This plan will mostly suit you if you're primarily going to watch Netflix on your mobile or tablet, and if only one or two people will be using it.
A Standard Netflix plan is a few dollars more than the Basic plan, and offers you HD streaming, plus viewing on two devices at the same time – a good option for families with young kids, where parents will be monitoring when and where their children can watch Netflix. The Premium plan is a bit pricier, and would suit if you're serious about your HD streaming (with access to Ultra HD) and if you have a larger family or teenagers.
If you already have a budget in place, you should look into which plan will suit your price range, and go from there. Netflix is definitely a great streaming service, and has plenty of content if you like to chill out and binge-watch some great shows, movies, and specials.
What are the best internet providers for Netflix?
Netflix Australia regularly releases a report into the best streaming speeds and performance from Aussie telcos. According to Netflix Australia's August 2019 report, the top five telcos for streaming Netflix are:
The above speeds are for NBN connections only. For more information on this, and to see where your Internet Service Provider (ISP) ranks for speed, you can check out our guide on the best internet providers for Netflix.
Netflix also includes a guide for the minimum requirement of speeds you'll need to watch content. The Netflix site recommends you'll need a minimum of:
3.0Mbps for Standard Definition (SD) quality
5.0Mbps for High Definition (HD) quality
25Mbps for Ultra HD quality
If you're looking for a NBN plan with enough speed for streaming video, it is recommended by NBN Co that a Standard Evening Speed plan (NBN 25) is adequate for SD video streaming, while a Standard Plus Evening Speed plan (NBN 50) is best for HD video streaming. If you'd like to stream in Ultra HD (or 4K), it's recommended that you opt for a Premium Evening Speed plan (NBN 100).
While these speeds are recommended as fast enough for streaming video, there are many factors that could affect the NBN speed you experience. Time of day can have an impact, as the peak evening time (between 7pm and 11pm) can really slow speeds down. The number of people in your home that are using internet at the same time can also impact speeds.
The NBN 50 speed tier is probably the most popular option for households as it's fast enough for HD video and larger households without the premium price that you can expect of NBN 100 plans. If you're after the best Netflix streaming experience available, you might want to consider plans from the five telcos listed above as these providers routinely top the Netflix ISP Speed Index. However, it's worth comparing plans from a wider range of providers NBN to help find the right option for you.
The following table includes NBN 50 plans from Telstra, Optus, Aussie Broadband, iiNet and TPG as published on Canstar Blue's database and listed in order of standard monthly cost from lowest to highest, all featuring unlimited data. Use our comparison tool to see all plans available on Canstar Blue's database. These are products with links to referral partners.