It's no doubt air fryers have taken the kitchen appliance world by storm. Claimed to be one of the healthiest methods to fry foods, these time-saving miracle workers have become a staple gadget for many Australian households.
Essentially, an air fryer circulates hot air to heat food, giving you the crispy texture of deep-fried food without the oil and in a fraction of the time. There are countless recipes you can cook (and bake) in an air fryer, including roast chicken, fries, steak, cakes, muffins and more. However, there are some foods best left to more traditional cooking methods.
To help you avoid cooking faux pas, we've gathered a list of some foods that you can and can't cook in an air fryer.
What are the best foods you CAN cook in an air fryer?
Frozen foods

Whether you're serving up tasty appetizers to party guests, cooking a side of fries to accompany a homemade meal or craving a late-night bar snack; air fryers are the perfect option for cooking any frozen food that you would usually put in an oven. The circulation of hot air in the unit will help you achieve your desired crispiness and flavour, using little to no added fat. Plus, it's an easy clean-up job afterward. What's not to love?
Cooking times may vary depending on the frozen food, but most will be ready in about 10 minutes. With appropriate pre-heating, some frozen snacks can take as little as six minutes to cook, which cuts the oven time by half!
---
Baked goods & pastries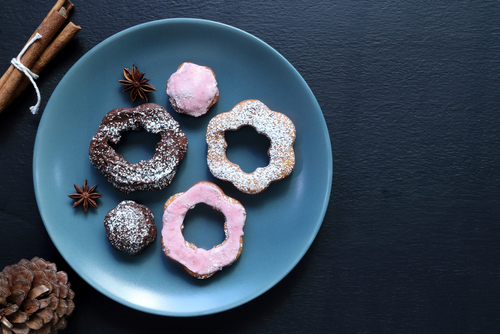 Contrary to popular belief, air fryers aren't just for savoury foods. Prepare to have your mind blown − an air fryer can bake cupcakes, cookies, brownies, lava cakes, cheesecakes, doughnuts and many more indulgent desserts! As an air fryer does not have the same capacity as a traditional oven, preparing certain baked goods may require you to cook in multiple batches. Just make sure you follow an air fryer-specific recipe and get one that comes with a baking dish to avoid a kitchen nightmare.
---
Raw meats & proteins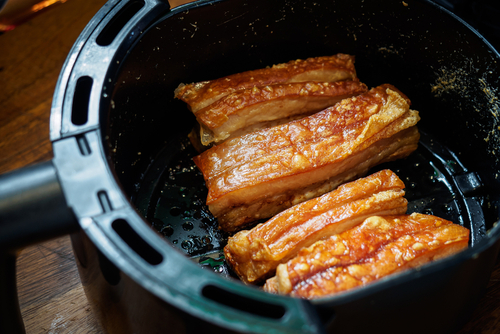 Air fryers that come with accessories such as a grill pan or baking cage allow you to cook certain meats and proteins. Air frying raw meats and proteins can take around 10 minutes, depending on the thickness and your preferred level of doneness of your roast pork, steak or fish. Bacon, sausages, and eggs (hard-boiled or fried) similarly take about eight to 10 minutes, meaning you can have a stress-free full English breakfast to start your day.
Preparing raw chicken in your air fryer is claimed to produce much juicier results than either an oven or a cooktop in just 15 minutes. However, it's best to avoid entire roasts or whole chickens. Other than the obvious question of whether an entire roast will fit in your machine, a whole chicken may not cook evenly, leaving you with a half-cooked bird.
---
Vegetables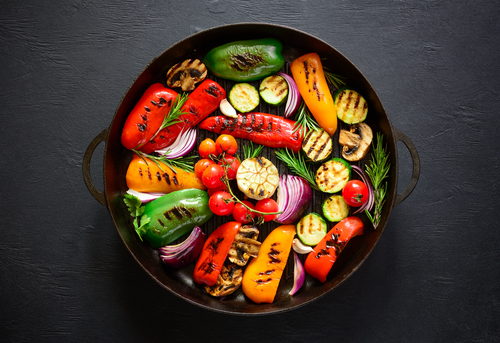 The air fryer is a champ when it comes to making veggie-based dishes and sides with a crisp texture. You can roast certain types of vegetables in the machine if they are the kind you can grill or fry. Common veggies like potato, tomato, capsicum and cauliflower can be grilled in the machine, along with peppers, corn, zucchini, brussels sprouts and asparagus.
---
Re-heated food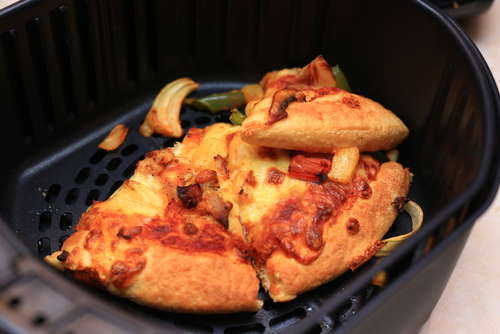 How many times have you re-heated last night's leftovers in the microwave or oven, only to be greeted with food that's soggy, overcooked, tough or not at all crispy? For many foods, the re-heating process can be just as time-consuming as the original cooking method and sometimes nowhere near as good. The air fryer can turn certain leftover foods palatable in a matter of minutes, saving them from going to waste. Leftover pizza, potato gems, French fries, fried chicken and steak all (arguably) cook and taste better reheated in an air fryer!
---
What foods CAN'T you cook in an air fryer?
Battered or liquid-coated foods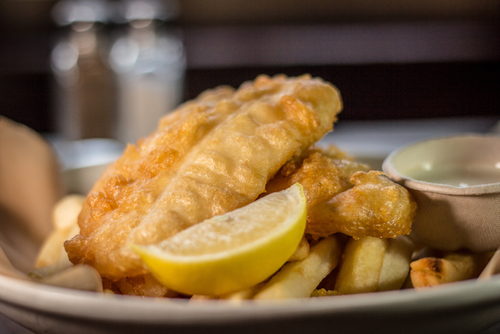 You'll definitely want to avoid putting foods with wet batters in your air fryer if you don't want to make a mess of your machine. For example, tempura seafood and corndogs are a big no, as the batter will likely drip off the food and stick to the bottom of your air fryer.
---
Certain vegetables or greens
As mentioned above, air fryers are great for the types of veggies you would usually roast or fry. In addition to frozen savoury foods, an air fryer can turn frozen veggies into a delicious side dish. However, you should be avoiding fresh veggies or greens that you would usually steam, like spinach, carrots and green beans.
---
Rice and pasta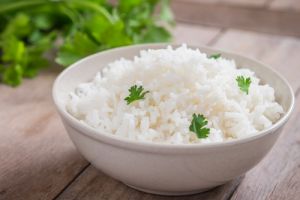 The primary purpose of an air fryer is frying, so foods that are typically boiled or need to absorb lots of liquid – like rice and pasta – are unsuitable to place in an air fryer. It's best to stick to the traditional method of boiling water or buying a rice cooker. Alternatively, you can opt for a multi-cooker with both air frying and rice cooking functionalities.
---
Fresh cheese
If you're thinking of using your air fryer to bake something with fresh cheese as a topping, or by itself, we recommend otherwise. Unless you start with something frozen with an outer crust (like mozzarella sticks), putting fresh cheese in your air fryer may cause a mess that you won't want to be scraping and scrubbing off your machine later.
---
What are the pros & cons of air fryers?
If you've heard the buzz around air frying and are wondering if it's worth the expense, then you should be sure whether this appliance will suit your needs. Whilst there are some major benefits to using an air fryer, there are also some downsides. Here are some pros and cons to consider:
| Pros of buying an air fryer | Cons of buying an air fryer |
| --- | --- |
| Can cook foods quicker and more efficiently compared to most ovens and cooktops | Limited capacity to cook larger amounts of food which may not suit larger households |
| Comes with different user-friendly automatic functions | Cooking results typically differ between models, settings and temperature functions |
| Can cook a wide variety of foods, including both savoury dishes and desserts | Air-frying produces high temperatures quickly, so foods must be monitored while cooking |
| Reduces the amount of oil typically needed to cook foods, offering a healthier alternative | Can be loud and noisy |
| Compact size | Some models can be bulky |
5 reasons why you should buy an air fryer
There are a few benefits to buying an air fryer, whether it's for convenience or to reduce the amount of oil in your cooking. Here are a few advantages that might make an air fryer worth purchasing:
It can save you time and energy
It's easy to use and clean
It's versatile enough to cook all types of foods
Provides a healthier alternative to traditional frying
It's compact and easy to store away
1. Saves time and energy
It's no secret that the air fryer cooks food in record time, according to different brands. But something you may not know about this miracle worker is that it can be energy-efficient as well. Due to its compact size, it typically doesn't require as much power to run as an oven.
2. Easy to use and clean
Most units are designed to be very user-friendly and easy to operate – just place your food in the basket, set the temperature and time, and walk away (with the occasional check-up of course). A typical air fryer doesn't have dozens of cooking options, just simple controls that are basic and easy to understand. Because air fryers don't use much oil, they're also typically very easy to clean. Win-win.
3. Versatility
If you want a machine that will do more than just fry foods, then an air fryer is the appliance for you. An air fryer will cook your favourite frozen snacks, roast meat and veggies, re-heat last night's dinner and bake some pretty cool desserts. The sky's the limit!
4. Healthier alternatives
A little bit goes a long way when it comes to using oil in your air fryer, meaning you can easily reduce levels of fat in your meal whilst still ensuring food comes out tender and crispy. Unlike a traditional oven, speedy air frying cooking times are said to ensure excess oil doesn't soak into your food.
5. Compactness
Typical air fryers are small and usually no larger than a coffee machine. Some small-scale and super compact units are perfect for households with limited benchtop space like dorm rooms, apartments and kitchenettes. Essentially, an air fryer can replace an oven when you find yourself in a situation that lacks one! You can also buy an air fryer for under $100 which is not too shabby for such a versatile gadget. Check out Kmart air fryers for some cheap and cheerful options.
4 reasons why air fryers aren't worth buying
It may be the case that you've already got everything you need in your kitchen. We've listed several potential disadvantages that you should be aware of to avoid getting burned.
1. Limited volume
A smaller model may mean you will have to cook in batches which is not ideal, especially when you're cooking for a large family. Essentially, the smaller the air fryer, the more limited you are by the size and shape of the basket, so it's important to keep this in mind when choosing your ideal model.
2. Trial and error
Different air fryer models will have various particularities you will need to contend with before you decide to cook in it. Most owner's manuals will usually come with cooking recipes, guides and instructions, but it may take a few trials (and errors) to get that perfect crispiness you desire. Don't be afraid to experiment with cooking times and temperatures to suit your needs!
3. Monitoring
Few air fryers will have a window, meaning you can't have a quick peek from the outside like you would with an oven. Also, the short cooking time throws a lot of beginners off. A few minutes could spell the difference between perfectly crisp fried food and overcooked flavourless solids. So, you'll need to closely monitor your food to prevent it from drying out or burning.
4. Space and storage
Whilst the air fryer is a compact appliance, it does take up some space. If you're only planning to drag it out of the cupboard to make the occasional batch of fries to go with dinner, then the loss of space in your kitchen may not be worth the expense.
Common mistakes you're probably making with your air fryer
Cleaning it incorrectly or infrequently: Not many of us look forward to cleaning up post-meal. But, to keep your air fryer in decent condition, crumbs should not be left behind. Generally, washing the air fryer with hot soapy water after each use, combined with an occasional soak and light scrub, will help keep your appliance squeaky clean.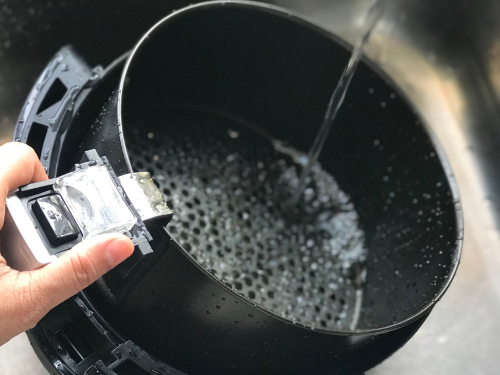 Not checking on your air fryer while it's cooking: For best results, you'll want to periodically check up on your food, which means opening up your air fryer. Most units are designed so you can open them, check on your food, and shake the basket around allowing food to be evenly cooked and crispy without burning or drying it out.
Overcrowding the basket: A mistake a lot of first-time buyers make is filling their air fryer to the brim with food, and expecting it all to magically cook evenly and thoroughly. It is recommended you should never fill your basket more than halfway, so larger portions of foods must be cooked in batches. The general rule of thumb is: resist the temptation to feed a crowd, all in one go.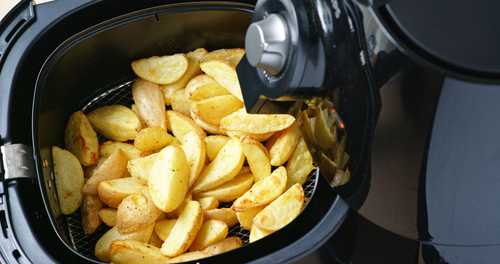 Not pre-heating: When using an oven to bake or cook, you would usually pre-heat before cooking. Well, the same goes for an air fryer. Spending a few extra minutes waiting for the machine to reach optimum cooking conditions will potentially help you avoid under-baked choc chip cookies or unevenly cooked potato gems.
Original Author: Annabelle Blair