Fact Checked
It's no doubt that air fryers have taken the appliance and cooking worlds by storm. They're a simple appliance that make preparing meals much easier, but how do you know what you can and can't cook in an air fryer? Air fryers are an exceptionally versatile appliance with more being sold with added accessories to broaden your cooking horizons. Read on to find out more cooking tips for air fryers with this Canstar Blue guide. 
Air fryer pros and cons
Air fryers have become a staple in many kitchens, and although they make people's lives much simpler, they can unfortunately have some drawbacks. Let's break down some of the pros and cons of air fryers:
Pros: 
Can cook foods quicker and more efficiently

Comes with user friendly automatic cooking functions and settings

Can cook both savoury and sweet dishes

Reduces the amount of oil needed to cook certain types of foods, making it a healthier option

Smaller in size and easy to move around
Cons: 
Limited capacity to cook larger types of food or meals 

Cooking results can differ between models, settings and temperature

Air fryer produces high temperatures quickly, so foods must be monitored while cooking 

Can be loud while in use

Some models can be bulkier, taking up kitchen space
Where can I buy an air fryer?
Air fryers are extremely easy to come by these days and can cost you from $100 to $400 for larger models from higher end brands. You can find air fryers in department stores like Kmart, Myer and in appliance stores like The Good Guys, Harvey Norman and Appliances Online. 
What CAN you cook in an air fryer?
You can cook a variety of food in an air fryer, including frozen foods, baked goods and pastries, raw meats and vegetables, along with re-heating food. 
Frozen foods

Whether you're serving up tasty appetizers to party guests, cooking a side of fries to accompany a homemade meal or craving a late-night bar snack; air fryers are the perfect option for cooking any frozen food that you would usually put in an oven. The circulation of hot air in the unit will help you achieve your desired crispiness and flavour, using little to no added fat. Cooking times may vary depending on the frozen food, but most will be ready in about 10 minutes.
Baked goods and pastries
Contrary to popular belief, air fryers aren't just for savoury foods. An air fryer can bake cupcakes, cookies, brownies, lava cakes, cheesecakes, doughnuts and many more indulgent desserts. As an air fryer does not have the same capacity as a traditional oven, preparing certain baked goods may require you to cook in multiple batches. Just make sure you follow an air fryer-specific recipe and get one that comes with a baking dish to avoid a mess.
Raw meats and proteins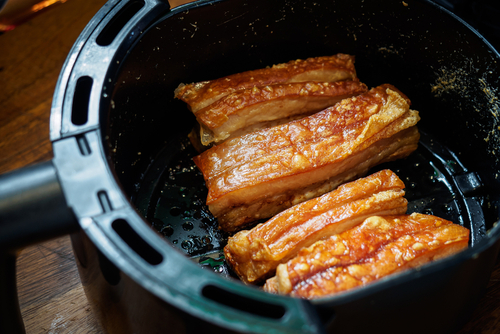 Air fryers that come with accessories such as a grill pan or baking cage allow you to cook certain meats and proteins. Air frying raw meats and proteins can take around 10 minutes, depending on the thickness and your preferred level of doneness of your roast pork, steak or fish. Bacon, sausages, and eggs (hard-boiled or fried) similarly take about eight to 10 minutes, meaning you can have a stress-free full English breakfast to start your day without going near the stove.
Vegetables
The air fryer is a champ when it comes to making veggie-based dishes and sides with a crisp texture. You can roast certain types of vegetables in the machine if they are the type you can grill or fry. Common veggies like potato, tomato, capsicum and cauliflower can be grilled in the machine, along with peppers, corn, zucchini, brussels sprouts and asparagus.
Re-heated food
For many foods, the re-heating process can be just as time-consuming as the original cooking method and sometimes nowhere near as good. The air fryer can turn certain leftover foods palatable in a matter of minutes, saving them from going to waste. Leftover pizza, potato gems, French fries, fried chicken and steak all (arguably) cook and taste better reheated in an air fryer.
What CAN'T you cook in an air fryer?
There's a few food groups that you shouldn't be adding to the air fryer, including battered foods, along with rice and pasta, as they may not come out properly, or could damage the appliance itself. 
Battered food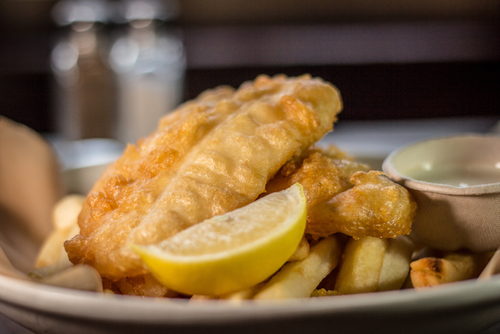 You'll definitely want to avoid putting foods with wet batters in your air fryer if you don't want to make a mess of your machine. For example, tempura seafood and corndogs are a big no, as the batter will likely drip off the food and stick to the bottom of your air fryer.
Rice and pasta
The primary purpose of an air fryer is frying, so foods that are typically boiled or need to absorb lots of liquid – like rice and pasta – are unsuitable to place in an air fryer. It's best to stick to the traditional method of boiling water or buying a rice cooker. Alternatively, you can opt for a multi-cooker with both air frying and rice cooking functionalities.
Should I buy an air fryer?
If you're looking for a way to prepare healthier meals with ease, then an air fryer could be the ideal appliance for you. They can be a relatively cheap investment if you're looking for the basics and won't take too much space in your cupboard or on your benchtop. If you're still uncertain on which brand to buy, compare air fryers below.  
Original Author: Annabelle Blair