ALDI Vacuum Cleaners Review
When it comes to vacuuming your home, you likely fall into one of two groups of consumers – those who spend the big bucks on big name brands in the hope of superior performance, or those happy to buy a cheaper vacuum because you know it will still do a reasonable job. If you fall into the latter category, you'll be interested in this review of ALDI vacuum cleaners.
The latest cleaning appliance to be added to ALDI's Special Buys catalogue, there are five different cheap vacuum cleaners to pick from, ranging in price from $29.99 to $199. The discount supermarket chain has also released its own carpet cleaner and steam mop.
Multi-Cyclonic Vacuum Cleaner – $99.99
Handheld Vacuum Cleaner – $29.99
2-in-1 Cordless Vacuum Cleaner – $99.99
Backpack Vacuum Cleaner – $129
Robot Vacuum Cleaner – $199
Carpet Cleaner – $99.99
Steam Mop – $39.99
Plus, a number of mops, brooms and microfiber window cleaners are also on offer to use with ALDI's well-established range of home cleaning products. If you 'have to have' everything ALDI – or are just looking for a budget vacuum – you might want to dash in and scoop up a Special Buy before the limited run is all gone. These vacuums tend to come and go from ALDI stores throughout the year.
Let's review each ALDI vacuum cleaner individually to help you decide which may be best for your home and budget.

ALDI Multi-Cyclonic Vacuum Cleaner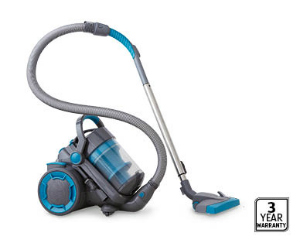 Your classic barrel vacuum, the ALDI Multi-Cyclonic Vacuum Cleaner costs a nice round $99.99. It has a 2000W motor, sucking up dirt through a crushproof hose, into a bagless barrel. The one-touch dust release system helps kick out all of that vacuumed up dirt and dust straight into the bin. HEPA filters capture dust and other nasties floating around in the air, while the stainless steel telescoping tube can be adjusted in length to suit your height and arm length, as well as reach your target cleaning area.
It comes with an 8m power cord, so unless you're vacuuming a large space with limited power outlets you should be set without an extension lead. The box also includes a 2-in-1 crevice tool, upholster brush, and mini turbo brush. If things go awry, you're covered by a three year warranty.
ALDI Handheld Vacuum Cleaner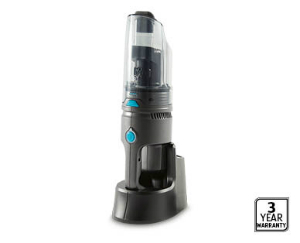 For picking up random messes without lugging out the full unit, portable vacuum cleaners can be a handy tool to have around. ALDI's Portable Vacuum Cleaner is a cheap investment into easier cleaning at $29.99. The 7.2V lithium-ion battery offers 20min of use from a full charge, which takes about four to five hours. Overcharge protection means you don't need to worry about any damage from leaving your vacuum on the charging station longer than it takes to fully charge.
The charging bracket can easily be wall-mounted or placed on a flat surface. The vacuum uses cyclone technology to suck up messes, and uses a washable filter to stop dust from blowing out the vents.  The box also includes dry and wet crevice attachments, with the portable vacuum additionally covered by a three year warranty.
You may also be interested in:
ALDI 2-in-1 Cordless Vacuum Cleaner
ALDI's stick vacuum matches the price of the classic barrel vacuum at $99.99. Cordless stick vacuums tend to be preferred for smaller spaces, spot cleaning, or where cleaning needs are a bit less intense. The ALDI 2-in-1 builds its major functions into the detachable handheld unit, so you can either use it as a small handheld vacuum or locked into the stick frame to cover more ground.
The handle can fold to reach underneath furniture, using a rolling hinge so it's not as awkward to get those dust bunnies under the couch. The vacuum head has headlights so you can see if you've missed anything in the dark abyss beneath the couch and can swivel 180⁰ to get in around those chair legs. Activating the turbo function gives a bigger power boost for when you've got some intense dirt to collect. As with the rest of the ALDI vacuum cleaner range, it's bagless, with a collection container designed to be easy to empty. The lithium battery takes about four to five hours to fully charge, which offers 30min of vacuuming time.
ALDI Backpack Vacuum Cleaner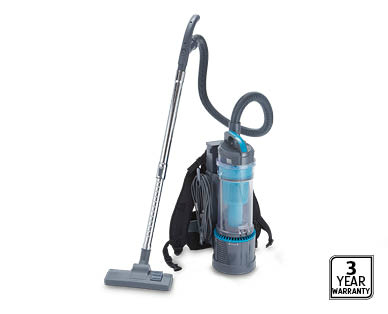 Whether you've got big cleaning jobs to do or just want to feel like a Ghostbuster while doing otherwise boring chores, the ALDI Backpack Vacuum Cleaner ($129) means no more hassle dragging a barrel vacuum along the floor behind you. The ergonomic harness with waist strap keeps the unit firmly attached to you, while the 10m power cord gives you a little more range than the ALDI Multi-Cyclonic Vacuum Cleaner.
The backpack vacuum is powered by a 1600W motor, has HEPA filters to prevent spurting out dusty air from your behind, and has a bagless canister so you can just tip it out straight into the bin. There's an on/off switch on the side of the unit so you can reach the controls while wearing the vacuum. Included in the box along with the main unit are a crevice tool, dusting brush, and pet hair removal brush.
ALDI Robot Vacuum Cleaner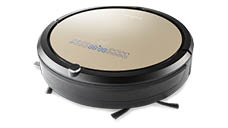 It's a dream to have the chores do themselves, and with this robot vacuum cleaner from ALDI, you can have your floors swept, vacuumed and mopped. It features intelligent obstacle avoidance technology, plus a scheduled cleaning program, so you can set the time for when you want your floors to be done. It's stated to have a 90 minute working time when fully charged and an automatic return to base function.
It comes with a charging dock, dustbin and water tank, two HEPA dust filters, cleaning brush and side brushes, velcro mop base, washable mop pads and even a remote control!. It retails for $199 and has two colour options to choose from – gold or black.
ALDI Carpet Cleaner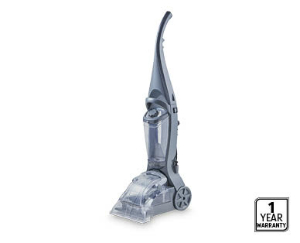 It's a bit confusing for those of us used to these things called 'vacuum cleaners', but carpet cleaners are actually a very different appliance. These are machines designed specifically to do a more thorough job cleaning carpets than a vacuum cleaner, using water to do a deeper clean. The ALDI Carpet Cleaner is priced at $99.99, which makes the somewhat niche tool more affordable than buying from many other brands.
It may also end up better in the long term than renting out a carpet cleaner as needed. It features two wheels for rolling it along as you go, with a step and release foot pedal to control when clean water is being deployed and when dirty water is being sucked back up. Naturally, the unit includes twin tanks for clean and dirty water, at 1.8L and 2.45L capacity respectively – so it's not just spreading dirt around. Carpet cleaning solution can be added to the clean water tank.
The base has vibrating brushes to loosen embedded dirt, while the vacuum function sucks up dirty water. With 600W of power and a 6m power cord, if you're a fanatic about keeping your carpet extra clean but don't want to fork out for regular professional treatment, this may be the carpet cleaner for you.
ALDI Steam Mop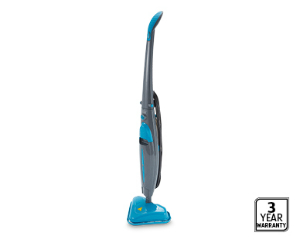 Not to forget the other important floor cleaning routine, the ALDI Steam Mop offers a bit more cleaning power than a regular old manual mop for $39.99. The 1500W powered appliance can last for 20min on one full water tank, which has a max capacity of 500mL.
It has a foldable handle and cord storage for easy pack up, and overheating protection so it doesn't get hot enough to cause damage to you, your floor, or itself. It has a 180⁰ swivelling steam head and an 8m power cord so you can get it into every corner. The box includes two washable microfiber mop pads, carpet glider, measuring cup, water funnel and cleaning pin.
Are ALDI vacuum cleaners worth the money?
For those hoping to score a bargain, ALDI offers a number of vacuum options with most costing under $100. However, stocks are limited and ALDI vacuums are only available at certain times of the year, so you'll have to keep an eye on ALDI's catalogue to check when they will be back in stores. While price is an important factor to consider, it's also important to give some thought to your vacuum requirements as you generally get what you pay for with vacuum cleaners.
To see what vacuum cleaner brands are keeping Aussies happy, you might like to check out our online ratings via the link below.
Vacuum Cleaner Reviews & Ratings
About the author of this page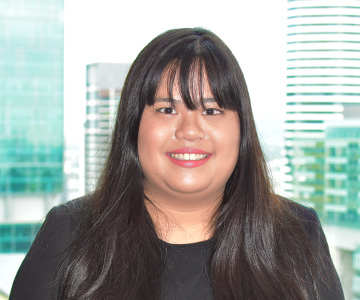 This report was written by Canstar Blue's home & lifestyle journalist, Tahnee-Jae Lopez-Vito. She's an expert on household appliances, grooming products and all things grocery and shopping. In addition to translating our expert research into consumer-friendly ratings reports, Tahnee spends her time helping consumers make better-informed purchase decisions on all manner of consumer goods and services, while highlighting the best deals and anything you need to be aware of.