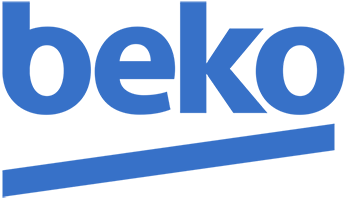 Are Beko washing machines any good? Review
Turkish whitegoods brand Beko is one of the most popular choices for home appliances. Its laundry range is loaded up with several front load washing machines, offering family-size capacities ranging between 7.5kg and 10kg.
We know choosing the right washing machine isn't the easiest task. To help you decide if Beko is the best for your household, we've lined up a few models to get a taste of what's on offer.
Beko washing machines review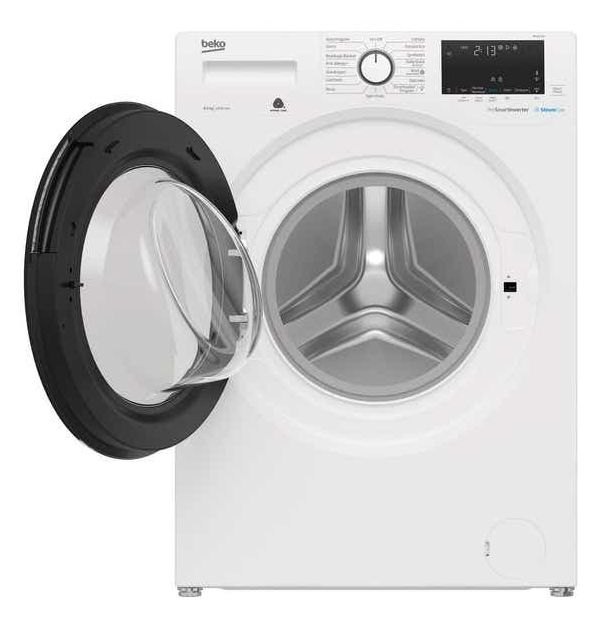 Beko has a handful of mid-range front loaders, priced from $850 and maxing out at $1,400. These are the models currently available:
Beko 7.5kg Front Load Washing Machine(BFL7510W): $849 RRP*
Beko 8.5kg Front Load Washing Machine (BFL8510W): $949 RRP*
Beko 10kg Front Load Washing Machine (BFL1010W): $949 RRP*
Beko 8.5kg Front Load Washing Machine With Autodose (BFL853ADW): $1,099 RRP*
Beko 10kg Front Load Washing Machine With Autodose (BFL103ADW): $1,399 RRP*
Features in Beko washing machines
Beko offers a two-year manufacturer's warranty on its washing machines, but you can extend this to five years by registering the appliance within 90 days of purchase. The brand additionally provides a 10-year warranty on parts and the compressor/motor.
Standard features you will find across the full Beko washing machine line-up include:
Reload: add or remove items after the washing cycle has started.
Autodose: the washing machine will dispense what it considers the correct amount of detergent and softener, based on the weight of the load.
Fast+: a button that can be pressed to shorten the length of any program by up to 55%, according to the brand.
SteamCure: steams items at the start of the cycle in order to soften grime and dirt, and in-turn minimise creasing and produce an effective clean.
StainExpert: lets you choose between 24 types of common stains for a targeted clean.
Pet Hair Removal: when selected, the program adds a pre-wash and additional rinsing step to the standard cycle in order to minimise pet hair on your laundry.
Anti-allergy+: specifically designed for babies and toddlers as well as those with sensitive skin. It extends the washing time and applies an extra rinse.
Drum light: the drum is lit up, so you can see the load.
Beko 7.5kg Front Load Washing Machine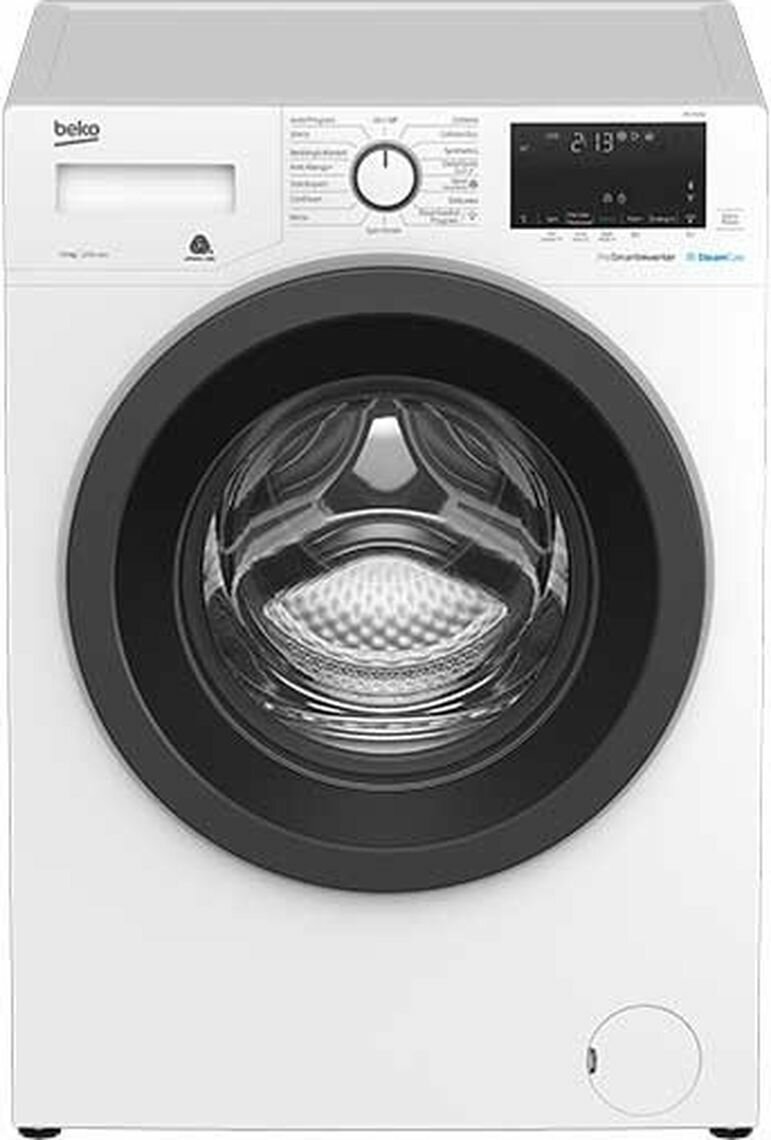 The cheapest washing machine from Beko is a 7.5kg unit, one of the most commonly purchased capacities. There isn't much separating this model (BFL7510W) from the brand's pricier options, even producing matching efficiency ratings and functions.
Specs include:
15 wash programs
4.5-star water efficiency rating
4-star energy efficiency rating
1,200RPM.
This Beko washing machine additionally contains SteamCure, StainExpert, as well as a brushless ProSmart inverter motor to supposedly reduce friction, improve durability and ensure quiet operation.
Beko 8.5kg Front Load Washing Machine With Autodose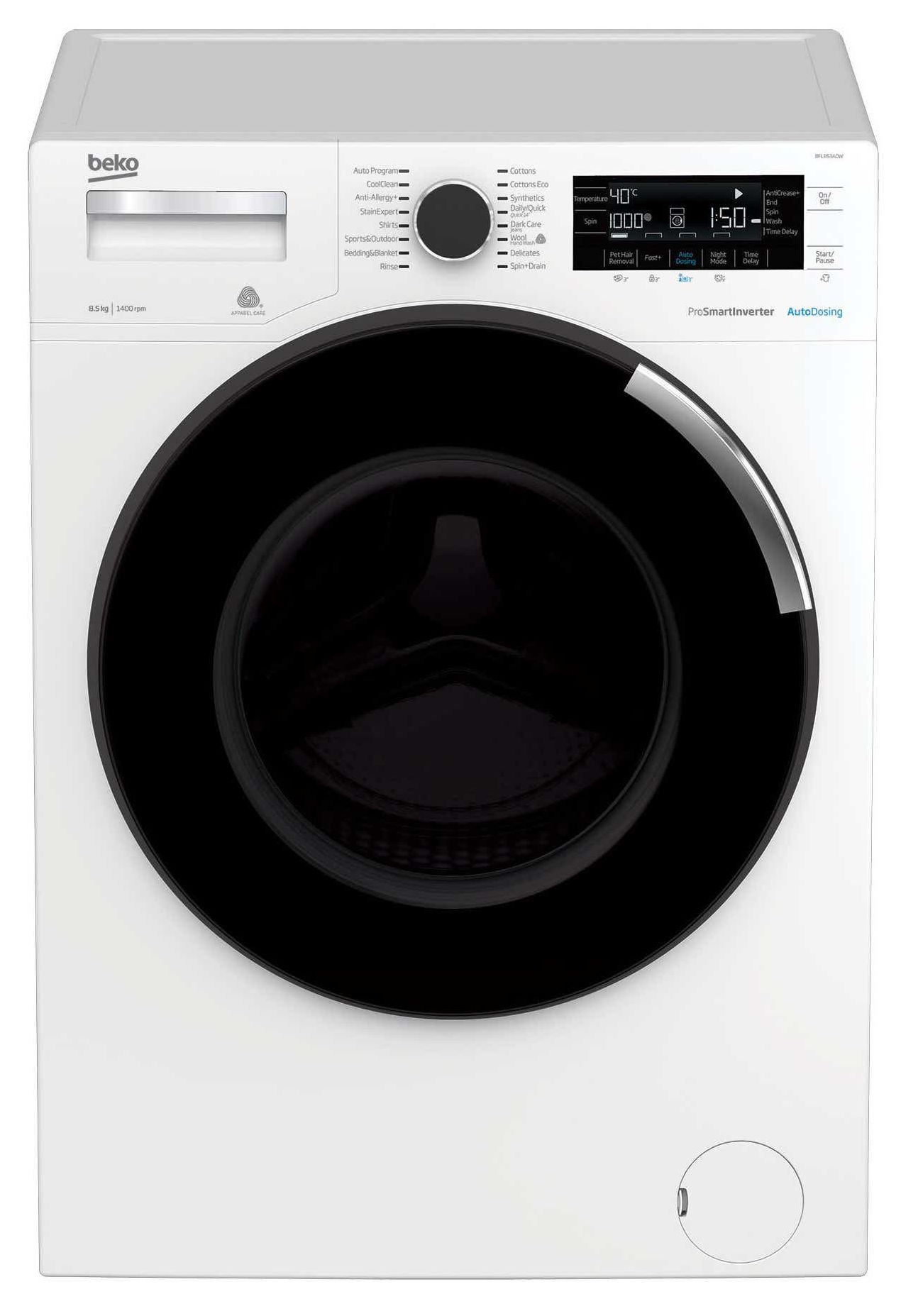 For something not too big and not too small, the Beko 8.5kg front load washer (BFL853ADW) might be worth considering. Keep in mind that a cheaper alternative without the autodose function is available for $949* (BFL8510W).
Aside from capacity, this freestanding washing machine is pretty identical to the 10kg model. Similarities include:
4.5-star water efficiency rating
4-star energy efficiency rating
16 programs
1,400RPM
Reload function.
In terms of design, this Beko washer has an XL door, LCD display and AquaWave drum for gentle treatment. It also uses Volumaxx technology, which supposedly allows the brand to give households a generous load capacity whilst keeping the physical build of the appliance as compact as possible.
Beko 10kg Front Load Washing Machine With Autodose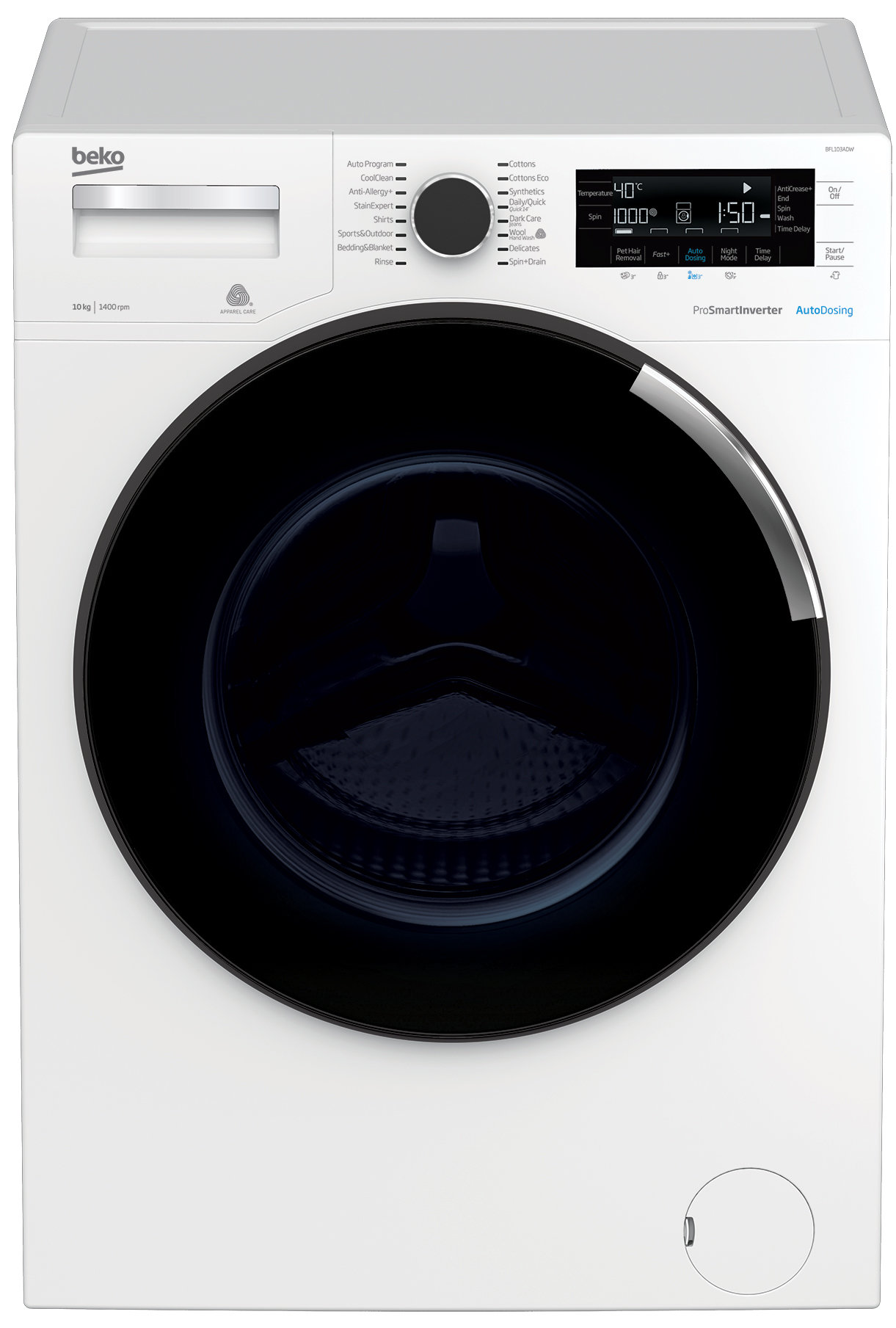 If you've got a hefty washload, Beko offers this 10kg front load washing machine (BFL103ADW). It boasts 16 programs, plus the brand's StainExpert program to help get rid of grass, wine, food, and whatever else that's managed to make its way onto your favourite shirt. The unit additionally has a reload function, so you can still add stray socks or last-minute items after the cycle has started.
The specs for the Beko front load washer include:
4.5-star water efficiency rating
4-star energy efficiency rating
1,400RPM
Cold-only water inlet
Left door hinge.
Other features include autodose, night mode, delay start, and drum light.
Is Beko a good brand for washing machines?
Yes! Firstly because Beko washing machines are fairly water and energy-efficient, with most models featuring a four-star energy and water rating or upward. Secondly, Beko washing machines allow households to customise their wash cycle with nifty features like autodose, drum light, and reload which allows for the odd sock to be added in the cycle mid-wash. It's the little things that count!
There are several key aspects to consider when buying a new washing machine, including its capacity, noise level and safety features. It's also important to note the type of water connection the machine has. At the time of writing, Beko washing machines range from 7.5kg to 10kg, all of which have a cold-only water inlet.
Whether you're looking for the most efficient machine or one on a budget, it would be wise to consider the water and energy ratings as they provide a helpful guide to how much money you will spend long term after the initial purchase cost of the machine itself. You might also like to check out online reviews and ratings – such as ours – to see how other washing machine brands compare across a number of categories, including value for money.
Compare Front Load Washing Machines
About the author of this page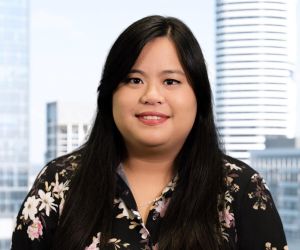 This report was written by Canstar Blue's home & lifestyle journalist, Tahnee-Jae Lopez-Vito. She's an expert on household appliances, grooming products and all things grocery and shopping. In addition to translating our expert research into consumer-friendly ratings reports, Tahnee spends her time helping consumers make better-informed purchase decisions on all manner of consumer goods and services, while highlighting the best deals and anything you need to be aware of.
*Prices taken from Appliances Online, correct as of January 2022.