Bosch washing machines review
Washing machines are a long-term investment, so it pays to do your research before diving in. It can also pay to spend a little extra for a big-name brand that delivers long-term reliability and performance. Bosch is one of several leading brands when it comes to front load washing machines in Australia, with models typically retailing between the $1,400 and $2,500 mark.
Read on for Canstar Blue's review of several Bosch washing machines and their features.
Bosch Washing Machines
When it comes to washing machines, Bosch deals exclusively in front loaders. However, the brand is also a household name when it comes to appliances like dishwashers and ovens. Like other leading brands of home appliances, Bosch originates from Germany, but unlike some of its compatriots – including Miele – its washing machines don't have the same premium price tag.
Bosh washing machines start from a 7.5kg load capacity and climb up to 10kg, all suited for at least a four-person household. You can choose between several collections, including the 'Serie 4', 'Serie 6' and 'Serie 8' models series.
There are a few features that commonly appear across Bosch's washing machine-line-up, including:
XxtraSanitary technology: uses thermostat-controlled heating to raise the water temperature to 170-190°C to kill 99.9% of common bacteria in clothes.
Droplet-shaped drum: designed to provide a thorough and gentle clean.
i-DOS detergent dose dispensing technology: calculates how much detergent is needed based on the load size and the amount of water that you are using. This helps to cut wastage and prevent stains and detergent streaks.
ActiveWater Plus: load sensing technology that automatically adjusts the water flow to suit each wash load size.
EcoSilence Drive: uses powerful, permanent magnets – instead of carbon brushes – allowing the washing machine to operate quieter than a normal conversation.
AntiVibration side walls: regulate vibrations and provide greater stability, so even at full speed on a spin cycle, noise is minimised.
LoadSensor technology: senses how much laundry is in the machine and only uses as much detergent, water and energy as it considers necessary for that specific amount.
ActiveWater Plus: a pressure and water sensor that aims to reduce water costs by measuring the wash load and automatically adjusting the level of water consumption to what the machine considers the ideal amount.
VarioPerfect programs: lets you customise the wash time to help use up to 50% less energy and reduce cleaning time by up to 65%.
SuperQuick and PowerWash cycle times: enable super quick washes in times of 15, 30 or 60 minutes.
AllergyPlus: a mode designed for people with allergies and sensitive skin.
Reload function: lets you pause the wash cycle to add items you've missed, including large sheets.
SpeedPerfect: claimed to reduce wash cycle time by up to 65%.
Bosch Serie 4 Washing Machines
Bosch 8 kg Washing Machine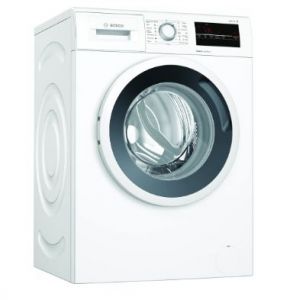 With the Serie 4 range from Bosch, expect a maximum spin speed of 1,200RPM plus a four-star WELS rating for water consumption and a four-star rating for energy. You will also get a wash load capacity of 8 kg and 14 programmable functions.
The Bosch WAN24121AU front loader additionally boasts 'ActiveWater' technology that is claimed to reduce the amount of water used for each cycle, plus an EcoSilence Drive stated to provide powerful performance with minimal noise. You can also expect a reload function that lets you add items after the cycle has started, and Anti-Vibration Side Panels to keep the machine stable while it operates. These washers may be useful for smaller households looking for an efficient washer that offers a bit of flexibility.
This Bosch 8 kg front load washing machine comes with a two-year manufacturer's warranty.
Bosch Serie 6 Washing Machines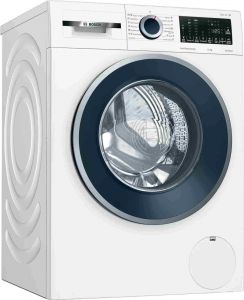 There are several front load washing machines in the Serie 6 Bosch range, with load capacities varying between 8kg, 9kg and 10kg. Compared to the Serie 4 line-up, this collection offers more features to justify the higher price tag, such as an increase in programmable functions and faster spin speeds. But despite these increased capacities, the water efficiency rating attached still remains at 4-stars or 4.5-stars.
Bosch Serie 6 9kg Front Loader (WGA244U0AU): $1,499 RRP*
Bosch Serie 6 10kg Front Loader (WGA254U0AU): $1,699 RRP*
Bosch Serie 6 8kg Front Loader (WAT28620AU): $1,799 RRP*
These front load washing machines generally cost between $1,499 to $1,799, depending on the model. The load capacity is the main factor differentiating these washers, while the spin speed, efficiency ratings and features are pretty similar across the range. Some of the tech include:
EcoSilence Drive
ActiveWater Plus
Droplet-shaped drum
Serie 6 Bosch's mid-range series and prices will vary between retailers, so it's a good idea to shop around before settling on any model.
Bosch Serie 8 Washing Machines
Bosch Serie 8 8kg Front Load Washing Machine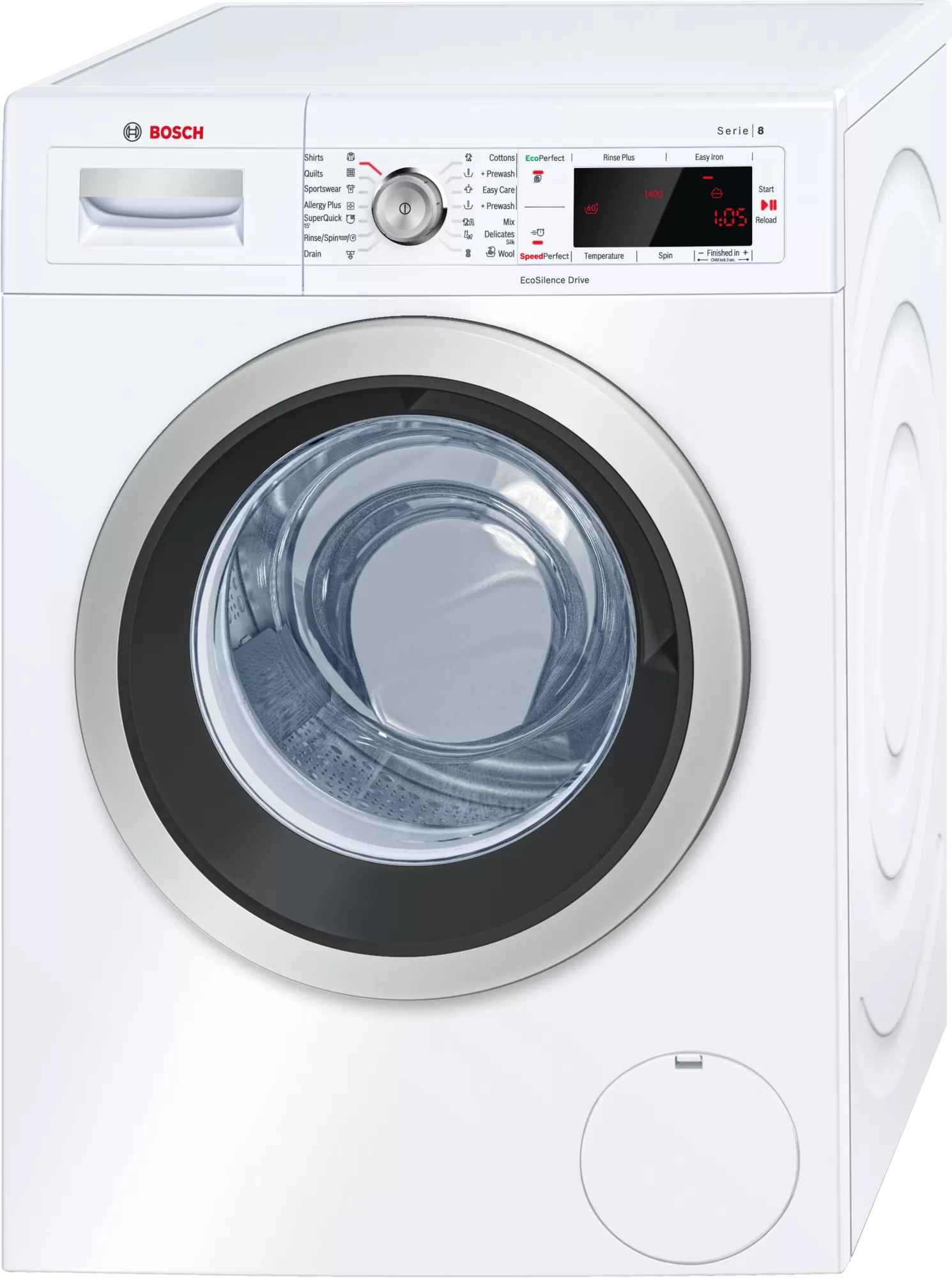 Bosch's higher-end models generally cost between $1,699 and $2,899, with the priciest option falling short of $3,000.
A budget-friendly option from this series is the Bosch Serie 8 8kg (WAW28460AU), which provides a 5-star water efficiency rating and a 4-star energy efficiency rating. It contains many of the same programs and specs featured in other Bosch washing machines, such as:
AllergyPlus
ActiveWater Plus
Reload function
For safety, the Bosch washing machine includes a child lock for doors and buttons. There is additionally the AquaSecure anti-flood protection feature to minimise the risk of flooding.
Bosch Serie 8 10kg Front Load Washing Machine
Most Bosch Serie 8 front loaders come with a maximum spin speed of 1400RPM, similar to several cheaper alternatives from the brand, except for the 10kg Serie 8 washing machines that provide a top speed of 1,600RPM.
The more affordable option of the two 10kg front loaders is the Bosch WAX32M41AU. This comes with a 4D Wash System claimed to efficiently wash and clean fabrics, and an Anti-Stain button that automatically adjusts the temperature and spin speed to get rid of common stains. Other specs include:
5-star efficiency rating for both water and energy
AllergyPlus
SpeedPerfect
Besides the additional space, most other specifications and features stay the same as with the previous models mentioned.
Is a Bosch washing machine a smart move?
While Bosch is a popular appliance manufacturer that sits towards the pricier end, it packs more load capacity and features compared to some other major brands on the market.
If you're looking to invest in a washing machine that can help you save money in the long run, the smart features contained in Bosch front loaders are largely dedicated to ensuring efficiency and are designed to minimise the amount of unnecessary water and fabric detergent used in each load.
Additionally, there are plenty of models available for under the $1,800 mark. This extends to all load capacities, including 7.5kg, 8kg, 9kg and 10kg capacities.
To see how Aussie consumers rated washing machine brands in the market, check out our online ratings (below). This is a good starting point to find a washing machine that is right for your household and budget.
Front Load Washing Machine Reviews
*Prices are taken from Bosch correct as of October 2022. 
Meet our consumer experts
---
Megan Birot: Home & Lifestyle Editor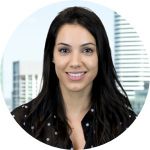 Megan is Canstar Blue's Home & Lifestyle Editor, leading the team that focuses on consumer products and services, ranging from supermarkets and groceries to home and personal appliances and retail stores. She interprets Canstar Blue's bespoke research on the thousands of brands that we compare, rate and review, to help shoppers make better purchasing decisions.
Samantha Howse: Consumer Research Specialist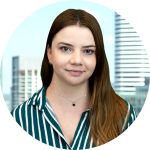 Samantha Howse is Canstar Blue's Consumer Research Specialist, coordinating the consumer research program behind our customer satisfaction awards across Canstar and Canstar Blue in Australia and New Zealand. Sam has earned a Bachelor of Business (Marketing) from Griffith University and, with seven years in market research and 2 years in marketing, she is experienced in survey design, implementation and analysis, coupled with an understanding of marketing principles and best practice.
Bosch Front Loader Washing Machines
Canstar Blue
Award:
Overall Satisfaction