Miele Washing Machines Review
Buying a new washing machine can be a difficult and confusing process, which is why it's tempting just to go with one of the most reputable brands. Sure, it may cost you more up-front, but when it comes to major household appliances, you'll generally get what you pay for. Not many brands are held in higher regard than Miele – the name is synonymous with quality, whether you're buying a washing machine, dishwasher or oven. Miele frequently tops Canstar Blue's customer satisfaction ratings, so find out what all the fuss is about with this review of Miele washing machines.
Miele Front Load Washing Machines
Miele's reputation as a high-end brand is down to the quality and longevity of its appliances. Many are made in the company's home country of Germany, while others are made in the Czech Republic. Either way, you're likely to get a high-quality product – but you'll need to pay for it! Miele washing machines are amongst the most expensive you'll find. But like we said, you generally get what you pay for. You'll also be interested to know that Miele deals exclusively in front loader washing machines, so if you're in the market for a top loader, Miele won't be able to help.
There are three 'budget' Miele washing machines that cost less than $2,000. Generally, they are smaller in size and suitable for a smaller household of about 1-3 people. The sizes consist of one 8kg model, and two 7kg models (WKB130, WDA210 and WDA110 respectively).
Miele WDB030 Eco 7kg Classic Front Loader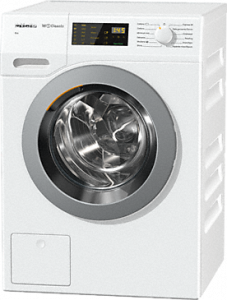 Miele's most 'budget-friendly' washing machine is the WDB030 Eco7kg front loader that features Miele ProfiEco Motor, claimed to provide a quiet and powerful energy-saving wash. Expect features including:
Cap dosing: allows you to dispense special detergents, fabric conditioners and additives using portioned capsules
10+ wash programs: includes an Express 20 as well as a Woollens wash
Delayed start: can be set for up to 24 hours, with the display also indicating when the program will finish, ideal to make use of the night time electricity tariffs if this is how you pay for power
Self-cleaning detergent dispenser: designed for easy maintenance
The 7kg washer is boasted for a patented Miele honeycomb drum, with a hexagonal sculptured surface for "gentle" laundry care. The Direct Sensor is claimed to provide easy fingertip operation. It also has an automatic load control, which automatically adjusts water and electricity consumption for the load.
This model fares quite well for both water and energy usage, scoring a four star WELS (water) and four star energy rating for power efficiency. It consumes 63L per wash and 236kWh in energy per year. That's only an additional $67.26 on your electricity bill (according to the Standard Test based on 28.5 c/kWh), which is below average for washing machines as some cost more than $100 a year to run.
Miele WKF130 8kg Front Loader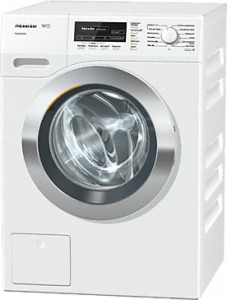 There are several Miele models that fall within the $3,000 price bracket – one of which is the WKF130 8kg Front Loader. With the additional price, expect extra features like 15+ wash programs, as well as 4.5 star WELS water and electricity ratings. Similarly to the washer above, its designed with the honeycomb drum as well as automatic load control, delay start, Cap dosing and the ProfiEco motor. Some additions to this washer include:
EcoFeedback: displays energy and water consumption data, giving you full cost control. You can bring up the prognosis before the cycle starts, while at the end of the wash it will provide the exact consumption data.
Programme Manager: allows you to customise the wash to suit your requirements. For example the 'Intensive' option provides additional wash performance with the normal program duration, the 'Eco' is ideal for energy-saving with the same wash performance while the 'Extra Quite' is boasted to produce less noise with a specific washing rhythm.
The wash programs include a Quick Power Wash, claimed to clean a full load in less than an hour. It also features a 'Stains Option' program, claimed to adjust the wash according to the specific stain, plus Miele provides a stain-removal guide in the display advising on how to tackle the stain most effectively.
Miele WMV960 9kg Front Loader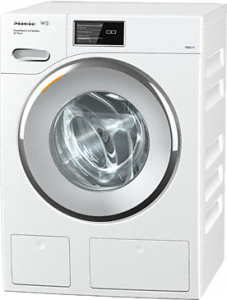 As we step up into the high-end range that Miele has to offer, expect advanced features and even bigger capacities. This WMV960 9kg front loader is currently Miele's most expensive model with a $4,499 retail price tag and at this stage you're probably expecting it to give you a massage while you wait for your clothes, too. Not quite.
Miele has gotten rid of the turn dial with the WMV960 model, featuring an intuitive operation with the touch display. It even allows you to choose a language, so you can understand every bit of information. At half the price of a European holiday, you can get a slice of Germany with this model.
It has five stars for energy and water efficiency, consuming 219kWh per year and 64L per wash – as well as short running times across its programs and auto-water optimisation for the ideal water amount for your load. One of the additional programs includes 'SoftCare' that can be selected after a wash program or as a separate smoothing programme, claimed to mean 50% less ironing. But the other 50% of ironing will still need to be done…
If you're wondering why you would pay a premium for the third model in this guide, consider that it's a 'professional' grade washing machine. It features shorter running times and its components are made with heavy-duty stainless steel. It also has a whopping 20+ professional wash programs, among other impressive features including the 'TwinDos' – liquid detergent system at the push of a button – which we detail down below.
Miele TwinDos
Miele stands out for its innovative technology and its 'TwinDos' technology is just one of these high-tech features. TwinDos is a two-step washing system that comes with many Miele models.
It uses two cartridges, where the first is filled with detergent and the second is filled with a detergent enhancer including bleach for stain removals.
These two liquids are dispensed at differing times and the technology takes care of timing depending on the kind of wash. This innovation introduces a unique approach to washing clothes, and after all, timing is everything, right? The timing of the dispensing of these two liquids ensures that nothing is wasted and that the liquids are used in optimal conditions to produce the best cleaning results. It removes the guess work out of adding laundry detergent to your washer, automatically using the correct amount for great results. The technology earned a Canstar Blue Innovation Award in 2015.
Miele commonly represents quality, ingenuity and… high prices. However, Miele is frequently seen as one of the premier washing machine manufacturers. With Miele's engineering and tech features, many customers and other manufacturers look to it as the benchmark for household appliances. Be prepared to pay a premium though – even at the lower end of the pricing pyramid you'll pay nearly $2,000, where other brands offer models for less than $1,000 for front loaders of an equivalent capacity size. But if you want no compromise when it comes to clothes washing, Miele is a solid option.
Is a Miele washing machine a smart move?
Miele has a range of technologies which set it apart from most other brands. As the price range goes up with Miele washing machines, expect load capacities to increase, program modes to get more complex, and general features to expand. Whether you actually need or want them or not is another matter! Also expect better water and energy ratings – not that any of Miele's washing machines could be considered 'bad' in this regard.
Despite the premium price tags, Miele's washing machines are built to last. You can expect to pay for reliability and efficiency with a Miele, and perhaps even hand it down to your grandchild one day. You'd hope so for the cost anyway! If you want top of the range and nothing less, Miele will be right up your laundry alley. If you'd rather save a few bucks, keep looking around. Brands like Asko and Euromaid are worth a look. And check out our latest customer ratings for further inspiration.
Miele Front Loader Washing Machines
Canstar Blue
Award:
Overall Satisfaction