Review of Dimplex Portable Heaters
Dimplex is a leading domestic appliance brand founded in 1973, generally known for quality and reliability, offering a wide range of products across the globe. It claims to invest in product development to bring reliable, durable and modern appliances to everyday homes. In this review, Canstar Blue focuses on its portable heaters, their features and prices, to help you make a more informed purchase decision.
There are three main types of electric portable heaters – ceramic, panel and column heaters – and Dimplex has several models in each category. Let's take a look at some of the standout models and assess their value for chilly Aussie winters.
Dimplex Column Heaters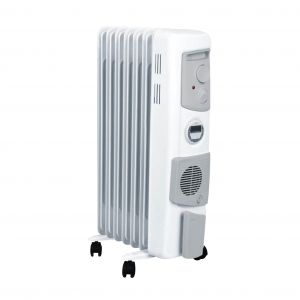 Oil column heaters are standard portable heaters that still remain popular across the nation. It is a type of convection heater that has silicone oil flowing inside the metal columns. Column heaters are often on caster wheels for easy movement, and tend to have lower surface temperatures, making them a suitable option for children's bedrooms. On the other hand, they can be a potential fire hazard if materials are placed over the heater. However, like most leading brands, Dimplex has several safety features to reduce these types of risks.
Dimplex OFC1500TIF Electric Oil Column Heater
This model is designed with two heat settings and is thermostatically controlled with frost protection. It comes with a cable tidy for neat storage and an electronic timer. The heater has one colour option of arctic white. If you're looking for a simple and affordable heater, you may like to keep this one in mind.
Heat output: 1.5kW
Dimensions (WxDxH): 235 x 378 x 632mm
Warranty: 2 years
Dimplex OFRC24TFNB Electric 2.4kW Eco Column Heater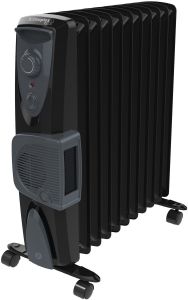 Dimplex claims its 2.4kw Eco Column Heater warms up fast and effectively with its Drytech technology, which draws cold air from the bottom and heats it up as it is raised to the top through a patented element inside each fin. The hot air is then distributed throughout the room and boosted with the 'Turbo Fan'. The heater uses a thermostat control with two heat settings. It is also claimed to be lightweight for easy portability. There are two colours in the range of Artic White and Black.
Heat output: 2.4kW
Dimensions (WxDxH): 283 x 555 x 628mm
Warranty: 2 years
Dimplex Panel Heaters
Panel heaters tend to look more like LCD TVs than heaters. Panel heaters use air convection currents that move around the inside of the appliance to heat up the air and raise it to the top. Most portable panel heaters use an electric heater element, which is cost-effective, but not so much electricity-efficient. Panel heaters are useful for heating up larger areas such as your living room as they disperse hot air upwards around the area rather than one targeted area.
Dimplex GFP200B – 2kW Girona Glass Panel Heater
This model comes in a black or white panel with an elegant glass front finish. It is a wall hung unit and splash-rated for use in bathrooms and other wet areas. It is stated to have a silent operation with a 2kw heat output. It also has an electronic thermostat control at the top to provide room temperature stability to +/-0.3°C and a slider to easily adjust temperature. Similarly to other panel heaters, Dimplex Girona Glass Panel Heater distributes hot air upwards to heat up the room and plugs into a normal power outlet.
Heat output: 2kw
Dimensions (WxDxH): 940 x 107 x 565mm
Warranty: 2 years
Dimplex Ceramic Heaters
These heaters tend to be the most portable of the lot, as most ceramic heaters are designed to be easily picked up and moved around the home wherever direct heating is required, including your study or bedroom. Ceramic heaters generate heat through a heating element called Positive Temperature Coefficient ceramic. The self-regulating temperatures help to make it a more energy efficient and affordable heater.
Dimplex Connect DHCER20WIFI – Ceramic Heater with Wi-Fi
For something high tech, the Dimplex Connect ceramic heater can be controlled by your smartphone. It simply requires you to download the Dimplex 'Connect It' app and you're set. The app will allow you to turn your heater on or off, set the thermostat and timer, as well as enable the Eco mode and checking of the room's ambient temperature in real time. The Dimplex Connect ceramic heater is equipped with a tip over safety protection and oscillating function. This model is available in a grey and white finish.
Heat output: 2kw
Dimensions (WxDxH): 233 x 199 x 564mm
Warrant: 1 year
Dimplex DHCER24SW – 2.4kW Ceramic Heater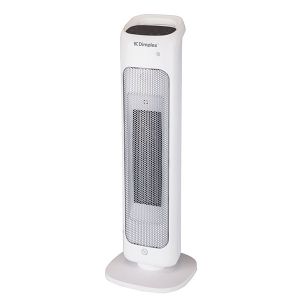 The Dimplex 2.4kW Ceramic Heater has an oscillating base and a 24 hour timer. It also comes with a remote control for easy adjustment. There are several modes with this design, including Eco Mode, which claims to scan surroundings and increase your home heating efficiency by reducing power as the room temperature reaches its thermostat temperature. Another feature is a Movement Sensor mode designed as a power saving and safety feature. It enables the heater to go into standby mode if no movement is detected within 15 minutes and starts again after it detects movement. Additional safety features include an overheat safety cut-out and tip over switch to reduce your worry if you leave your heater on or if it falls over.
Colour: Grey and White
Heat output: 2.4kW
Dimensions (WxDxH): 234 x 225 x 686mm
Warranty: 1 year
Are Dimplex portable heaters worth the money?
When choosing a portable heater for your home, there are several factors to consider, including effectiveness, reliability and value for money. Dimplex is an innovative brand producing several high-tech portable heaters, but these do come with a price. Entry-level Dimplex portable heaters on the other hand are quite affordable, so if you are not looking for anything fancy, Dimplex may have a product for you.
Although electric heaters are more cost-effective, you may find gas heaters can save you money on power bills over the long term. With regards to energy efficiency, as portable heaters are not regulated by the government, there are no star energy ratings on Dimplex heaters to provide an insight for consumers. To see how Dimplex was rated by Aussies around the country, you may like to check out our online ratings by clicking the button below.
Portable Heaters Reviews & Ratings
About the author of this page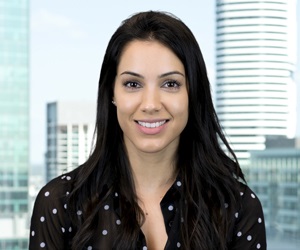 This report was written by Canstar Blue's Home & Lifestyle Content Lead, Megan Birot. She's an expert on household appliances, health & beauty products, as well as all things grocery and shopping. When she's not writing up our research-based ratings reports, Megan spends her time helping consumers make better purchase decisions, whether it's at the supermarket, other retailers, or online, highlighting the best deals and flagging anything you need to be aware of.
What do customers think about Dimplex Portable Heaters?
In 2019, Australian customers gave Dimplex 3 out of 5 stars for overall customer satisfaction for portable heaters.
Dimplex Portable Heaters
Canstar Blue
Award:
Overall Satisfaction