Haier Clothes Dryers Review
From dishwashers and refrigerators to washing machines and clothes dryers, Chinese appliance brand Haier aims to offer stylish and innovative products at affordable prices. Its clothes dryers range features comparatively simple and compact designs, and while you likely won't find a large amount of standout features, it nevertheless does pack in everything you'd expect from a modern day dryer. We look at the specs and features of each model to see if a Haier clothes dryer is an option to consider for you.
Haier has a concise range of dryers including vented dryers and one condenser dryer. Drying capacities start from 4kg and max out at 8kg. Read on for details.
Haier Condenser Dryer
A condenser clothes dryer uses a heat exchanger to cool the air and condense the water vapour into a collection tank, instead of exhausting the air as hot steam through the laundry room. This might benefit you in the fact that it allows you to set up a condenser dryer even in an enclosed space without turning your laundry room into a sauna.
Haier HDC80E1 8kg Condenser Dryer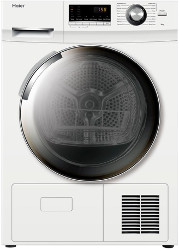 The Haier 8kg capacity condenser dryer is priced under $800 and features a number of programs. There are 12 cycles in total – such as Express 30, bedding, jeans and normal – with four temperature settings. It offers the option between a drain away hose or easy to empty tank for condensed water. Key features include:
Sensor drying: designed with temperature and humidity sensors, which are able to monitor when your clothes are dry and then cut the cycle short accordingly, preventing your clothes from overdying
Anti-crease option: can be added to the end of a program for an additional 60 minutes to decrease ironing time
As part of the design, you'll find a stainless steel drum and LED display screen with a traditional control dial. It also has a pause button and a child lock for safety. Additional functions include a delay start time (from one to 19 hours) and signal button that can be turned off to not disturb you if you want to make use of the off peak energy tariffs during the night. In terms of energy efficiency, it has a two-star rating, and according to the Standard Test, it will add around $104 to your energy bills each year, based on an electricity usage rate of 29c/kWh.
Dimensions (HxWxD): 845 x 595 x 648mm
RRP: $799
Haier Vented Dryers
Vented dryers are the traditional type of clothes dryers that heat up air and pass it into the drum. It then releases the moist air used to heat the clothes through a hose to the outside, so it requires being close to a door or window to vent the air properly. Usually, this type of dryer can be wall-mounted to save on space and is one of the cheapest clothes dryers to buy upfront.
Haier HDV40A1 4kg Vented Dryer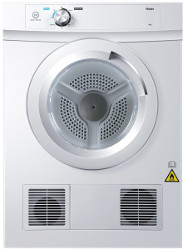 Starting with the smallest capacity model, the Haier HDV40A1 dryer offers 4kg drying capacity, ideal for a small household of one or two people. It's equipped with seven programs including timed drying and two temperature settings – warm & cool. Key features include:
Sensor drying: monitors the moisture and temperature of your clothes and cuts the cycle short accordingly to help prevent your clothes from overdying
Reverse Tumble action: the dryer occasionally switches the direction of the drum to help with separating clothes and dry them efficiently
The design has front and rear venting and is wall-mountable with reversible decal supplied. If you prefer to stack it on top of a front load washing machine to save on your floor space, stacking brackets can be supplied instead. It's also equipped with an electronic diamond dial control and an easy access lint filter inside the door. For energy efficiency, expect two stars, adding around $52 to your annual energy bill.
Dimensions (HxWxD): 830 x 600 x 495mm
RRP: $349
Haier HDV60A1 6kg Vented Dryer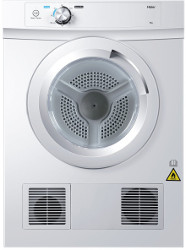 This 6kg Haier clothes dryer is similar to the one above, with the sensor drying system, reverse tumble action and seven programs along with two temperature settings. With the additional drying capacity, it can add around $78 to your annual electricity costs, using 250kWh/yr. The total energy star rating is also just two stars and all other features stay the same.
Dimensions (HxWxD): 830 x 600 x 585mm
RRP: $469
You may also be interested in:
Haier HDV50E1 5kg Vented Dryer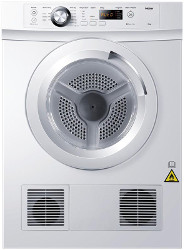 The Haier HDV50E1 5kg vented clothes dryer is equipped with nine programs including timed drying and four temperature settings. Similarly to the other models in the Haier range, it comes with sensor drying, reverse tumble action, as well as front and rear venting.
It's almost identical in design with an electronic diamond dial control and transparent door. It features an easy to access lint filter inside the door and also comes equipped with wall mountable brackets and reversible decal, or a stacking bracket to stack the dryer on top of a front loader.
The main difference is the size and capacity, with this model having a larger depth than the previous one and a total of 5kg drum volume. It would be wise to ensure you check the spacing of your laundry room before purchasing. In terms of energy efficiency it has a two-star energy rating and uses approximately $64 worth of energy per year.
Dimensions (HxWxD): 830 x 600 x 585mm
RRP: $449
Haier HDV60E1 6kg Vented Dryer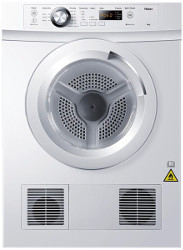 If you're after additional capacity, the model mentioned above is available in a 6kg capacity unit. It's also designed with nine programs including Extra, Normal and Damp along with timed options. The 6kg drum capacity model uses 267kWh/yr, and with a two-star energy efficiency rating, it can add around $77.43 to the electricity bill each year.
Dimensions (HxWxD): 830 x 600 x 585mm
RRP: $529
Are Haier clothes dryers worth the money?
Haier's clothes dryers are nothing out of the ordinary, and in turn they offer budget prices. If you don't want to be out of pocket after buying a clothes dryer, you might like to consider the Haier models, with its cheapest clothes dryer – the Haier HDV40A1 4kg Vented Dryer – being priced at $349.
While it does have a two-star energy efficiency rating, it features moisture sensors to automatically stop the cycle when the clothes are dry, which can save you money in terms of energy bills. Dryers equipped with this feature typically have a higher price tag but with Haier you can expect to pay less.
It would be wise to consider your specific laundry needs to ensure the clothes dryer you pick comes fully equipped. The Haier clothes dryer features aren't exhaustive, but if you're after a simple clothes dryer, the Haier range should that get the job done, that is dry your clothes. To see which brands topped our annual customer satisfaction ratings for clothes dryers, follow the link below:
Clothes Dryers Review & Ratings
About the author of this page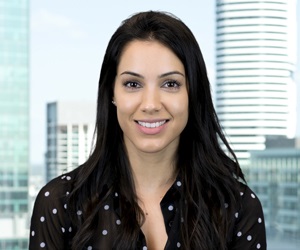 This report was written by Canstar Blue's Home & Lifestyle Content Lead, Megan Birot. She's an expert on household appliances, health & beauty products, as well as all things grocery and shopping. When she's not writing up our research-based ratings reports, Megan spends her time helping consumers make better purchase decisions, whether it's at the supermarket, other retailers, or online, highlighting the best deals and flagging anything you need to be aware of.
What do customers think about Haier clothes Dryers?
In 2019, Australian customers gave Haier 3 out of 5 stars for overall customer satisfaction for clothes dryers.
Haier Clothes Dryers
Canstar Blue
Award:
Overall Satisfaction