Miele Clothes Dryers Review & Guide
In this day and age, having clean clothes is not a luxury, but rather a necessity. And when the rainy season hits, your clothes dryer will quickly become just as valuable as your washing machine. Thankfully, Miele offers a range of clothes dryers and washer-dryers that will take out the humidity off your garments and keep them in top condition; provided you're willing to pay top dollar.
German brand Miele has provided different types of domestic and commercial appliances around the world for more than 100 years. With a motto like 'immer besser', which translates to 'forever better', the company claims to set the standards for durability, performance, ease of use, energy-efficiency, design and service. Unsurprisingly, many of Miele's clothes dryers tend to come with a higher-than-average price tag ranging between $1,899 and $4,499. But, as the old adage goes, price is what you pay, value is what you get.
Some of the common features found in most Miele clothes dryers include:
EcoDry: uses the Miele filter system and maintenance-free heat exchanger to use less energy and keep drying times short.
Enamelled front: the dryer is made with a scratch-proof and corrosion-proof coating claimed to be resistant against acids as well as make the appliance easier to clean.
MultiLingua: change the language on the digital interface to suit you.
Miele Heat Pump Dryers
Miele TDB 130 WP 7kg Heat Pump Tumble Dryer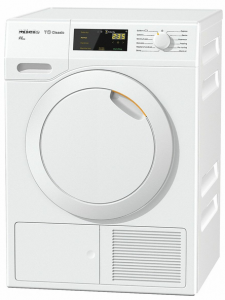 For people living in small apartments, the Miele T1 Classic heat pump tumble dryer might be an option to consider. The TDB 130 WP Eco model is claimed to be an ideal classic clothes dryer with an 8-star energy efficiency rating.
Some major features to expect include:
EcoDry technology: minimises energy consumption and drying times, using the maintenance-free filter system and heat exchanger,
Anti-crease action: laundry is loosened at regular intervals to protect materials from creasing.
Enamelled front: scratch-proof and corrosion-proof coating claimed to be resistant to acids.
Plus, this Miele clothes dryer is stated to protect your room and furniture by apparently using 50% less moisture than other regular dryers.
Miele TCE 630 8kg Heat Pump Tumble Dryer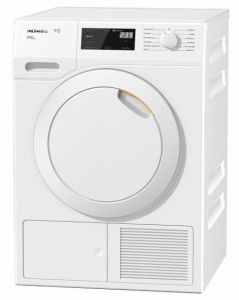 The Miele TCE 630 garnered serious air time when it recently entered the market as one of very few clothes dryers to offer a 10-star energy efficiency rating, making it a potential game changer when it comes to reducing energy consumption (and naturally lowering power bills). Other major features include:
Perfect Dry: ensures precision drying of a variety of textiles.
EcoDry:

keeps energy consumption and drying times low by using a filter system and a maintenance-free heat exchanger.

DirectSensor: touch display which uses sensor controls and a clear text display for simple use.
Similar to other Miele laundry appliances, this 8kg heat pump tumble dryer uses a quiet ProfiEco motor and offers 12 drying programs for items like pillows, sportswear and delicates.
Miele Washer Dryers
Miele WTH 130 WPM Washer Dryer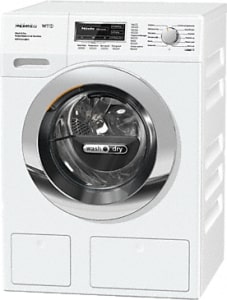 For people looking for an everyday clothes dryer, the Miele WTH 130 WPM PWash 2.0 & TDos is stated to wash loads of up to 7kg and dry up no more than 4kg worth of laundry.
Like many Miele washer dryers, the Miele WTH 130 WPM is described as an efficient unit with a 4-star energy rating and 4-star water rating to prove it. There's also features such as Flowmeter, which apparently measures and controls water intake to make sure the appliance only uses the specific amount of water and electricity needed for each load. The ProfiEco motor is similarly said to consume less electricity as well as ensure the machine runs quietly. Miele even claims this motor reduces the need to maintain the dryer, supposedly making the WT1 washer dryer more durable.
Other key features include:
CapDosing: uses capsules with specific portions to add special detergents, fabric conditioners and additives.
TwinDos: automatically dispenses 'off-the-shelf' liquid detergents as well as Miele's own unique 2-phase system liquid detergents.
Waterproof Metal System (WPM): offers protection from water overflow and damage.
AutoClean: rinses any detergent residue to keep dispenser clean.
QuickPower: time-saving mode claimed to quickly wash and dry laundry.
The Miele WT1 Washer Dryer includes a variety of tailored washing programs for items like trainers, sportswear, pillows, curtains, wool, silks and dark clothes.
If you want a washer dryer with a larger capacity, the Miele WTZH 730 WPM Washer Dryer is alternatively available. It comes with an 8kg washing capacity and 4kg drying capacity, and retails for $4,299.
RRP: $3,799*
You may also be interested in:
Should I buy a Miele clothes dryer?
If you're hung up about finding the best clothes dryer, Miele has a number of great options to choose from.
Want to keep your bills and environmental footprint low? Then you might want to consider the Miele TCE 630 8kg Heat Pump Tumble Dryer. Not only does it have features like EcoDry and PerfectDry to make sure the dryer uses minimal energy and water, but it also has a 10-star energy efficiency rating to back it up.
Or if you're looking for a clothes dryer that's flexible with its installation options, then it might be worth thinking about condenser dryers like the Miele TDB 130 WP 7kg Heat Pump Tumble Dryer. Otherwise, there's plenty of heat-pump and washer dryers to choose from.
Still finding patches of spaghetti sauce on your shirt? Or maybe you're worried about your clothes being handled roughly in the machine. Miele promises the unique structure of the drum in each of its clothes dryers is designed to produce optimal results. It supposedly lifts the laundry higher, allowing your load to linger in the warm air for longer and create air pockets before softening the fall of each item. The gentle treatment is also said to help prevent your clothes from developing creases.
For easy maintenance, many of the Miele dryers are also designed with an enameled front to ensure the appliance is easy to clean as well as scratch-proof and corrosion-proof. Certain dryers – like the Miele TDB 130 WP 7kg Heat Pump Tumble Dryer – also include a number of automatic functions, including the TwinDos system and AutoClean to help make them convenient and easy to use.
Still can't decide? Find the best clothes dryer for you by visiting Canstar Blue's annual review page via the link below.
Clothes Dryers Review & Ratings
*Prices taken from Miele, correct as of March 2020
About the author of this page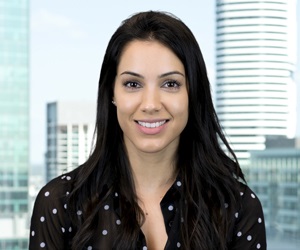 This report was written by Canstar Blue's Home & Lifestyle Content Lead, Megan Birot. She's an expert on household appliances, health & beauty products, as well as all things grocery and shopping. When she's not writing up our research-based ratings reports, Megan spends her time helping consumers make better purchase decisions, whether it's at the supermarket, other retailers, or online, highlighting the best deals and flagging anything you need to be aware of.