Miele fridges review & guide
When it comes to fitting out the kitchen, the fridge is often the centerpiece. A hub for the household, the fridge is often the most essential, and most expensive, appliance you're likely to buy. With plenty of brands available, as well as many styles, capacities and finishes, finding the fridge that will perfectly suit your household, in both practicality and style, can be a tough ask. Thankfully for consumers, brands like Miele have enough options for all household types.
With a heritage that dates back to the 19th century, Miele caters to household needs in every room of the house, but it's in the kitchen that the German brand really shows its class. Known for its high-quality goods, Miele is now a leading manufacturer of fridges, freezers and wine coolers. Check out the brand's range of models below and decide for yourself whether its appliances are worth the investment. Given the often high prices, investment is probably the right word. But when it comes to appliances, you really do get what you pay for.
Miele fridges review
Miele integrated fridges review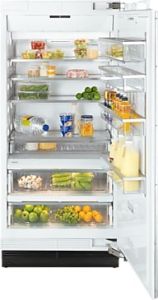 Integrated fridges, otherwise known as built-in fridges, are handy for kitchens that may not have a lot of space, or for those that are after a certain aesthetic for their kitchen. Made to fit seamlessly into the fridge space, as well as look like your other drawers and cupboards, integrated models have become increasingly popular over recent years. While more expensive than other fridge models, they may be worth the money if you're big on looks.
Miele's two primary integrated models, the Miele (KS 37422 iD) and Miele (KS 37472 iD) include a variety of similar functions and will set you back similar amounts, $3,999 RRP* and $4,199 RRP* respectively. Both models feature FlexiLight – LED lighting on individual shelves to help see what goodies are stocked in the fridge, as well as DynaCool, Miele's dynamic cooling system which allows for air circulation and ventilation. Both models also come with SoftClose technology, meaning you can make those late-night trips to the fridge without waking the household.
The main difference between the two models is their shelving and drawer configurations, with the Miele 37472 model swapping out a shelf for an additional crisper drawer. With a minimum of six shelves in each model, which you decide to go with could depend on what types of food your family usually eats. Both models also include multiple door shelves and door racks for bottles, as well as a chrome-plated metal bottle rack for wines.
Miele freestanding fridges review
For those after a more traditional style of the fridge, or something that isn't as expensive as the integrated style, then a freestanding fridge may be the option for you. Here's what's available:
Miele (K 28202 D ws) Freestanding Refrigerator: $2,699 RRP*
Miele (K 28202 D edt/cs) Freestanding Refrigerator: $3,099 RRP*
All models come with ComfortClean shelving, as well as DynaCool technology to ensure that your food is kept fresh through the correct humidity and ventilation. Each model also contains LED lighting, as well as multiple shelves, drawers, and door racks for storage.
The pricier Miele (K 28202 D edt/cs) freestanding fridge is a premium model that comes with a few extra features, including EasyOpen technology and ComfortControl for greater convenience as well as half-width and full-width door shelves.
Miele's freestanding models are side-by-side enabled with selected freezers, allowing for better accessibility and an overall kitchen aesthetic.
All models are available in white, with select models also available in stainless steel to suit your kitchen.
Miele integrated freezers review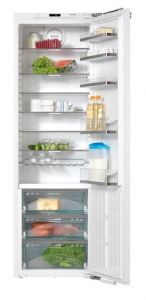 As with most Miele products, freezers are available as standalone units, or can be integrated into your kitchen, depending on your personal preferences and available space. Similarly to the fridge models, the built-in options will cost you more, but may be worth the price tag depending on what you want in a freezer. Miele's integrated freezer range includes standard models and a MasterCool unit. Some products include:
Miele (KS 37422 iD) Integrated Refrigerator: $3,999 RRP*
Miele (KS 37472 iD) Integrated Refrigerator: $4,199 RRP*
Miele (K 1891 Vi) MasterCool Refrigerator: $14,999 RRP*
Most integrated fridges include features such as DynaCool to ensure even air circulation inside the fridge as well as FlexiLight so you can adjust the LED glass shelf lighting individually. The pricier MasterCool fridge includes many of the same features, such as DynaCool, ComfortClean, and SoftClose, but has extras like Variobord.

Miele fridges & freezers review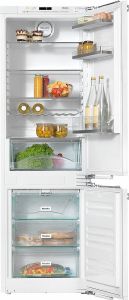 Miele offers a wide selection of fridge-freezer models in addition to its singular range, with built-in, freestanding and side-by-side styles available. While the upfront cost ultimately depends on which model you choose, freestanding options are generally cheaper than built-in alternatives. Some models include:
Miele (KFN 12823 SD edt/cs-2) Freestanding Fridge-Freezer: $3,799 RRP*
Miele (KFNS 37432 iD) Built-in Fridge-Freezer Combination: $4,399 RRP*
The combined models come with all the standard features, including the ComfortClean shelving, the SoftClose doors as well as the DynaCool circulation system. Additional features include the NoFrost technology, which allows food in the crisper to be kept fresher through cooler air flows, as well as the VarioRoom adjustable storage system, which allows bulkier items to be stored more easily without having to play Tetris with your food.
Miele freestanding freezers review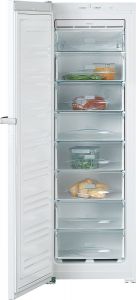 The Miele (FNS 37402 i) integrated freezer is currently the only model available in the range. It includes features like VarioRoom to expand the freezer compartment as well as Frost Free to prevent ice build-up and minimise the need to defrost food. Like many Miele appliances, this unit is compatible with the Miele@mobile app so you can manage your cool freezer from your smartphone or tablet. The Miele freezer contains eight freezer drawers/baskets and retails for $3,999 RRP*.
Miele wine coolers review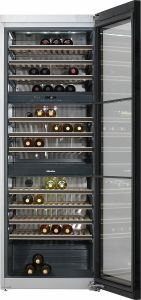 For those looking to safely store their wines, or just looking for some extra space in the fridge, a wine cooler – otherwise known as a wine conditioning unit – may be a suitable option. Miele offers a few options from small 34 bottle units to larger 100 bottle units. Available wine fridges include:
Miele (KWT 6322 UG) Built-Under Wine Conditioning Unit: $4,999 RRP*
Miele (KWT 2602 Vi) MasterCool Wine Temperature Control Unit: $12,699 RRP*
The appliance brand's smaller wine fridges come with a glass door and LED lighting so you can keep an eye on how much stock you have, as well as TouchControl to alter the settings and temperature. Most units also have a lock function and door alarm to ensure your wine collection stays safe, with the dual temperature zones ensuring that both your reds and whites remained properly chilled and stored.
The larger units are capable of storing plenty of bottles, making them suitable for those who like to entertain, or those that are looking to start collecting. Similarly stacked with features, the larger wine coolers feature Active AirClean filters to ensure the wine is properly stored, as well as stability through the FlexiFrame. Additional racks and storage are also available for purchase.
Looking for more Miele reviews?
Is a Miele fridge worth the money?
As essential as it is, purchasing a fridge can still prove a long process, especially when the decision relies on how your household uses it. How much food your family eats will determine the size and capacity of the basic unit, whereas the type of food will also have an influence on which features and extras will be worth considering. While it initially may prove overwhelming, Miele has plenty of options and models on hand to make the decision easier – provided you can afford them!
Before you step into an appliance retailer, however, it's best to do your own research before you set your heart on a model. Looking at features such as energy efficiency, as well as simply measuring the space you have in your kitchen for a fridge to fit will give you a better idea as to what model you should walk out the door with. Then it comes down to the fancy features you need and want – and are happy to pay for.
*Prices taken from Miele, correct as of February 2022.
About the author of this page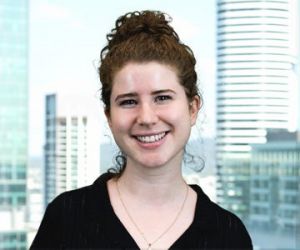 This report was written by Canstar Blue's Content Producer Luciana Lawe Davies. She writes about streaming, appliances and consumer products and services. Luciana enjoys bringing readers the best in what's on TV and at the shops, including the best deals and latest reviews.