Miele dishwashers review & guide
Miele designs and produces premium household appliances, manufactured in Germany to the highest of standards. The company remains family-owned and run, with its slogan 'immer besser' translating to 'forever better'. And, it's not just a marketing angle – Miele demonstrates a genuine dedication to improving the quality of its products and Aussies are suitably impressed, consistently rating the brand highly for its washing machines, ovens, and dishwashers in particular.
You'll find Miele products in upscale homes and professional kitchens – they tend to be the most expensive appliances around, but are they worth the extra money? Read on for an introduction to Miele's broad range of home dishwashers. From mid-range to top-of-the-range, every model is designed with hygiene and sustainability in mind.
What types of dishwashers does Miele offer?
Dishwashers designed for installation under kitchen countertops come in three different sub-categories:
Freestanding dishwashers
Built-under dishwashers
Semi-integrated dishwashers
Fully-integrated dishwashers
The difference between these three is primarily aesthetic. Consider what kind of look you'd like for your kitchen and what kind of dishwasher will best match.
Freestanding dishwashers are completely standalone appliances, which don't need to be installed under a countertop. Unlike freestanding dishwashers, which are standalone units, regular built-under dishwashers are designed for installation under a countertop. But such built-in models aren't designed to necessarily match seamlessly with the surrounding cabinet fronts.
Alternatively, both types of integrated dishwashers can be matched to your kitchen cabinetry, or have a flat stainless steel front panel. Semi-integrated types still have the buttons and displays on the front exterior, while fully-integrated types keep them hidden inside to create a completely smooth, minimalist look.
Miele currently offers a variety of dishwashers to cater to different households. This article provides a general overview of the range, with independent reviews of some popular models.
What makes Miele dishwashers stand out?
One of Miele's priorities is improving water and electricity efficiency. Miele claims to have reduced dishwasher water consumption by 85% over the last 30 years, and all Miele dishwashers can be directly connected to a household hot water supply (up to 60°C) to save electricity.
All Miele dishwashers include a rearrangeable MultiComfort area in the lower basket, which allows for large items such as serving trays, cutting boards and pots to be easily loaded.
Miele dishwashers have a number of features to look out for, some of which are completely unique to the brand. Features included vary by model, so we suggest diving in and exploring the full product range to find the dishwasher that includes the right mix of features for you. Some of the standout features include:
ComfortClose: Dishwashers with this feature are built to remain open in whatever position you move it to, for your convenience.
QuickPowerWash: To run a full load in under an hour.
EcoPower Technology: To reduce energy and water consumption.
Knock2open: Usually found on handleless models, this feature automatically opens the dishwasher door when you simply knock on it twice.
AutoOpen drying: At the end of the washing program, the door will automatically open to release moisture and dry dishes faster.
Delay start: Programs your dishwasher cycle up to 24 hours in advance. You can use this feature to save money by scheduling cycles to run when electricity tariffs are cheapest. Wash up after dinner at 2am instead of at 7pm when peak rates may apply.
Cutlery tray: Instead of bundling them up in a basket, lay your cutlery down in a tray that keeps everything apart. The tray is adjustable to accommodate bulky or oddly-shaped items. The 3D cutlery tray takes this a step further – it's highly adjustable to adapt to awkward arrangements and oddly-shaped utensils.
Brilliant GlassCare: For gentle washing and drying of all your delicate stemware.
BrilliantLight: Automatically-controlled interior LEDs light up the dishwasher so you can see everything clearly.
Child safety lock: Keeps curious children out of the dishes and away from danger such as sharp knives.
SolarSave program: This option uses only heat from water heated by your home's solar-thermal panels, heat pump, or gas/oil central heating.
How much do Miele dishwashers cost?
As premium appliances, you can expect to pay more for a very reputable brand and high build quality. The table below shows the current recommended retail price range for the four subcategories of Miele dishwashers.
| Type | Low End | High End |
| --- | --- | --- |
| Built-under | $1,549 | $2,999 |
| Semi-integrated | $1,549 | $4,799 |
| Fully-integrated | $1,999 | $4,899 |
| Freestanding | $1,349 | $1,799 |
*Prices taken from Miele, correct as of February 2022. 

---
Now you've got the purchase price, it's time to see just how much your new dishwasher could cost you on your energy and water bills. Lucky for you, Canstar Blue has done a dishwasher running cost analysis.
---
Miele built-in dishwashers review
Built-ins are often the most affordable choice, but in terms of appearance they can stick out the most in your kitchen (if that's a concern). That being said, even Miele's most elementary models have a smooth and practical design. These types of dishwashers can be the ideal choice to fit a pre-existing kitchen.
Miele Active Built-Under Dishwasher − $1,649 RRP*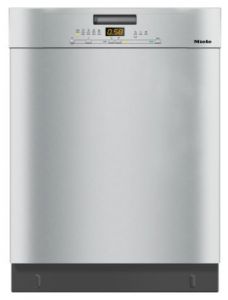 While a $1,600+ price tag isn't exactly 'cheap as chips', this Miele model (G 5000 SCU CLST) represents a good mid-range option and is worth its weight in gold. This 60cm dishwasher has a four-star energy rating and six-star water efficiency rating and provides a hot water connection that Miele claims can help lower electricity usage by up to 50% and reduce running times by up to 10%. It offers five wash programs (including Eco and QuickPowerWash), as well as ExpressWash, Extra Clean, Extra Dry, and Half Load.
Other standout features include:
FlexCare cup basket & glass holders
EasyComfort basket design
Thermo Save to save up to 40% electricity
QuickPowerWash
A delay start function with a countdown timer is also available.
Miele semi-integrated dishwashers review
Integrated-type dishwashers take your kitchen aesthetics up a notch − designed to better integrate with your cabinetry. This usually means a slightly higher price tag, but if you're renovating the kitchen it may well be worth it to make it look shmick. Semi-integrated dishwashers still have the buttons and displays on the front of the appliance. The main difference is that they're less visually obtrusive.
Miele CLST Active Integrated Dishwasher − $1,899 RRP*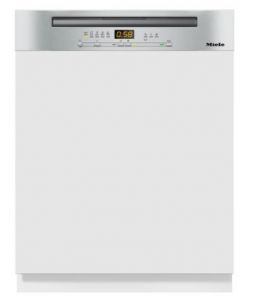 This 60cm Miele semi-integrated model (G 5210 BKI) has the same nifty function as other premium models, such as Thermo Save, AutoOpen drying, five washing programs, and a delay start feature that allows you to choose a program up to 24 hours in advance to allow the machine to run at your convenience or during electricity off-peak times.
Other features include:
Cutlery basket
MultiComfort area
Countdown indicator
Brilliant GlassCare
This integrated dishwasher offers 14 place settings and comes with both hot and cold water inlets. It maintains a four-star energy rating and six-star water efficiency rating.
Miele fully integrated dishwashers review
Fully-integrated dishwashers keep controls and displays to the interior, so that you're left with a smooth simple exterior surface. Most of Miele's fully integrated dishwashers have simple handles on the exterior, with its most premium models featuring automatic doors that open when knocked on twice.
Miele Active Plus Fully Integrated Dishwasher − $2,299 RRP*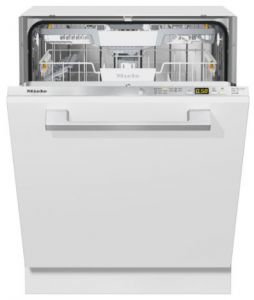 This Miele (G 5263 SCVI BK) Active Plus model is one of the brand's mid-range fully integrated dishwashers, and contains many of the basic features you can find from the brand's premium models which can cost more than double the price. 
This 60cm dishwasher provides 14 place settings, and has a four-star energy rating and six-star water efficiency rating. This is on par with what you can find from similarly priced models from other high-end brands. 
Other features include:
EasyComfort basket design

QuickPowerWash
AutoOpen drying
Brilliant GlassCare
Dishwashing modes include Eco, Auto 45-65°C (sensor wash), Gentle 45°C, QuickPowerWash 65°C, and Intensive 75°C. 
Miele freestanding dishwashers reviews
Freestanding dishwashers are completely standalone appliances, which don't need to be installed under a countertop. They also have a strong top panel, so that the top of the dishwasher can be used as a kitchen space. The advantages of freestanding dishwashers include being the easiest to move around and take with you when moving house and providing more kitchen surface space.
The obvious drawback is that they don't necessarily fit in a space underneath your cabinet. If you want the option to fit it into a dishwasher nook in a kitchen, check the dimensions before buying a freestanding model.
Miele Active Freestanding Dishwasher − $1,449 RRP*
For a mid-range appliance, this Miele (G 5000 SC BRWS) freestanding dishwasher has one of the most wallet-friendly price tags. It features many of the same features seen within the brand's range including a delay start with countdown timer, a cutlery tray, and express wash for those short on time.
Other features include:
FlexCare cup & glass holders
ComfortClose
Five wash programs
Program selector operation
The Miele 60cm freestanding dishwasher has a four-star energy rating and a six-star water efficiency rating. 
Looking for more Miele reviews?
Are Miele dishwashers worth the money?
Choosing a dishwasher from the Miele brand can be a good long-term investment. However, quality comes at a price. Most of Miele's dishwashers rank towards the top end of the market. Consider whether you'll make the most of a quality appliance, built to last or if you'd rather have more cash in your pocket.
Mid-range Miele dishwashers tend to sit around the middle of the overall price range for dishwashers currently on the market. A simpler model with fewer special features may be a more cost-effective choice without sacrificing on quality.
*Prices taken from Miele, correct as of February 2022.
About the author of this page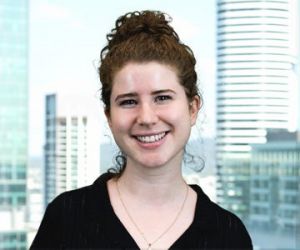 This report was written by Canstar Blue's Content Producer Luciana Lawe Davies. She writes about streaming, appliances and consumer products and services. Luciana enjoys bringing readers the best in what's on TV and at the shops, including the best deals and latest reviews.
What do customers think about Miele dishwashers?
In 2020, Australian customers gave Miele 4 out of 5 stars for overall customer satisfaction for dishwashers.