Miele vacuum cleaner review & guide
Miele is a German manufacturer of premium household appliances, including washing machines, dishwashers, and ovens. Founded in 1899, Miele appliances can be found in almost 50 countries around the world, and Australians have certainly taken to the brand which delivers on its promise of quality and innovation.
In addition to big-ticket machines, Miele also produces smaller, more affordable home appliances such as vacuum cleaners, which we'll explore in this review.
Miele vacuum cleaner reviews
Miele has an extensive range of vacuum cleaners that are designed to be equally sleek and economical. Its product line can be divided into the following categories:
Bagged cylinder vacuum cleaners
Bagless vacuum cleaners
Mini upright vacuum cleaners
Cordless stick vacuum cleaners
Robot vacuum cleaners
We will review some of the most popular models in each category, looking at the price and special features of each to help you determine which one suits your needs.
Miele Vacuum Cleaner Range
Miele has a broad range of vacuum cleaners from standard bagged vacuums to cordless models. Below is Miele's full range of vacuum cleaners. 
Miele Complete C3 Family All-Rounder − $679 RRP*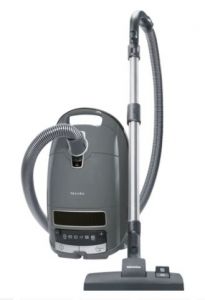 Specifically designed for comfort and ease of use, this 2000W vacuum is one of Miele's more affordable options from the range.
If you're tired of bending over backwards when cleaning your house, this Miele vacuum might suck you in with its 'comfort telescopic tube' and 'comfort cable rewind with single touch control'. For better ergonomics, the addition of the telescopic tube lets you adjust the vacuum to suit your height. And when you're ready to pack up, you can tap the foot switch to watch the cable wind back to its place. There's also a bumper strip on the vacuum to protect your furniture from scratches.
Miele Complete C3 Cat & Dog PowerLine Vacuum Cleaner − $849 RRP*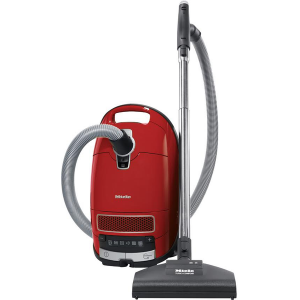 Cleaning the house can be a hairy task, especially if you've got a furry friend living under the same roof. Thankfully, Miele comes to the rescue of pet owners with the Complete C3 Cat & Dog PowerLine Vacuum Cleaner.
This appliance is designed with a turbo brush and powered with 2000W to collect the stubborn bits of fur and lint clinging to your carpet. It also contains an Active AirClean filter, which is said to neutralise odours more effectively.
With a 4.5L capacity dust bag, this Miele upright vacuum cleaner can hold a fair bit of dirt. In addition to the integrated three-piece accessory set, the model also comes with an upholstery nozzle, crevice nozzle, dusting brush, floor head brush, turbo brush and mini turbo brush.
Miele Triflex HX1 Cordless Vacuum − $799 RRP*
The Triflex HX1 is Miele's first-ever cordless stick vacuum. It features a three-in-one configuration, allowing you to re-arrange the body, handle, power unit and floorhead to turn your appliance into either a stick vacuum or handheld model. What particularly sets this vacuum apart from the rest is its maintenance-free HEPA lifetime filter (a very sought-after feature in cordless vacs), which removes up to 99.9% of ultrafine particles and allergens in the air. This means you'll never have to change the filter on this vac – ever! Other specs include an extra-wide 28cm electrobrush, 60-minute runtime and a flexible charging function to charge the vacuum either with the power unit in the upper or lower position. The main drawback here, however, is that the Triflex has a smaller bin capacity of 0.5L which will need regular emptying.
The range comprises several models including:
Triflex HX1 – Lotus White: $799 (RRP)*
Triflex HX1 – Ruby Red: $799 (RRP)*
Triflex HX1 Cat & Dog – Obsidian Black: $999 (RRP)*
Triflex HX1 Runner – Ruby Red: $999 (RRP)*
Triflex HX1 Pro – Infinity Grey Pearl: $1,199 (RRP)*
Miele Triflex HX2 Cordless Vacuum – $799 RRP*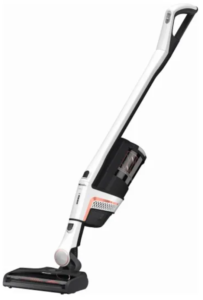 The Miele Triflex HX2 Cordless Vacuum is the upgraded model from the original HX1 providing some additional features and functions. Ranging in price from $799 to $1,199 you can choose from a number of HX2 models to suit your cleaning needs. With a generous 60 minute run time, no-maintenance HEPA filter and the well known Miele 3-in-1 design it's a compact and versatile vacuum. Other features you can expect include an extra wide ElectroBrush with a larger cleaning range, multiple attachments such as a crevice tool, dusting brush and more as well as the digital efficiency motor that creates a 60% increase in power in the new HX2 cordless vacuum model.   
Triflex HX2 Cordless Stick Vacuum – $799 RRP*

Triflex HX2 Cat & Dog Cordless Vacuum – $899 RRP*

Triflex HX2 Performance Cordless Vacuum – $1,049 RRP*

Triflex HX2 Cat & Dog Plus Cordless Vacuum – $1,099 RRP*

Triflex HX2 Racer Cordless Vacuum – $1,149 RRP*

Triflex HX2 Pro Cordless Vacuum – $1,199 RRP*
Miele Scout RX2 Home Vision Robot Vacuum − $1,699 RRP*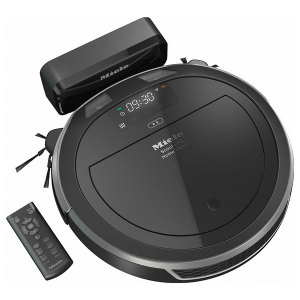 Miele's robot vacuum cleaners are among the most advanced on the market, mainly due to the extensive range of features and the Home Vision Robot Vacuum is no exception.
The Miele Scout RX2 Home Vision Robot Vacuum lets you check what's happening at home by transmitting a live, encrypted image from the front camera of the vacuum to your smartphone. The model also contains a four-stage cleaning system with four cleaning modes to transition between carpets and hard floors.
Providing a run time of 120 minutes, other features include swing out side brushes to reach into corners, 3D Smart Navigation and an AirClean Plus filter.
Looking for more Miele reviews?
Are Miele vacuum cleaners worth the money?
Miele is one of the world's leading manufacturers of home appliances, and its vacuum cleaners certainly appear top of the range. Whether or not they are worth the investment, however, is up to you. The ones listed in this article are dearer than the average vacuum in Australia, but there are cheaper Miele models available out there. With that said, don't forget the old adage; if you buy cheaply, you could pay dearly. Miele vacuums are well worth the price, least of all for the convenience and maneuverability they offer. If you're looking for a high-end vacuum cleaner and aren't afraid to splash the cash, then Miele's range is definitely worth looking at.
For more on Miele and other vacuum cleaner brands, check out Canstar Blue's star ratings for vacuums.
*Prices taken from Miele, correct as of February 2022. 
About the author of this page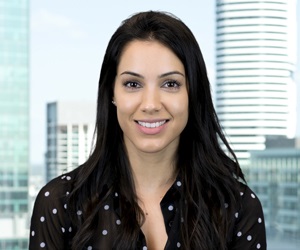 This report was written by Canstar Blue's Home & Lifestyle Content Lead, Megan Birot. She's an expert on household appliances, health & beauty products, as well as all things grocery and shopping. When she's not writing up our research-based ratings reports, Megan spends her time helping consumers make better purchase decisions, whether it's at the supermarket, other retailers, or online, highlighting the best deals and flagging anything you need to be aware of.
What do customers think about Miele vacuum cleaners?
In 2021, Australian customers gave Miele 5 out of 5 stars for overall customer satisfaction for vacuum cleaners.
Miele Vacuum Cleaners
Canstar Blue
Award:
Overall Satisfaction