Omega Washing Machines Review
Picking the right washing machine for your personal circumstances is important, otherwise you'll be left regretting it later. Think carefully about size, capacity, features and energy efficiency before diving into a new purchase. One brand that's worth considering is Omega – you may not have heard of it before, but the brand has plenty to offer in both the kitchen and laundry room. Boasting classic designs, Omega has a solid range of front loaders to choose from. Let's dive into the detail and see exactly what you can get for your money.
Omega Washing Machines
An increasingly number of manufacturers seem to be focusing more on front loaders, as opposed to top loaders, and Omega is no exception. While there are plenty of benefits that come with top load washers, front loaders are generally more energy-efficient. The Omega range features high spin speeds – starting from 1400RPM – and more than 10 wash programs with each model.
Omega OWM75W 7.5kg Front Load Washing Machine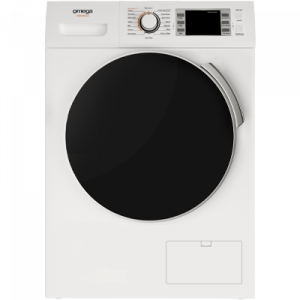 The Omega 7.5kg washer is equipped with 16 wash programs and a maximum spin speed of 1400RPM, giving you plenty of choice for washing different types of clothing. The quicker spin speed also helps to remove as much water from clothes as possible, helping to reduce drying time.
Part of the 16 wash programs is the 'Quick Wash', ideal for small loads or if you're in a rush. It features varied temperature from 20°C to 90°C. You also have the ability to select 'My Cycle', which allows you to save specific settings to memory. A key safety feature of this model is the Bubble removal function. It's designed to automatically remove bubbles when there's excessive detergent used.
The OWM75W model has an energy efficiency rating of 3.5 stars and a lower water consumption rating of three stars. According to the Standard Test, it would result in electricity costs of $128.18 per year. The machine itself is a standard size – 850 x 595 x 565mm (HxWxD) – and can be stacked, allowing you to purchase an additional dryer if required (with kit sold separately).
Omega OWM9W 9kg Front Load Washing Machine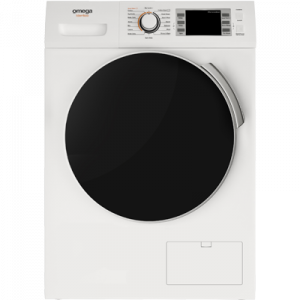 The Omega OWM9W model brings the same external dimensions and design as the washer above, but with a larger load capacity of 9kg. It's ideal for large families of four or more. Its maximum spin speed is 1600 RPM and it has a three-star energy rating, adding up to around $136.88 per year on the electricity bills. It does have a higher water efficiency rating than the 7kg model of 4 stars in total.
It features the same 16 wash programs, including – quick, delicate, baby care, colours, sport wear – just to name a few and comes equipped with an LED display. There's a large viewing window, allowing you to keep an eye on the wash as well as help ensure all water has drained before you open it.
You have the option to delay the wash start up to 24 hours. This feature is quite common on washing machines and may help to make use of the off-peak energy prices as well as allow you to have a cycle finish right before you get home, instead of you waiting around. And for added safety, the Omega 9kg washer includes a child lock, which is also common across washing machines. There's a 2-year warranty for peace of mind.
Omega OWD735W – 7kg/3.5kg Washer Dryer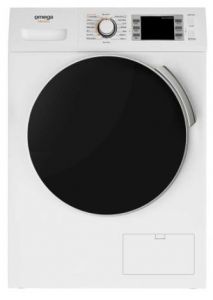 If you're tight on space but also require a dryer, then a washer dryer combo may be an option. Instead of buying two appliances, the Omega OWD735W model can be a great investment for small households or apartment dwellers with minimal space to spare. It's similar in size to the washers above and features a 7kg drum capacity for washing and 3.5kg for drying.
It has similar features such as 16 wash programs, a delay start option (0-24hr) and 1400 RPM maximum spin speed. For water efficiency, it's rated four stars, while for energy efficiency it's rated three stars for the washer and 2.5 stars for the dryer.
It's most suited for 3-4 people with the 7kg load capacity. It would be wise to factor in the price along with the convenience you get from the combo. If you tend to not use a dryer, or perhaps need a larger capacity dryer, then it may not be worth the extra money on this model.
Is an Omega washing machine a smart move?
Omega has a concise range of washing machines ranging from 7kg-9kg load capacity. These sit between $899 and $1,399, which is slightly higher than a standard washing machine. Nevertheless with 16 wash programs and fast spin speeds, Omega makes some solid models. All Omega washers earn three stars or above for both energy and water efficiency.
An important consideration before buying a new washing machine is size. If you're living on your own or as a couple, perhaps a small washing machine of less than 7kg load capacity may suffice. It's also just as important to note whether the Omega washers will fit your laundry space.
With its style and functionality, Omega brings some pretty hefty washers. It would be wise to compare brands online – such as through our online ratings – to see which one will suit you best.
Front Load Washing Machine Reviews
About the author of this page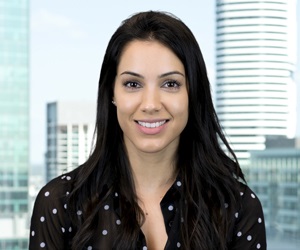 This report was written by Canstar Blue's Home & Lifestyle Content Lead, Megan Birot. She's an expert on household appliances, health & beauty products, as well as all things grocery and shopping. When she's not writing up our research-based ratings reports, Megan spends her time helping consumers make better purchase decisions, whether it's at the supermarket, other retailers, or online, highlighting the best deals and flagging anything you need to be aware of.