Review of Westinghouse ovens
Westinghouse is a wholly owned subsidiary of Electrolux and enjoys a solid tradition for producing high-quality and reasonably-priced home appliances. In this review, we look at a variety of ovens the brand has to offer to help you determine if there's something for you.
What ovens does Westinghouse offer?
Westinghouse has a large selection of ovens available, with four types available:
Single pyrolytic ovens
Single steam ovens
Single combination steam ovens
Double ovens
Westinghouse single pyrolytic ovens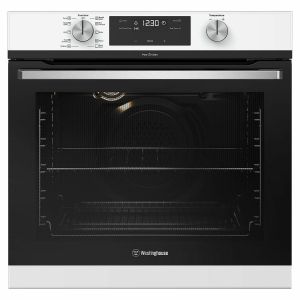 Westinghouse has several pyrolytic ovens, typically retailing between $1,449 and $3,899. What makes PyroClean ovens stand out is its self-cleaning function, which heats the oven at a very high temperature to turn grease and grime into ash. This is said to help make cleaning easier by allowing you to wipe away residue without using chemicals.
Westinghouse's pyrolytic ovens come with the following features, depending on which model you buy:
PyroClean
FamilySafe cool doors: multi-layer glazed doors that that reduces heat and improves safety
Family sized 80+ litre capacity: the impressive width makes it super easy to get things in and out of the oven
Touch-on-glass controls: an LED display that looks great and comes with a child lock
Programmable timer: gives you the ability to plan your start and finish cooking time to the minute
Fingerprint resistant stainless steel: makes keeping your oven's exterior clean incredibly easy
10 different oven functions: allows you to use different programs depending on what you want to cook
The cheapest pyrolytic oven in the range is the Westinghouse 60cm Pyrolytic Built-in Oven (WVEP615SC), costing $1,449*. It offers a generous 80L capacity and includes 10 functions, along with a few features also contained in pricier models such as cool-to-touch doors and fingerprint resistant stainless steel.
Alternatively, the most expensive option is the Westinghouse 60cm Pyrolytic Electric Built-in Oven (WVEP618DSC) which retails for $2,499*. It provides a large, family-sized capacity of 80L and includes an integrated electric grill. The oven comes with 12 functions and offers unique features like AirFry and Steam Assist.
Are Westinghouse pyrolytic ovens worth it?
Westinghouse's pyrolytic ovens are quite a bit cheaper than most pyrolytic ovens from other providers. You can expect these kinds of ovens to easily go for over $2,000, but you can find a few for less. These come with many standard features you can expect from other brands, even if you're also looking for a model with steam functionality.

You may also be interested in:
Westinghouse single steam ovens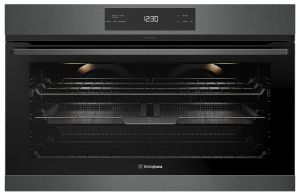 For those who want to keep things slightly healthier in the kitchen, Westinghouse has a bite-sized collection of ovens which contain the Easy Bake + Steam function. Steam ovens are useful for cooking delicious, restaurant quality food by locking in the meal's moisture, ensuring it doesn't dry out. Aside from the added steam functionality, these models still offer many of the same features. This range typically starts from $1,749 and reaches up to $3,899*.
Common features include:
Ultimate family roast: helps create the perfect roast every time
Steam reheat/assist: reheats your leftovers in a moist environment so you don't need a microwave
FamilySafe cool doors
Fingerprint resistant stainless steel
Touch-on-glass controls
Programmable timer
Telescopic runners
Most steam ovens from the brand are considered steam combination ovens, including the Westinghouse 60cm Electric Built-in Steam Oven (WVEP618SC) and the Westinghouse 60cm Pyrolytic Electric Built-in Oven (WVEP617DSC).
The Westinghouse 90cm Pyrolytic Built-in Oven WVEP917DSC is the priciest option to choose from. But with a whopping 125L oven capacity, it's no wonder it comes with a fairly chunky price tag of $3,899*. In addition to steaming, the model comes with an integrated electric grill as well as AirFry, PyroClean and cool-to-touch doors. It also uses a twin fan system to distribute hot air evenly.
Are Westinghouse steam ovens worth it?
Westinghouse's steam ovens have more features than the pyrolytic ovens, which helps to make a purchase more worthwhile. They are also quite cheap for steam ovens – other brands such as Blanco have steam ovens costing much more.

Westinghouse double ovens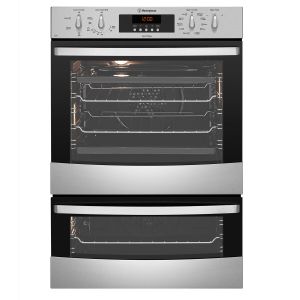 Love to multi-task or need to cook a buffet for a large number of people? Double ovens have might be worth considering, thanks to the two different compartments which allow you to cook two (or more) different dishes at the same time.
Westinghouse currently offers several double and separate grill ovens to choose from, with both traditional and pyrolytic options available.
Common features include:
FamilySafe cool doors
FamilySized 80+ litre capacity
Fingerprint resistant stainless steel
Anti-spatter grill inserts: drains away the fats from food for healthier cooking
Programmable timer
Dual cavity
Multi-functions
The cheapest double oven is the Westinghouse 60cm Electric Built-in Double Oven (WVEP627S), retailing for $2,299*. Its first compartment provides a total capacity of 80L, and offers functions such as rapid heat, defrost, fan bake, bake/pizza and maxi grill. The second smaller compartment contains 46L worth of space, and features functions including fan assist, traditional bake and fan grill.
On the other end, there's the Westinghouse 60cm Electric Built-in Double Oven (WVE636W). Regularly valued at $3,849*, you can expect a generous 80L capacity in the first compartment and another whopping 72L in the second section. It comes with many of the same features you can expect in the brand's pricier models, including an integrated electric grill, FamilySafe Doors, fingerprint resistant stainless steel and anti-spatter grill inserts.
Are Westinghouse double ovens worth it?
Generally, double ovens are pretty common and prices can vary drastically from brand to brand. So, what's best for you depends on what exactly you prioritise as being the most important aspect of buying an oven. Are you on a strict budget? Are there specific features you're looking for? It's worth noting that 80L is typically the standard size of many single ovens.

Westinghouse traditional single ovens
If you're not interested in the self-cleaning function that comes with pyrolytic ovens, then you might want to stick to the humble, regular single oven. These come with many of the same features, but can cost a fraction of the price. Models can start from $899, which is nearly $700 cheaper than a basic pyrolytic unit from the brand.
The Westinghouse 60cm Electric Built-in Oven (WVE614WC) is the standard model and one of the most affordable traditional ovens from the brand. It provides the usual 80L capacity and includes an integrated electric grill. The model also comes with five functions and features like fingerprint resistant stainless steel and cool-to-touch doors.
---
Read more: Electric vs gas oven running costs
---
Are Westinghouse ovens worth it?
It ultimately comes down to budget, especially since many of the models contain very similar features. Even the most basic units, such as the traditional Westinghouse 60cm Electric Built-in Oven WVEE614WC, come with an integrated electric grill as well as cool-to-touch doors and fingerprint resistant stainless steel. Aside from price, the biggest differences between the cheaper and more expensive models is the lack of features like AirFry and PyroClean.
But for each type of oven, there are still a few options to suit different budgets. The similarities between the models means you don't necessarily have to make a huge sacrifice on features, making capacity one of the main reasons for opting for a higher priced oven.
*Prices taken from Appliances Online, correct as of July 2020.
About the author of this page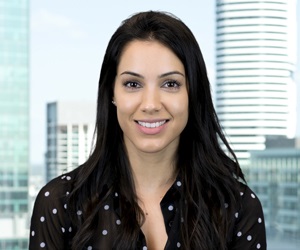 This report was written by Canstar Blue's Home & Lifestyle Content Lead, Megan Birot. She's an expert on household appliances, health & beauty products, as well as all things grocery and shopping. When she's not writing up our research-based ratings reports, Megan spends her time helping consumers make better purchase decisions, whether it's at the supermarket, other retailers, or online, highlighting the best deals and flagging anything you need to be aware of.
What do customers think about Westinghouse Ovens?
In 2019, Australian customers gave Westinghouse 4 out of 5 stars for overall customer satisfaction for ovens.