Fact Checked
Fridges come in plenty of sizes and makes, from traditional top mounted models through to French Door designs, with some even including a drawer design for the kitchen and for your car. Drawer fridges can be a convenient addition for food storage whether it's on the go camping or in your home, but what exactly are they, and are they worth it? Read on to find out more about drawer fridges in this Canstar Blue guide. 
What is a drawer fridge?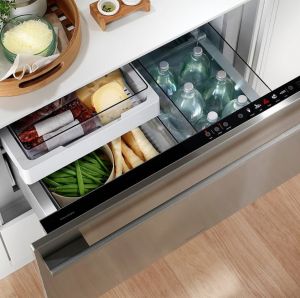 Drawer fridges are installed as under-the-counter refrigerator units and usually feature stainless-steel or custom panel ready fronts. Retailers or brands might alternatively call these 'integrated fridges' – integrated units include small, pull out drawer fridges as well as larger built-in fridge freezers (similar size to a dishwasher). Meanwhile, drawer fridges are usually compact and designed to be the same size as a regular bench drawer.
Integrated refrigerators can also be made with either a pullout, drawer style door, or the same left or right-side door opening featured on full-size refrigerators. Alternatively, domestic drawer fridges mostly come with a pullout design. Models made for mobile living or camping sometimes have an additional door for extra security.
What are drawer fridges used for?
Drawer fridges can be used as more than just another vegetable crisper, with some designed to specifically store wine or a variety of foods (e.g. cheeses, deli meats) and drinks. These under-bench refrigerators are available in a range of styles to suit different needs, such as for camping or regular domestic use.
Drawer fridges are packed with a few of the same features you would get from a full-size fridge, such as an adjustable thermostat and removable drawer tub (equivalent to adjustable shelving in full-size fridges). Plus, many models are frost-free so you won't need to manually defrost the appliance every year.
How much does a drawer refrigerator cost?
Drawer fridges are generally a more expensive appliance to purchase and install, ranging from around $1,800 to upwards of $10,000. Models that are smaller in size and offer fewer features will cost less,  while models with multiple drawers or with a fridge and freezer compartment will be more expensive. 
Who sells drawer fridges?
A number of brands sell drawer fridges including Engel, Evakool, Fisher & Paykel. You can buy models directly from the brand or from retailers such as Appliances Online and The Good Guys. 
Drawer fridges for cars
Drawer fridges have become more popular as an appliance for avid campers, often installed in the back of cars. They will generally range in capacity between 30L and 40L, making them ideal to store cold items and camping necessities for a few days. 
Engel Drawer Fridge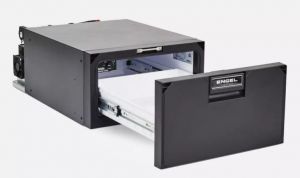 Engel Drawer Fridges retail around the $900 mark, with 30L and 40L capacities available. This brand of drawer fridge is suitable for caravans, boats and vehicles such as 4WDs. One useful perk you can get with an Engel fridge is a Sawafuji Swing Motor compressor that can be placed up to 1.5m away from the portable refrigerator. Other features include built-in ventilation, steel external cabinet and an internal LED light for easy visibility and access.  
Evakool Drawer Fridge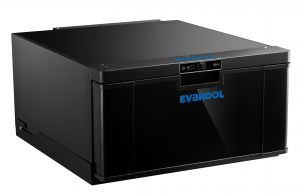 Another appliance giant to check out is Evakool, especially if you've got a mobile home or love camping. It currently offers one drawer fridge for caravans sitting around the $1,000 price range with a 40L capacity. This Evakool drawer fridge freezer is specifically designed to be used in the back of 4WDs and can wheel in 40L worth of food and drinks, or 48 cans in a single drawer. It's said to contain a fully-insulated cabinet, providing a temperature range between -16°C and 10°C. It also has a removable drawer tub, plus a control panel and interior LED light.
Integrated Drawer Fridges
Integrated drawer fridges are designed to be installed in kitchens with similar functions as car installed drawer fridges. You can generally find models with larger capacities and additional features at a slightly higher price point.  
Fisher & Paykel Drawer Fridge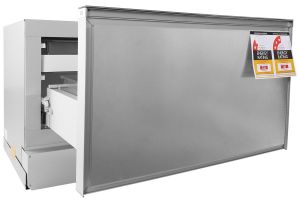 Fisher & Paykel are a kitchen appliance giant so it's no surprise they offer drawer fridges in its kitchen appliance range. Sitting around the $6,000 price mark they are a more expensive appliance but offer features such as fridge, pantry, freezer, wine and chill storage options for the ideal temperature control. You can choose to fully integrate the appliance in with your existing cabinetry for a seamless experience or you can select from a number of different finishes to compliment existing cabinetry.  
Liebherr Drawer Fridge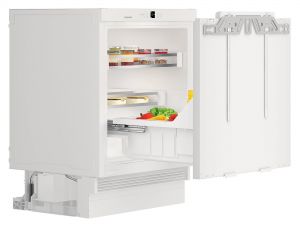 Liebherr offers a number of integrated and underbench fridge models ranging in price from $4,500 to $5,500. You can expect features including super cool function that brings the temperature as low as two degrees, seamless cabinetry integration and a generous 136L capacity with multiple storage drawers. The variobase design allows you to customise your drawer fridge to suit your food storage needs so you can fit larger items in certain spaces and access them with ease.  
Factors to consider when purchasing a drawer fridge
Being that drawer fridges are a more expensive purchase, the features and functions will be a major contributor. If you live in a household that regularly entertains or needs extra food storage day to day, it may be an ideal addition for the kitchen. However if you're on a stricter budget it may not be the appliance for you. If you're still undecided, compare fridge brands below.
Picture credit: Africa Studio / Shutterstock.com.
Original Author: Tahnee-Jae Lopez-Vito