Refrigerators don't need to be large, usually freestanding, appliances that take up a meaty chunk of the kitchen. Drawer fridges can offer a cool, compact food storage solution – especially if you're looking to add extra fridge capacity to your existing fit. These can also be used for camping and mobile living, whether in a caravan, boat, truck or 4WD. So, if you're thinking you need one in your life, here's a quick buying guide to drawer fridges.
What is a drawer fridge?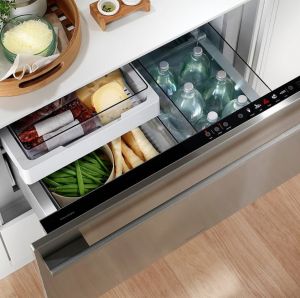 Drawer fridges are installed as under-the-counter refrigerator units and usually feature stainless-steel or custom panel ready fronts. Retailers or brands might alternatively call these 'integrated fridges' – integrated units include small, pullout drawer fridges as well as larger built-in fridge freezers (similar size to a dishwasher). Meanwhile, drawer fridges are usually compact and designed to be the same size as a regular bench drawer.
Integrated refrigerators can also be made with either a pullout, drawer style door, or the same left or right-side door opening featured on full-size refrigerators. Alternatively, domestic drawer fridges mostly come with a pullout design. Models made for mobile living or camping sometimes have an additional door for extra security.
What is a drawer fridge used for?
Drawer fridges can be used as more than just another vegetable crisper, with some designed to specifically store wine or a variety of foods (e.g. cheeses, deli meats) and drinks. These under-bench refrigerators are available in a range of styles to suit different needs, such as for camping or regular domestic use.
Drawer fridges are packed with a few of the same features you would get from a full-size fridge, such as an adjustable thermostat and removable drawer tub (equivalent to adjustable shelving in full-size fridges). Plus, many models are frost-free so you won't need to manually defrost the appliance every year.
How much does a refrigerator drawer cost?
Be prepared to fork out at least $1,000 for a drawer fridge, plus any additional costs for custom cabinetry if needed. That's a hefty cost by any standard. For comparison, the Fisher & Paykel 123L Integrated Fridge Drawer retails for $5,399, although full-size fridges with a similar price tag offer at least twice the storage capacity.
Some examples include:
Smeg 604L Side-by-Side Fridge (SR611X): $4,990 RRP*
Liebherr 411L Upright Fridge (SKBES4350LH): $5,269 RRP*
Samsung 719L French Door Fridge (SRF717CDBLS): $5,449 RRP*
If you're adding integrated fridges to the mix, prices can go up to $21,000 for high-end models!
Where can you get a drawer fridge?
You can find a number of drawer fridges at your usual go-to major appliance retailers, such as The Good Guys and Appliances Online. There's also a number of outdoor equipment stores like BCF and Kathmandu, which sell a range of drawer fridges specific to caravans, camping and 4WDs, for example. Some places to check out include:
Appliances Online
Bing Lee
Harvey Norman
Snowys
The Good Guys
Tentworld
Winning Appliances
Drawer fridge freezers
Whether you're looking for a drawer fridge for your kitchen or caravan, here are a few models worth checking out:
Dometic Waecop Drawer Fridge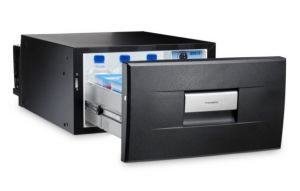 If you're on the hunt for drawer fridges for camping, Dometic (formerly Waeco) is a name that's hard to miss. The brand sells a large range of products for people living on the open road, offering everything from air conditioners and refrigerators, to rearview camera systems and gas detectors.
One of the drawer fridges made for mobile living includes the Dometic Waeco Drawer Fridge (CD-30). This particular model offers 30L worth of storage and can be used in caravans, boats and trucks. The drawer compressor refrigerator also provides 12V to 24V worth of power, and a temperature range between 2°C and 12°C. Other features include:
Secop BD35 compressor
Continuously variable thermostat
One-year warranty
Measurements (LxWxH): 720mm x 440mm x 240mm
Price: $899 RRP*

Engel 30L Drawer Fridge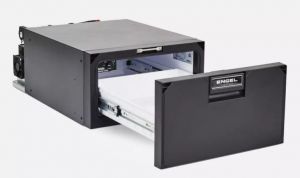 Specialised drawer fridges seem to be much more affordable compared to those designed for the home, even if it means buying from leading brands like Engel. The Engel 30L Drawer Fridge is another option worth considering for camping, and is suitable for caravans, boats and vehicles such as 4WDs. One useful perk you can get with this Engel fridge (SB30G) is a Sawafuji Swing Motor compressor that can be placed up to 1.5m away from the portable refrigerator.
Other features include:
Built-in ventilation with dual fans
Steel cabinet
Internal LED light
Comes with four right-angled brackets and screws required for installation
Measurements (LxWxH): 71.6cm x 44cm x 25cm
Similar to the Waeco drawer fridge mentioned above, this provides between 12V to 24V DC worth of power.
Price: $899 RRP*

Evakool 40L Drawer Fridge Freezer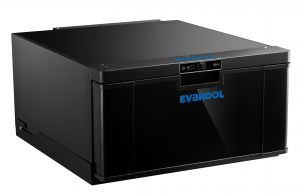 Another appliance giant to check out is Evakool, especially if you've got a mobile home or love camping. It currently offers just one drawer fridge for caravans, the 40L Platinum Single Drawer Fridge Freezer.  This Evakool drawer fridge freezer is specifically designed to be used in the back of 4WDs and can wheel in 40L worth of food and drinks, or 48 cans in a single drawer. It's said to contain a fully-insulated cabinet, providing a temperature range between -16°C and 10°C. It also has a removable drawer tub, plus a control panel and interior LED light. Key specs include:
Comes with a heavy-duty floor plate style bracket to attach the drawer fridge to a flat surface
Two-year warranty on cabinet and electronics
Measurements: (LxWxH): 836mm x 595mm x 326mm
This Evakool Single Drawer Fridge Freezer (DC40-DRW-SA) will be available from Evakool from late February, 2021. There are also portable fridge freezers for the home available, starting with the Travel Mate range from $999.
Price: $1,099 RRP*

Husky 190L Double Drawer Bar Fridge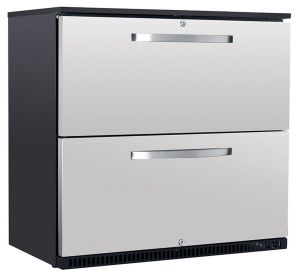 Dedicating fridge space for your beers and soft drinks isn't just for campers or four-wheel driving. This Husky Double Drawer Bar Fridge (C2-DWR-840-AU-HU) is an under-counter unit offering both regular storage and 190L fridge capacity. It additionally provides lockable drawers, which is not a standard feature of all drawer fridge freezers. Plus, the stainless-steel exterior means there's no need to pay extra for customised panels.
When it comes to functions, the Husky Drawer Bar Fridge has an adjustable thermostat that ranges between 0°C and 10°C. This model also contains an auto-defrost feature with a self-evaporative drip tray. Other specs to expect include:
Digital temperature control and display
Adjustable feet
One-year warranty
Measurements (LxWxH): 495mm x 865mm x 840mm
Husky alternatively offers its 95L Solid Door Under-Counter Fridge (HUS-95WH) for a much more affordable retailer price of $349.
Price: $2,347 RRP*

Liebherr 136L Under-Bench Integrated Fridge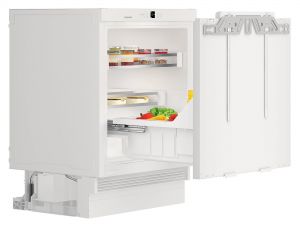 Liebherr has a few more models to choose from than some brands, making it one manufacturer worth keeping an eye on. Prices for its drawer fridge freezers are pretty similar to other brands, usually starting at $4,059 and reaching up to $4,389.
This Liebherr 136L Under-Bench Integrated Fridge (SUIKO1550) is one of the cheapest drawer fridges, with freezer alternatives like the Liebherr 95L Bar Freezer (SUIG1514RH) also available for the same price.
This under-the-counter Liebherr drawer fridge may be worth considering if you've got a panel design in mind and are looking to match your kitchen appliance with the rest of the cabinetry. The brand's VarioBase design additionally lets you adjust both the height and depth of the integrated refrigerator for further customisation. For access, the drawer fridge has a right door hinge opening and a pullout design inside. Other specs include:
SuperCool: allows the drawer fridge to reach 2°C as the lowest temperature
Door alarm
Three-year warranty
Measurements (LxWxH): 550mm x 597mm x 880mm
Price: $4,389 RRP*

Fisher & Paykel 123L Integrated Fridge Drawer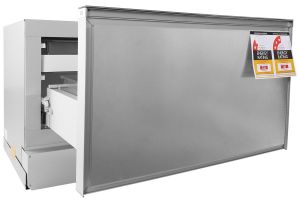 Fisher & Paykel is one of the world's leading appliance manufacturers, so it's no surprise to see the brand extend its refrigeration line to under-the-counter drawer fridges and freezers. This Fisher & Paykel Under-Bench Fridge Freezer (RB90S64MKIW1) can be especially useful for staying organised, separating 123L worth of storage into four compartments. The individual temperature of each drawer can also be changed to suit what you need.
You can alternatively convert the drawer fridge into a fridge freezer, thanks to the four modes, including chill (12°C), refrigerator (3°C), freezer (18°C) and wine (7°C-15°C).
Other features include:
Key lock
Door alarm
Fruit and vegetable crisper
Touch control glass interface
Two-year manufacturer's warranty
Measurements (LxWxH): 557mm x 855mm x 640mm
Price: $5,399 RRP*

*Prices taken from respective retailers, correct as of January 2021.
Picture credit: Africa Studio / Shutterstock.com.