The built-in TV and online grocery shopping function in smart fridges is cool and all, but the humble vegetable crisper may be the unsung hero of the refrigerator world. Nothing spoils the joy of tucking into exciting leftovers and the mandatory stock of fresh produce like a cooked fridge that's only capable of breeding mould instead of the ideal climate that your family's hungry stomachs deserve.
But the crisper isn't just for stuffing all types of produce, along with your secret block of chocolate and everything else that doesn't fit on the shelves. Plus, apparently not all drawers are made equal. Here's what a few major brands are saying about what makes their fridge crispers special.
Fridges with crisper drawers
The crisper drawer may be a standard feature in most types of refrigerators, but some major brands have claimed to adapt the compartment in a way that maintains freshness more effectively. These five brands have a little extra going on in the fridge crisper department:
Bosch
Fisher & Paykel
LG
Samsung
Westinghouse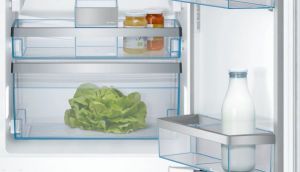 Bosch fridges with vegetable crispers
Bosch refrigerators are well-designed with a humidity drawer, which the brand describes as a "special compartment that allows you to control its internal moisture level by restricting or allowing air exchange between the drawer and other regions of the fridge".
Bosch recommends using the high humidity setting when storing leafy green vegetables and a handful of fruit since these are likely to lose their moisture. This setting is designed to provide a constant level of humidity to "reduce stress" on the vegetables. Alternatively, Bosch claims its dry setting is best to use when storing a bunch of fruits and vegetables because the drawer can apparently prevent the build-up of excess moisture that ultimately causes spoilage.
Bosch says certain tropical and subtropical fruits, and a few types of vegetables, are sensitive to cold conditions and should be kept outside. This includes items such as pineapples, bananas, avocados, mangoes, watermelons, cucumbers, tomatoes and potatoes.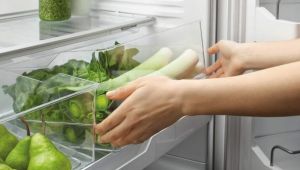 Fisher & Paykel fridges with vegetable crispers
If you're constantly jamming more items in the crisper, you might like to consider a refrigerator with more than one crisper – like the Fisher & Paykel 519L ActiveSmart Bottom Mount Fridge. This model, along with a number of other units from Fisher & Paykel, has two humidity-controlled crispers. The ActiveSmart Foodcare technology is a similar feature stated to "intelligently monitor temperature, airflow and humidity inside". It's claimed to automatically adjust its settings based on your usage, helping you to save energy and maintain freshness.
Certain Fisher & Paykel fridges allow you to manually adjust the settings through the SmartTouch control panel inside the appliance.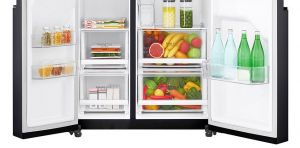 LG fridges with vegetable crispers
When it comes to the kitchen, LG promises to make sure "life's good" by placing a vegetable crisper at the base of the fridge to maximise the longevity of your fruits and veggies. The brand's Moisture Balance Crisper is said to contain a lid with a lattice structure that supposedly traps the evaporated moisture from vegetables to help the produce remain fresh for longer.
Another way to manage the temperature is through the LG ThinQ app, which allows you to remotely adjust the settings to ensure your items are in the right environment. Although this function is only available on specific models, including the LG 570L Slim French Door Fridge
Several models also contain the LinearCooling feature, which apparently allows the LG Inverter linear compressor to provide more accurate temperature control and fluctuations.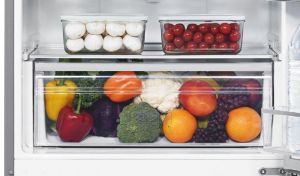 Samsung fridges with vegetable crispers
If something works, why change it? For Samsung, the clear vegetable crisper is now a standard feature typically found at the base of each of the brand's many fridges and is designed to keep items fresher for longer. It's used in meatier models like the Samsung 628L Top Mount Fridge and Samsung 533L French Door Fridge, as well as smaller capacity units such as the Samsung 343L Top Mount Fridge with Twin Cooling Plus.
In certain models, the crisper is matched with Samsung's Twin Cooling System which is said to add "a touch of food-preserving humidity" to help keep your fridge cool, while also maintaining the icy-cold temperature needed to ensure your items are stored efficiently frozen.
Other features in Samsung fridges include a built-in deodoriser filter, no-frost function, convertible freezer, adjustable shelves, a twist ice maker and ice bin.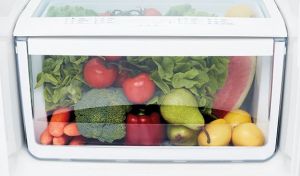 Westinghouse fridges with vegetable crispers
Rushing to finish everything early to avoid spoiling your food as well as your mood? Westinghouse claims that its humidity controlled crisper creates the "perfect microclimate" to keep your vegetables fresher for longer. Plus, it's promised to help ease the back-bending work of cleaning the compartment by including a removable crisper front for even easier maintenance. Westinghouse has also chucked in FreshSeal Ease Glide Crispers into several fridges to create easier access, while still providing the same supposed ideal microclimate managed by the humidity controlled crisper.
Other Westinghouse features include the FlexStor, SmartSplit Door Design, slide back & flip-up shelves, ice twister & caddy and a multi airflow design which apparently spreads cool air evenly throughout the fridge to keep food and drink cooled as well as protect from germs and spoilage.
What's the difference between each crisper drawer?
Essentially, there are two types of crisper drawers: a high humidity crisper and a low humidity crisper. A high humidity crisper doesn't allow any airflow into the drawer, while a low-humidity drawer still leaves some space for airflow to come in. Depending on your refrigerator, you might be able to adjust the settings to make sure you're using the compartment the right way. If your fridge doesn't have any controls, it's said to usually be a high humidity crisper.
These two kinds of crispers suit different types of food. That's why some brands offer models that provide two separate crispers, or allow you to change the settings depending on how you're using the fridge. Many models now also include a variety of features that allow you to automatically or manually adjust the temperature, so you can keep a cool head about the freshness of your food.
Picture credit: Milan Illic Photographer/Shutterstock.com
Original Author: Tahnee-Jae Lopez-Vito