Sorry Elsa, but a frosty freezer is something we can't just let go. If you have an old fridge, or a freezer with manual defrost, chances are you'll need to apply some elbow grease to scrape off ice build-up from time to time. This can help melt problems like limited storage space and energy bill shock. But, if you're not into manual labour, a frost-free fridge or freezer could be the way to go.
What is a frost-free fridge or freezer?
A frost-free refrigerator is essentially a fridge or freezer which automatically defrosts itself, preventing ice build-up and many of the problems that can come along with it. These appliances are usually made with heating elements which warm up coils inside the unit, cycling on and off throughout the day.
Models without a frost-free function don't have the same heating elements and need to be defrosted manually, which can take anywhere from 20 minutes to several hours. Thankfully however, frost-free functionality is now a common feature and included in most modern refrigerators.

Why does my freezer frost up?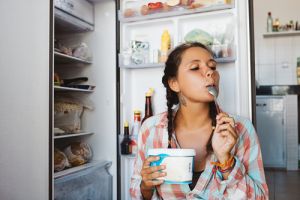 There are a few ways frost develops inside your freezer, and the most common reason for ice build-up is unavoidable. Simply opening and shutting the door attracts warm air and causes condensation. This means warm air will quickly convert into water once it flows into the freezer. The moisture eventually transforms into frost when it freezes. It's also why you shouldn't chuck in food that's still piping hot.
A broken seal is another big offender, since it brings in the warm air from outside and causes the temperatures inside the appliance to fluctuate. Ever gotten yelled at for leaving the fridge or freezer door open? Turns out, our parents weren't wrong. The temperature difference between the warm air outside the refrigerator and the cold air inside the freezer actually forces the appliance to work harder to keep the inside temperature optimal, requiring more electricity than usual.
How much do frost-free fridges and freezers cost?
Top and bottom mount fridges are probably the most common type of fridge-freezer units you'll come across. Single or two-person households don't have to empty their wallets to enjoy the frost-free functionality either, especially with many small to medium-sized options usually being much cheaper. This is definitely the case with fridge-freezer combos. Prices usually start from about $499 and can reach up to a whopping $18,000, although most high-end models typically peak before the $6,000 mark. Phew!
For freezer-only models, you might need to do a bit of extra digging. Frost-free freezers start from $350, though some Hisense chest freezers and can reach up to $18,000. Although most units tend to be closer to the $4,000 mark or under.
When it comes to energy efficiency, a number of frost-free fridges and freezers are surprisingly more efficient than those without the frost feature. Many models come with a three-star or 3.5-star energy rating, while manual freezers are generally less efficient and often contain a two-star rating. It's worth noting that manual freezers should be defrosted once the ice build-up reaches more than a quarter-inch thick. Otherwise, the constant fluctuations in temperature will force your freezer to use more electricity just to continue working normally, which will in turn inflate your energy bill.
Cheap frost-free fridges and freezers
Want to give your chores list the cold shoulder? We've narrowed down a few frost-free refrigerators and scaled it back to those with the smallest price tags, keeping in mind Aussies spend an average of $1,164 on a new fridge or $800 on freezers.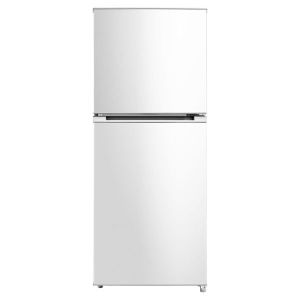 Palsonic 207L Top Mount Refrigerator − $499*
This Palsonic 207L top mount refrigerator (PW207TFR) is suitable for smaller households and retails for just under $500, making it one of the cheapest models available. It includes standard features such as a vegetable crisper with temperature control, deodoriser, adjustable shelves and reversible door. This Palsonic frost-free refrigerator has a two-star energy efficiency rating and provides 140L worth of fridge capacity and 54L of freezer storage.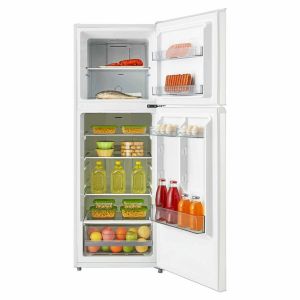 Seiki 239L Top Mount Fridge − $549*
Another budget friendly brand to consider is Seiki, which offers a few affordable frost-free units like this Seiki 239L top mount fridge. It similarly has a two-star energy rating and includes some basic features including adjustable shelves, a chill compartment and crisper drawer. But unlike the Palsonic model, this unit uses a manual temperature control instead of electronic. This Seiki fridge comes with 172L of fridge space and 67L worth of freezer room.


Hisense 176L Upright Freezer − $699*
The Hisense 176L upright freezer (HR6VFF177A) is a single-door unit with a 2.5-star energy efficiency rating. Its versatility is what apparently makes this cool little appliance stand out, especially with its reversible door. Other features include clear drawers, Super Freeze function and an access panel. This Hisense frost-free freezer is suitable for small to medium-sized households, and can be used as part of a pigeon pair with the Hisense 243L upright fridge (HR6AF243) which retails for the same price.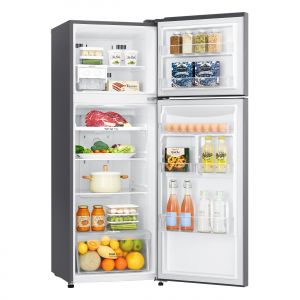 LG 332L Top Mount Fridge with Door Cooling+ − $1,049*
For a fairly energy-efficient model, you can expect to pay more at the checkout. Fridges with a minimum four-star energy rating can cost at least $1,000, with some exceptions like the Haier 450L bottom mount fridge (HBM450WH1) retailing for just under at $989. Another affordable alternative is this LG 332L top mount fridge with Door Cooling+ (GT-332SC).
The DoorCooling+ technology apparently maintains serious freshness by allowing the side vents to cool the front of the fridge and the door basket supposedly 35% faster compared to refrigerators without door cooling. Other features include a twist ice dispenser, Smart Diagnosis and adjustable shelves. This LG fridge includes a 10-year warranty on its inverter linear compressor. It provides 247L of fridge storage and 85L worth of freezer capacity.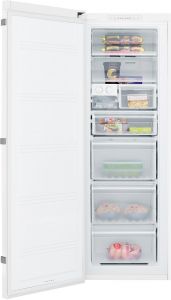 Westinghouse 280L Upright Freezer − $1,699*
If you're searching for the other half of your Westinghouse pigeon pair, or want to dedicate a space to your weekly meal prep, this Westinghouse 280L upright freezer (WFB2804WA) is another standalone option. It uniquely comes with a twist ice maker and other features such as FlexSpace, quick freeze function, electronic temperature controls and full-width freezer baskets. This freezer-only option from Westinghouse has a three-star energy efficiency rating.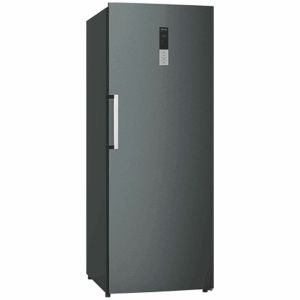 ChiQ 431L Frost Free Inverter System Black Steel Hybrid Fridge Freezer − $1,799*
Looking for versatility? This ChiQ 431L hybrid fridge freezer (CSH430B) is a spacious and stylish frost-free refrigerator that can transition between a standalone fridge or freezer, allowing you to switch things up with the press of a button. It also includes the usual features you'd expect from a fridge-freezer combo, including a quick freeze mode, an LED display with digital touch controls and a reversible door. This ChiQ refrigerator has a three-star energy efficiency rating when operating on fridge mode, or a four-star energy rating when running on freezer mode.

Picture credits: Pixel-Shot/Shutterstock.com, Zjuzjaka/Shutterstock.com