Fact Checked
No one enjoys spending hours hacking ice out of their refrigerator. Fortunately, a frost-free function will save you from this horrible fate. Ice build-up in freezer compartments is common, as simply opening and shutting the door attracts warm air and causes condensation. This quickly transforms into ice when it freezes. If you have an old fridge, or a freezer with manual defrost, chances are you'll need to apply some elbow grease to scrape off ice build-up from time to time. But, if you're not into manual labour, a frost-free fridge or freezer could be the way to go. Learn all you need to know about frost-free fridges with this Canstar Blue guide.
What is a frost-free fridge?
A frost-free fridge, otherwise known as auto-defrost or anti-frost, is essentially a fridge or freezer which automatically defrosts itself, preventing ice build-up and many of the problems that can come along with it. These appliances are usually made with heating elements which warm up coils inside the unit, cycling on and off throughout the day.
Models without a frost-free function don't have the same heating elements and need to be defrosted manually, which can take anywhere from 20 minutes to several hours. Thankfully however, frost-free functionality is now a common feature and included in most modern refrigerators.
Who sells frost-free fridges?
The frost-free feature is a great way to limit ice build-up and save you from working too hard. Many brands offer automatic defrost refrigerators in Australia including LG, Samsung, Bosch, Hisense, Westinghouse and Panasonic.
LG frost-free fridges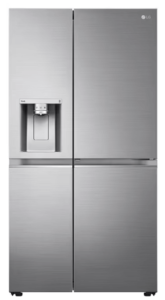 LG are well-known in the appliances space, offering a wide range of frost-free fridges for you to choose from. Most LG refrigerators feature removeable wine racks, air filtration systems to reduce odours, voice control capability, and door alarms.
The LG 635L Side by Side Fridge automatically defrosts every few hours to eliminate ice build-up. This refrigerator is also equipped with an ice and water dispenser, handsfree voice control, and UV LED lighting that reduces bacteria around the water nozzle. This fridge is likely to cost you around $2,600.
Samsung frost-free fridges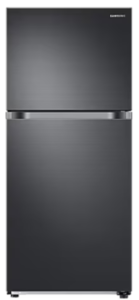 Samsung are a well-known player in the refrigerator game, with most fridges featuring an automatic defrost function. Many Samsung refrigerators are also equipped with moveable ice makers, LED displays, fresh zone vegetable crispers, and fingerprint resistant finishes.
The Samsung 498L Top Mount Fridge features frost-free technology to clear any ice that may be lurking in your freezer compartment. This fridge is also equipped with separate storage sections for meat and seafood, reversible doors, LED lighting, and twin cooling systems for fridge and freezer compartments. This fridge commonly retails for around $1,900.
Bosch frost-free fridges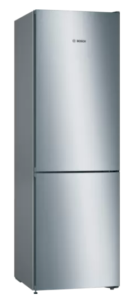 Bosch are prolific innovators in the refrigeration space with a variety of frost-free models available. Most fridges are also equipped with LED lighting, smartphone connectivity, and multi-airflow systems that minimise fluctuating temperatures.
The Bosch Series 4 Free-Standing Fridge Freezer hosts an anti-frost air circulation system to prevent ice from building up. This fridge also features a fingerprint resistant exterior, easy access shelving, a super cooling function that rapidly decreases the temperature of new groceries, and electronic temperature control with LED indicators. This model will set you back around $1,800.
Hisense frost-free fridges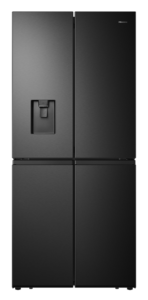 Hisense offer an extensive range of fridges equipped with auto-defrost technology. Many Hisense refrigerators feature reversible doors, electronic touch control, inverter technology that increases energy efficiency, and LED lighting.
The Hisense 454L French Door PureFlat Fridge is equipped with a handy system that removes frost build-up. This refrigerator also features separate cooling systems for different fridge and freezer compartments, a flat door design that can be integrated into existing cabinetry, and adjustable shelving. This model is commonly priced at around $1,500.
Westinghouse frost-free fridges­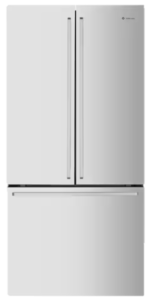 Westinghouse are known to offer quality refrigerators, many of which are equipped with frost-free systems. Most Westinghouse fridges also feature door alarms, quick chill functions, fingerprint resistant exteriors, adjustable shelving, and multi-flow air delivery systems.
The Westinghouse 491L French Door Fridge hosts a frost-free function, protecting your freezer from ice build-up. This refrigerator is also equipped with a temperature sensor, internal electronic controls, LED lighting, a humidity controlled crisper box, and a lockable compartment. This model will cost you around $2,600.
Panasonic frost-free fridges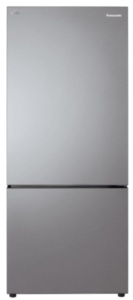 Panasonic offer a trusted range of refrigerators, many of which have anti-frost capability. Most Panasonic refrigerators host vegetable specific crisper drawers, energy saving technology, humidity controlled compartments, and a rapid freeze program.
The Panasonic 380L Bottom Mount Refrigerator is equipped with a handy frost-free cooling system. This fridge also features an inverter motor that aims to reduce energy consumption, adjustable shelving, quick freeze mode, and a built-in filter that inhibits bacteria and odours. This fridge will set you back around $1,900.
How much does a frost-free fridge cost?
The price of a frost-free refrigerator depends heavily on design, size, brand, and other additional features. Cheaper fridges with this feature will cost you around $700, while more expensive models may cost in excess of $6,000.
Is it worth buying a frost-free fridge?
Purchasing a frost-free fridge is a fantastic way to save you from spending hours scraping ice out of the freezer, or waiting for the manual defrost function to finish up. Fortunately, most fridges that you'll come across these days are already equipped with an anti-frost feature, but this isn't the case for all of them. Make sure you do your research before purchasing a new fridge to ensure that it's equipped with all the features that you may desire. If you're not too enamoured with the frost-free function – that's ok! There's probably an alternative style of fridge out there screaming your name. If you're on the lookout for a new one, check out some of Canstar Blue's best rated refrigerators to help you decide which appliance will best suit your home.
Refrigerator Reviews & Ratings
Original Author: Tahnee-Jae Lopez-Vito