Fact Checked
Dyson and Hoover enter the ring as two of the biggest names in the vacuuming space. Both pack a punch with high-tech features and innovative designs, but which one offers the best vacuum and the best value for money? We list all the specs you need to know about the different types of models to help you decide.
Dyson vacuums
Dyson's range of vacuum cleaners covers almost all cleaning needs from convenient handheld cleaning to bigger jobs that require some more suction power. 
Dyson Stick Vacuums
Dyson's Stick Vacuum range is one of the larger ones on the market offering eight different types. Some models of stick vacuum from Dyson have unique attachments and functions to help with general cleaning around the home. You can expect features such as HEPA filters to clean microscopic dust and dirt, powerful suction using a Hyperdymium motor and 18 Dyson cyclones which generate forces of more than 79,000g to clean microscopic particles. Dyson's stick vacuums also have models specific for cleaning pet hair which feature brush heads that help reduce tangling and clogging of hair.  
Dyson Ball Vacuum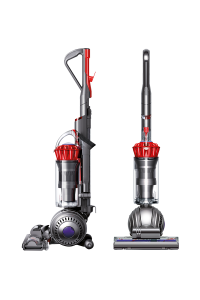 The Ball Vacuum range from Dyson is recognisable by the large ball design at its centre and features its big ball range and its smaller upright barrel ball range. The slightly smaller model of Dyson upright vacuum provides up to 100,000g of suction power and features unique attachments such as a pet hair brush, carbon fibre dusting brush and a fabric and mattress tool to name a few. The big ball range are bagless vacuums that drag along the floor as you clean. They are the most powerful model of Dyson vacuum providing over 100,000g of suction power using cyclone technology.
Hoover vacuums
Hoover is a well-known vacuum brand that even some people just call all vacuums 'hoovers'. It's range of vacuums include upright corded vacuums, stick vacuums and other appliances. 
Hoover Stick Vacuum
Hoover stick vacuums are known for their versatility and lightweight design. One of the main features which makes Hoover stand out is the built-in LED lights in the power-head, which are designed to help you see under furniture and other dark or hard-to-reach areas. Certain models also contain a handle which can fold down for easy storage. And like with all stick vacs, all Hoover handsticks offer the same 2-in-1 functionality of a full-sized cordless vacuum and a handheld alternative.
Hoover Upright & Barrel Vacuums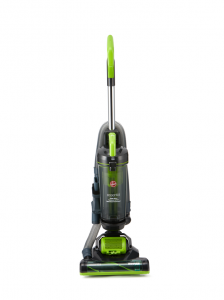 Hoover offers a wide range of upright and bagless vacuums including corded upright models. Some models of upright vacuum feature a wide powerbrush for more surface coverage, and offer a maximum runtime of 52 minutes on a single charge. They also have an LED light to help you see under furniture. Hoover upright vacuums are suitable for carpets, hard floors and tiles. Barrel models from Hoover have varying cord lengths, so knowing how big your space is is ideal before purchasing. They're said to work on carpet, hard floors, stairs and tiles and depending on the model, the dust bin capacity ranges between 2L and 2.5L.   
Hoover vs Dyson: Technology
While Hoover and Dyson vacuum cleaners are powered by varying technologies, both brands claim to offer superior performance without skipping out on the basics.
Hoover vacuum technology
ONEPWR battery system:

The ONEPWR battery is featured in all cordless Hoover vacuums, delivering a powerful performance with some models even running for up to 30 minutes. 

 
DustVAULT:

The DustVAULT technology traps microscopic dust and dirt with some models including a HEPA filter to help filter microscopic particles.

 
Hushtone:

Technology that provides a quieter clean without compromising on power of performance. This technology helps to eliminate the loud drone of the vacuum and reduce general noise while you clean.  
Dyson vacuum technology
Dyson Cinetic science:

Dyson barrel vacuums come with Cinetic science, including numerous cyclones to accelerate air to 180mph and send microscopic particles out of the airflow to maintain strong suction.

Point and shoot bin emptying:

Which allows to easily and hygienically empty the contents of the vacuum into your waste bin without you touching any dirt.

Ball technology

: This helps the upright vacuum to steer around furniture and ledges and for the vacuum to self-adjust if it gets knocked over while you're cleaning.

Cyclone technology:

Maintains suction even when the vacuum bin is full.
Hoover vs Dyson: Price
Hoover and Dyson are very different brands of vacuum and therefore the pricing reflects the technology and performance of the different brands of vacuum. For a comparison, here is how each type of vacuum compares to the other in price: 
Stick Vacuums: 
Dyson Stick Vacuum: $800 to over $1,000 RRP*

Hoover Stick Vacuum: $500 to over $700 RRP*
Barrel and Upright Vacuums:
Dyson Barrel Vacuum: $400 to over $1,000 RRP* 

Hoover Upright Vacuum: $100 to $300 RRP*
Choosing a vacuum cleaner
If you're considering buying a Hoover or Dyson vacuum there are a few factors that come into play, with price being a big one. Hoover is considerably cheaper than Dyson vacuums and offer similar quality and performance, however some of the tech isn't as developed as the more expensive brand. Dyson vacuums have a broader range of products as well which means you can find a model that best suits you. If you're still not entirely sold on either of these brands, compare some more below to get you started. 
Original Author: Tahnee-Jae Lopez-Vito