Kmart seems to be the gift that keeps on giving, especially when innovative Aussies reveal some amazing hacks that even the discount retailer probably didn't consider. From baking sweet Nutella doughnuts in a pie maker to building budget DIY coffee stations, the latest trick apparently transforms a three-tier mini steamer into a space-saving multifunctional cooker!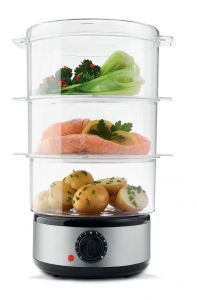 The little $20 gadget cooking up a fuss is Kmart's 3 Tier Mini Food Steamer, which comes with three steam columns, instead of the usual single tier. It's also said to provide up to 7.2L capacity, and allow you to cook without requiring oil or fat.
A few Aussie mums are praising Kmart's latest hot product as a convenient solution to their usual meal time problems.
"It's the only way I steam veggies now," one happy mum said.
Another enthusiastic parent recommended that others avoid simply sticking to steaming vegetables, and experiment with a variety of other foods, such as dumplings.
"I use it almost every night," she wrote.
Despite offering more tiers than certain steamers, one satisfied Kmart mum claims the wallet-friendly steamer is also a useful way to saves space in the kitchen.
"Bought it because I have a very cramped cooktop and can't always steam veggies over the saucepan. I love it!" she said.
Other similar steamy kitchen hacks include using the Kmart Hand Held Steam Cleaner to clean grubby stove tops.
This dirty secret became a hit earlier in the year when one woman shared her thoughts about the $25 hack on the Kmart Mums Australia Facebook page.