Mixers are a handy addition to any kitchen, especially if you enjoy making oven-baked goodies and treats. While mixing was often the bane of many cooks and weekend creators, with the old-school mixers often leaving you with hand cramps – in addition to taking a good chunk of time – brands nowadays offer a wide variety of mixers that do the work for you.
With many kitchen appliance brands now offering a variety of models and mixer types, consumers are spoilt for choice when it comes to whipping up a storm in the kitchen. Mixers are generally split into two different categories – hand mixers and stand mixers. Hand mixers, as the name suggests, are hand-held models commonly used for smaller quantities, or for whisking eggs and whipping cream.
Stand mixers, otherwise known as bench mixers, are larger units with more functions and features. While a bit more of a financial investment, stand mixers generally have a higher work rate, in addition to a larger capacity, making them more suitable for larger households, or those regularly cooking or baking.
With plenty of options available, narrowing them down can be tricky, especially if you haven't had much experience before. So before you head on down to the local store, give this Canstar Blue article a read to find out just what's on offer, and which mixer may be the best suit for you.
Mixers
Breville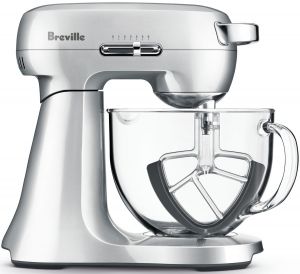 Well-known in the kitchen appliance market, Breville has long been a family favourite when it comes to decking out the kitchen, offering consumers plenty to choose from. Whether you're after a smaller hand mixer, or after a serious stand mixer, Breville is worth checking out.
For those after a hand mixer, Breville offers a number of options, all of which will set households back around $50, and come with a one year warranty. For those pressed for space, the Handy Mix & Store model includes a retractable cord and a plastic housing storage case for the detachable beaters, which will save you from turning the kitchen upside-down looking for them. The Handy Mix & Store includes five speed settings, ideal for kneading and whipping, with an additional Boost setting for those tough mixes.
For households after a more traditional model, Breville offers the Wizz and Handy Mix models, with the Wizz able to take care of most of your baking and cooking needs, whereas the Handy Mix model bumps it up a notch. While the Wizz has five speed settings, the Handy Mix has sixteen, meaning you'll be able to tackle whatever the recipe throws at you.
In addition to hand mixers, Breville also offers stand mixers, including the Scraper series and the Bakery Boss series. Breville's Scraper series includes load sensing technology, which automatically adjusts the power depending on what you're mixing, along with a motor protection system which prevents motor burnout if the mixer is accidently overloaded. With a 4.7L bowl and metal body, the Scraper series includes up to 12 speed settings depending on the model. The Scraper Pro model includes additional features such as a splash guard and pouring shield to cut down on potential messes, along with a pause button in case you've forgotten to add any ingredients.
For those looking for the top of the line, the Breville Bakery Boss mixer may be the one for you. While the basic model may set you back as much as $600, the Bakery Boss includes 12 speed settings along with a unique operating system to cut down on mixing time. Bakery Boss models also include an LCD display to control the timer, as well as a mixing light to help you keep an eye on what you're preparing.
Breville offers a five-year motor warranty on most models
KitchenAid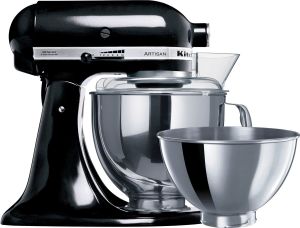 Another well-known brand when it comes to kitchen appliances, KitchenAid may not offer hand mixers, but its stand mixer range might be enough for households to get excited about, with enough variety to satisfy your inner chef.
KitchenAid offers a miniature stand model for those either pressed for counter space or those who may not need to feed an army. With a variable ten-speed motor and a 3.3L bowl, the miniature model may not seem so tiny for some, with the full die cast metal model capable of mixing up to 680g of food with no problems. Additionally, the model also comes with a flat beater, wire whisk and dough hook for easy use.
For large workloads, KitchenAid offers the Artisan series, capable of mixing more than a kilo of dough in its 4.8L bowl. Similarly to the miniature model, the Artisan mixers also contain a ten-speed motor with variable speeds, while featuring a head tilt function for an even mix. One of the most versatile models on offer, the Artisan mixer comes with a variety of attachments, allowing it to transform into a juicer, food processor, pasta roller, strainer and peeler, making it a one-stop-shop when it comes to cooking.
KitchenAid's top of the line model, the Bowl-Lift series, will be able to tackle all but the biggest cooking loads, with a ten-speed motor capable of mixing up to 2.2kg in the model's stainless steel bowl. Similar to other KitchenAid products, the Bowl-Lift mixer also comes with a variety of attachments and extras, making your time in the kitchen easier.
KitchenAid mixers come in a variety of colours, allowing you to find one to suit your kitchen's look
Sunbeam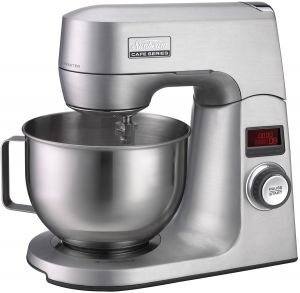 A giant within the kitchen appliance market, Sunbeam offers a variety of both stand and hand mixers, allowing households to find a model regardless of how often they cook. Coming in a variety of colours and finishes, Sunbeam will help you find a mixer to suit your kitchen.
Sunbeam's introductory stand model, the Mixmaster Classic, is made of stainless die-cast metal, and contains twelve variable speeds to power the twin beaters for optimal mixing. Coming with two mixing bowls and a variety of whisks and beaters, the Mixmaster Classic may be worth looking into for those wanting to expand their culinary horizons.
If you're after something with a bit more grunt to it, the Café Series contains a 1200W motor powering the twelve speed settings. Including a splashguard, LCD display and a balanced head lift, the Café models can make short work of whatever you need to mix, as well as ensuring you're not left with a big mess at the end. The Café Series comes with a 4.5L stainless steel mixing bowl, along with a number of timer settings to help those with busy lifestyles.
For those after something a bit more versatile, the Zumbo models may be more your speed, with a number of additional attachments available to help with all sorts of meals. With similar functions to the Café Series, the Zumbo stands out with additionally safety features, including automatic motor cut off and a hinge cover to keep your kitchen accident-free.
In addition to a number of stand mixers, Sunbeam has multiple hand mixers available for those not looking to spend big. Often retailing between $40 and $70, Sunbeam hand mixers are also available in a wide range of colours, helping to brighten your kitchen. The introductory model, the Beatermix, has five speeds with additional boost for those tough mixes, as well as 170cm cord to help you spread out in the kitchen.
The Mixmaster Hand Mixer is also readily available at a number of appliance retailers, with the model coming with six variable speeds and a quick release ejection button to easy cleaning and increased safety. Powered by a 350W motor, the Mixmaster Hand Mixer has a 90cm cord length, and weighs slightly more in comparison to the Beatermix model.
All Sunbeam models come with a 12 month warranty, with stand mixers available with a five year motor warranty
Kenwood
Offering one of the largest ranges, Kenwood may be a worthwhile option for those who aren't sure about which model to choose, with plenty of options available regardless of your preference or budget.
Kenwood's hand mixer range may seem lacking in comparison to its stand range, there's still enough to get excited about, particularly if you're looking for a 'cheaper' alternative. With a three speed motor along with a pulse function, Kenwood's HM520 model also comes with machine washable beaters that can also be stored on the bottom of the mixer. Weighing just over 1kg, the HM520 comes with a cable grip for comfort and easy use around the kitchen.
The bulk of Kenwood's range is dedicated to the stand models, with a number available regardless of how handy you are in the kitchen. Kenwood's introductory model, known as the kMix, is available in a range of colours to compliment your kitchen's aesthetic, and comes with a dishwasher-safe 5L glass bowl and a range of beaters and whisks. Powered by a 1000W motor, the kMix has six speeds to suit whatever your mixing, along with a splashguard to prevent the mix from escaping from the bowl.
In addition to the kMix, Kenwood also offer its Chef series, with the basic model retailing for around $500. With a 4.6L bowl and variable speed settings, the introductory Chef model will be able to tackle plenty of recipes, although Kenwood also offers models with larger capacities for when you're baking in bulk. The XL model bumps up the power to 1200W and uses a 6.7L bowl to make light work of cake mixes and dough.
If you're a natural in the kitchen, or looking to become the next cooking sensation, going for the top of the line Cooking Chef mixer may be worth looking into, although be prepared to fork over some serious cash. Retailing for close to $2,000, the Cooking Chef isn't for the faint-hearted, but may help make your cake the talk of the town.
With 20 pre-set cooking programs to help with tricky recipes, the Cooking Chef is powered by a 1500W motor and has over twenty additional attachments including a food processor, meat grinder and pasta maker to help you prepare dinner regardless of what you're craving. Including an LCD display and timer function, the Cooking Chef mixer also utilises induction technology to help slow cook the mix for a shortage cook time in the oven.
Kenwood offers an extensive range of attachments and extras, including pasta cutters and rollers, food grinder and a range of beaters and whisks
Which mixer should I look at buying?
Mixers are a handy appliance to have in the kitchen, saving you time – and your hands – while making short work of the preparation phase of recipes. Households have no shortage of options when it comes to choosing a mixer, with both hand and stand models readily available to suit whatever what you plan on cooking.
With multiple brands and models available, narrowing down the best option can quickly become a struggle, with the motor size, safety features and optional attachments all factors to be considered.
Ultimately though, which mixer you walk out the door with will depend on your personal preferences, such as how often you're cooking, what you're cooking, and if you're looking to expand your culinary horizons with new recipes that require specific beaters or whiskers.