Juice has long been a popular drink for health-conscious Aussies, with fruit juices a common item in kids' lunchboxes, as well as a popular option for those looking for a healthy alternative to soft drinks. But with many supermarkets brands high in sugars and artificial flavours, many are turning to handmade juices to gain the full nutritional benefit.
As appealing as picking up a juicer can be, finding one that suits your juice intake as well as your budget may prove to be a struggle, with consumers offered plenty of options from a variety of brands. Whether you're after a juicer to meet your 2-and-5 intake, or just looking for a juicer to satisfy a busy household, there's a model for all. Read on to find out just what brands have to offer in this Canstar Blue review.
Top Juicers
BioChef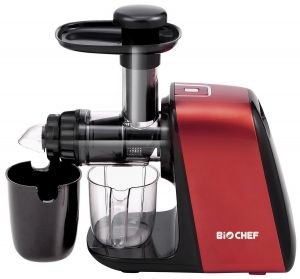 Known for producing a wide variety of kitchen appliances, BioChef has a number of juicers available for Australian consumers, regardless of if you're a juicing veteran, or it's the first time you've decided to do a juice-cleanse.
Retailing at just over $200, the Axis Compact Juicer has a number of additional features and functions to help you ease your way into juicing, with a 45mm mouth feed chute to ensure you can fit all your fruit and veg in. The Axis Compact also has a quick release function, as well as BPA-free parts, making it safe to use. The Axis Compact additionally comes with a cleaning brush, as well as pulp adjustment nozzles, allowing users to alter the pressure under which fruits and vegetables are squeezed, making each cup of juice personalised to your taste.
If you're after something a bit more high-end, BioChef offers the Atlas Pro, with a 400W induction motor to power the dual feed chute, enough to make light work of even the toughest veggie skins. The motor can produce more than 40L of juice in 60 minutes of continuous operation, perfect for those looking to juice in bulk. The Atlas also uses Enzyme Protection Technology, minimising the raw food's exposure to heat or friction, enabling users to reap the full nutritional benefits from the juice.
With dishwasher-friendly parts and a variety of strainers available, the Atlas may be a great option for those serious about their juicing.
BioChef also offers a smaller model, ideal for those who may not have a lot of room in their kitchen, or those who are only after the occasional juice. Powered with 150W and containing a 0.5L volume, the Synergy Slow Juicer can still produce enough juice for the household, making it a viable juicer for plenty of consumers. Compact and quiet, the Synergy juicer containers two BPA-free juicing screens to ensure that you gain the full nutritional benefit and taste from the juice, with cleaning brushes also included.
BioChef juicers come with a 3 to 5 year warranty, depending on the model
Breville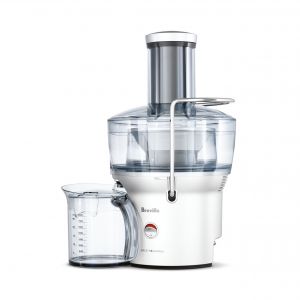 With plenty of appliances available, Breville has long been a go-to option for many households when it comes to decking out the kitchen, with the juicer no exception. Offering a number of models to choose from, Breville may be worthwhile investigating for many consumers.
The Juice Fountain is Breville's flagship juicer series, with a number of different models available to suit household preferences. The introductory model, the Compact, retails around $150 and is powered by a 900W motor, with a stainless steel cutting disc that is surrounded by micro mesh for efficient mineral extraction. With a 75mm feed chute and safety lock mechanism, the Compact model will suit smaller households after a fresh cup of juice in the morning.
For larger households, the Juice Fountain also comes in Max, Cold, Cold XL and Pro models, all with additional features and functions to help users get the most out of their juicer. With a wider chute feed in the XL and Max models, along with the Cold Spin Technology in the Cold models (minimised mineral loss through heat), consumers have plenty of choice when it comes to choosing a Breville model.
Other Breville models include the Froojie Fountain, which contains a unique soft fruit disc to help puree soft fruits, which is handy for those looking to create dessert juices or dairy-free smoothies. Powered by a 1300W motor, the Froojie Fountain has five speed settings to accommodate for whatever you're juicing, along with a variable control to help with texture and taste. With an LCD screen, safety lock mechanism and an extra wide feed chute, the Froojie Fountain may be a popular option for many.
Breville's top of the line model, the aptly named Big Squeeze, may scare some consumers off with its $600 price tag, but may be worth the price for those big on their juices. The Big Squeeze gets its name from the screw and filter design, which slowly squeezes the maximum amount of juice possible from fruits and veggies, with the wide feed chute allowing users to put whole fruits through the juicer.
The design also allows users to add a mixer into the juicer through a spout plug, allowing users to create plenty of beverages. With a quiet 240W motor and two-step safety system, the Big Squeeze has plenty of appeal for households.

Hurom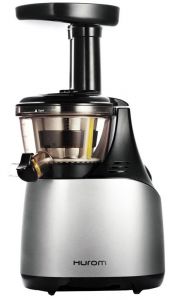 Operating in the juicing market since 1974, Hurom (which also operates under the 'Oscar' brand) has a number of models available, although some of the price tags may deter some households, with prices generally starting out at $300.
Hurom's latest release, the H34 One Stop Juicer, contains multiple blades to help break down fruits and veggies quickly, with a built-in pulp container fitted into the base of the machine. The H34 also utilises a slightly tilted base to ensure that every last drop of juice is extracted, with no manual tilting required, handy for those prone to making a mess. With an embedded safety sensor and convenient disassembly for easy cleaning, the H34 may be a handy addition to the kitchen.
The H25 and H26 models provide a revamped design, with a new auger and drum design to improve operation and nutrient extraction. Hurom has also included an ice-cream/smoothie maker with the H25 and H26 models, allowing households to create sorbets, smoothies and ice-creams without purchasing a separate machine. With models coming in a variety of colours, the H25 or H26 can fit in with any kitchen aesthetic.
If you're looking for a bit more out of your juicer, the Hurom Chef model may be the one for you, with the juicer also capable of creating plenty of foods through its 4-in-1 design. With the Chef model, users can juice, grind, knead and even create pasta with the one appliance, making it a handy addition to any kitchen. With multiple nozzles and an adjustable pressure cap, users can create with the versatile Chef model, as well as expect fresh juice with the model's adjustable pressure levels and BPA-free materials.
For businesses, or households keen on their juice, Hurom offers the H22 Commercial model, which allows up to eight hours of continuous use, producing 50L of juice per hour, making it ideal for those busy work days. With a heavy duty design and three complete top sections to make lightwork of fruit and veggies, the H22 is also BPA-free and quietly operates, making it perfect for both the house and the workplace.
Hurom offers up to 10 years of warranty on the motor on most models
Sunbeam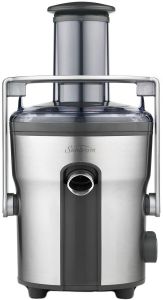 A fan favourite for fitting out the kitchen, Sunbeam offers a number of juicers for households, with a capacity to suit any juicing workload.
Sunbeam's starter model, the Pure Juice, retails for under $70, with the model operating on a 300W motor. While it only operates on one speed, the model has a 0.5L capacity and stainless steel sieve, along with twin safety locking arms and a safety braking system, making it user friendly. A removable pulp bin allows for easy use, with a shaped chute allowing for a variety of fruits and veggies, making it a strong starter juicer for consumers.
For those looking for a bit more from their juicer, Sunbeam offers the Double Sieve Juice Pro, which includes a whole fruit chute and two speeds to suit the foods you're juicing. The double sieve allows for maximum juice while removing pulp, ensuring that households are left with smooth juice. The Juice Pro also has a 1L jug size for those big juicing sessions, with a 1000W motor making short work of whatever you throw the juicer's way. With safety features such as locking arms and non-slip feet, households are able to juice with peace of mind.
The Juice Stream is Sunbeam's final model, with the model retailing for under $200. Operating on a 600W motor, the Juice Stream has a 1.5L pulp capacity for those juicing in bulk, along with two control speeds to allow for both soft and hard foods. The 75mm chute allows for whole fruits to be put through the juicer, with the stainless steel sieve and heavy duty mesh filter ensuring that users are left with a smooth and refreshing juice.
Sunbeam offers a 12 month warranty on all juicers
Which juicer should I look at buying?
With plenty of options available on the market, choosing a juicer to walk out the door with can quickly become a tough decision, with factors such as blade speed, container capacity as well as washable parts all weighing in on your final decision. With models available for the casual juicer, right through to the juice connoisseur, you have plenty to choose from.
Ultimately, which juicer you end up plugging into your kitchen will come down to personal preference, as well as how partial you are to a glass of fresh juice. As a result, consumers can't go wrong with doing their own research into brands and models, as certain features may be essential, while others may only apply to a few consumer needs. And despite our good intentions, no one wants to spend good money on a juicer only for it to end up at the back of the cupboard collecting dust, so a bit of research may end up saving you money in the long run.