Fact Checked
Gone are the days of skipping on your green juice or morning banana smoothie because you're running late for work or travelling. Thanks to portable blenders, you can blend, cap and go anywhere these days, AND save money on store-bought drinks at the same time. If you're thinking you need one in your life, here's our guide to the best portable blenders and everything else you need to know.
What's a portable blender?
A portable or travel blender is a cordless, compact, travel-size version of a traditional kitchen bench blender and is typically battery or USB powered (i.e. computer, car charger, etc.). This eliminates the need for a power socket, which means you can blend your favourite smoothie anytime, anywhere. This is the ideal option for people who often rush out the door in the morning on an empty stomach and time poor households in general. Portable blenders are also cheap to buy, typically costing under $100.
Are portable blenders good?
Portable blenders are great to make smoothies, shakes, juices and cocktails (hello margaritas)! They're powerful enough to pulverise ice and blend soft ingredients like fruits and veg, ice cream and yoghurt, as well as nuts and seeds. They're best suited for office use, picnics, campsites or just anywhere you don't have access to a power source. They're also a godsend for whipping up a protein shake after the gym or puréeing baby food on the go. The only downside of personal blenders is that most models don't work while charging and some will actually require to be fully charged before use.
7 best portable blenders
Looking for the best portable blender to take with you on the go? Here are some affordably priced options to consider:
Kmart Anko Portable USB Blender − $15 (was $22)
Morphy Richards Personal Blender − $19.97

ALDI (Ambiano) Portable Blender −

$19.

99

SOGA 380ml Portable Mini USB Rechargeable Fruit Mixer Juicer − $44.50
Vitamer Portable Juicer Blender − $52

.

99

BlendJet 2 − $79.95
Blendy Portable Blender − $79.95
1. Kmart Anko Portable USB Blender − $15* (was $22)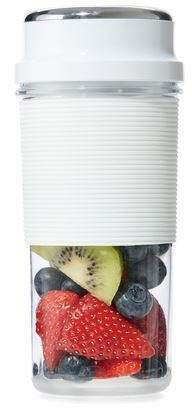 For a budget, fuss-free option to prepare all your favourite fresh juices in a jiffy, you can't go past Kmart's Anko portable USB blender. It can work 10 times continuously on a single full charge (2.5 hours of charging time) and comes with a 300ml cup, magnet contact charging, an electroplated decoration ring, and indeed a rechargeable lithium battery with a USB cord. It's waterproof, BPA-free and for just $15 − an absolute steal! Available in-store and online.
2. Morphy Richards Personal Blender − $19.97*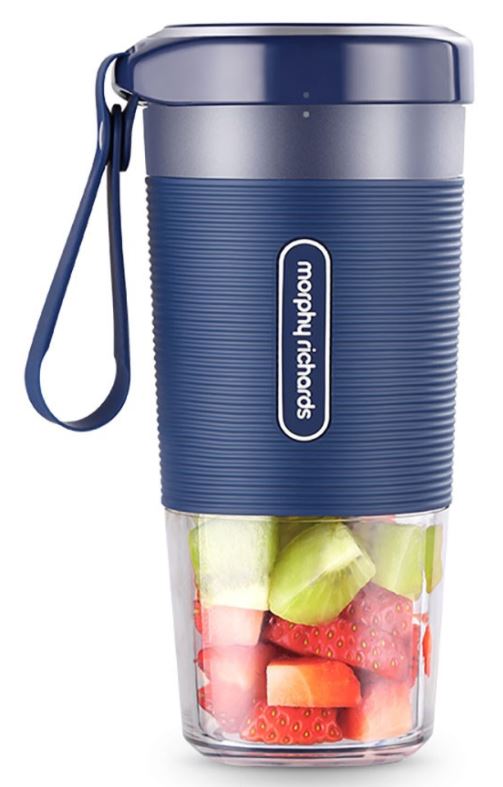 This Morphy Richards lightweight personal blender comes with an anti-slip silicone carry strap and cup sleeve to easily carry your gadget with you anywhere and make smoothies on the go. It's designed to last for 10 continuous blends before charging with a USB port and features a high-grade stainless steel concealed blade, a one-button operation, and auto power-off when the lid is separated from the cup. It retails for just $19.97 at Costco. Colours available include navy blue and pink.
3. ALDI (Ambiano) Portable Blender − $19.99*

Featuring wireless charging capability, and a 4000mAH rechargeable lithium battery, this Ambiano 400ml portable blender offers up to 20 uses depending on load and duration. It's both convenient and budget-friendly, and available seasonally in ALDI's Special Buys. It has a charging time of about three hours, plus stainless steel blades, a USB charging cable, and a drink lid with a strainer and a stopper. This model comes in five colours including red, green, blue, purple, and grey.
4. SOGA 380ml Portable Mini USB Rechargeable Fruit Mixer Juicer − $44.50*

This SOGA portable blender features a 380ml container with a built-in rechargeable battery that can be easily charged by a power bank, computer, mobile phone, and other USB devices. It has a smart safety protection device with a magnetic sensing switch, making it safe to use and clean with a detachable cup and base. It comes in just three colours, white, pink and blue. This model can be purchased on Lasoo or Amazon.
5. Vitamer Portable Juicer Blender − $52

.
99*

This Vitamer model is claimed to boast up to 30 uses on a single three-hour charge and a double-click switch to start function. It comes with a rechargeable lithium battery inside that can be easily charged by a power bank, laptop, and other USB devices (with a provided USB cable). Both the motor and the bottle can be cleaned directly with water. It also has a detachable large capacity 500ml container, making it great for traveling, shopping, and outside sports. It's available to purchase on Amazon.
6. BlendJet 2 − $79.95*

The BlendJet 2 is one of the most powerful portable blenders on the market with patented TurboJet technology that powers through anything in 20 seconds flat, including ice, frozen fruits, leafy greens, grains, and more. It can whip up about 15 beverages on a single one-hour charge with any USB port.  This model also has a self-cleaning function and built-in safety features to prevent overheating and ensure the blades don't spin if the jar is not attached to the base. The BlendJet 2 comes in assorted colours and is available to purchase from Myer or The Good Guys.
7. Blendy Portable Blender − $79.95*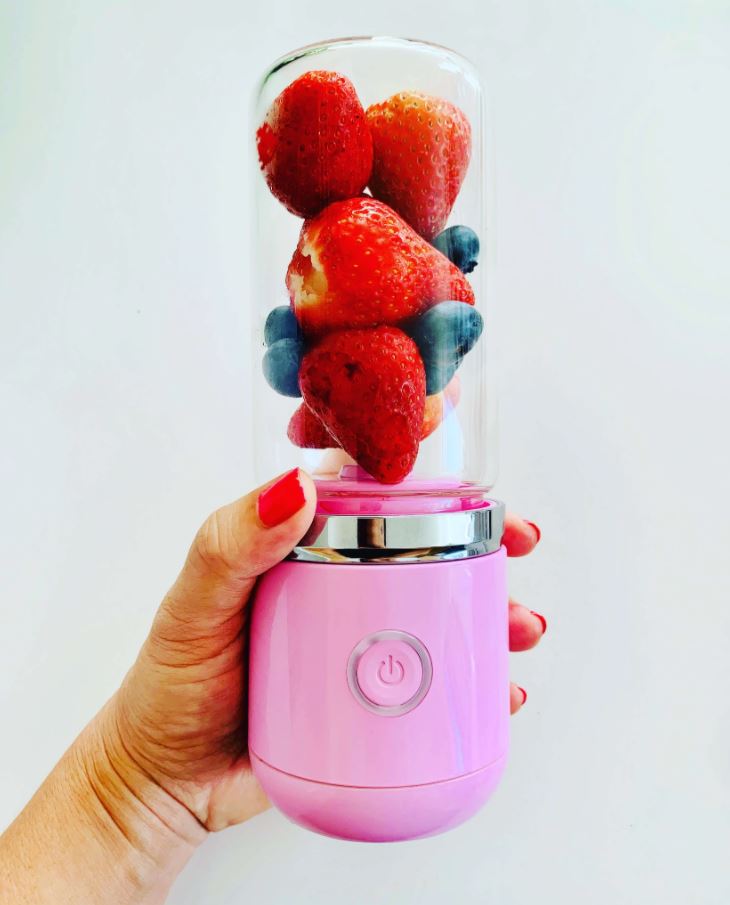 Blendy may just be the answer to healthy drinks on the go. This stylish, compact portable blender comes with a 400ml BPA-free borosilicate glass container, a 2500mAH rechargeable battery, and can make 10-12 cups per charge (with three hours of charging time). It's claimed to be capable of whipping up a smoothie or juice in just 45 seconds. Its best feature is by far its wireless charging (power bank) for travelling and it also comes with a power socket and USB charging. This model is available to purchase on the Blendy website.
Can you put a portable blender in the fridge?
Yes and no. This will depend if you have a portable blender with a detachable container or not. If the juicer cup can detach from the electronic base, then yes – the cup can go in the fridge without trouble. As a general rule, you should avoid putting devices with electronic components in the fridge, so if you have an all-in-one personal blender, you'll have to keep it out of the refrigerator and freezer. Don't forget to also check instructions for dishwasher and microwave use.
What is the most powerful portable blender?
Both Blendy and the BlendJet One models are powerful options, containing a 3.7V and 5V electric motor respectively, and boasting of producing more cups per charge than most other portable blenders. Both also offer relatively quick charging times of one to three hours. These brands are also well-regarded for being reliable and of high quality.
How long does it take to charge a portable blender?
This will depend on the specific model. The more efficient portable blenders will only take an hour or so to charge, but the average charging time for most models is around three hours. Some may even require a four-hour recharge time. This will ultimately depend on the type of battery your blender has.
Can you take a portable blender on a plane?
Yes, you're allowed to take a portable blender on a plane in your carry-on bag if the cup is empty, and the blade is removed. You can alternatively keep it in your checked luggage. Just be sure to declare the lithium-ion batteries in the device during check-in.
Are portable blenders worth it?
Investing in a portable blender is worth it, especially if you tend to rush out the door without breakfast most mornings, or like to have the option of a healthy smoothie or juice during the day, after the gym, or when travelling. You can also use a portable blender to make baby food, homemade salad dressings, or dips without fiddling with the bulky benchtop blender. A portable blender can be a convenient alternative to a traditional blender.
If you're in the market for a portable blender be sure to choose one that offers at least 10 blending cycles before you need to recharge it and that's lightweight enough to carry with you all day. It's also important to choose one that's easy to clean to avoid stress, and discreet enough as to not annoy your colleagues or those around you with that bountiful blitzing!
*Prices taken from respective retailers, correct as of January 2023.